'Launch An All Out Attack On Isis' Kissinger Urges Obama
Former secretary of state warns that the US has become 'bystanders' in the Middle East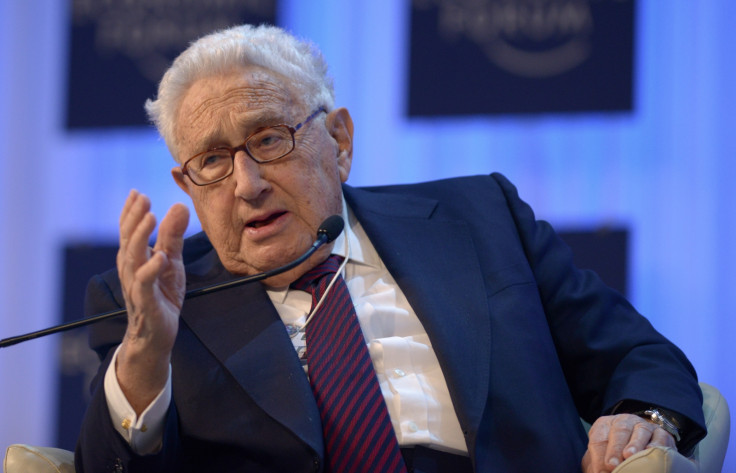 Former US secretary of state Henry Kissinger has urged US president Barack Obama to "launch an all out attack" on Isis.
In an interview with the Sunday Times, Kissinger warns that the US's influence in the Middle East has waned, and Americans have become "bystanders" in the region.
He advocates the use of air strikes against Isis (Islamic State) of "limited duration as a punitive measure".
He describes the actions on Islamic State as an "insult to our values and to our society" that demands a "very significant retaliation".
He advocated striking targets throughout the territory controlled by the militant organisation.
"I would not make any distinction between Syria and Iraq. In my view this should have happened already."
"There can't be any debate any more about fighting them," he said.
Divisive political figure
A controversial figure, Kissinger is lauded as a master of realpolitick by some and derided as a warmonger by others.
He is credited as the architect of the détente with China, negotiated by president Richard Nixon's administration in the 1970s, and was awarded a Nobel Peace Prize for his contribution to ending the Vietnam War.
But he is also vilified for his involvement in bombing targets in Cambodia during the Vietnam War, the overthrow of the socialist government of Chilean president Salvator Allende in 1973, and the Indonesian invasion of East Timor in 1975.
Recently, Hilary Clinton, who is favourite to be nominated as Democrat presidential candidate in 2016, said that she had sought Kissinger's advice while she was secretary of state, a claim observers believe was made to burnish her hawkish credentials.
Obama has not sought Mr Kissinger's advice.
Obama 'doesn't understand'
Kissinger said that Obama did not understand that the Middle East and other crisis-hit areas were looking to the US for guidance.
"We don't have the power to impose our preference, but without us, and without some leadership from us, the new order cannot be created," he said. "That I think has not (been) understood."
He said Mr Obama "has not understood all the currents that need to be dealt with" in the world.
He also criticised Obama for being "far too reactive" in relation to Russian president Vladimir Putin's aggression in Crimea and Ukraine.
"You can't accept treating the border of Ukraine as totally illegitimate," he said.
© Copyright IBTimes 2023. All rights reserved.