The government has asked internet service providers to change the wording of web filters designed to protect children in a move branded misleading and potentially harmful by industry insiders.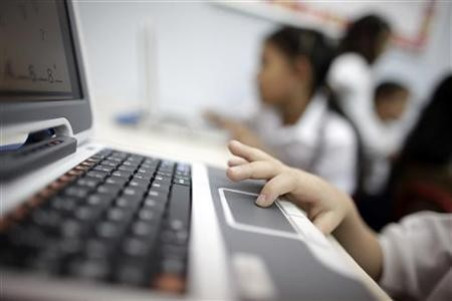 Leaked to the BBC, the letter, which was sent to four internet service providers (ISPs) - TalkTalk, BT, Virgin and Sky - on 15 June, comes from the Department for Education and sets out a list of demands from Downing Street, which ISPs have been encouraged to agree to before Prime Minister David Cameron speaks on the matter in the near future.
The companies are asked by the letter to change the language used to describe internet safety filters offered to protect internet users from violent, offensive and adult - but legal - content. ISPs are urged to change the name of their filters from "active choice +" to "default-on". The letter says that, although the name change is advised, companies do not need to change how their filtering services work.
A spokesperson for one provider told the BBC the request was "staggering - asking us to market active choice as default-on is both misleading and potentially harmful."
Believing more must be done to create "a simplified message" to reassure parents, the letter says: "Without changing what you will be offering (ie active-choice +), the Prime Minister would like to be able to refer to your solutions [as] 'default-on' as people will have to make a choice not to have the filters [by unticking the box]."
Sounds good
ISPs are then asked to consider how they would include this or similar language in the software used to guide a new user through setting up their internet connection.
At first an on-by-default filter preventing children from seeing inappropriate content sounds good, but one industry source told the broadcaster that there are three reasons why such a system doesn't work.
"First it may be illegal under the Regulations of Investigatory Powers. Then there's the fact that no filter is perfect, and finally kids are smart enough to find their way around them."
Filters can sometimes be fooled into blocking harmless websites, encouraging parents to disable them, and less tech-savvy parents may believe that a default-on filter will be sufficient in keeping their children safe online, negating the need for more direct supervision.
Another source said: "It makes parents complacent - if you tell them the filter is switched on by default, they get a false sense of security. We want parents to make informed choices about the way their children use the internet."
Browser intercept
The government also wants to ask existing customers about installing web filters by a process known as browser intercept, and it wants ISPs to push forward with a new system without trialling it first.
Users would be presented with the option to proceed with pre-ticked parental controls in place, create their own filters, or turn them off completely; users would be forced to make a decision when asked to, the letter explains.
By the end of 2013, David Cameron wants to announce that every household with a broadband connection will have had to make the decision to apply or opt-out of web filters.
The letter claims TalkTalk will be trialling such a system, and asks "will the other three ISPs consider making a commitment to adopting this approach - even before it has been trialled?"
However a person speaking to PC Pro said TalkTalk was not planning a trial of this system, but the provider is simply contacting customers through online accounts instead.
"Customers logging into their TalkTalk account will see a pop-up message asking if they want to turn on the HomeSafe or KidSafe filter - but the boxes don't come pre-ticked and it isn't a forced 'intercept'."
Awareness campaign
The letter also speaks of an awareness campaign aimed at making internet users more aware of online risks; ISPs are asked to disclose how much money they would like to invest so Cameron can announce the campaign and that it has financial backing.
However, the letter admits that not revealing much information about the campaign puts ISPs in a difficult position. "I know that it will be challenging for you to commit to an unknown campaign but please can you indicate what sum you will pledge to this work that the PM can announce."
ISPs are due to meet with Claire Perry, the Prime Minister's special advisor on child safety issues, on Monday (15 July) and are asked to provide feedback on the letter "as a matter of urgency" by midday, 19 July.