At least eight people died and nearly 50 were seriously injured after a wall collapsed following a stampede during a football league match in the Senegalese capital Dakar on Saturday (15 July).
The incident was triggered by a fight between fans of two local teams - Union Sportive Ouakam and Stade de Mbour - at the end of the final match between the two at the Demba Diop stadium.
Media reports said police had to fire tear gas shells to stop the clashes as the supporters threw stones and other objects.
The resulting confusion created panic in the stadium, triggering a stampede leading to the collapse of the wall. A young girl was reported to be among the dead as people tried to flee the venue.
Senegal's Sports Minister Matar Ba vowed to take "strong measures" to avert such incidents in the future, local news agency APS reported.
Images shared on social media showed people trying to climb over a low wall while clouds of gas filled the air. Ambulances and firefighters were immediately rushed to the scene.
The clashes broke out at the final whistle during extra time as the Mbour team scored in the first period of extra time to win 2-1. Both the teams had scored 1-1 after 90 minutes.
According to an AFP reporter who was at the stadium at the time of the incident, Ouakam supporters began throwing stones at Mbour fans, prompting spectators to begin leaving.
"All of a sudden when the wall fell... we knew exactly that some of our own had lost their lives because the wall fell directly on the people," Cheikh Maba Diop, one of the spectators who reportedly lost a friend in the incident, told the news agency.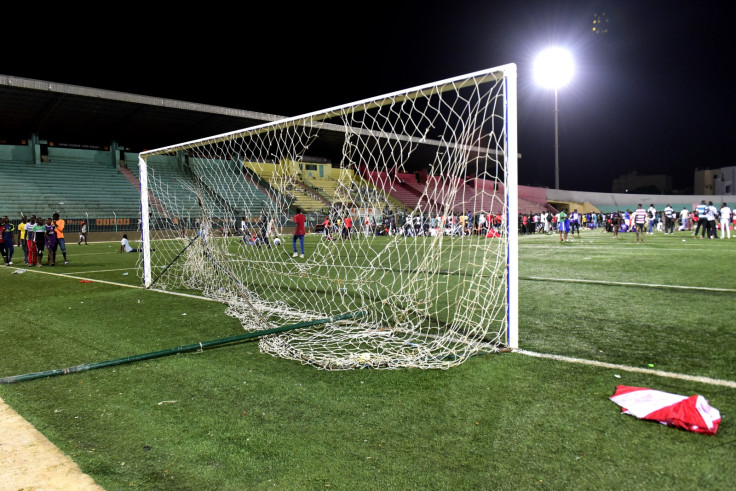 Campaigning for the upcoming legislative election in the country that is due on 30 July would be suspended following the incident as a mark of respect for the victims, presidential spokesman El Hamidou Kasse said.
President Macky Sall also said there would "punishments serving as warning", he added.
Deadly stampedes at football matches are reported to be quite common in Africa, where safety measures are low, Reuters noted.
In a similar incident in February, at least 17 people died and several others were injured in a stampede in Angola after hundreds of soccer fans stormed a stadium.