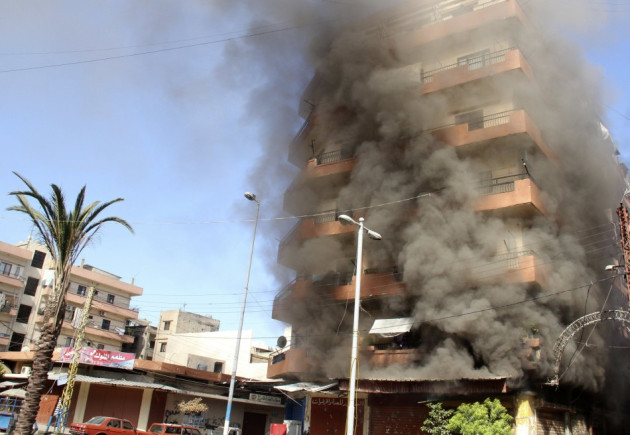 At least seven people have been killed and nearly 100 injured in clashes between two Muslim groups in the northern Lebanese city of Tripoli, sparked by the Syrian civil war.
Fighting continues between the groups of Alawites, who support Syrian President Bashar al-Assad, and Sunnis, who side with the rebel Free Syrian Army.
Gun and grenade attacks have been taking place in Tripoli for almost two days, focused on the Sunni district of Bab al-Tabbana and the Alawite district of Jabal Muhsin.
At least 10 Lebanese soldiers have been wounded in attempting to quell the fighting, and several buildings have caught fire, forcing dozens of civilians to flee their homes.
Lebanese prime minister Najib Mikati, a Sunni Muslim himself, appealed for peace in the region and called the violence an "absurd battle".
"We have repeatedly warned against being drawn into this blaze that has spread around Lebanon. But it is clear that several parties wanted to push Lebanon into the conflict," said Mikati.
The prime minister appealed to the residents "not to allow anyone to transform you into ammunition for someone else's war".
Tripoli is Lebanon's second largest city and home to a small Alawite community, an offshoot of the Shiite branch of Islam to which Assad belongs.
The latest violence follows a wave of kidnappings of Syrians in Lebanon, and Lebanese in Syria.
"Syrians in Lebanon have been abducted by political parties and subject to arbitrary arrests by security agents, without the authorities so much as lifting a finger," said the Syrian National Council, a coalition of Syrian opposition groups.