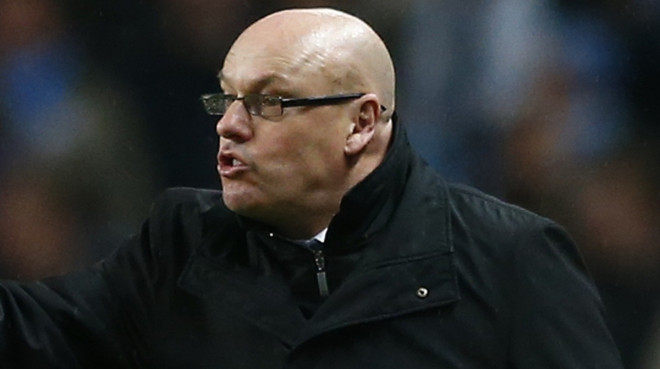 Leeds United manager Brian McDermott says uncertainty regarding the ownership situation at Elland Road has contributed to the club's continued slip in the Championship.
Tuesday's 4-1 defeat to AFC Bournemouth was the latest event in a distressing week for the Yorkshire club after Italian businessman Massimo Cellino was denied permission to complete his 75% majority takeover from Gulf Finance House Capital after failing The Football League's owners and directors test.
The 57 year old is expected to lodge an appeal but Leeds' future is riddled in doubt as GFH Capital search for new owners to help guide them back to the top flight for the first time since being relegated from the Premier League in 2004.
Since Cellino's company Eleonora Sport agreed in principal to become the new majority stakeholder at Leeds in February, McDermott's side have fallen 12 points adrift of the Championship play-offs during a run which has yielded just three wins.
And the Leeds boss admitted: "We need the ownership of this club to be sorted in the right and proper way. It does affect what is going on, on the pitch - there is no doubt about that.
"I have not had this before, a team that concedes four or five goals and we need to sort it out very, very quickly.
"I do not think anybody has given up but it is bitterly disappointing for me to try and understand, or explain, that performance."
"We cannot make excuses; we have to get it right on the pitch. I do not think we have control but we are not out of control. We need to have the ownership absolutely clear and clarified.
"To have somebody come in and take this club to where it really belongs, with clout, would be fantastic."
McDermott's own future has been under scrutiny amid the difficult run of form having been initially sacked upon Cellino's arrival at Leeds, before being reinstated and led to ambiguity reigning over the future of top scorer and captain Ross McCormack.
"There's no doubt that since that situation happened some of the players' levels have dropped," McDermott added.
"We can't hide behind that, I'm here and I want to be here and I want to get things right on Saturday."
A conviction for tax evasion saw Cellino blocked from taking over at Leeds as weeks of talks with the Football League and the Leeds United Supporters Trust have called for clarity over the club's immediate and long-term future.
"Our members, and the wider fan base, are understandably concerned about the course the club will now take," a LUST statement read.
"When GFH bought the club the fans were promised long-term stability, but little more than a year later Leeds United is again at the centre of a long-running takeover process that is overshadowing every part of the club.
"Since the end of November the news has been dominated by GFH's attempts to sell Leeds United, with the result that we find ourselves in March with no sale, and no evidence of a plan B.
"It is time for the people who own and run the club to make substantial and concrete statements about what they are going to do now.
"While David Haigh has promised in the press that the club will not go into administration, the letter that Gibson Dunn solicitors sent to the Football League last week warned that delays to Cellino's takeover could cause 'potentially irreparable damage to the club,' and the fans need to be told as a matter of urgency what this means.
"Leeds United Supporters' Trust also request that GFH urgently explain their stance towards other potential buyers following the rejection of Mr Cellino's bid."