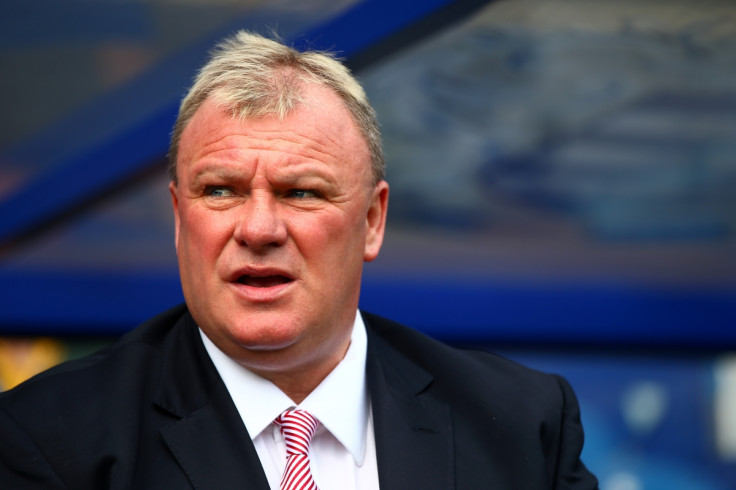 Leeds United have confirmed the appointment of Steve Evans as the club's new head coach. The former Crawley Town and Rotherham United boss has signed a rolling contract at Elland Road, keeping him at the club until at least the end of the 2015-16 season.
That announcement has been overshadowed however by the news that club owner Massimo Cellino faces another Football League ban for failing the league's owners' and directors' test for a second time to conclude an eventful day that also saw Uwe Rosler sacked as head coach on Monday 19 October.
Cellino served a four-month ban last season but after being found guilty by a court in Sardinia of not paying VAT on an imported car, he has been disqualified again.
A statement from the Football League read: "In June, Mr Cellino was found guilty by a court in Sardinia of an offence under Italian tax legislation relating to the non-payment of VAT on the importation of a Land Rover vehicle. This resulted in a fine of €40,000 (£29,000, $$2,000) and the confiscation of the vehicle in question.
"Having considered detailed legal advice and the court's reasoned judgment, as supplied by Mr Cellino, the board determined that the decision of the Italian court constitutes a disqualifying condition under the owners' and directors' test.
"Mr Cellino has until 28 October to appeal against the board's decision. Any such appeal would be heard by an independent panel."
Cellino was initially banned last December after the Football League obtained documents from an Italian court explaining his guilt in another tax evasion case in relation to a failure to pay import tax on a yacht.
Evans meanwhile replaces Rosler, who left the club after just 12 games in charge, making him the fifth manager to be sacked by owner Cellino in his 18 months at the West Yorkshire club.
"I'm honoured and proud, but the supporters just want to see what happens on the pitch," Evans told the club's official website. "The first thing we need to do is win some points and win some football matches. We've got two tough games in the next six days. I know it is seven months since we won at home and that is something we need to get off our back. "But, more importantly, we've now got two away games and that is important in isolation. The first thing that matters is at Fulham."
Evans' appointment has been met with dismay on social media by Leeds supporters but the 52-year-old, who achieved back-to-back promotions with Rotherham in 2013 to take the club into the Championship, has pleaded for time to change their minds.
"All I can ask the Leeds United supporters to do is to give me the benefit of the doubt. Perhaps I wouldn't be the chosen manager for many Leeds United fans – I had butterflies in my stomach driving into Thorp Arch this morning. "I can understand why they may think that, but the only thing that matters to me is what happens on the grass. "As I proved at Rotherham and as I proved at Crawley, if I win football matches then people will embrace me. It's always about winning football matches."