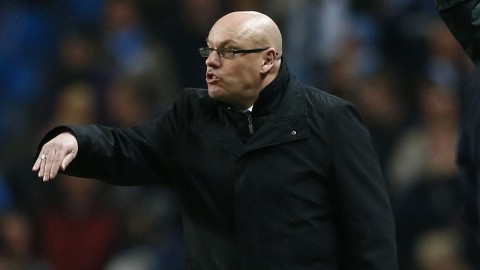 Leeds United have released a statement denying reports Brian McDermott has been dismissed as club manager.
On one of the most chaotic nights in the club's recent history it was widely reported on Friday evening that the club had dismissed the 52-year-old manager just nine months after being appointed Neil Warnock's replacement.
The development sparked outrage from club captain Ross McCormack and Leeds supporters who descended upon Elland Road to protest against prospective owner Massimo Cellino's decision and also saw two sponsors threaten to withdraw their backing.
But despite McDermott not being present as Leeds defeated Huddersfield 5-1 Saturday afternoon, the club have released a statement insisting he still has his job.
A statement read: "The club would like to make it clear that Brian McDermott remains our first team manager. He has not been dismissed from his post as has been suggested and we look forward to him continuing in his role with us in taking Leeds United forwards."
The announcement from the club marks a bizarre 24 hours at Leeds United. Prior to today's win the club had been on a run of eight games without a victory but were boosted by comments from club captain Ross McCormack on transfer deadline day, as he underlined his desire to remain at the club despite Premier League interest while acknowledging McDermott's presence as a key factor in his decision.
But just hours later it emerged the former Reading manager had been dismissed, reportedly informed of his sacking by phone from a lawyer he had not previously met, with the club edging closer to a takeover led by the unpopular Cellino.
McCormack, who scored a hat-trick in today's win at Elland Road, then told Sky Sports News that he would consider his future at the club after turning down interest from West Ham United and Cardiff City, but with just hours of the transfer window remaining, the skipper remained where he was.
"If I had known earlier on that this was going to happen I would have had a right decision to make. At the moment it's still very raw and I'm absolutely gutted," McCormack told Sky Sports News.