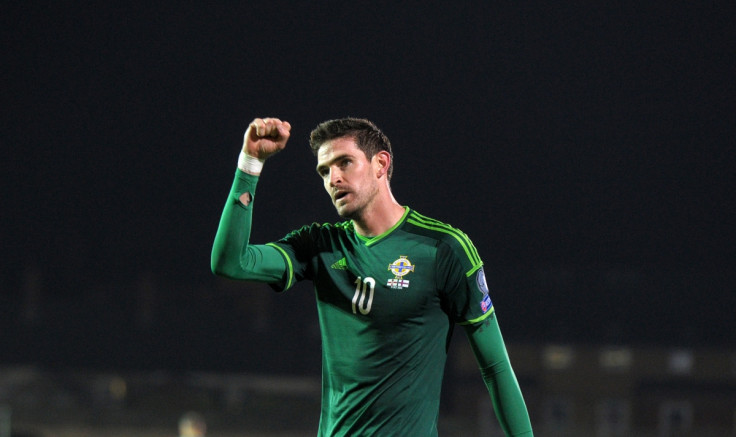 Leeds United head coach Steve Evans has refused to rule out another attempt to sign Norwich City striker Kyle Lafferty before the Football League emergency loan window closes.
Leeds were in talks with Norwich over a move for the Northern Ireland international Lafferty in the early stages of the January window but were frustrated in their attempts to bring him to Elland Road. While Norwich boss Alex Neil indicated he was willing to let the striker go before Monday's (1 February) deadline, the Championship club failed to get a deal done with the Yorkshire Post suggesting the Canaries were only open to a permanent deal, rather than a loan.
While the transfer window may have closed, Football League clubs still have the opportunity to add to their squad during the emergency loan window, which opens on 9 February and closes on 24 March. And after Leeds failed to bring in another striker, Evans says the club may consider another approach for the Northern Ireland international, although they will have a better idea of the situation next week.
"I can't really rule it in because I don't know what Alex Neil's thoughts would be and we will have to revisit whether it would be right for us to do it on a short term as opposed to the end of the season that we wanted to do," Evans was quoted as saying by the Yorkshire Evening Post. "Since the window closed on Monday we have never gone back into players who we almost got or who we didn't get.
"We quickly moved on and the focus has to be on Nottingham Forest on Saturday and the window doesn't re-open until the early part of next week anyway. We can keep our focus and concentration on Nottingham Forest and then we can perhaps see afterwards what goes beyond on Monday."
Lafferty has previously admitted he needs regular first-team football ahead of Northern Ireland's first ever European Championships this summer. "I am going to have a sit down with the manager in January and have a discussion with him," Lafferty said, Sky Sports reports. "I know that I will need to play football in the new year and going into the Euros.
I would love to be playing at Norwich but if I have to go out on loan or be sold to play football that might be the way it will be. For the Euros, I want to be in the best shape of my life and need to be playing to do that."