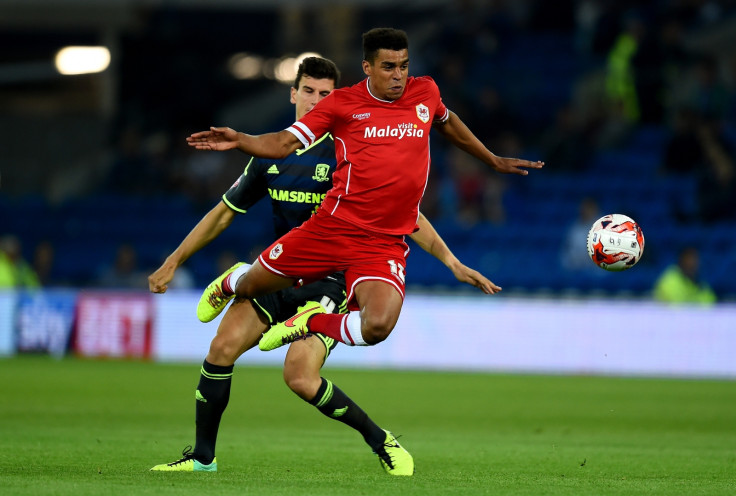 Leeds United's newest signing Tom Adeyemi has revealed the presence of former manager Uwe Rosler at Elland Road was an important factor behind his decision to complete a move from Championship rivals Cardiff City.
The 23-year-old was confirmed as the fifth signing of Rosler's short reign at Elland Road earlier on Tuesday (14 July), moving to the club on an initial season-long loan deal that includes the incentive of a possible permanent transfer next summer.
Former Norwich and Birmingham City midfielder Adeyemi previously worked with Rosler during a loan spell at Brentford in 2012-13 and the opportunity to reunite with the German at Elland Road was evidently something that appealed to him after a frustrating season on the fringes at Cardiff, during which he made just 11 Championship starts.
"I'm really happy to be here," he told Leeds' official website following confirmation of the move. "I'm glad it's all gone smoothly and I'm just looking forward to getting out there and getting the season started. I first heard it was a possibility last week and over the weekend it became clear that it could happen. Cardiff said they were happy for it to happen and at that point it was an easy decision for me to get on the motorway.
"My agent spoke to a few clubs once it became clear Cardiff would be letting me go out on loan. "But with Leeds being a massive club and the manager being here and having worked with him before, it was the perfect club to come to."
Referring specifically to the influence of Rosler, Adeyemi was keen to praise his talents and further claimed that the two men have already held discussions over where he fits into the team's tactical makeup.
"He had me on loan at Brentford from when I was at Norwich when I was younger, maybe three years ago now. I enjoyed working with him, he's a really good manager," he added.
"The opportunity to work with him again was one which I was happy to take. We had a little chat about the way he sees the team lining up and where I would possibly fit into that. He says there's a number of different options of ways he wants to play. He's going to have a look at the players over pre-season, myself included."
Despite enjoying such a positive working relationship, though, Adeyemi stressed he has received no guarantees over a starting berth and Rosler has left him in no doubt as to the challenge that lies ahead as he looks to earn a permanent switch.
He said: "He made it clear that – like every other player – I'll have to fight for my place and make sure I do well to keep it."
Alongside Adeyemi, Leeds have moved to considerably strengthen their squad in recent weeks with the additions of young goalkeeper Charlie Horton, former Motherwell striker Lee Erwin and popular Ivorian centre-back Sol Bamba.
Rosler also impressively saw off competition from second-tier promotion hopefuls Wolves to complete a deal to capture New Zealand international Chris Wood from Leicester City.
Leeds, who finished 15th last term, begin their sixth consecutive Championship campaign and their 12th since being relegated from the Premier League in 2004 at home to Sean Dyche's Burnley on 8 August.