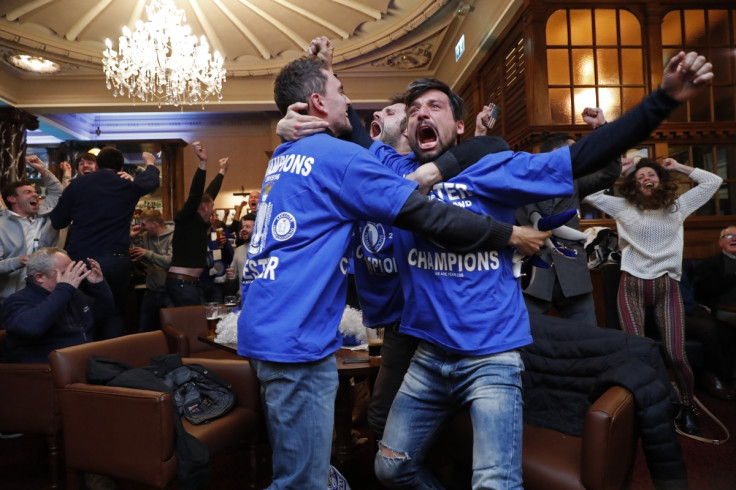 Leicester City have been crowned the Barclays Premier League champions after title rivals Tottenham Hotspur were held to a 2-2 draw against Chelsea at Stamford Bridge. The north London club went into the game knowing they needed to win to keep their title hopes alive, but a draw means the Foxes have sealed the most unlikely championship triumph in the Premier League era.
Leicester now have an unassailable lead over Mauricio's Pochettino's men at the top of the table, after Spurs squandered a two-goal first-half lead at Stamford Bridge. Tottenham took what appeared to be a match-winning advantage through Harry Kane and Son Heung-min.
But Chelsea produced a spirited fightback in the second-half to secure a dramatic point and ensure that the Premier League crown will be heading to the King Power Stadium. Goals from Gary Cahill and second-half substitute Eden Hazard were enough to clinch a draw for Guus Hiddink's side.
After their title triumph was confirmed, Leicester captain Wes Morgan admitted he cannot wait to gets his hands on the Premier League trophy. "It's the best feeling of my career and I couldn't be prouder that it's as part of this team," he said. "Everyone's worked so hard for this, nobody believed we could do it, but here we are, Premier League champions and deservedly so."
Leicester narrowly escaped relegation last season, and Morgan thinks the turnaround in their fortunes is testament to the character of the team. "I've never known a spirit like the one between these boys, we're like brothers," Morgan shared. "People saw it last season when everyone expected us to be relegated, but we fought back to prove people wrong.
"This season's been a continuation of that. We've built on the momentum, but I don't think anyone believed it would come to this. Saturday can't come quickly enough. I can't wait to get my hands on the trophy."