As the raging diversity row continues to divide Hollywood, Jamie Foxx has brushed off the controversy by injecting some humour into the scandal. The actor, who took home the best actor Oscar for his stunning portrayal of Ray Charles in the 2004 American biopic about the rhythm and blues musician, branded Leo DiCaprio's win as a small victory for the black community because he is a "honorary black dude".
Speaking to TMZ about his Django Unchained co-star's long-awaited triumph, he said: "It's fantastic man. And my man Leo, I mean, come on man. You want to talk about an honorary black dude. Come on over Leo."
He added that DiCaprio, 41, is the closest thing to 'Tyrone' – a stereotypical black man's name – you can get: "That's my man, I'm happy. I always joke with him, tell him 'you know you an honorary black man'. [In] Titanic he drowned – black dudes don't swim in the ocean."
DiCaprio finally tasted victory on Oscar's night when he took home his best actor for his leading role in survival drama, the Revenant. Taking to the stage at the Kodak Threatre in Los Angeles, he used his acceptance speech to put climate change back on the agenda.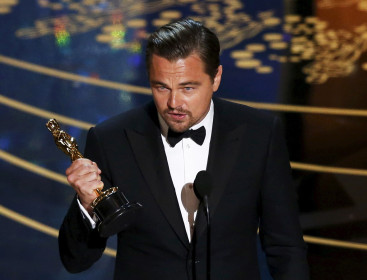 "Climate change is real, it is happening right now. It is the most urgent threat facing our entire species and we need to stop procrastinating," he said. "We need to support leaders around the world who speak for all of humanity, for the billions and billions of underprivileged people, for our children's children, and for those whose voices who have been drowned out by the politics of greed.
He added: "Let us not take this planet for granted. I do not take this award for granted."
Asked if he would give DiCaprio the green light to play a black man, Foxx said "If he did you would have to let him do that."
And despite his polarising jokes and the biting racial commentary, Foxx insisted that Chris Rock "nailed" it as host. "Comedians stick together so I'm happy that it all turned out [well]"