Europe's largest accelerator space for finance and retail technology startups has opened its doors in Canary Wharf, occupying the entire 39th floor of the iconic One Canada Square tower, and is already a sell-out.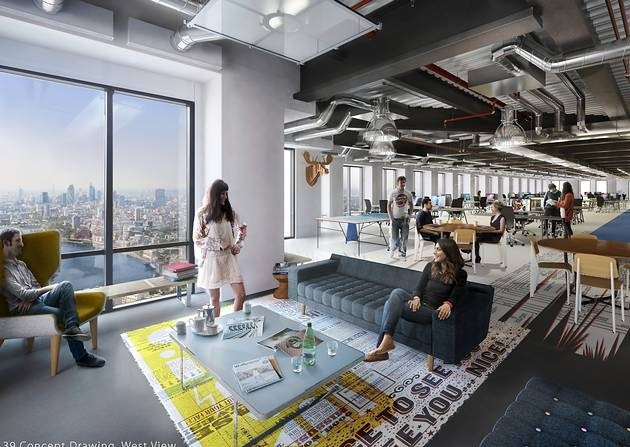 Offering 360-degree views of London, an industrial design inspired by the offices of Facebook and Google, iPad controlled coffee machines and a licensed bar, Level 39 is a 29,000 square feet space for financial technology startups to grow.
Dubbed Tech City 2.0, Level 39 is the brainchild of Canary Wharf Group chairman and chief executive Sir George Iacobescu CBE, who appointed former Tech City CEO Eric van der Kleij to run the accelerator programme, and response from potential tenants means its 46 desks are already over-subscribed.
At the official launch of the program, Van der Kleij told IBTimes UK: "These offices are oversubscribed already, there is still some space in the hot desk area. The fixed desks are pretty much done. We haven't determined everyone's locations yet, but give me a couple more weeks and we'll know. I'm really delighted with the response that we've had."
Level 39 has a total of 43 desks which can be flexibly split across the space according to need; the current split between those which are fixed and which are 'hot' is 28 to 15. Fixed desks costs £500 per month, while hot desk - which are not assigned to any one person - are £300 per month.
Designed
Designed by architects Gensler, who are also responsible for offices at Google and Facebook, Level 39's 200-seat main conference room features removed ceilings exposing pipes and wiring looms, and the whole area is scattered with modern art, bowls of brightly coloured sweets, relaxation areas and a licensed bar, The Pantry.
Although the design echos that of Silicon Valley's finest, "you won't see any toys here," van der Kleij insists. "We purposely decided that there's no ping pong and foosball and all that kind of stuff. This is a little more serious but it is still very warm."
Adding to this warmth is what Level 39 calls 'kinetic art', which is scattered about the space and will be cycled regularly with Canary Wharf Group's art collection, comprising some 60 pieces.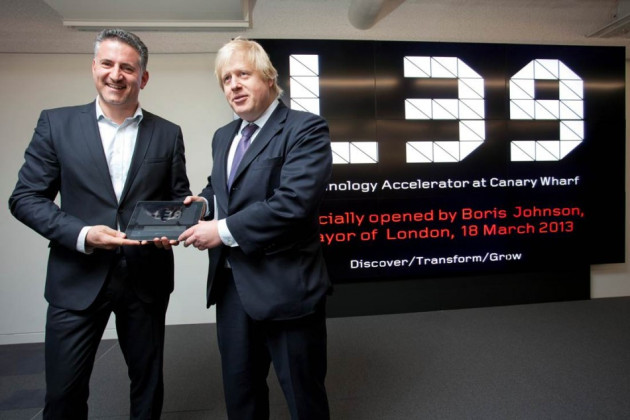 "You need direction and focus," van der Kleij said. "In the semi-chaos of an organic cluster, by creating those types of collisions between innovators and artists and creators of things, you get really interesting innovations pop out, but then you need some direction."
Direction
And that direction is what Level 39 - more so than Tech City - hopes to provide. "We found that there were goodcompanies in Shoreditch, but now they can come here and be a little more serious about their direction of travel. You do need both [Tech City and Level 39], I think they are very complementary.
"We would take a startup here but it would need to be one that we could help more. We meet everybody when we curate the membership to make sure that they are the right fit, and actually if they are not the right fit then we recommend where else in Tech City they should be. We consider ourselves part of Tech City, we're on their map and we're very much part of it.
Ven der Kleji remains on the board of Tech City "because I care about them and it's important that we work closely."
As well as the 46 desk spaces, Level 39 includes three 'sandboxes' allowing space for startups to operate research and development away from their regular office space - "a sort of skunkworks," as van der Kleij put it. One sandbox features a large portrait of the late Apple co-founder Steve Jobs on the wall
Office space is split into closed units for companies to work alone, and open and semi-open space for workers to drop in and share ideas with their neighbours. There's also the Business Club lounge, which will host a membership-style club to attract leading industry figures and investors.
Delighted with the problems of growth
Tech City has been criticised for its own popularity causing rent prices to growth out of the reach of start-ups wanting to locate there. Van der Kleij sees this as a positive compared to other innovation hubs in Europe, which are struggling to compete with the expansion seen in London.
"I'm very clear about how I feel about that particular challenge. The rise of east London was initially because of the price - it's low cost - but also because it's a huge area, east London stretches from the city centre to the Olympic Park in Stratford and it's still a place that you can get low cost space.
"I'm really excited at the fact that the cluster by itself is having enough growth that the challenges we face are around price, because elsewhere in Europe they are not facing that challenge.
"Believe me, elsewhere they are not facing that challenge, they are not facing the challenge of growth they are facing the challenge of contraction. I'd rather as a city we face that kind of challenge."
Prices for space in Level 39 start at £500 per year for drop-in access to visit and talk with others based there. Access to a hot desk is £300 per month, while fixed desks are £500 and offices start at £1,200 per month.
On how companies are selected to work in the space, van der Kleij told IBTimes UK: "We meet with all the companies, talk with them to understand what they do and what their goals are. And if it's a close enough match to what we can deliver then we invite them to come and work here. "And if not we advise them of where there are other places and other incubators that will be better for them."