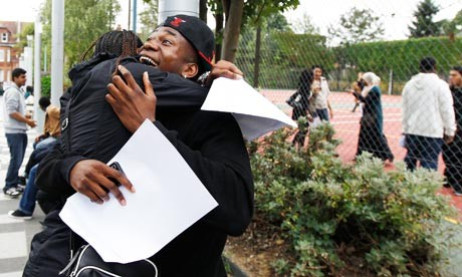 The proportion of A-level students getting top grades has dropped for the first time in 20 years.
According to results published for 300,000 candidates, A and A* grades accounted for 26.6 percent, down from 27 percent in 2011.
Despite the dip in the top-tier marks, the overall pass rate continued to increase, hitting 98 percent.
The figures, released by the Joint Council for Qualifications, reveal that the number of students studying a second language has continued to fall.
For those students who have not made their targeted grades, university clearing has begun, amid a small dip in applications following the increase in fees to up to £9,000.
According to Ucas, 357,915 students have been accepted at university since midnight, a decrease of nearly 7 percent. Meanwhile, nearly 80,000 students are awaiting decisions on their future and more than 10,000 students have applied for clearing places.
The decrease in acceptances appears to be the result of the decrease in top grades, which are generally required to cement a highly contested university place. Even with the drop in demand, around 630,000 applications have been made to half a million university places.
"I know how hard students have worked to achieve these results," said David Willetts, minister for universities and science.
"Students are benefiting from a more diverse and competitive higher education sector. So there is a good choice of high quality courses.
"We have also introduced more flexibility into the system by allowing open recruitment of AAB students so that they can access the university of their choice.
"For those who don't get the results they had hoped for, there are still many other options out there. There are over 25,000 courses with vacancies in clearing so it is worth looking to see what is available."
A plateau?
Over the last 20 years examiners have come under scrutiny for the continued improvement in results.
Critics argue that exams are getting easier, or that teaching staff train students specifically for the exam, rather than giving them broad understanding of the subject.
Exam watchdog Ofqual had told exam boards to stop grade inflation, which it believes caused A-level passes to continue to rise. It would appear that exam boards have taken notice, with A* grades decreasing despite the fact that universities are increasingly using them to award a place.