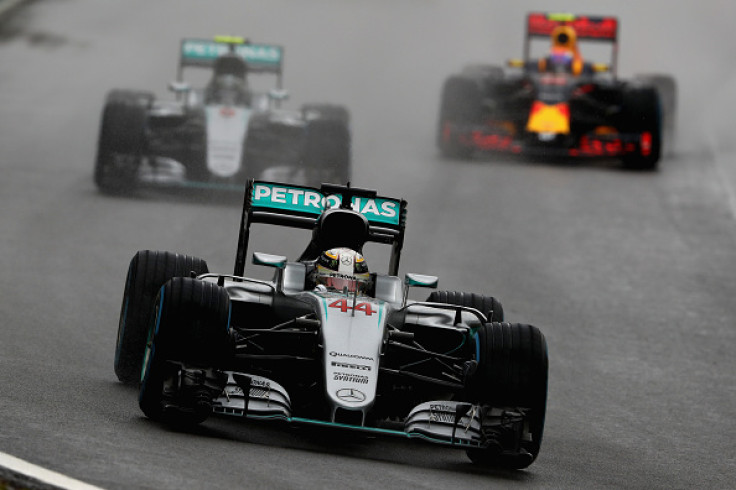 Lewis Hamilton has called on Red Bull Racing to make good strategy calls during the final race of the season at Abu Dhabi and help him in his title battle with Nico Rosberg. The German, who now holds a 12-point advantage, can finish third at the Yas Marina Circuit, even if the Briton wins, and take home his first Formula One Drivers' world championship.
It was a rain interrupted penultimate race of the season at the Autodromo Jose Carlos Pace in Brazil on Sunday (13 November). There were various safety car periods as well as two red flags owing to crashes and dire conditions due to the constant rain.
Hamilton drove a flawless race at the front and led the race from start to finish despite various interruptions, and there was no car that got close to him including teammate Rosberg's. Max Verstappen drove the most entertaining race, and was favourite for second after he overtook the championship leader after the second safety car period with the German struggling to match the pace of the Red Bull driver.
However, in what is a rarity, the Red Bull team made a strategy error by calling in both their drivers to switch to the intermediate tyres when it was still wet and more suited to the extreme wet weather tyres. This saw them having to make an extra stop late in the race, which allowed Rosberg to get ahead of Verstappen, and despite a late charge from the Dutchman, which saw him overtake 11 cars in 15 laps, he was unable to catch the second placed Mercedes car.
Hamilton was hoping he did as it would have put him three points closer in the title race going into the final race of the season. However, it was not to be, and the reigning world champion questioned his teammate's luck that has favoured him in many instances during the course of the season.
"Unbelievable. When will it end?" Hamilton said, shaking his head regarding Rosberg's luck, which saw him finish second, despite struggling in the wet conditions, as quoted by The Times.
"Red Bull made such a big mistake with that call. That's what they did and it is a shame, but there is nothing I can do about it. Verstappen still had a great race and got back up to third, but it would be good if [Red Bull] made some good calls at the next race," the three-time F1 world champion added.