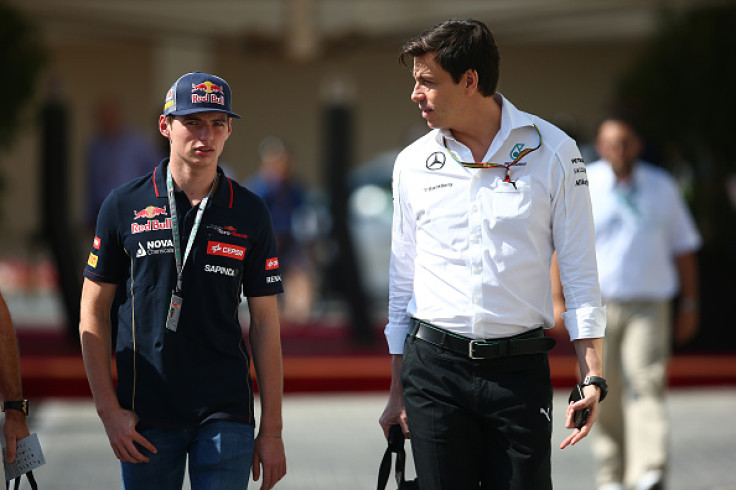 Mercedes motorsport boss Toto Wolff sent out a warning to Red Bull driver Max Verstappen to stay out of the championship battle between Nico Rosberg and Lewis Hamilton ahead of the race at the Brazil Grand Prix on Sunday (13 November). The Mercedes pair is split by 19-points going into the final two races of the season and the Silver Arrows team hierarchy are keen to see their drivers battle it out rather than being influenced by an outside force.
Verstappen has ruffled plenty of feathers, with his no-holds-barred aggressive racing style since his switch to Red Bull from junior team Toro Rosso at the Spanish Grand Prix. Mercedes are fearful that another all-out move to gain an advantage at the start or during the Brazil Grand Prix could kill one of their drivers' championship hopes.
In the previous race in Mexico City, the Dutch driver made a lunge on the inside at turn 1 from third place on the grid and made contact with Rosberg, who had to go off-track to avoid a major collision. This move from him along with the pace he showed during first practice on Friday at Interlagos, which shows he can challenge the Mercedes cars, has prompted Wolff to speak to the Red Bull hierarchy and Verstappen's father Jos Verstappen about instructing their driver to remain calm and not make any reckless moves during the race, especially during the start.
"Jos and I talk regularly and he knows that I'm a fan of Max. My main message for Jos was that he should come to the races again because he seems to be the only guy that Max really listens to and respects," Wolff said after the Friday practice sessions at the Autodromo Jose Carlos Pace, as quoted by The Times.
"And I also said to him that it would be bad for Max if he was remembered for deciding the world championship this year through a reckless move against one of our drivers. Everybody wants to see hard racing but, for the sake of Max and of our boys, an all-in move that could ultimately kill their championship aspirations is too much," the Mercedes chief added.
Red Bull Racing, however, are unwilling to instruct their driver to tone it down during the race and according to the Times, have given him the green light to continue racing as he has done since his switch to the senior Red Bull team. Verstappen laughed off suggestion that he will tone down his aggressive racing style and joked that he was waiting to see which Mercedes driver pays him more.
"I am still negotiating with them for who is going to pay me the most," Verstappen joked.