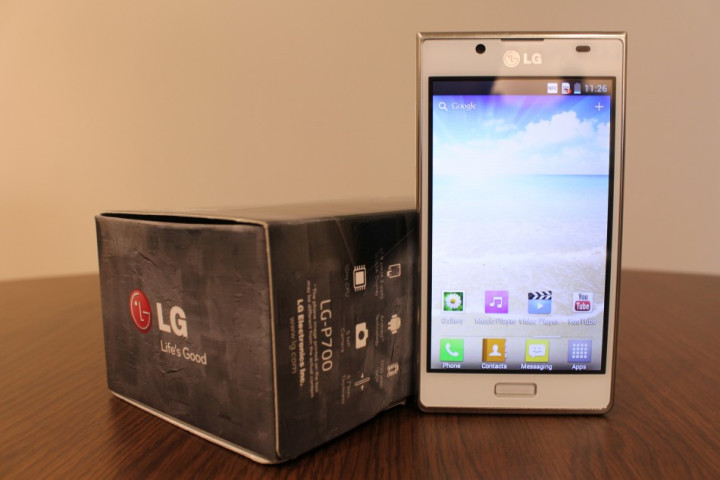 Key Features
4.3in display with 480 x 800 resolution and 217ppi
Android 4.0 (Ice Cream Sandwich)
1GHz processor with 512MB RAM
5 megapixel camera with LED flash and autofocus
Price as reviewed: Around £235 SIM-free
Introduction
With its 4.3in display, sleek glossy white (or black) design and thin profile, you'd be forgiven for thinking that the LG Optimus L7 is a premium smartphone, but at around £235 SIM-free and running Ice Cream Sandwich, it's starting to look like a bit of a bargain.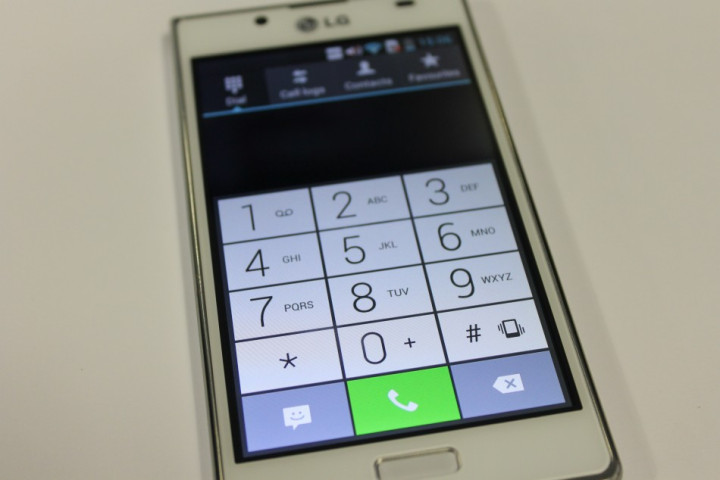 While not packing a powerful processor, the Optimus L7 could appeal to those who want an attractive smartphone with the newest Android operating system and a good camera, but care less about outright performance and gaming ability.
LG Optimus L7 P700: Design and Feel
The LG's large, 4.3in screen takes up the majority of the front, with the usual capacitive touch buttons on either side of a physical Home button.
Above the screen is a front-facing camera for video calls and self portraits, alongside a proximity sensor to turn the screen off while you're on a call.
The two sides are left completely blank, save for a discrete volume rocker on the upper left edge. Along the top edge there is a chrome strip that continues from a bezel around the edge of the screen. This houses a standard 3.5mm headphone jack on the left and a power/screen lock button on the right.
On the bottom there's a microUSB port and finally the back panel is home to the 5 megapixel camera with LED flash above the LG logo, and a speaker grill towards the lower-left.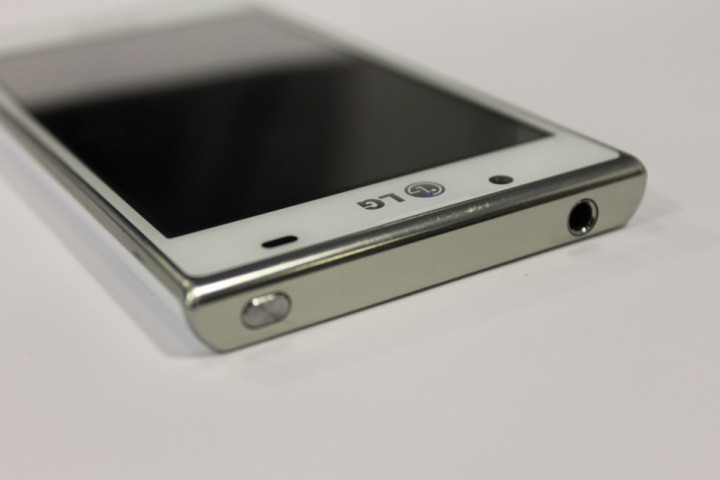 Despite the large screen, the L7 is quite thin, measuring in at 8.7mm, half a millimetre less than the iPhone 4S and just 0.1mm thicker than the Samsung Galaxy S3.
A rough texture on the back and curved sides helps to keep the L7 secure in your hand, while the lock button and volume rocker are easy enough to reach when you're holding the device with one hand.
However, that texture attracts dirt quite easily and is more difficult to clean than a smooth surface. We also found the chrome top edge are bezel are easily scratched - but at least the screen is protected by Corning Gorilla Glass.
The rear case contains an NFC chip and can be removed to reveal a standard size SIM card slot, 1,700 mAh battery and microSD card slot.
Owing a lot to its very small screen bezel, the LG Optimus L7 is small, and at 125.5 x 67mm, the screen looks even bigger than it actually is. For reference, the iPhone 4S measures 115 x 58.6mm, so there's not much in it, considering the LG's screen is 0.7in larger.
Weighing 122g, the Optimus L7 is lighter than the 140g iPhone and even the 133g Galaxy S3, a smartphone we always considered to be light for its size.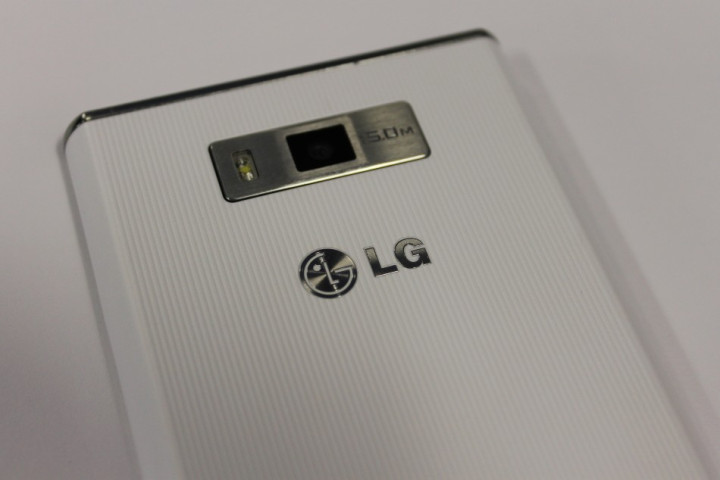 Our review unit was white and as we already said, attracted dirty marks quite easily. LG also sells a black model which should stay looking clean for longer.
Overall, the LG L7 is a good-looking phone that feels well built and is comfortable to hold, but we were disappointed by how easily the chrome details attracted scuffs and scratches.
LG Optimus L7 P700: Hardware and Connectivity
LG has given its Optimus L7 the usual range of hardware features, from Wi-Fi 802.11 b/g/n and Bluetooth version 3.0 with A2DP for streaming music, to Dolby sound enhancement and NFC for making contactless payments.
There's just 2.4GB of internal storage available to the user, meaning that you'll need a microSD card for storing music and video. The L7 can cater for cards of up to 32GB, but our review unit didn't come with any as standard.
The L7 has a 1GHz Cortex-A5 processor and 512MB of RAM which, as we explain in the next section, doesn't feel like enough to run this phone smoothly.
Both accessible by removing the rear case, the microSD card slot and SIM card slot can both be got at without needing to remove the battery and turn the phone on again.
LG Optimus L7 P700: Operating System and Performance
Running Android 4.0 Ice Cream Sandwich is obviously a good thing, and LG has added its own skin to the mix too, called Optimus UI 3.0. However it's not on a par with the excellent skins we've seen from Samsung and especially HTC with its Sense UI.
Sadly, equipping the Optimus L7 with a 1GHz processor and just 512MB of RAM is a bad move by LG, which results in a smartphone that looks great but stumbles through the Android UI as if it would rather be doing something else.
Flicking through home screens and your app collection is easy enough, but ask the Optimus L7 to do much more and you might well regret it, with the phone struggling to even offer up the Android Facebook app without substantial delays and scrolling quickly causes text to blur for a moment before rendering correctly.
Even Twitter takes around five seconds to fully open and become responsive, although scrolling through your timeline here is at least more fluid than it is over in the Facebook app.
When first setting the phone up, we found even typing slowed things down, with the keyboard occasionally becoming unresponsive, before catching up with our inputs. Although being a little behind out requests, the keyboard proved to be accurate and auto-corrected our typing effectively.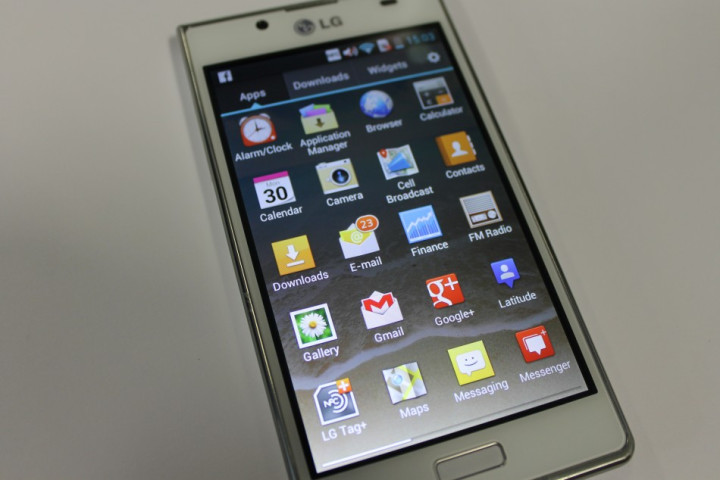 One interesting feature is zooming in the browser app, which is done by holding an on-screen icon just above the Home button and tilting the phone. Tilting the phone towards you zooms in and tilting away (lying the phone flat) zooms out. It's a bit strange at first but works well once you've got the hang of it, although we can't help thinking that double-tapping or pinching to zoom is easier and more accurate.
The LG Optimus L7 tends to warm up quite noticeably, even when doing basic tasks like editing home screens or browsing a mobile-optimised website.
Battery life is, as with most smartphones with a 4in+ screen, limited to not much more than one day and with little hope of making it through a second. Nightly charging is a must and, as we said earlier, the phone heats up with fairly basic use, so too much gaming will see the battery run dry even quicker.
For £250 we were not expecting anything to rival an HTC One X or Samsung Galaxy S3, but the LG struggled to deal with some of the most basic smartphone tasks.
With an NFC chip installed in the rear case, the Optimus L7 can be configured to interact with NFC tags through the LG Tag+ app. One tag - which is sinply a small sticker - is supplied with the phone, although more can be bought, and it can be configured to adjust a range of settings on the phone when the two are touched together for around a second.
The tag can be used to turn on or off any combination of the following: Silent mode, Wi-Fi hotspot, mobile internet, Wi-Fi, Bluetooth and GPS.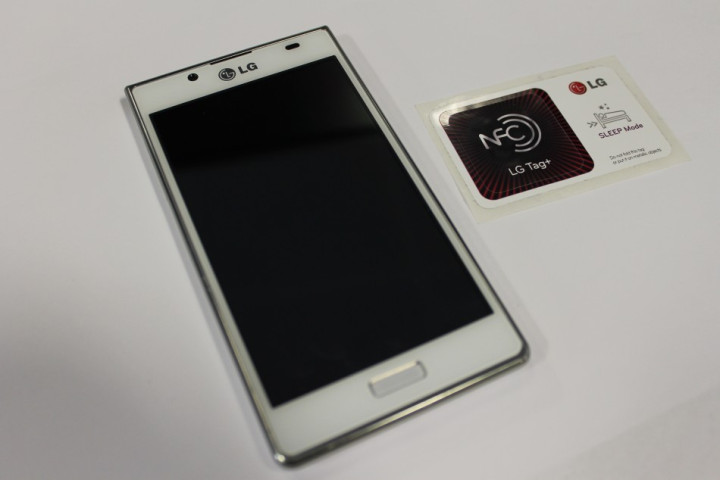 Setting up the tag takes a few seconds and it can be re-configured as many times as you like.
LG Optimus L7 P700: Display
Despite not offering HD video, the LG's 4.3in screen with a resolution of 480 x 800 and pixel density of 217 pixels per inch is plenty bright enough, evenly lit, responsive and sharper than its stats would suggest.
Colours are sharp and vivid, but the saturation could be better, resulting in much of the user interface looking slightly pale and washed out, although the viewing angles are good.
The screen responds well to touch inputs, but only when the disappointing single-core processor isn't tied-up doing anything else.
For £250, the LG L7's screen isn't too bad, but the processor quite often fails to keep up, which is a shame.
LG Optimus L7 P700: Camera
The Optimus L7 has a 5-megapixel rear camera and a VGA-quality camera on the front for video calls.
The rear camera has geo-tagging, touch-to-focus and video recording, but only at VGA quality - good enough for sharing a quick clip on Facebook, but not much else.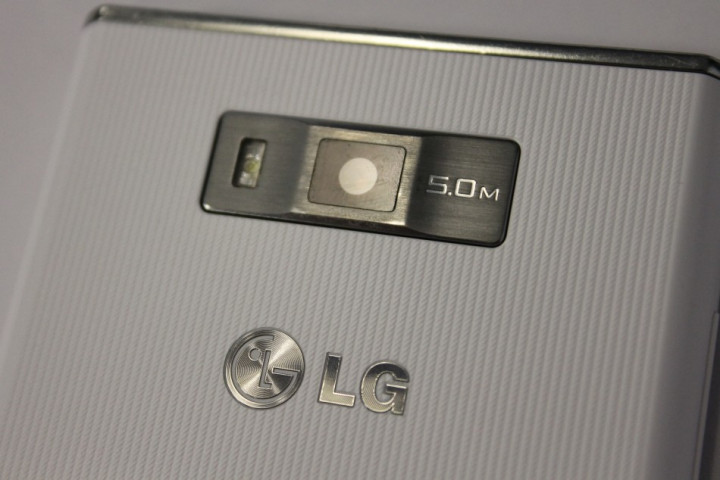 As is common for smartphones with Android 4.0, the LG's camera app has a wide range of options and settings to help you take good photos.
You can adjust the flash, auto-focus, image size, ISO, white balance, add a colour effect like sepia or negative, and take panoramic photos.
White balance and colour effects can also be adjusted when shooting video, and swapping between taking video and still photos is as easy as tapping an icon in the top right corner.
Zooming is controlled by tapping the icon and dragging, or by pinching the middle of the screen.
We've included a selection of images taken with the LG L7 at the end of this review. As you can see, image qualty is affected quite noticeably by zooming in, but otherwise the images produced are good. The camera deals well with bright light and shadows, and the final shot shows a good level of detail close up.
LG Optimus L7 P700: Verdict
The LG Optimus L7 is a well-made and good looking smartphone with a large screen, slim design and good camera, but unfortunately it's hard to recommend this phone. If the processor could at least keep up with basic tasks like checking Facebook and Twitter then we'd say it's worth buying if that's all you want from a phone.
But the consistantly slow performance, software freezes and inability to perform simple tasks is a disappointment. Perhaps a software update can help make the processor run more efficiently, because otherwise it's hard to find a reason to like this phone enough to hand over £250 for it.
Scores:
The Good:
Well made and good looking
Screen is good, despite low resolution
Slim design is comfortable to hold
The Bad:
Processor simply not up to the job
Tiny internal storage and no SD card included
Chrome strip scratches easily
Sample photos: