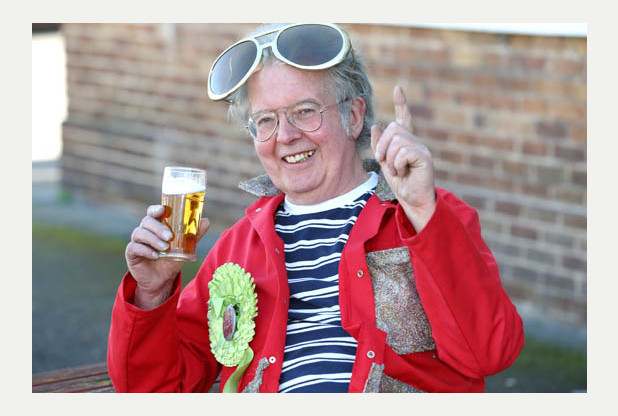 Deputy Prime Minister Nick Clegg's Liberal Democrat party has been humiliated in a local council election where it came last, with even fewer votes that an eccentric pensioner representing the Bus Pass Elvis Party.
David Bishop, also known as Lord Biro, the self-appointed leader of the Bus Pass Elvis party, won 67 votes in the council election in Clifton North in Nottingham – 11 more than the Lib Dem candidate Tony Marshall, who came in last.
Labour's Pat Ferguson won the seat with 1,174 votes and a majority of 154 over the Conservative candidate. The UK Independence Party came third with 536 votes.
Bishop, who has stood for election as a councillor in Nottingham at least six times, said he was "shocked" by the result.
He told BBC News: "I thought there was a chance I could beat the Lib Dems because they are not very popular in this area. I was hoping I would beat UKIP because it was the first time they had stood, but I didn't."
And he told The Sun he believed Nick Clegg should be sacked for having "destroyed the party's credibility."
A Lib Dem spokesperson said the election result had left the party "All shook up". But party leader Nick Clegg, who will address his party at their spring conference this weekend, said he was not embarrassed by the result, adding: "It is a new one for us to be competing against the Bus Pass Elvis Party."
In the past 15 years Mr Bishop has stood for election for eight different parties including the Elvis Loves Pets Party, Grumpy Old Elvis Party and the Elvis Turns Green Party. All of the parties come under the umbrella of the Church of the Militant Elvis, which was founded in 2001 "to overthrow the Corporate Capitalist State which turned Elvis, a man of immense talent, into a fat media joke."
Bishop told BBC News: "I always think I'm going to do well when I stand but I never do. But there is always a chance." He is considering standing for Skegness and Boston election in Lincolnshire in next year's general election. He added: "I have always fantasised about finishing my career on the seaside - it sounds sort of romantic."
Watch the charismatic Bishop in action as part of a previous campaign on the YouTube clip below.