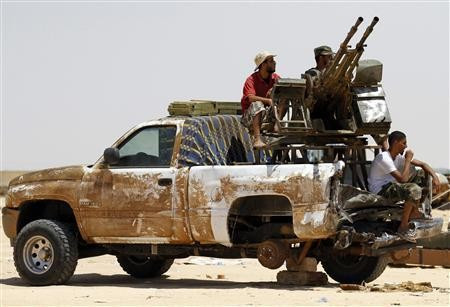 Libyan rebels backed by NATO air power on Wednesday launched a promised assault on a key gateway to Tripoli, attacking positions just 50 kilometres from the capital.
In an effort to achieve a significant advantage of the Libyan loyalist forces, the rebels fighters attacked positions in the Gualish area, in the plains north of their enclave in the Nafusa mountains southwest of Tripoli, an AFP correspondent said.
A rebel leader from the hill town of Zintan said his forces had co-ordinated their assault with NATO, which has stepped up its bombing campaign by destroying frontline armour of Moammar Gadhafi's regime in the past week.
"We waited before launching this assault and finally got the green light from NATO this morning and the offensive began," the rebel leader said.
The news come after the rebels became increasingly criticised Nato in the past week, blaming the Alliance lack of communication and cooperation for the stalemate.
According to the AFP correspondents, there were intense exchanges of artillery, mortar and cannon fire between the rebel fighters and government troops dug in around Gualish, and while NATO-led warplanes flew over the battlefield, there were no immediate air strikes, the news agency added.
The area targeted by the rebel offensive is seen as strategic as it also features the garrison city of Gharyan, a government stronghold in the Nafusa Mountains.
After a retreat from around the plains town of Bir al-Ghanam last week, spokesman Col. Ahmed Omar Bani had pledged on Saturday that the rebel army would soon try to push the front line northwards.
"In the next two days, the (revolutionaries) will come up with answers. Things will change on the front line," he said.
Wednesday's offensive comes a day after France said it no longer needs to drop weapons to the rebels fighting the Gadhafi regime since they are getting more organized and can arrange to arm themselves.
"The (rebel) territories are organizing their autonomy . . . That is why the parachute drops are no longer necessary," French Defence Minister Gerard Longuet said.
However he cautioned against the rebels' chances of defeating Gadhafi and pushing toward the capital.
Paris admitted last week it has made a series of parachute drops of weapons, including rocket launchers, to Berber rebel fighters in the Nafusa Mountains in a move criticized by Russia and the African Union.
This week, the Gaddafi forces also said they had intercepted boxes of armaments they said originate from Qatar.
After five months of conflict, the rebels are starting to make small gains on the ground, but the Gaddafi forces are still defiant and counter-attacking.
Last week the rebels seized regime bunkers containing rockets, machine guns and other munitions in the desert about 25 kilometres south of Zintan, but on Tuesday, shelling by forces loyal to Gadhafi killed 11 people and wounded dozens more-mostly civilians -around the besieged rebel enclave of Misrata, 200 kilometres east of Tripoli.