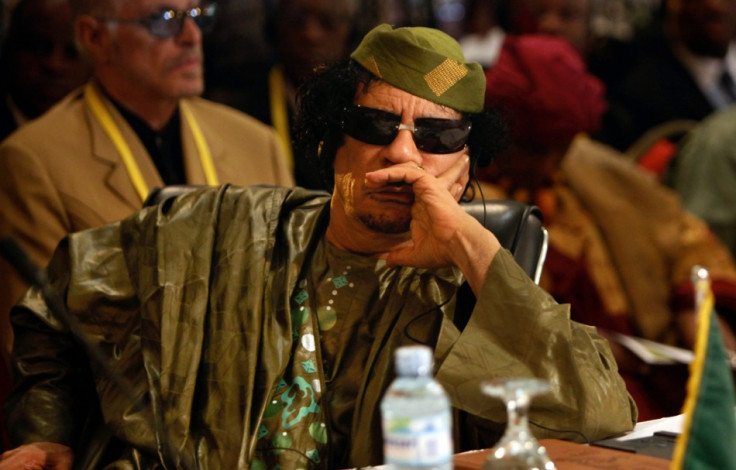 A spokesman for Tripoli's new military council said Wednesday the National Transitional Council knows where Muammar Gaddafi is hiding and vowed he will soon be captured or killed, the Associated Press reported.
Anis Sharif said Gaddafi is still in Libya, and has been tracked using human intelligence and technology. But he refused to say where the former leader is, only saying the colonel is trapped in a 40-mile- (60 kilometre-) radius area surrounded by rebels.
"He can't get out," Sharif said, asserting that NTC forces are preparing to either detain him or kill him.
Rebels had claimed weeks ago that Gaddafi and his sons were trapped in a hole in his Bab Al-Aziziyah compound in Tripoli.
Soon after the rebels' assault on Tripoli, the NTC forces also claimed they had captured two of Gaddafi's son, Saif al-Islam and Mohamed, and contacted the International Criminal Court to discuss details of a potential transfer of Saif to The Hague. But hours later, Saif emerged on the streets of Tripoli, even taking a BBC crew on a tour of the capital, while Mohammed mysteriously managed to escape his prison cell, so news that Gaddafi has now been found leaves many sceptical.
The rebels did not explain why they believe Gaddafi is inside one of those apartment buildings, but they say the colonel may be holed up in the buildings with some of his sons.
"They are together. They are in a small hole," the agency quotes one of the rebel fighters involved in the battle, Mohammed Gomaa, as saying. "Today we finish. Today we will end that."
Also, despite the leader being ousted, Gaddafi supporters are still emerging, vowing to fight for their former leader.
Capturing the colonel would also benefit the NTC, which is struggling to assert itself as the new government as it continues to meet resistance from some tribal leaders. Despite previous assurances the transitional government would move to Tripoli as soon as Gaddafi would be ousted, weeks after the collapse of the former Libyan regime, Benghazi is still the NTC's headquarters.
The situation in Libya is becoming increasingly worrying as even though the NTC controls Tripoli, a return to normal has been slow. While vehicles are now circulating freely throughout the capital and shops are reopening, there is still no official police and schools are still closed.
Observers in Libya say that many weapons stores have been raided in addition to the many weapons widely distributed by both camps during the Libyan conflict, leaving fears of a violent backlash.
Now that Gaddafi has been ousted, analysts also warn that some of the tribes could fight for their independence, which could plunge the country in a civil war while fears of a violent insurgencies led by Islamist terrorist groups are also rising.
While soon after the NTC forces took control of Tripoli, NATO and the coalition forces insisted they had learnt lessons from Iraq and Afghanistan, but Libya might prove to be yet another struggle. While the NTC's revolution coincided with the coalition forces's national interest, less can be said from Libya's neighbours. With increasing claims of maltreatment of sub-Saharan migrants by the rebels angering African countries, and with its regional neighbour still sympathetic to Gaddafi, regional tensions are set to rise.