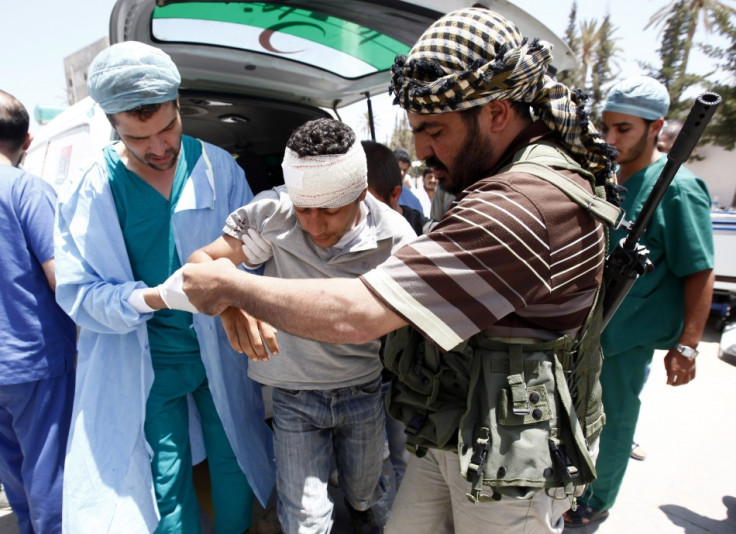 Following the failure of the African Union Road Map proposal presented by South African leader Jacob Zuma to broker a ceasefire between Gaddafi and the rebels, NATO powers are upping their intervention in Libya in a bid to break the deadlock, which has seen the Libyan leader hold on to power defiantly despite weeks of air strikes and a rebel uprising.
"Gaddafi's reign of terror is coming to an end. He is increasingly isolated at home and abroad. Even those closest to him are departing, defecting or deserting," Secretary-General Anders Fogh Rasmussen told a NATO forum in Varna, Bulgaria.
In the last few weeks NATO warplanes have intensified their air strikes on Tripoli and have repeatedly hit Gaddafi's Bab al-Aziziyah compound in the center of the city.
Responding to critics, Rasmussen said, "Our operation in Libya is achieving its objectives ... We have seriously degraded Gaddafi's ability to kill his own people,".
"We will keep up the pressure until all attacks and threats of attacks against civilians have stopped, until the regime has withdrawn its forces and mercenaries to bases and barracks," said Rasmussen.
Rebels now control the east of the country, around their main stronghold in Benghazi, and pockets in the West but have not yet managed to progress further towards the capital, Tripoli.
Western powers such as France, the United Kingdom and Italy were among the first to push for UN Resolution 1973 and to call for NATO's involvement but have insisted, from day one, that Western ground forces are not an option in Libya.
While a fully fledged ground operation could originally have deterred any support given by already hesitant Arab league and African countries, it would also undoubtedly have raised questions regarding the legitimacy of the operation and opened up the door for critics to see it as yet another neo-colonialist western enterprise or a new Afghanistan or Iraq.
However, more than three months after the beginning of the conflict and with few tangible progresses being made, will Nato finally send troops on ground?
U.S. Admiral Samuel Locklear, commander of the Joint Operations Command at Naples conducting the Libya campaign, recently declined to comment on the subject.
He however suggested that a small force may be needed once Gaddafi's regime collapses to help the transition to democracy after his 41 years in power, telling the Varna forum: "I would anticipate that there might be a need at some point to unfold a small force ... a small number of people there to help them in some way."
"It could be the United Nations, it could the European Union, I guess for a short period of time it could be NATO," he added without elaborating any further.
Locklear gave assurances that NATO was not carrying out plans on deploying such a force, but was discussing it because the alliance may be forced to act quickly to avoid a possible power vacuum.
"I think, given where we come in this operation that it would be, may be in the best interest as they try to put a government together to provide them some stability and some support while they do that," he said.
Meanwhile Britain said the Enhanced Paveway III bombs, each weighing nearly a tonne and capable of penetrating the roof or wall of a reinforced building, had arrived at the Italian air base from where British warplanes fly missions over Libya.
"We are not trying to physically target individuals in Gaddafi's inner circle on whom he relies, but we are certainly sending them increasingly loud messages," British Defense Secretary Liam Fox said on Sunday in a statement, before adding, "Gaddafi may not be capable of listening but those around him would be wise to do so."
While the coalition forces maintain it is acting under a mandate from the United Nations to protect civilians from attack by security forces who try to put down the rebellion against Gaddafi, the Libyan regime in contrast claims that the air strikes have until now killed more than 700 civilians.
More confusing and contradictory reports also surfaced as over the week-end, according to a former British ambassador to Libya who said he took part in the discussions, Gaddafi's foreign minister held talks in Tunisia with Lord David Trefgarne, a former British government minister.
The ex-ambassador refused to disclose what they talked about and the British government has since then denied it or any of its personnel had talked to officials loyal to Gaddafi.
Meanwhile on Sunday Al Jazeera broadcast video footage of what it said were foreign forces, possibly British, on the ground near the rebel-held city of Misrata.
There were a number of armed men, some wearing sunglasses and keffiyahs, or traditional Arab headscarves, who moved off when they realized they were being watched, the footage showed.
So are some coalition forces already on the ground or are the conspiracy theories just running wild?
Well it seems that either way coalition forces will soon have no choice but to clearly make up their mind and take a stand. While the possibility of sending troops has been debated back and forth in the last few months, and with the conflict far from being resolved, ground forces seem to have become an inevitable option, unless of course Nato manages to kill Gaddafi during its airstrikes, something NATO claims it is not trying to do.
With the operation already resulting in civilian deaths (although probably not to the extent claimed by the Libyan regime), including close relatives of Colonel Gadaffi and the coalition increasing its aerial support for a group of fighters that they know very little about, the coalition still appears to be afraid of commiting real ground forces as it could send the wrong signal. This despite the fact that ground forces are almost certainly the only way to remove Gadaffi from power, short of an aerial assassination. Perhaps they are waiting for the moment when it becomes "inevitable" that ground forces are needed before doing what they must already know needs to be donw. This half-in half-out behaviour is starting to look more childish then honest.