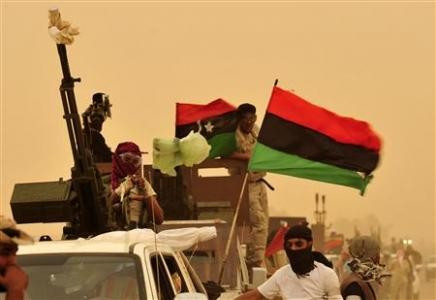 As the Muslim world prepares to enter Ramadan, it seems that Libya's rebels asked France for extra arms to help them overrun Tripoli within "days", indicating they are preparing for a pre-Ramadan offensive against Muammar Gaddafi' s forces.
The request was made in Paris on Wednesday to French President Nicolas Sarkozy by military leaders from the rebel-held city of Misrata, a member of their delegation said.
Rebel leader Mahmud Jibril indicated that he would also attempt to seek additional aid for their military campaign from Spain during talks in Madrid on Thursday with Spanish Foreign Minister Trinidad Jimenez.
Sarkozy held talks at his Elysee presidential palace with rebel General Ramadan Zarmuh, Colonel Ahmed Hashem and Colonel Brahim Betal Mal, as well as Suleiman Fortia, a local representative of the rebel leadership in Misrata.
"With a little bit of help, we will be in Tripoli very soon. Very soon means days," Fortia told reporters after the meeting. "We are here in France to discuss how we can do the job."
France is taking part in NATO-coordinated strikes against Gaddafi's military assets and was the first outside state to formally recognise the rebel Transitional National Council.
However while Alain Juppe claimed last weeks that France wanted to push for a political solution to end the conflict, it seems that Paris is still very much focused on using military tactics and materials.
After it was forced to admit it had dropped arms to the rebels in the Nafusa Mountains, southwest of Tripoli, to help them defend themselves against Gaddafi's forces, Nicholas Sarkozy's government was widely criticised by rights groups and political analysts, pointing out that the spread of light arms is one of the most serious problems affecting the continent.
Confirming suspicions that France would be ready to provide the fighters with even more arms, despite claims from former Libyan foreign minister Moussa Koussa that his country could become "a new Somalia" unless all sides involved in the conflict stopped it from descending into civil war, rebel sources said they were looking for similar deliveries of arms and munitions to Misrata.
"Insurgent commanders came to explain to the head of state that the keys to Tripoli are in Misrata," said a supporter of the rebels, French writer Bernard-Henri Levy, who attended the talks.
"Misrata's fighters are disciplined, battle hardened and they have a key asset: a military victory already won" against loyalist forces, Levy told AFP after the meeting.
Misrata, around 200 kilometres (125 miles) east of Tripoli, has been controlled by rebels since mid-May, after a two-month siege by Gaddafi forces.
French Defence Minister Gerard Longuet said Gaddafi is losing control of crucial energy supplies as the rebels advance in the key eastern oil town of Brega, in Misrata and in the Nafusa mountains.
White House spokesman Jay Carney said the Libyan strongman was "cut off from fuel and cash."
Rebels claim to have chased the bulk of Gaddafi's eastern army from Brega while encircling loyalists holed up among oil installations in the northwest of the town.
However despite claims that the regime is on the brink of collapse, it emerged on Tuesday that Libyan government forces in trucks disguised with rebel flags shelled opposition positions near Brega, killing twenty four rebel fighters and wounding dozens more, according to officials.
Also more conflict reports emerged as just a few days ago opposition commanders have played down their chances of rapidly capturing Brega and its petrochemical complex as they said hundreds of land mines planted by Gaddafi's forces consistently threatens and prevent their advance.