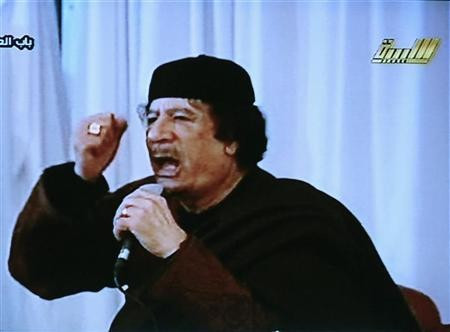 We seek him here, we seek him there.
Those Frenchies and Brits, seek him everywhere.
Is he in heaven? - Is he in hell?
That damned, elusive, turbaned Pimpernel.
Not Baroness "Emmuska" Orczy
Well, UN Resolution 1973 limitations or not, few can be in any doubt that British and French airstrikes in particular, since military action against Libyan Government forces began on 19 March 2011, have done their utmost to expedite Colonel Muammar Qaddafi's passage to the hereafter. This is of course in his role as Commander-in-Chief of Libya's Armed Forces, not as Head of State, or to cause regime change, which are both expressly forbidden under the terms of the said Resolution.
Yet here we are after over 100 days since military action by NATO commenced, and although severely weakened by the Alliance's firepower, with no Air Force or Navy left and incapable of striking his external enemies back, the sly old fox remains defiant and determined to continue the fight.
Never were the rebel Libyan forces capable of defeating the Libyan Government forces on their own and it is really only in this past week that there have been signs that a turning point in the rebels' favour may have been reached. Confirmation by "Free Libya" in Benghazi on 01 July 2011, that the oil pipeline supplying the Az-Zawiya refinery outside Tripoli from the Awbari oilfield had been severed, gives heart to the rebel forces frustrated by the limits of their own armed forces and NATO's air strikes.
Colonel Qaddafi's strongest advantage against his enemies must surely be his loyal coterie of followers and his relatively better trained and disciplined Army. Although of late it has been reported that these have continued to dwindle, it would appear that there is still a sufficient hard-core remaining to encourage his hopes of achieving at least a stalemate.
That is not to suggest that the Libyan Army has been anything but seriously weakened. Speaking to Jonathan Beale of BBC News Europe on 26 June 2011 from his Naples HQ, French Canadian Lieutenant General Charles Bouchard told the reporter that the Alliance is winning the war against Qaddafi:
"We have significantly destroyed his military capacity to the point that he now has no capability to run any offensive."
General Bouchard warned that the Libyan Army "is shielding themselves and using civilians as human shields", citing the example of a multiple rocket launcher being driven inside a house whilst the woman of the house was hanging out her washing on its flat roof.
Despite accidental bombings which have killed many civilians, General Bouchard went on to state when asked about Qaddafi's condemnation of NATO as "murderers and barbarians":
"I believe that he is the murderer. He is the man that's lost the moral authority to command his people."
As for Colonel Qaddafi being a legitimate target for assassination, the General repeats that his orders are not to bring about regime change or to kill a head of state. Some British politicians might care to note!
One more possible turning point to the advantage of "Free Libya's" National Transitional Council (NTC) in Benghazi was the issue of arrest warrants by the International Criminal Court (ICC) in the Hague. On Monday 27 June 2011, Chief Prosecutor of the ICC, Luis Moreno-Ocampo, issued warrants against Colonel Muammar Qaddafi, his son Saif al-Islam Qaddafi and the Head of Libyan Intelligence, Abdullah al-Sanoussi for crimes against humanity.
The ICC relies on the law enforcement agencies of the 115 countries that ratified the Court's founding statute, to make actual arrests. Difficult, as not all signatory states are likely to be in agreement with or sympathetic to the charges laid against the "offending" state.
Libya is not a signatory state to the ICC and does not recognise its jurisdiction or statute. Complicating matters further, the Chief Prosecutor confirmed that NATO forces operating presently against Libya and in Libyan airspace, have no powers of arrest. The task of arresting Colonel Qaddafi and any others, falls to the Libyan rebels and Libyan Transitional National Council.
Hardly had the cheering in Benghazi for the ICC's support died down before doubts and problems started to arise as to the true worth of the ICC's actions, both at home and afar.
In a 30 June 2011 editorial in the Ottawa Citizen, it was commented that international criminal law is but so very recent, with its first warrant for a sitting head of state only issued in 2009 against Omar al-Bashir, President of Sudan. The article goes on:
"It's worth noting ...that al-Bashir is still in power and travels with impunity - and not only to small pariah states...he travelled to Beijing this week for a friendly meeting with Chinese President Hu Jintao..."
This, the Ottawa Citizen claimed, highlighted just how patchy the application of the ICC's writ is and how dependent upon geopolitics it is, going on to remark:
"The lack of a universal and consistent application of the (international criminal law) severely undermines any potential deterrent effect for future tyrants, and lends a note of believability to Gadhafi's argument that the ICC is simply a tool that western states use against Third-World leaders they don't like."
Colonel Qaddafi, along with others of his ilk, could only have been even further reassured in this view of the ICC and its proceedings when, late on the night of 01 July 2011, the African Union, meeting in Malabo, Equitorial Guinea, called on all member states (53) to disregard the arrest warrant by the ICC calling it "discriminatory".
The African Union motion was later confirmed passed, by Daniel Adugna, a spokesman in the AU Commissioner's Office. "Free Libya" in Benghazi took comfort in the fact that the AU did not condemn them but recommended that peace talks should commence between the two parties. Naturally the AU sees itself as the best channel for such talks.
The ICC has a number of very major problems even in the interpretation of its founding principles outlined in its Rome Statute. India and China, to mention only two major states, will have nothing to do with it and are critical of its very establishment. Many countries have signed the statute but not ratified it.
There are yet other countries which have "unsigned" the Rome statute, demonstrating that no administration is bound by the legislation of its predecessor. The most significant country to "unsign" is, wait for it....The United States of America!
When all is said and done though, to arrest Colonel Qaddafi means his removal as Head of State of Libya, just as his death by anything other than natural causes would be against UN Resolution 1973. Did anyone really think this action against Libya fully through?