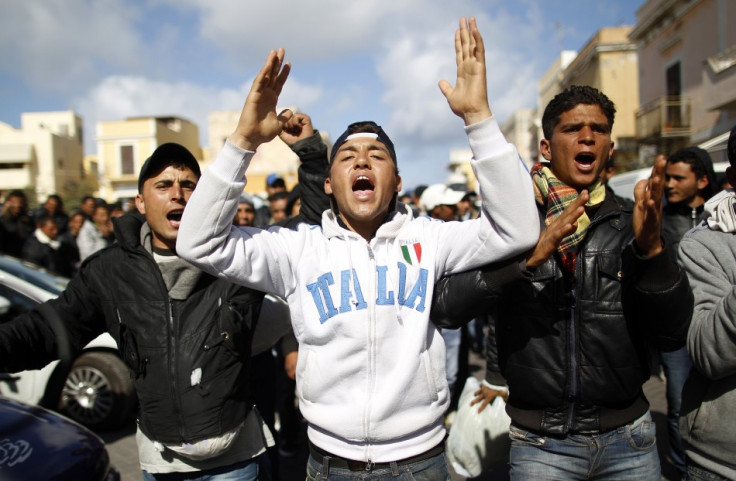 As refugees from Libya desperately try to reach Europe at the cost of their lives, Italy -- the EU country the most affected by the influx of asulum seekers -- is struggling to cope with the new arrivals.
The group of asylum-seekers were attempting to reach the Italian island of Lampedusa, which has been receiving thousands of refugees in recent months, after fleeing the Libyan conflict.
Following a new boat accident, Foreign Minister Franco Frattini called on NATO to investigate claims that an alliance warship close to the scene failed to help refugees from Libya when their boat got into difficulties.
The Italian coastguard rescued up to 300 people but reports have revealed that 100 of the migrants died from hunger, dehydration and asphyxiation.
"We were 300, but around 100, especially women, did not survive, and the men were forced to throw their bodies into the sea," a survivor told the press.
Three refugees, including a pregnant woman, were flown by helicopter to hospital on the island for treatment.
Officials say the refugees had been crammed into the drifting 65ft boat for more than 36 hours .
The safety of the refugees is a growing source of concern for rights groups as almost every weeks new casualties are announced.
Hundreds of refugees have died attempting the journey to Lampedusa since the fighting began in the North African country and just earlier this week 25 lifeless male bodies were found on one boat after they reportedly died of asphyxiation.
Meanwhile in April, as much as 250 refugees drowned as Italian coastguards attempted a rescue.
Italy, which is taking part in the NATO-led operation in Libya now, wants the Alliance to be more involved in the rescue of migrants fleeing North Africa in overcrowded or unsafe boats.
This is not the first time NATO has been accused of failing to come to the rescue of refugees in the same waters and while protecting civilians in Libya defines its mission, surely protecting civilians who are forced to flee the country as a consequence of the conflict should be as much of a priority.
Italy is just one of the destinations receiving Libyan refugees but countries like Tunisia and Egypt are also greatly affected. In its June reports the UN has said that 41,500 Libyans had fled to Tunisia.
With the country undergoing political change and dealing with the aftermath of the revolution that ousted former President Ben Ali, most of the refugees have to rely on the solidarity of the Tunisian people, the reports states.
Libyan refugees that have fled their countries are increasingly struggling to cope as they lack money, food and medicine, while others die in the process as travel conditions are often aberrant. Thousands of immigrants are illegally crammed in boats, having no access to basic hygiene necessities, rules or water.
At the same time, receiving countries also struggle to cope with the growing numbers of migrants crossing their borders or reaching there shores.