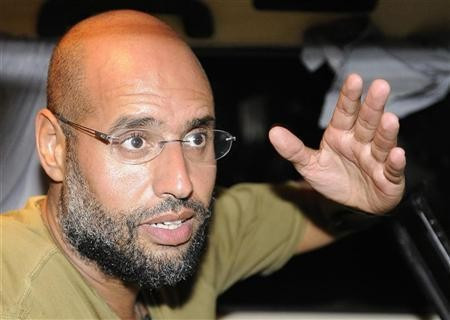 As the International Criminal Court (ICC) is still trying to ensure that Muammar Gaddafi's son Saif will be brought to justice, the chief prosecutor Luis Moreno Occampo has also revealed that his office will investigate allegations of war crimes committed by the former rebels and NATO forces.
Louis Moreno Occampo has reiterated that efforts to secure the surrender of Saif Gaddafi, currently on the run are on-going.
Saif, who was thought to be Gaddafi's potential successor before the uprising started is accused of murder and persecution.
An ICC arrest warrant issued for Saif al-Islam in June accuses him of playing an essential part in systematic attacks on civilians in various Libyan cities carried out by Gaddafi's security forces in February.
The Court will also do all it can to bring Gaddafi's former intelligence chief, Abdullah Al Senussi to trial.
Senussi has been accused of ordering mass rapes to persecute dissidents of the regime or rebel fighters.
In a statement sent to the United Nations Security Council, Louis Moreno Occampo also confirmed that a probe concerning alleged crimes committed by Libya's National Transitional Council (NTC) had been launched.
The alleged crimes include detentions of civilians suspected of being mercenaries and the killing of some of the combatants that had been detained.
Throughout the conflict, rights groups have accused the rebel fighters of arbitrary arresting and persecuting sub-Saharan migrant workers, and in certain cases of systematically accusing them of being mercenaries brought in the country to support the Gaddafi forces.
Moreno-Ocampo however did not provide details of the crimes NATO has been accused of committing.
"There are allegations of crimes committed by NATO forces, allegations of crimes committed by NTC-related forces, including the alleged detention of civilians suspected to be mercenaries and the alleged killing of detained combatants as well as allegations of additional crimes committed by pro-Gaddafi forces. These allegations will be examined impartially and independently by the office," the statement reads.
The prosecutor also reveals that his office had been told that the NTC would investigate the circumstances surrounding the death of Colonel Gaddafi.
While at first Libya's new leaders seemed reluctant to blame the death of Gaddafi on NTC-related forces, footages of the leader's last moments after his capture, suggested otherwise.
Following international pressure, the NTC later on said they would launch an investigation surrounding his death and that other probes could include alleged war crimes by pro and anti Gaddafi forces.
The Libyan Deputy U.N. Ambassador Ibrahim Dabbashi said that the transitional government would work at providing "transparent investigations and fair and just trials in Libyan courts."
Last month sources claimed Saif al-Islam was in a convoy heading toward Libya's desert border with Niger, where other Gaddafi allies have escaped, but none of the reports could be confirmed and his whereabouts are still unknown.
It is however not clear what would happen if Saif Gaddafi and Senussi are arrested as the NTC has said they would like them to be tried in Libya.
Due to the principle of complementarity inscribed in the Rome Statute, which governs the court, the ICC can only exercise its jurisdiction where the State Party of which the accused is a national, is unable or unwilling to prosecute.