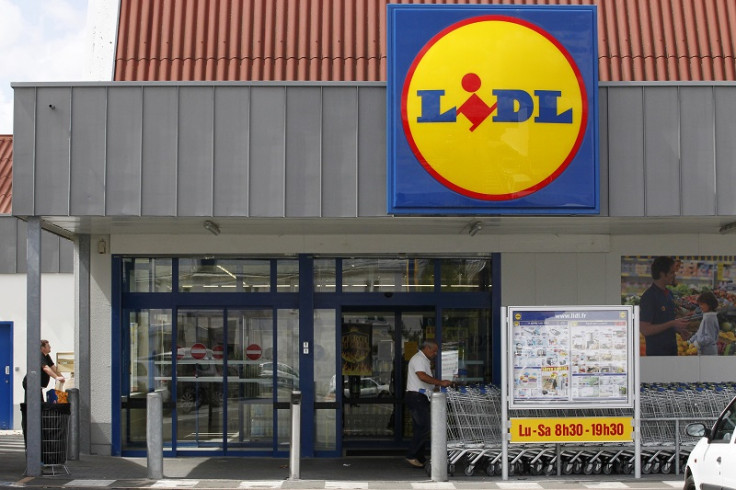 They have driven down prices, showered discount coupons on consumers and improved the quality of their products just to get one up on each other. But now a new frontier has opened up in the hypercompetitive war between Britain's supermarkets: workers' pay.
Lidl has just committed to paying above the living wage as recommended by the Living Wage Foundation, a charity that calculates what it argues is the fairest minimum hourly wage for workers in Britain when you take into account the cost of living.
And some shoppers say they will now take their business to Lidl – the first supermarket to commit to the LWF living wage rates – because of it.
Each year, the LWF calculates its new living wage rate to adjust for changes to things like inflation and benefits. As it stands, the rate for the UK is £7.85. For London, where life is more expensive, there is a separate rate: £9.15.
From 1 October, Lidl will pay all its UK staff at least £8.20 an hour, and in London at least £9.35. This is above the current recommendations in anticipation that they will increase with a new LWF calculation in November. Lidl has promised to match the LWF recommendations if they are higher.
And this goes further than the new "National Living Wage" to be introduced as a replacement for the minimum wage, a policy unveiled by George Osborne in his post-election budget. The new wage threshold will reach £9 an hour by 2020 for the over-25s, though the chancellor's critics say this is still not enough. As of April 2016, when the National Living Wage is first introduced, it will be £7.20 for workers over the age of 25.
Some grocery industry insiders have expressed concern about the effect of a higher minimum wage on supermarket jobs at a time when profit margins are being squeezed by the ongoing price war.
But Lidl, which is smaller and has fewer staff than many of its main rivals (it has 17,000 compared to Tesco's 310,000), has upped the pressure on others in the sector to follow suit. Will they? Here is what some of Lidl's biggest rivals in the UK have to say.
Asda
A spokesperson said: "Our hourly rate of pay is currently £6.89 (outside of London), increasing to £7.00 on October 1 as part of our annual pay review. In addition to this our benefits package includes: colleague discount, annual bonus scheme, pension contributions, a sharesave scheme that allows colleagues to save and plan for the future, a bank holiday premium, paid breaks and a variety of other optional benefits."
Aldi
An Aldi spokesperson said: "We offer competitive rates of pay for store staff that are above the proposed National Living Wage. Depending on their level of experience our store assistants can earn up to £9.50 per hour, and these rates are regularly reviewed to help us attract and retain the best talent.
"We have a clearly defined career path for store staff and many have progressed from store assistant through to store manager. We are investing significantly in recruiting and training new employees as we aim to create 35,000 new jobs by 2020."
Morrisons
"Our standard hourly rate of pay for store colleagues varies from a minimum of £6.83 to a minimum of £7.79 depending on location around the country," said a Morrisons spokesman. "However, we haven't as yet concluded this year's annual pay negotiations so these will change."
Tesco
A spokesperson for Tesco, which pays £7.39 an hour to its shop workers, said: "At Tesco we know it is important to reward colleagues well, and that's why we pay one of the highest hourly rates in retail. We firmly believe in offering colleagues a total reward package and our benefits include a 10% colleague discount, shares scheme and pension, which we know they really value."
Previous statements by the supermarket say it is "supportive" of Osborne's new National Living Wage, which will reach £9 an hour by 2020.
Sainsbury's
A Sainsbury's spokesperson said: "We recently announced a record 4% pay increase for 137,000 colleagues working in our stores across the country, bringing their current basic pay to £7.36 per hour, including those aged under 25. This is well ahead of the government's national living wage of £7.20 for the over 25s to be implemented by next April. In addition, our overall reward package goes beyond just paying an hourly rate and our benefits contribute significantly to a colleague's overall income. For example, unlike Lidl, we pay for breaks and give an annual bonus to colleagues (this year 133,000 colleagues shared £50m)."