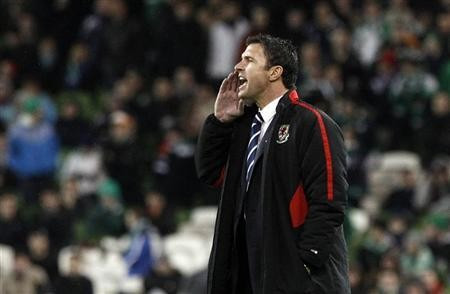 The sudden and unexpected death of Wales national team manager Gary Speed, which came at the very heart of the season of European football, has virtually shaken players and fans alike.
Here's a brief account of the life and career of the Welsh icon.
• Born Gary Andrew Speed in Mancot, near Hawarden, Wales, on September 8, 1969.
• Started career with Leeds United at the age of 19.
• Joined Everton (1996), before moving on to Newcastle United (1998), Bolton Wanderers (2004) and Sheffield United (2008).
• The midfielder played for the Wales national team during 1990-2004. He also captained the team and won 85 caps for Wales, more than anyone except the goalkeeper Neville Southall. The last appearance was against Poland in October 2004 in a World Cup qualifier. His retirement from international football followed a 3–2 defeat in that game.
• Speed became the manager of Sheffield United in October 2010. Two months later, he took over as Wales national team manager, a position which he held until his tragic death in an apparent suicide on November 27, 2011 (Sunday), at the age of 42.
• Scored 7 international goals from 85 matches
• Nearly 700 league appearances in a career that lasted for 22 years. Held the record for most Premier League appearances, with 535, until 2009.
• Speed was made an MBE in 2010.
• Leaves a wife and two children.