Earlier this week reports circulated claiming that Lil Wayne was planning to announce his HIV positive status to the public.
A photo of Nicki Minaj allegedly "visiting Weezy in hospital" fuelled the rumors on social media and fans quickly responded with hashtags including #PrayForWeezy.
It was reported that Wayne, 31, had contracted the disease from a stripper.
The Grammy award-winning rapper has now taken to Twitter to clear up the false claims, in a an expletive-filled tweet which was deleted shortly after being posted.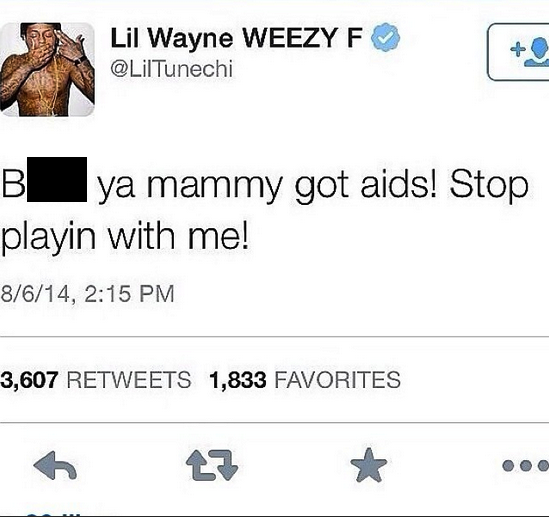 This is not the first time the rapper has been targeted with rumours - earlier this year a RIP Lil Wayne hoax went viral after a series of posts claimed the Lollypop hitmaker had passed away after a series of epileptic seizures.
Media reports also claimed the Young Money rapper's long-term addiction to Sizzurp - a concoction of cough medicine and alcohol - contributed to the seizure.
Birdman, who is the CEO of Wayne's label Cash Money, refuted claims the star was hospitalised for drugs use.
In an interview with TMZ he said: "It had nothing to do with drugs, no such thing like that.
"It was a result of dehydration and exhaustion, it's just his work ethic and how hard he works, how much dedication he gives to music and his fans, and what he's trying to accomplish in life."
Lil Wayne will be co-headlining a tour with Drake next month and is working on his 12th studio albumn Tha Carter V for release this year.