Capital One Cup Final as it happened: Chelsea 2-0 Tottenham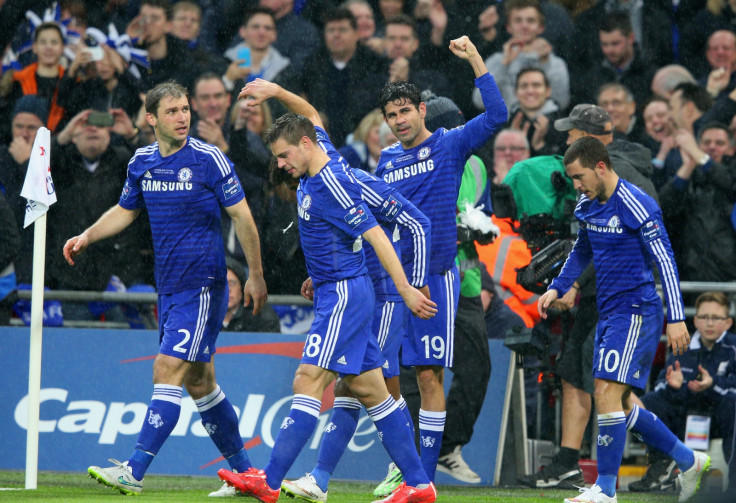 5:52pm: And that's a wrap. Chelsea are Capital One Cup winners and are deservedly so, with Tottenham unable to match their attacking prowess throughout the match. Thanks for joining us.
5:50pm: Didier Drogba comes on for Diego Costa to give the legend a chance to enjoy the last minutes of a Cup final win. The fans love it. This will also end a trophy drought for Mourinho - he's now gone two years and 10 months without - the longest spell without a trophy in his career.
5:48pm: Four minutes of extra time at Wembley.
5:47pm: Tottenham are pushing hard for a goal and Harry Kane is in with the shots but none have been on target yet, with Branislav Ivanovic handling his threats well.
5:43pm: Juan Cuadrado goes in the book for a tackle on Danny Rose. Final five minutes now and Chelsea are holding in the celebrations.
5:36pm: Roberto Soldado comes on for Nacer Chadli. Can Soldado win his way into Spurs fans' hearts with a goal or two today?
5:35pm: Willian comes off for Cuadrado as Chelsea look to wrap things up. The final 10 minutes are creeping closer and Spurs haven't looked too dangerous this half. Meanwhile Cesar Azpilicueta looked to be injured and the Blues have to play with 10 men for a spell as he receives treatment.
5:30pm: Gary Cahill is next in the book for bringing down Harry Kane - didn't look to be much in it though.
5:27pm: Looks like Chelsea are not parking the bus after all and they look to have an appetite for another goal. Spurs mix things up by replacing Ryan Mason with Erik Lamela, while Willian goes in the book for a challenge on Danny Rose.
5:22pm: One name that's been much quieter than expected today is Harry Kane - he hasn't been as influential as one might have imagined. Spurs fans are currently willing their players not to give up - they have 25 minutes to find two goals.
5:19pm: Spurs about to bring on Mousa Dembele. Looks like the last goal will count as an own goal for Kyle Walker as it was not on target before the deflection.
5:14pm: Lots of deflections today and both of Chelsea's goals were helped by them - would be gutting for Tottenham fans right now. There's still time and Spurs are the kings of last-minute comebacks but they will have to contend with a Blues side well and truly parking the bus now.
5:12pm: GOAL! Diego Costa doubles Chelsea's lead and the side look very much in control now. His strike deflects off Kyle Walker, which confuses Hugo Lloris and leaves the keep int he wrong place to make the save.
5:08pm: Cesc Fabregas is so close to scoring a very memorable Wembley goal! He makes an overhead kick and it's headed for the net but Lloris makes the save.
5:06pm: Spurs are on the early attack but they're still lacking a cutting edge in the final third.
5:03pm: And we're back! Kyle Walker looked to have a problem with his knee in the first half but he's continuing for now.
4:48pm: And that's a wrap on the first half - Tottenham will be very pleased that is over with Chelsea looking dominant in the final minutes.
4:47pm: Chelsea come close again through Gary Cahill but Lloris is on hand to make a very good save.
4:44pm: GOAL! John Terry gets one in from a set piece and Chelsea have the lead. There's some deflection off Harry Kane and Tottenham won't be happy with their defending from that corner, with the ball falling to Terry and gifting him an easy shot.
4:40pm: Chelsea continuing to handle the pressure well as Nacer Chadli and Christian Eriksen continue to aim for the net.
4:37pm: Tottenham are putting the pressure on now and Christian Eriksen is beating out Chelsea's midfield but his shot is easily collected by Petr Cech.
4:32pm: Dier puts in a, well, pretty dire (sorry) challenge on Costa, who is left rolling on the ground holding his leg. The Tottenham man goes in the book for it.
4:29pm: Diego Costa locks horns with Kyle Walker - he's fired up today, that's for sure!
4:25pm: Tottenham are now seeing the majority of the ball with 58% possession, but Chelsea are still looking very dangerous on the break. After nothing comes of Nabil Bentaleb's free kick Hazard has a shot blocked on goal though it's not quite on target.
4:18pm: OptaJoe gives us hope that there will be goals in this game:
Only one of the last 11 League Cup finals has seen fewer than three goals scored (Man Utd v Spurs in 2009). Bonanza.

4:16pm: That chance for Tottenham has given them confidence and they're now attacking a lot more now. Ryan Mason has a big shot but it's blocked - it's the only shot on target so far in this game.
4:13pm: Chelsea might be on top but Spurs have the best chance of the game as Eriksen's free kick clips the bar. Petr Cech wouldn't have saved that one.
4:08pm: Chelsea are playing at their best at the moment, with Diego Costa getting in players faces to put the pressure on and the side attacking constantly. Tottenham are very much on the back foot at the minute.
4:04pm: Chelsea have burst out of the blocks with a shot on goal already and Diego Costa being caught offside after collecting a through ball from Cesc Fabregas.
4:01pm: Some confusion over who is playing in midfield for Chelsea - at first it appeared to be Gary Cahill but looking at the pitch it's clearly Kurt Zouma. More mind games from the Special One maybe?
4:00pm: And we're off!
3:55pm: Five minute warning people! The players are out and the atmosphere is pumping. The last time we were here for Tottenham and Chelsea in a League Cup final was 2008 - Spurs came out winners, will they do it again?
3:47pm: Currently there's a gymnast floating around the stadium, attached to a balloon, with the trophy. Very typically odd start to the Cup final.
3:35pm: Jose Mourinho is the king of mind games and he's been at it again this week, claiming Tottenham wanted him to manage them but he would never do it to the Chelsea fans.
I couldn't go. I could not train in England for two years.

[I wouldn't manage Tottenham] because I love Chelsea supporters too much.
3:30pm: The team line-ups are as follows:
Chelsea XI vs. Spurs: Cech; Ivanovic, Zouma, Terry, Azpilicueta; Cahill, Fabregas; Willian, Ramires, Hazard; Costa.
Spurs XI vs. Chelsea: Lloris; Walker, Dier, Vertonghen, Rose; Bentaleb, Mason; Chadli, Eriksen, Townsend; Kane.
3:30pm: Good afternoon and welcome to IBTimes UK's coverage of the Capital One Cup final, between Chelsea and Tottenham at Wembley. It's going to be a big game with two attacking sides desperate to take home the trophy; for Chelsea it will be the first since Mourinho returned to the fold and for Spurs it will be their first trophy in seven years.
© Copyright IBTimes 2023. All rights reserved.