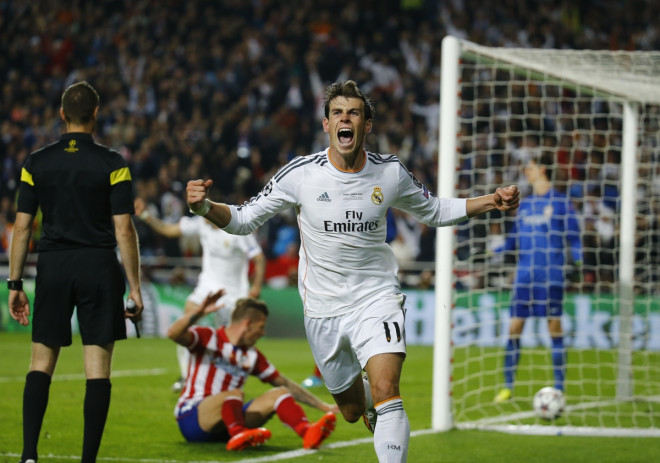 Real Madrid 4-1 Atletico Madrid FT
Diego Godin scores in the first half to put Atletico in the advantage
Sergio Ramos equalises in the last minute to take match to extra time
Bale scores in extra time to put Real Madrid up 2-1
Marcelo all but ends the game with a goal to take the scores to 3-1
Ronaldo scores penalty to take side to 4-1
10:22pm: And that's a wrap! Real Madrid are the 2014 Champions League winners!
10:20pm: There's trouble on the pitch as Diego Simeone runs on to tell the ref and the Real Madrid players what he thinks after Varane is booked. He's promptly sent off.
10:19pm: GOAL! Ronaldo takes his top off, and yes he is ripped.
10:18pm: PENALTY Diego Godin picks up a yellow card after a silly tackle on Ronaldo and the forward takes the penalty.
10:16pm: GOAL! Real Madrid all but end it as they go up 3-1 thanks to Marcelo.
10:14pm: If that goal wins the match, Bale will become a Madrid legend. He's the first Welshman to score in a European Cup final and after forcing through a move from Tottenham for a record fee last summer, he looks to have paid some of the money back in a big way.
10:11pm: Atletico might be spent right now but the side have a good chance with Casillas coming completelyoff his line. It's blown wide but you'd think they're not completely done yet.
10:09pm: GOAL! Bale finally gets it into the net as Di Maria gives the Welshman a brilliant pass.
10:08pm: Chances for both Real Madrid and Atletico Madrid but Real look the more likely side to score. Just 10 minutes to go until penalties...
10:04pm: And we're away again with Real Madrid on the attack.
10:01pm: It's half-time of extra time and after Diego Simeone takes his players away from an oncoming argument with the ref the manager seeks to calm them down. Players are cramping everywhere and the mental fatigue is building - who will come out victorious in the second half? Or will it go to penalties?
9:58pm: A corner for Atletico Madrid but the side don't look close to scoring at the moment. They're allowing Real to dominate in their box.
9:54pm: Yellow card for Gabi, and Ronaldo has the free kick once more. And once again he hits the wall, though he had a good shout for handball there.
9:50pm: Both teams are slogging it out but Atletico look more tired than Real. You would think they would at least consider continuing to defend until penalties.
9:44pm: And we're off again. Real Madrid seemed to have the strength towards the end of normal time and were outdoing Atletico in the final minutes - can they keep it up now?
9:42pm: All the players are huddled and this could be one of the best talks Carlo Ancelotti or Diego Simeone give in the season. Just a small amount of time stands between one of these teams holding Europe's most decorated trophy.
9:38pm: Full Time - we're in extra time!
9:36pm: GOAL!!! Real Madrid equalise thanks to a clinical header from the unmarked Sergio Ramos!
9:35pm: Atletico continuing to hold their line! Just three minutes to go, Real Madrid pushing hard for that equaliser...
9:31pm: Just minutes left, Atletico Madrid are defending brilliantly agains tthe onslaught by Real. Ancelotti's side now have 10 shots on goal but just two have been on target.
9:29pm: Atletico Madrid looking like they're doing a little bit of time wasting here and Koke is handed a yellow card for kicking the ball away after the ref blows the whistle.
9:25pm: Filipe Luis looks to have hurt himself and is being helped off the pitch. Alderweireld is on in his place.
9:24pm: Alvaro Morata on for Karim Benzema. Getting into the final 10 minutes here.
9:22pm: Di Maria is proving tough to stop for Atletico Madrid at the moment with the star bringing on three fouls resulting in yellow cards. Meanwhile Bale is coming so close - he certainly won't be happy if the game ends without a goal from Real.
9:19pm: Real are starting to attack with a bit more pace now and Ronaldo and Bale are having more chances. Isco has taken some positivity on the pitch and it's looking better for Carlo Ancelotti's men on all but the scoreboard.
9:18pm: Yellow card for Juanfran - at least Atletico are sharing out the cards equally!
9:16pm: Bale again with a shot on goal and misses to the right. He's not had the best game so far but there's time left for some of that Welsh magic to come alive.
9:13pm: Atletico and Real Madrid have seven shots apiece now, and Atletico are chipping into the side's dominance in possession with 58% to 41%.
9:10pm: Ronaldo and Benzema are at it again with Isco having a shot from outside the box after the pair pass the ball through Atletico's defenders - but it's wide off the target. Atletico still looking in control.
9:08pm: Change for Atleti, with Raul Garcia off for Sosa.
9:05pm: We're into the last half hour and Real Madrid go close with Ronaldo and Benzema both having chances of Ramos' shot across the box. Frustrating times for the expensive attacking line-up.
9:02pm: Coentrao and Khedira are off for Marcelo and Isco as Real Madrid look to mix it up a bit.
8:57pm: Di Maria on the receiving end of another poor tackle from Atletico Madrid, this time from Miranda, who receives a yellow but isn't happy about it. Ronaldo has the free kick, and the former Manchester United man looks on target but Courtois has a hand on it.
8:55pm: Real Madrid haven't exactly burst out of the blocks this half, with Atletico still looking dangerous against their opposition.
8:50pm: A lot is needed from Real Madrid now with the side desperate to hold up that Champions League trophies after so many semi-final disappointments. And OptaJoe have some tough statistics for the side...
Atletico de Madrid lost none of the 31 league matches that they took the lead in during 2013/14 (W28 D3). Stronghold.

8:48pm: And we're back!
8:37pm: Here's the goal of the first half, with Casillas completely mishandling a save to allow Diego Godin to send the ball into the net: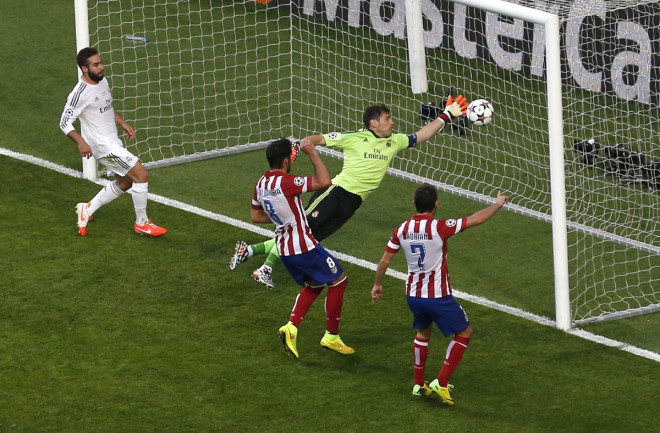 8:34pm: And that's a wrap! We go to half time and Atletico hold the advantage.
8:33pm: Khedira goes in the book for a tackle on David Villa and Real Madrid must be praying for that whistle to blow as half-time comes around...
8:30pm: It's entirely Real Madrid's fault that they're in this situation - firstly through Bale's miss in front of goal and secondly through Casillas' blunder. The side have time to put it right but time is running out in the first half with just minutes left.
8:27pm: That was a big goal and not one many would have expected, what with Casillas usually being the stong point in Real Madrid's defence. It seems to have lit a fire in Atletico who are now putting more pressure on Madrid. Having said that, Ancelotti's men still look dangerous - there's surely more goals left in this.
8:23pm: GOAL! Atletico go 1-0 up in Lisbon thanks to Diego Godin, who takes advantage of a massive blunder from Casillas to put the ball well and truly at the back of the net. They certainly weren't favourites going into this match and particularly when Costa came off, but Atletico are now in the advantage!
8:20pm: Bale!!! Gets hold of the ball and counter attacke, beating off four defenders to have a shot in the box and... shoots wide. If he keeps that up he'll have to have a goal at some point tonight.
8:15pm: Ronaldo has a pretty good shot on goal with a free kick, putting Courtois to work. Real Madrid are looking slightly better so far this half and are taking full advantage of Atletico's messy tackles.
8:12pm: Sergio Ramos clears the line, leading to a corner for Atletico. It comes to nothing for the side and on the counter attack, Raul Garcia is handed a yellow for a rough tackle. Ramos is not happy and runs into the action to have his say to both player and ref, receiving a yellow card himself.
8:06pm: Ramos and Gabi have a little scruffle after a tackle by the former on the latter but everyone moves on pretty quickly. Still no shots on target from either side.
8:01pm: Without Diego Costa, who was clearly unfit from the outset and his inclusion in the starting line up was an obvious sign of his importance, Atletico Madrid may struggle with their attacking flare tonight. Meanwhile Madrid continue to control possession.
7:56pm: Diego Costa is off already! His hamstring gives in and the Atletico Madrid man is off for Adrian Lopez. He used an experimental treatment of horse placenta on his injury but it obviously hasn't worked, as he leaves the pitch within 10 minutes.
7:52pm: Real Madrid are dominating possession at the moment with the crowd creating what was expected to be a fantastic atmosphere. Benzema and Bale have a chance for Real but Courtois is on hand to stop the pair.
7:45pm: And off we go!
7:40pm: Lots of dancing and spinning and twirling going on in Lisbon right now. The players are lined up in the tunnel and looking focused. Bring on the football!
7:38pm: Another injury problem in the lead-up to the final has been Diego Costa, with the Atletico star coming off in the side's final league game. But he starts tonight, which will no doubt be a risk with the upcoming World Cup - clearly this game holds particular importance to him.
7:32pm: Cristiano Ronaldo is another man to watch tonight with the Portugal international looking to be in the peak of an illustrious career. He missed Real Madrid's final league match with a leg muscle injury but Carlo Ancelotti insists he is fine to play tonight.
Cristiano doesn't have any problems. He has trained well."
7:26pm: The achievements of Diego Simeone have certainly been widely praised across the globe and his players are the first to talk up his abilities as manager.Atletico midfielder Tiago Mendes says:
He's like a god for us. He arrived to the club and he changed everything. What he says to us comes true.

"We follow him, so if he asks us to go and jump from the bridge, we jump."
7:20pm: Premier League fans will no doubt have an eye on Gareth Bale, who left Tottenham in pursuit of the Champions League trophy and will now play in his first ever final of the competition. The winger has been brilliant for Real Madrid this season alongside Cristiano Ronaldo, proving his worth on a number of occasions - can he do it tonight though?
7:14pm: Real Madrid last one their European Cup 12 years ago while Atletico Madrid won their only one 40 years ago. For Atletico, it's been a dream season which has seen them usurp La Liga's giants at the top of the table, but they'll be putting their historic title win well and truly behind them as the final in Lisbon gets underway.
7:12pm: Team line-ups for tonight are as follows...
Real Madrid: Casillas, Carvajal, Varane, Sergio Ramos, Fabio Coentrao, Modric, Khedira, Di Maria, Bale, Benzema, Ronaldo. Subs: Diego Lopez, Pepe, Marcelo, Arbeloa, Morata, Isco, Illarramendi.
Atletico Madrid: Courtois, Juanfran, Miranda, Godin, Filipe Luis, Raul Garcia, Gabi, Tiago, Koke, Villa, Diego Costa. Subs: Aranzubia, Mario Suarez, Adrian, Rodriguez, Alderweireld, Diego, Sosa.
Referee: Bjorn Kuipers (Holland)
7:09pm: Evening to all and welcome to the IBTimes UK's coverage of the Champions League final! Tonight It's the giants of Madrid pitted against once another with Carlo Ancelotti hoping to win his third Champions League trophy in his first season in charge at Real Madrid; while Diego Simeone is planning on taking his side to win the double, already holding the 2013-14 La Liga title firmly in their hands.
Coentrao and Khedira are replaced by Marcelo and Isco