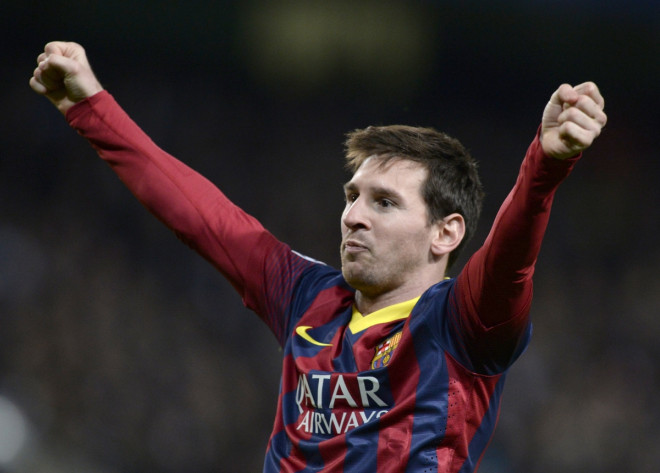 9:45: Barcelona and Paris Saint Germain join Bayern Munich and Atletico Madrid in the last eight draw. That's all from us this evening, thanks for reading and join us next time for more live coverage.
9:41: Manchester City provided a very good account of themselves tonight but Barcelona deservedly progress. The away side surround the referee for a bit more complaining at the final whistle but it won't change much. The official has endured a fairly rubbish evening but in the grand scheme of things, Barcelona have more right to be aggrieved that their opponents. Oh well.
FULL TIME
Barcelona 2-1 Manchester City (4-2 on aggregate)
Paris Sainy Germain 2-1 Bayer Leverkusen (6-1on aggregate)
9:35: Well, that's that then. Iniesta is released down the right and draws Hart out to the byline before teeing up Dani Alves who smashes it home.
Goal! Barcelona 2-1 Manchester City (Dani Alves, 90+1)
9:32: Consolation or comeback? Probably the latter. Milner swings in a corner from the right that Negredo meets from 10 yards out, heading back across goal. Kompany swings a boot out and prods the ball home. Barca players want an offside shout, but replays suggest it was a smart decision from the linesman.
Goal! Barcelona 1-1 Manchester City (Vincent Kompany, 88)
9:28: Hart makes a good save to deny Fabregas after Alves and Messi easily move the ball across the box. It's his last action of the game as Sergi Roberto is on to replace the former Arsenal skipper.
9:25: City enjoyed the rub of the green in the first half but have every right to be miffed with that decision. Things have balanced themselves out, one would argue, after Messi was denied a spot kick himself in the first half.
9:23: Dzeko battles his way past Pique into the box and the Barca defender stumbles and appears to clip the heels -albeit accidentally, maybe - of the City striker who was shaping to shoot. Looked a clear penalty. In the inevitably furious appeals, Zabaleta is shown a second yellow card.
9:21: City denied an apparent penalty! And now Zabaleta has been shown a red card, it's all kicking off!
Red Card - Zabaleta (Manchester City)
9:18: Barca tearing into City now. Kompany is booked for pushing Neymar who has nipped ahead of him with the goal at his mercy. The City captain is perhaps lucky to escape with just a yellow. Moments later Dani Alves dances his way past two City players before he's clipped by Lescott, who's also shown a yellow. Xavi's resulting free kick of blocked.
9:16: Barcelona waste the resulting corner. Negredo comes on for Silva.
9:15: Joyous football from Barcelona. Fabregas lifts an exquisite ball over to Messi who has broken through, this time on the left. He pulls ball back to Xavi on the edge of the area but his firm effort is palmed away by Hart.
9:11: Messi scores! Barcelona move menacingly with the ball in front of goal before Fabregas looks to slide it into the Argentine. It hits Lescott, but the City defender gets in a muddle can't react quickly enough and Messi is across him and clips the ball over Hart. 3-0 on aggregate.
Goal! Barcelona 1-0 Manchester City (Lionel Messi, 66)
9:10: Free kick for Barcelona down the left that Xavi swings it in for Pique but Kompany is across him in a flash to clear the danger from 10 yards out.
9:05: Fantastic interception from Pique denies Fernandinho the chance to shoot yards out from goal. The Brazilian chases a long ball into the box and wins the header which in turns bounces off a Barcelona shoulder back into his path but the former Manchester United defender swings a boot in to clear the danger.
9:02: Amid all that excitement PSG have moved further out of sight in Paris. Lucas Digne excellently skins his man down the left and drills a cross across the box where Ezequiel Lavezzi is well placed to convert with a sweet first-time strike from 14 yards
9:01: Dzeko is again causing bother as City pass up another chance to open the scoring. Crossing from the left the ball bounces back out into the path of Pablo Zabaleta but he skews his effort off target.
8:59: What a start to the second half here! Messi picks up the ball and bursts down the right flank before sliding a tantalising ball across the box with Fabregas waiting, but Hart is bravely out to smother it.
Goal! Paris Saint Germain 2-1 Bayer Leverkusen (Ezequiel Lavezzi, 53)
8:57: What a save from Valdes! City immediately march up the other end and an excellent cross is swung in to Dzeko who meets with an excellent looping header that is seemingly destined for the top corner, but the Barca goalkeeper gets finger tips to it and makes a stunning stop.
8:55: Messi hits the post! Lescott loses possession inside his own box and Neymar finds the Argentine who is left one on one with the City centre half. He predictably leaves him for dead as he bursts into the box but his left footed effort is denied by the post! Huge let off for Lescott.
8:51: It's a positive start from City as James Milner suddenly finds himself in space on the edge of the area, but can't quite sort his feet out in time. Silva helps to win the ball back and it comes to Dzeko on the left hand corner of the box who hits a low effort through a crowd of players, but it's well held by Valdes.
8:48: Underway for the second half at the Nou Camp with Edin Dzeko on for Sergio Aguero, who hasn't looked 100 percent this evening.
HALF TIME
Barcelona 0-0 Manchester City
Paris Saint Germain 1-1 Bayer Leverkusen
8:33: Oustanding from Messi again as he sidesteps Kompany with ease before sliding a deft ball into the path of Neymar. The Brazilian is pushed wide by the onrushing Hart but keeps possession. The City 'keeper is left stranded as Neymar pulls him further out of goal before whipping an effort in that is headed off the line by Fernandinho.
8:30: Sublime move from City! Positioned on the edge of the D, Toure clips a ball into Silva who has burst through the middle. The Spaniard knocks the ball back into the path of Nasri with an outstanding flick but the Frenchman's effort is straight down Valdes' throat. Best chance of the game for the visitors.
8:28: Hart makes the save! Moments after the Neymar chance the ball is clipped in from the right where Xavi meets it on the stretch but it's straight at Hart.
8:26: Close from Neymar! A lofted through ball is met by the Brazilian who clips the ball over his shoulder on the turn. Kolarov loses his footing in the process and Neymar is suddenly through on goal, but drives his effort wide of the near post.
8:22: More whistles from around the Camp Nou as City play on with two Barcelona players down. It's neat play around the box between Aguero, Nasri and Toure who then finds Silva cutting in from the right. The Ivorian is screaming for the ball back to take on a shot having found a bit of space on the edge of the area, but Silva decides this one is his and takes aim, but it's well over the bar.
8:19: Neymar breaks down the inside right but Lescott comes across and clatters him with a crunching challenge. The City man seemed to get enough of the ball however, much to the fury of the Barca crowd who are relentlessly whistling every decision referee Stephane Lannoy makes in favour of the away side.
8:16: Silva swings in a free kick from the left that Lescott is fighting to get on the end of, but he can't generate the power behind it to worry Valdes. Zabelta makes it a hat trick of City yellow cards inside half an hour.
8:14: The German penalty crisis continues! Jallet trips Eren Derdiyok inside PSG's box but Rofles' tame effort is easily saved by Sigiru. Another rubbish penalty, the knock out stages have been full of 'em.
Saved!
Penalty! (Bayer Leverkusen)
8:11: Nearly 25 minutes in and the only time Aguero has been on the ball has been when he had it nicked off him by his compatriot Messi. Kolarov enters the referee's book for a challenge on Neymar on the right flank.
8:06: Barcelona have a goal chalked off, but it looks like a poor decision. Fabregas releases Alba down the inside left and he sends a perfect pass across goal where one of three offside Barcelona players tap the ball home. Alba was comfortably onside when he got the ball, however. City getting a few favours from the officials here so far this evening.
Goal Disallowed - Barcelona
8:05: Silva receives the ball just inside the Barca area and squirms his way out of trouble and finds Koloarov on the left. The full back swings the ball into the box where Milner meets it having opened his body up trying to guide it into the far corner, but it flies well wide.
8:02: The comeback in Paris is off for the time being. Marquinhos is on hand to head Ibrahimovic's saved shot into the back of the net to give his side a 5-1 advantage on aggregate.
7:59: Brilliant from Messi! The recently dethroned best player in the world weaves past Toure, and Lescott into the box before Kolarov opts not to swing a leg across his path, but Hart is out quickly to block Messi's poked effort, but it rolls underneath him. The Argentine is on the loose ball in a flash and tries to poke it over the line from a tight angle but Kompany this time makes the block on the line.
Goal! Paris Saint Germain 1-1 Bayer Leverkusen (Marquinhos)
7:57: Fernandinho picks up a yellow card for a late slide on Busquets and will miss his next European match.
7:56: Barcelona fans screech for a penalty as Messi is slightly upended in the box by Lescott. It looked very clumsy from the City defender and the Argentine appeared to get to the ball first. City perhaps got away with one there.
7:54: The comback is on! Erm, maybe, anyway. Bayer Leverkusen open the scoring in Paris as Donati swings in a cross from the right which Sam meets at the backpost.
Goal! Paris Saint Germain 0-1 Bayer Leverkusen (Sidnei Sam, 5)
7:51: Aguero picks up possession and is urged forward but Lionel Messi tracks him all the way back and retrieves possession. He then marches up the other end and is crudely bear-hugged by Lescott who is lucky not to be shown an early yellow card.
7:46: Good start from City as Kolarov embarks on a run down the left before playing the ball infield to Silva. The Spaniard suddenly has a bit of space to open up and shoot but instead finds Toure who slides a ball through for Milner but Jordi Alba tracks well.
7:45: And we are underway! Goals, please. And lot's of them.
7:40: Barcelona's advantage tonight makes them favourites ahead of kick off but their recent form has been a cause for concern. The club have lost two of their last three games since that win in Manchester. Gerardo Martino's side were well-beaten at Real Sociedad and were unable to muster anything of real note last time out against Valladolid in two awful performances that have seen their manager come under real scrutiny. In between those two results was a 4-1 hammering of Almeria, but what Barcelona will we see this evening?
7:33: We are (just about) 15 minutes away from kick at the Camp Nou and Parc de Princes.
7:20: Obviously there will be no Manuel Pellegrini on the touchline for Man City this evening; he begins his ban for his barbed comments directed at Jonas Eriksson after claiming the Swedish official was "not impartial to both teams" in his side's 2-0 defeat a fortnight ago
7:16: Milner handed a role from the start this evening; has Manuel Pellegrini made Lionel Messi his priority for the evening?
7:12: Neymar retains his place in Barcelona's starting XI despite his wretched performance against Valladolid at the weekend. It's as you would expect from Gerardo Martino's side really.
TEAM NEWS
Barcelona: Valdes, Dani Alves, Pique, Mascherano, Jordi Alba, Xavi, Busquets, Iniesta, Messi, Fabregas, Neymar
Subs: Pinto, Pedro, Alexis, Bartra, Song, Adriano, Sergi Roberto.
Man City: Hart, Zabaleta, Kompany, Lescott, Kolarov, Silva, Fernandinho, Milner, Nasri, Toure, Aguero
Subs: Pantilimon, Negredo, Dzeko, Javi Garcia, Jesus Navas, Clichy, Boyata.
BREAKING: Joleon Lescott partners Vincent Kompany in defence for Manchester City.
7:04: Milan and Arsenal tried and failed last night but now Manchester City will attempt to overturn a home defeat to progress to the quarter finals of the Champions League. However, in City's case they will have to become the first team EVER to overcome a two goal deficit and progress. It's a tall order, but this is by no means a vintage Barcelona outfit.
7:03: Edinson Cavani is back in the starting line up having not started a game since the end of January. He takes a wider role with Ezequiel Lavezzi on the other side as Zlatan Ibrahimovic leads the line once again.
TEAM NEWS
PSG: Sirigu, Jallet, Marquinhos, Thiago Silva, Digne, Pastore, Cabaye, Rabiot, Cavani, Ibrahimovic, Lavezzi
Subs: Douchez, Camara, Menez, Thiago Motta, Alex, Maxwell, Lucas Moura.
Bayer Leverkusen: Leno, Donati, Wollscheid, Toprak, Guardado, Rolfes, Reinartz, Can, Sam, Derdiyok, Castro
Subs: Lomb, Son, Kiessling, Hilbert, Boenisch, Brandt, Wagener.
7:01: Manchester City face the unenviable task of overturning a 2-0 defeat in the first leg at Barcelona, while Paris Saint Germain have the far easier prospect of securing their progress to the knock out stages with a 4-0 advantage already in the bag over Bayer Leverkusen. We will have all your build-up and team news as we get it throughout the evening.
7:00: Good evening and welcome to IB Times UK's live coverage of Wednesday's Champions League action.