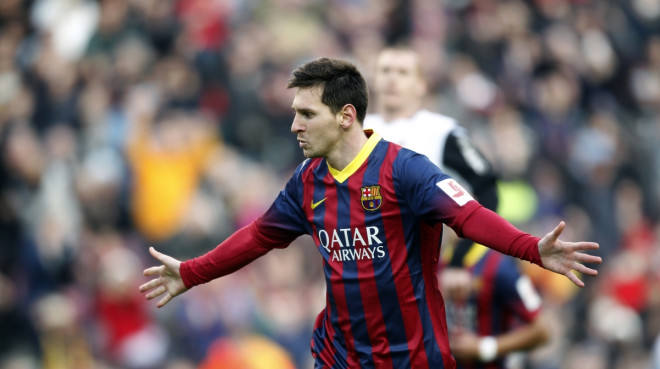 9:45: And that's all from us for the evening. Join us on Wednesdsay as Arsenal host Bayern Munich and Atletico Madrid travel to Milan. Thanks for reading.
9:40: And that's full time. Barcelona take a healthy lead with them to the Nou Camp.
FULL TIME
Manchester City 0-2 Barcelona (Messi, 53, Alves, 89)
Bayer Leverkusen 0-4 Paris Saint Germain (Matuidi, 2, Ibrahimovic, 39, 43, Cabaye, 86)
9:33: And if you haven't noticed, PSG have put a fourth past the hapless Leverkusen. Lucas Moura pulls the ball back for former Newcastle maestro Yohan Cabaye who side foots the ball into the back of the net from 18 yards.
9:32: And just like that Barcelona make it two. With seemingly nothing on, Alves and Neymar combine excellently at pace on the right, bewildering Clichy and Lescott. Alves bursts into the box and toe pokes the ball underneath Hart.
Goal! Manchester City 0-2 Barcelona (Dani Alves, 89)
Goal! Bayer Leverkusen 0-4 Paris Saint Germain (Yohan Cabaye, 86)
9:30: Silva again threatens to prise open Barcelona, swinging in another excellent ball after jinking into the space that is just out of Dzeko's reach. Corner is awarded, but it's wasted.
9:28: Barcelona's 'second', was it offside?
Big break for City? Pique tap-in ruled offside... #mcfc #fcblive pic.twitter.com/4hOwoIRTLS

— ITV Football (@itvfootball) February 18, 2014
9:26: Silva finds Negredo with another stunning ball and the striker tests Valdes, but the referee decides the City man fouled Pique in the build up.
9:23: Barcelona have a goal ruled for offside but perhaps it should have stood. Xavi picks out Fabregas with a wonderful pass and the former Arsenal skipper side foots it across goal where Pique had eagerly got up to tap home and complete a simple but gorgeous goal. It won't count, however.
GOAL DISALLOWED - Barcelona
9:21: City maintain this period of pressure on Barcelona before inexplicably turning and sending the ball back to Joe Hart. There's too much on it however and Hart can't keep the ball in. Fortunately, Barcelona fail to work anything from the resulting corner.
9:18: Good save from Valdes! Toure plays a wonderful cross field ball to the marauding Zabaleta who cushions a first time pass into the path of Silva who has cut in beside him. The Spaniard hits a first time effort with his weaker foot and Valdes does well to get down quickly and collect.
9:16: Mascherano is booked for a silly challenge on Fernandinho.
9:15: Happy days for City as Neymar is introduced for Alexis Sanchez. The tireless Negredo has also been replaced by Edin Dzeko.
9:12: PSG have a fourth goal chalked off against Leverkusen after Ezequiel Lavezzi is adjudged to have been offside in the build up to deny Leverkusen's Philipp Wollscheid being 'awarded' an own goal. It hasn't all been good news, however, as Leverkusen were reduced to 10 men after defender Emir Spahic received his second yellow card of the night after taking down Lucas Moura.
Nick Howson at the Etihad Stadium
"City start the second half the way they began the first and Barcelona make no mistake in taking full advantage. Perhaps some debate over whether Messi was marginally outside the area upon being tackled by Demichelis but it is nothing short of what Barcelona deserve.
"A reshuffle from Manuel Pellegrini was obligatory rather than a luxury and the fear is that even with the second leg to come at the Nou Camp, the reaming quarter is already an exercise in damage limitation for City."
9:08: Alves and Alexis play a beautiful one two on the edge of the penalty bop that frees the full back inside the area. Alves appears to be looking for the cutback but then opts to toe it towards the far post. It's a good effort that is centre meters away from Hart's right hand post.
9:06: Barcelona switch play to the right where Dani Alves has galloped into space. The Brazilian scoops the ball infield where Xavi is unmarked but his first time effort sails just wide. City living a bit dangerously there.
9:03: Great stuff from City as they look to prove they are still in this. Silva deftly plays the ball into Nasri who drives towards goal before playing an excellent one two with Negredo ahead of him. The Frenchman moves infield and lets fly with a shot on goal but it's blocked, and Barcelona regain possession.
9:01: City were clinching on immediately after the goal as Barca launched a flurry of efforts to work their way into the box. Iniesta once again fashioned the best opportunity but the home side manage to eventually scramble the ball away.
8:59: Demichelis was never going to win that tackle from Messi and was rightly shown a red card. There was a brief question as to whether the first contact took place outside the box and City may have a case, but it is very close.
8:57: City subs, Joleon Lescott in for Aleksander Kolarov and Samir Nasri replaces Jesus Navas. 1-0 down and with a man sent off, Pellegrini really has to nail these changes.
8:55: Barcelona take the lead from the penalty spot! Jesus Navas is caught in possession on the right flank but the referee isn't interested in demands for a free kick. Iniesta takes full advantage and plays a sumptuous through ball into the path of Messi who has an extra yard or two on his marker Demichelis. The City defender slides for a last gasp interception, misses and is shown a red. Messi calmly strokes the ball home from the spot.
Goal! Manchester City 0-1 Barcelona (Lionel Messi, 53, pen)
RED CARD - Martin Demichelis (Manchester City)
PENALTY - Barcelona
8:50: Messi looks to have overrun the ball as he bears down on goal, drawing Kompany across in the process, but the Argentine does excellently to drag the ball around him and play in Fabreags who has emerged on the left. Demichelis and Zabaleta do well to double up the former Arsenal captain and snuff out the danger for now.
8:48: Neat start to the second half from City who are patient and measured in their efforts to take the initiative in this contest.
8:45: And Barcelona get us back underway at the Etihad.
8:36: Last year Bayer Leverkusen folded rather spectacularly against Manchester United as David Moyes' side ran out 5-0 winners at the BayArena and PSG look eager to inflict worse damage on their German opponents this evening. An opener two minutes in from Matuidi gave the Ligue 1 champions the lead before Ibrahimovic virtually ended the tie with two quick fire efforts five minutes before half time.
HT: Man City-Barca tied 0-0 but the real story is Ibrahimovic. 2 goals in the 1st half, PSG up 3-0 on Leverkusen pic.twitter.com/AHekX3fU1h

— ESPN FC (@ESPNFC) February 18, 2014
8:32: It is still goalless between Manchester City and Barcelona and Nick Howson gives us the verdict thus far live from the Etihad Stadium.
Nick Howson at the Etihad Stadium
"After allowing Barcelona to dictate for the opening 20 minutes, City have finally come to the party on their big night. Their physicality is starting to become a real factor and almost led to the opening goal after Valdes was fortunate to win a foul from Silva's free-kick
"Barcelona have shown all the style and panache you'd expect but none of the cutting edge, only testing Joe Hart with one effort from Xavi from outside the box. The underlining threat is obvious – not least the concern of the home crowd every time Messi picks up the ball - but so far City are standing firm. Coming to the boil nicely this one."
HALF TIME
Manchester City 0-0 Barcelona
Bayer Leverkusen 0-3 Paris Saint Germain (Blaise Matuidi, 2, Zlatan Ibrahimovic, 39, 43)
8:29: Ibra makes adds his second in four minutes to give PSG a healthy lead in Germany, smashing an unstoppable left footed effort into the top corner.
Goal! Bayer Leverkusen 0-2 Paris Saint Germain (Zlatan Ibrahimovic, 43)
8:27: Messi threatens to terrorise as he cuts him from the left infield, skipping over a challenge from Toure and spreading the ball out to Alves who's emerged on the right flank. The Brazilian swings the cross in but at least two of his teammates are offside as City hold their line excellently.
8:25: PSG have doubled their lead in Germany. The referee spots a bit of shirt pulling that he deems unacceptable and awards PSG a penalty. Ibrahimovic steps up and... well, you know the rest. PSG lead 2-0 before half time.
Goal! Bayer Leverkusen 0-2 Paris Saint Germain (Zlatan Ibrahimovic, 39, pen)
PENALTY - PSG
8:23: Negredo knocks a header wide into the path of no one in particular but wants a free kick after going down from a challenge with Mascherano but the referee isn't interested. Moments later Kolarov picks up for a yellow for a strong challenge on Busquets.
8:21: Xavi wins another free kick a bit further out after Torue is judged to have pulled him back on the turn. Toure isn't impressed, but the free kick comes to nothing.
8:20: Messi kicks into gear 35 yards from goal and drives at the City defence. Kompany attempts to step across and take possession from the Argentine but is penalised for his trouble. Messi's effort from 30 yards out is blocked by the City wall.
8:18: It's goalless so far and City have had their half chances. Asexpected Barcelona have largely dominated possession but have done little with it so far.
MATCH SHOT: @_AlvaroNegredo_ finds space in Barcelona's box #MCFCB pic.twitter.com/wL3Lfs0Ftt

— Manchester City FC (@MCFC) February 18, 2014
8:17: Iniesta dances his way into the box from the left but Toure keeps on him and eventually does enough to nick the ball away. Messi is given his first sight on goal from just outside the box but his effort is off target.
8:15: Pellegrini will be very pleased with how his side have turned this game around in the last 10 minutes; Barca are now a lot more tentative in their efforts to bring the ball up the pitch with City pressing them frantically at any opportunity.
8:13: Negredo picks up his side's first yellow of the evening after sliding in late on Pique.
8:08: City win a free kick as Alves hacks at Clichy - earning him a yellow card - out on the left flank that Silva takes responsibility for, teasing a ball across goal forcing Valdes to once again come out and try to claim it. Once again, he fails to and for a moment there's looks to be a chance for Fernandinho to stab it across the line. Amid the scramble Valdes dives over a few shoulders and manages to get hold of the ball, but City are beginning to unsettle the away side.
Nick Howson at the Etihad Stadium
"Despite scoring 117 goals in all competitions this season, City have chosen an attritional strategy in the opening exchanges to their first ever Champions League knock-out tie.
"Lionel Messi, Xavi and Cesc Fabregas are enjoying ample room around the City penalty area without much attention but until now Vincent Kompany and co. are standing firm.
"How long these tactics can be effective against a team which will create chances is the big question, especially with little threat being created in the attacking third. That rare glimpse of the ball for Alvaro Negredo will need to become more regular."
8:04: Close from City! Silva receives the ball in the middle of the park, swiftly turns and plays a deft ball through to Negredo who does well to keep the ball under pressure from Pique. The City striker is forced wide but still manages to launch an effort across goal from the byline. It's tantalisingly close but it flies across the open goal mouth with no one on the scene to get on the end and Barcelona mop up after winning a free kick.
8:03: Slight moment of panic for Barcelona as Valdes flaps at a cross swung in towards the backpost but Negredo is judged to have fouled his countryman.
8:02: City launch the ball into the Barcelona box and Negredo does well to get some sort of control on it but he's quickly swamped by Mascherano and Pique and with no one around to lay the ball off to, the City striker loses out.
8:00: More of the same as Barcelona look for an opening around the edge of the City area and nearly fashion one on the right hand side of their area but a poor first touch from Alexis Sanchez sees it break down.
7:58: Hart is out to punch it confidently away to safety.
7:57: Messi sprays a long ball (first of the game maybe) out to Alves on the right flank and wins a corner.
7:55: On the rare occasion when City have had possession they have been wasteful with it and the usual sight of Barca stroking the ball around the pitch with the opposition chasing shadows has resumed.
7:52: There's an early goal in Germany as PSG grab an away goal not three minutes into their contest. Matuidi wins the ball inside Leverkusen's half before playing a slick one two with midfield partner Marco Verratti. Getting the ball back, the French international slides the ball under onrushing goalkeeper Bernd Leno and into the net.
Goal! Bayer Leverkusen 0-1 Paris Saint Germain (Blaise Matuidi, 2)
7:49: Fernandinho finally nicks possession off Messi but Alvaro Negredo quickly surrenders it and Barcelona set off again. Alexis Sanchez is released on the right but it's cleared for a corner, which City comfortably deal with.
7:47: Barcelona stroking the ball around comfortably in the opening two minutes, City yet to get a sniff of the ball...
7:45: And we are off and underway at the Etihad Stadium and the BayArena.
7:38: Here's a quick reminder of the line ups as we approach kick off in both games.
Man City: Hart, Zabaleta, Kompany, Demichelis, Clichy, Jesus Navas, Fernandinho, Toure, Kolarov, Silva, Negredo.
Subs: Pantilimon, Richards, Lescott, Nasri, Dzeko, Javi Garcia, Jovetic.
Barcelona: Valdes, Dani Alves, Pique, Mascherano, Jordi Alba, Xavi, Busquets, Fabregas, Alexis, Messi, Iniesta
Subs: Pinto, Pedro, Neymar, Bartra, Song, Adriano, Sergi Roberto.
Leverkusen: Leno, Hilbert, Spahic, Toprak, Guardado, Bender, Rolfes, Castro, Sam, Kiessling, Son.
Subs: Yelldell, Reinartz, Wollscheid, Hegeler, Oztunali, Boenisch, Brandt.
PSG: Sirigu, van der Wiel, Alex, Thiago Silva, Maxwell, Verratti, Motta, Matuidi, L. Moura, Ibrahimovic, Lavezzi
Subs: Douchez, Pastore, Cabaye, Marquinhos, Menez, Digne, Rabiot.
7:35: A quick search of 'Martin Demichelis' on Twitter suggests there's not much faith in the big Argentine when faced with Lionel Messi this evening. Micah Richards and Joleon Lescott sit on the bench; could either of them do much to halt the three time World Player of the Year?
Nick Howson at the Etihad Stadium
"There will be City fans traveling to the Etihad Stadium tonight who I am sure wondered whether these days would ever come to the blue half of Manchester.
"In visitors Barcelona, Manuel Pellegrini's side face perhaps the biggest test of the post-Roberto Mancini era in a clash which once again highlights their emergence from the doldrums of Division Two.
"Gerard Pique admitted on Monday that Barcelona had lost their fear factor having been dumped out of the competition conclusively by eventual winners Bayern Munich last season and all in blue will be hoping their side are not overawed despite the menacing presence of Lionel Messi."
7:25: We also have Nick Howson live from the Etihad Stadium giving us all the latest as we approach kick off.
7;18: The prospect of Yaya Toure taking on his former club in the first ever competitive meeting between the two sides has been much discussed in the build up to this evening's game. The midfielder has grown into one of City's biggest goal threats this season, a far cry from his contribution during his time at the Nou Camp.
Yaya Toure scored just four goals in 74 Liga appearances for Barca. He has 12 Premier League goals in 24 games this season...

— Dermot Corrigan (@dermotmcorrigan) February 18, 2014
7:12: As you may have come to expect, Paris Saint Germain enter tonight's game in near-perfect form, having won seven of their 10 games in 2014 with still just the one defeat in Ligue 1 this season. Bayer meanwhile have lost three of their last five games but still cling onto second in the Bundesliga, albeit 16 points behind runaway leaders Bayern.
TEAM NEWS
Leverkusen: Leno, Hilbert, Spahic, Toprak, Guardado, Bender, Rolfes, Castro, Sam, Kiessling, Son.
Subs: Yelldell, Reinartz, Wollscheid, Hegeler, Oztunali, Boenisch, Brandt.
PSG: Sirigu, van der Wiel, Alex, Thiago Silva, Maxwell, Verratti, Motta, Matuidi, L. Moura, Ibrahimovic, Lavezzi
Subs: Douchez, Pastore, Cabaye, Marquinhos, Menez, Digne, Rabiot.
7:01: For the worst Barcelona side in years, Martino's side don't too shabby on paper with a starting XI that features seven World Cup winners, Champions League stalwarts Dani Alves and Javier Mascherano, Alexis Sanchez and a three-time Ballon d'Or winner.
Nick Howson at the Etihad Stadium
"Debate has raged over Manuel Pellegrini's approach for the visit of Barcelona, and despite sweeping all aside at home, the Chilean has opted for caution. Aleksandar Kolarov is deployed on the left in front of Gael Clichy but Fernandinho does return to bolster a midfield area which is expected to be key.
"Despite Jose Mourinho labelling City's opponent as the 'worst Barcelona for years' manager Gerardo Martino can call upon eight former winners of the European Cup from the start including the mercurial Lionel Messi, fresh from his record breaking brace against Rayo Vallecano.
"Brazilian Neymar is omitted however as Barca go for Alexis Sanchez, the Chile international, in attack."
6:54: It's largely what you would expect from Barcelona. Lionel Messi has 10 goals for Tata Martino's side since his return from injury at the start of the year, but Jose Mourinho of all people has told City not to be afraid of what he recognises as the "worst Barcelona side in years."
City have a chance.

"Of course, they have [Lionel] Messi - he is special - and they have more than him. But I think this is the worst Barcelona of many, many years."
6:51: The big news as you can see is that Fernandinho returns to Manchester City's midfield alongside Yaya Toure. His inclusion has to be considered a surprise and a huge boost for City after what Manuel Pellegrini said yesterday.
"Fernandinho? Maybe if he worked yesterday [Sunday] with no problem and today he is 100 per cent fit - and if he does not have any fear about his injury - we will see if he can play.

TEAM NEWS:
Manchester City XI: Hart; Zabaleta, Kompany, Demichelis, Clichy; Navas, Toure, Fernandinho, Kolarov, Silva; Negredo.
Barcelona XI: Valdés; Alves, Piqué, Mascherano, Jordi Alba; Busquets, Xavi, Cesc; Alexis, Messi, Iniesta
6:49: It's looking good over at the Etihad Stadium ahead of kick off.
CITY V BARCA: Good evening from the Etihad Stadium! #MCFCB pic.twitter.com/b6CDSZBkZj

— Manchester City FC (@MCFC) February 18, 2014
6:47: While we keep you updated with all the action from both this evening's Champions League ties, Nick Howson will be providing updates live from the Etihad Stadium as the night progresses and will be first with an one the whistle match report at full time.
6:45: Good evening and welcome to IB Times UK's LIVE coverage of Tuesday evening's Champions League action. We are an hour away from kick off as Manchester City hosts Barcelona at the Etihad Stadium while Paris Saint Germain have travelled to Germany for their last 16 tie with Bayern Leverkusen. We will have all your team news as soon as it reaches us so stick around.