Full time: Borussia Dortmund (2) 2-0 (3) Real Madrid
Full time: Chelsea (3) 2-0 (3) Paris Saint Germain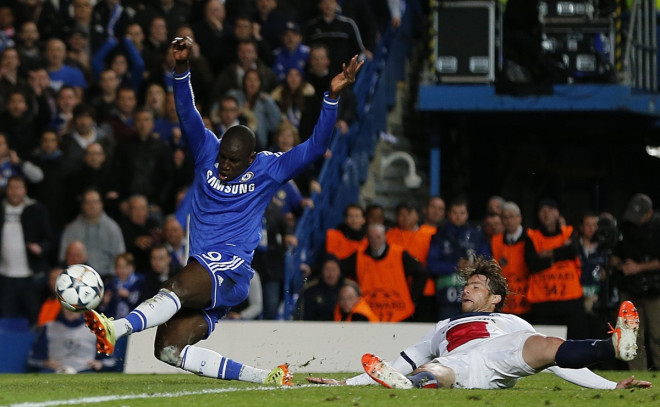 21:42: Identical results in both west London and Dortmund with hugely contrasting meaning. Chelsea get the 2-0 which puts them into the semi-final and continues Jose Mourinho's unbeaten record in Champions League last eight ties after dumping out Paris Saint Germain.
In Germany meanwhile, Dortmund prevail 2-0 over Real Madrid but that isn't enough to overcome the La Liga side, who survive a late onslaught to limp into the last four after enduring mountains of pressure without Cristiano Ronaldo.
Well what drama we've had on this night of quarter final action. That's all we've got time for on this Champions League live text. We're back with full coverage of Bayern Munich v Manchester United and Atletico Madrid v Barcelona tomorrow night. Until then, goodbye.

Full time: Borussia Dortmund (2) 2-0 (3) Real Madrid
Ful time: Chelsea (3) 2-0 (3) Paris Saint Germain
21:35: Meanwhile, two added minutes at the Westfalenstadion. Dortmund running out of ideas and time. Four added minutes at the Bridge....

21:33: Chelsea strike with three minutes left and Jose Mourinho dances down the touchline. Azpilicueta shoots goalwards and via two deflections off Alex and Jallet the balls falls the way of Demba Ba, who crashes the ball into the roof of the net. Mourinho barks instructions at his team for the remaining moments. Expect plenty of pressure from the visitors.

Goal: Chelsea (3) 2-0 (3) Paris Saint Germain (Demba Ba)

21:29: Pressure coming from Chelsea now but is it too little, too late? Torres goes on a jinking run but without the space to shoot is closed out and PSG survive. The ariel bombardment has begun but so far Alex and co. are dealing with everything that comes their way.

21:25: The Chelsea threat had diminished since Oscar hit the bar and PSG almost put the tie out of sight again as Lucas Moura takes aim but Cech hangs on. Less than 10 minutes left as Fernando Torres enters the scene.

21:22: Win the tie for your club Edinson Cavani. Substitute Yohan Cabaye releases the Uruguay international in behind but he can only half-volley over the bar. What a chance for PSG and culd that be vital lifeline for Chelsea?

21:21: Less than a quarter of an hour remaining in both ties and Dortmund and Chelsea need a goal in the remainder to continue their interest in this season's Champions League. Both sides have had their chances but will anothr present itself in the final moments?

21:13: Another chance for Dortmund and another chance for Mkhitaryan who shoots from 16 yards but Casillas makes a decent save. Ba involved straight away at Stamford Bridge, whose flick on is on towards Schurrle, whose miss-hit shot is easily saved by Sirigu.

21:11: Chelsea in search of a goal but with Fernando Torres on the bench, Jose Mourinho plumps for Demba Ba in pursuit of a crucial second goal. It's been coming from the Blues but they need spme late inspiration.

21:09: That should be Dortmund level. Reus plays Mkhitaryan through, who rounds Casillas but from a relatively tight angle can only strike the post. Will the Germans get a better chance?

21:00: Matuidi breaks away from Ivanovic and the Serbian brings him down outside the penalty area. A booking for the defender which will keep him out of the first leg of the semi-final - should Chelsea make it. Lavezzi over the free-kick and Cech turns it away for a corner.

20:58: Eto'o wins a free-kick after Schurrle hits the bar and Oscar beats Sirigu but is also denied by the bar. The woodwork prevents Jose Mourinho's side twice taking a lead in the tie on away goals.

20:56: PSG haven't looked the same team since going behind tonight. Chelsea are on the attack again and after Willian's pull-back, Schurrle rattles the bar with a stringing shot. All going the home side's way.

20:52: Real begin the second half with real intent and Weidenfeller has to be alert to deny Gareth Bale, who gets some pace 25 yards from goal before shooting goalwards.

20:49: And now we've restarted in west London. Can PSG and Real Madrid alter the wave of change?

20:48: Under way in Dortmund.

20:35: The night of comebacks? Borussia Dortmund and Chelsea are each just a goal away from turning around these quarter-final ties which looked dead at the start of the night. Dortmund have been encouraged by two goals from Marco Reus, while Andre Schurrle has Chelsea ahead against a lacklustre PSG.

Half time: Borussia Dortmund (2) 2-0 (3) Real Madrid
Half time: Chelsea (2) 1-0 (3) Paris Saint Germain
20:29: My feed from Dortmund has failed but I can report that the home side have doubled their lead on the night with a second goal via German international Marcos Reus. Game very much on there. Wonder how long until we see Cristiano Ronaldo in that one?

Goal: Borussia Dortmund (2) 2-0 (3) Real Madrid (Marco Reus)

20:25: Schurrle wants a penalty after falling into Jallet but from the next Chelsea attack they almost square the tie as Lampard's free-kick isn't cleared and Gary Cahill takes a wild swipe and the ball balloons over the bar.

20:21: Where did that come from? Chelsea lead with a goal out of nothing. A corner from the right is flicked on a near post and the ball falls the way of Andre Schurrle who turns the ball home. Stamford Bridge now rocking.

Goal: Chelsea (2) 1-0 (3) Paris Saint Germain (Andre Schurrle)

20:19: First genuine effort on goal from Chelsea. Oscar wins a free-kick on the edge of the penalty area and Frank Lampard, who initally crosses, sees his effort deflect goalwards, forcing Sirigu to dive to his right.

20:17: The hosts take the lead and now they want a penalty. Robert Lewandowski is leavered off the ball by Sergio Ramos and goes down appealing for a penalty but the referee books the Polish international for simulation.

20:14: Dortmund gifted a foothold in the second leg. An aimless ball forward is headed back by Pepe unwhittingly straight to Marco Reus, who rounds the onrushing Casillas and puts into an empty net.

Goal: Borussia Dortmund (1) 1-0 (3) Real Madrid (Marco Reus)

20:08: Chelsea have begun slowly against PSG and now they lose their primary attacking asset in Eden Hazard. The Belgian has been limping for much of the opening 20 minutes and is replaced by Andre Schurrle. Huge blow not only in this game, but ahead of the remainder of the season for Jose Mourinho's men.

20:04: Roman Weidenfeller keeps Dortmund in the tie. A penalty is awarded after Coentrao's cross is handled by Piszczek but Angel di Maria, who slips as he takes the spot-kick, is denied by a brilliant save from Weidenfeller.

Di Maria penalty saved

Penalty for Real Madrid

20:03: Such is the need for goals Chelsea will have to ride their luck tonight and PSG almost grab a critical away goal. Verratti gets in behind and his low cross forces John Terry to clear at the feet of goalkeeper Petr Cech.

20:01: Good pressing from Chelsea and Eto'o almost pick-pockets Sirigu as the PSG stopper delays his clearance but he can only foul the Frenchman. Let off for the visitors.

19:58: Better from Chelsea now as Oscar finds Eto'o in the box but his shot is deflected up and over the bar. The resulting corner sees Ivanovic flick wide from the middle of goal. Real posing a genune threat on the break and Freidrich has to be alert to cut out Bale's cross.

19:55: Timid start in our two ties tonight. Half chance for Chelsea to exert some pressure from a free-kick on the left but Frank Lampard's set-piece is woeful and cleared by PSG. Not rhe up and at them start Chelsea needed. As expected in Germany, Dortmund are on the front foot from the outset.

19:47: Embrace between Mourinho and Blanc at Stamford Bridge. We're underway in west London and at the Westfalenstadion.

19:44: Teams on their way out in west London and Dortmund. Kick-off on the way.

19:31: What chance do we give Chelsea and Borussia Dortmund of staging two comebacks tonight? The Blues require a performance in stark contrast to the one they produced six days ago against a PSG side who look full of goals and excitement. Laurent Blanc's side must press to add to their lead however with only a 2-0 Chelsea enough to see the 2012 winners through.
As for Dortmund, the return of Robert Lewandowski, who scored four against Real last season at the semi-final stage, is a huge boost while the 12th man of the Westfalenstadion crowd could be crucial if the home side take an early lead. But with Benzema, Bale and Di Maria is the Madrid attack, you fancy Carlo Ancelotti's will get chances.

19:20: Plenty to digest from the team news from both west London and Dortmund.
Chelsea recall Samuel Eto'o after a hamstring injury to lead the attack ahead of Fernando Torres. PSG make just one change from the first leg in Paris with as expected Zlatan Ibrahimovic missing out, with Brazilian Lucas Moura representing an able replacement.
In search of a heavy win to overcome Real Madrid, Borussia Dortmund welcome back Robert Lewandowski from suspension in one of four changes from the first leg. Goalkeeper Roman Weidenfeller is fit after being left out at the weekend due to injury. Real are without Cristiano Ronaldo due to an knee injury, but the Ballon d'Or winner is on the bench. Gareth Bale starts.

19:10: Teams:

Chelsea v Paris Saint Germain
Chelsea: Cech, Ivanovic, Cahill, Terry, Azpilicueta, David Luiz, Lampard, Willian, Oscar, Hazard, Eto'o
Paris Saint Germain: Sirigu, Jallet, Alex, Thiago Silva, Maxwell, Verratti, Motta, Matuidi, Lucas Moura, Cavani, Lavezzi
Borussia Dortmund v Real Madrid
Borussia Dortmund: Weidenfeller, Piszczek, Friedrich, Hummels, Durm, Jojić, Kirc, Grosskreutz, Reus, Mkhitaryan, Lewandowski
Real Madrid: Casillas, Pepe,Ramos, Coentrão, Benzema, Bale, Xabi Alonso, Carvajal, Modric, Di María, Illarra
19:00: Jose Mourinho has never lost a quarter-final tie in the Champions League but that record has never looked more perilous upon tonight's visit of French champions Paris Saint Germain. Laurent Blanc's side have a 3-1 lead upon their arrival at Stamford Bridge but are without talisman Zlatan Ibrahimovic. Can Chelsea turn the tie around and book a place in the last four?