Full time: Galatasaray 1-1 Chelsea
Full time: Schalke 04 1-6 Real Madrid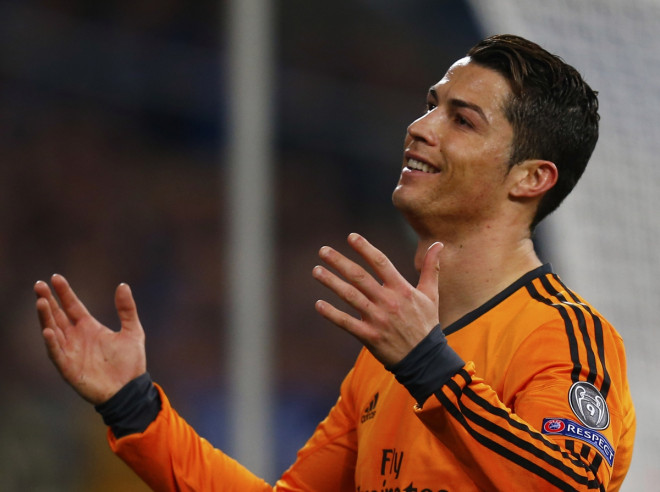 21:40: Two ties which go alternative ways. Real Madrid began on the upper hand and scored six on the way to beating Schalke, with Karim Benzema, Gareth Bale and Cristiano Ronaldo all scoring twice. They will be in the last eight. Meanwhile, Chelsea started on top but eventually relincquished their grip on the first leg against Galatasaray, who travel to Stamford Bridge level at 1-1 and with hope of creating another upset.
That's all we've got time for on this Champions League night. We'll be back with coverage of the Europa League tomorrow night, but until then, goodnight.

Full time: Galatasaray 1-1 Chelsea

Full time: Schalke 1-6 Real Madrid
Goal of the night is also the most irrevlevant. A Schalke cross from the leg picks out Huntelaar who hits a first time volley which bounces in off the crossbar and past Casillas. Tremendous strike.

Goal: Schalke 04 1-6 Real Madrid (Klaas Jan Huntelaar)

21:33: Cristiano Ronaldo, not to be outdone by Gareth Bale, gets his second as Real put the icing on the cake. Schalke lose the ball in their own half and Benzema plays through Ronaldo who holds one defender before rounding the 'keeper.

Goal: Schalke 04 0-6 Real Madrid (Cristiano Ronaldo)

21:31: Seems both Galatasaray and Chelsea are content with the 1-1 scoreline. Neither are commiting men to attacks and this first leg looks as good as over. What we have, we hold it seems from Mancini and Mourinho. Mikel shoots from range, and that one will land in west London.

21:25: Drogba off for Galatasaray and is replaced but Bulut. The hosts going for the first leg lead.

21:19: Galatasaray have turned their performance around and they almost go ahead. Chelsea again back off Telles, who goes ariel with a superb strike which Cech is forced to turn over.

21:13: Real have been five-star tonight and they produce a fifth goal as the pain grows for Schalke. Sergio Ramos plays in Gareth Bale, who is offside replays show, but the Welshman shows no hesitation in front of goal, and curls into the far corner. He has been superb tonight has the world's most expensive player.

Goal: Schalke 04 0-5 Real Madrid (Gareth Bale)

21:10: Chelsea don't heed the warning signs and Galatasaray equalise. Sneijder's corner sees Cech and Terry stand still, and Chedjou waltzes in and taps home from two yards. The home crowd are boyant now.

Goal: Galatasaray 1-1 Chelsea (Aurelien Chedjou)

21:07: Galatasaray almost rewarded for their improvement. Sneijder's cross picks out Drogba, whose header across the face of goal and finds Selcuk but he can only hit the post with an outstreched left boot. Great chance to draw level as Chelsea withdraw into their shell.

21:04: In Istabnbul, Galatasaray have dominated the start of the second half without really threatening the Chelsea lead. Jose Mourinho has asked his defence to drop ever so slightly as this is allowing the Turkish giants a bit more time on the ball.

21:01: It's getting embaressing now for Schalke as Real get their fourth and we've barely played an hour. Benzema exchanges passes with Ronaldo and though the flick in behind looks overhit, the Frenchman collects the pass, rounds Fahrmann and slots into an empty net. Goodnight Vienna.

Goal: Schalke 04 0-4 Real Madrid (Karim Benzema)

20:59: Too many chances floating around for Real Madrid for Cristiano Ronaldo not to get on the scoresheet and he duly makes it three just seven minutes into the second half. After being fed by Bale and after a couple of step overs, the Portuguese winger plants the ball into the corner with a stunning ledft foot strike. You fear Real could chose a number of goals they want tonight. The fear for Schalke is it might end up being double figures.

Goal: Schalke 04 0-3 Real Madrid (Cristiano Ronaldo)

20:50: And Chelsea restart in Turkey. Slight delay as Galatasaray look to make a second change. Kaya on for Balta, who was being outpaced by Fernando Torres for periods of that first half. Not a good night.

20:48: Ok, we're under way in the second half in Germany.

20:45: As things stand, the only competitive fixture from the second legs will be at Old Trafford, as Manchester United stage an assault on Olympiakos' two-goal lead from the first leg. The Champions League is a competition build with so much prestiege but it is failing to live up to the hype. Very poor over these four match days.

20:34: Another night, and another set of one-sided Champions League knock-out games. Chelsea lead by a single Fernando Torres goal but it could be more, while Real Madrid are threatening to blow Schalke away after goals from Karim Benzema and Gareth Bale, while Cristiano Ronaldo has missed three presentable chances. That one could get messy.

Half time: Schalke 04 0-2 Real Madrid

Half time: Galatasaray 0-1 Chelsea

20:28: Galatasaray have the ball in the net but the referee is not interested. There were two balls on the pitch when Yilmaz struck home after John Terry had thrown a second ball back into play. A yellow card for the Blues skipper, and rightly so.

20:26: First chance of note for Galatasaray. Chelsea back off on the edge of their own box and Telles unleashes a firm effort which Cech is forced to beat away for a corner. The visistors counter from the resulting set-piece but nothing comes of it.

20:24: Ronaldo denied again, this time by Fahrmann, who deflects the ball onto the roof of the net. The 2013 Ballon d'Or winner shakes his head in disbelief.

20:20: No matter where to look tonight it's a procession. Real almost take a three goal lead, but Ronaldo hits the post after beating Fahrmann.

20:17: Just 30 minutes gone and Galastaray make aa change. Izet Hajrovic on his Champions Lesgue debut, replaces Yekta Kurtulus. Not ideal for the 22 year old.

20:14: The one-sided nature of these Champions League ties seems to be continuing this evening. This competition is threatening to not get going until the quarter final stage. Shame really.

20:09: All over and we've barely played a quarter of the first leg. Gareth Bale wriggles free of three tackles before poking the ball home at the near post. Real rampent.

Goal: Schalke 04 0-2 Real Madrid (Gareth Bale)

20:02: The La Liga take just 13 minutes to hit the front in German. Gareth Bale goes to exchange passes with Ronaldo, but when the return ball is only half blocked, Benzema reacts first to slide the ball into the corner. Schalke should be level immediately however but Iker Casillas somehow denies Draxler from three yards out. Amazing save from the Madrid 'keeper.

Goal: Schalke 04 0-1 Real Madrid (Karim Benzema)

19:59: Galatasray's decent defensive record at home domestically has been made a mockery of inside the opening 13 minutes by Chelsea. Goalkeeper Fernando Muslera is an accident waiting to happen everytime the ball goals near him.

19:56: At the fourth time of asking, an English club scores in the Champions League knock-out phase and you'll rarely see an easier goal. Azpilicueta of all people breaks in behind and when Muslera charges out of goal he squares it to his fellow countryman Fernando Torres, who taps into an empty net for his third European goal of the season. Too easy.

Goal: Galatasaray 0-1 Chelsea (Fernando Torres)

19:54: Galastasaray have started in nervous fashion and they almost fall behind again. Frank Lampard's corner misses Gary Cahill but Torres gets it back in but John Terry can't flick the ball goalwards. Encouraging start for the visitors.

19:50: Chance for Schalke inside two minutes but Howedes can opnly head wide unmarked from a corner. Chelsea are almost ahead themselves as Muslera makes a mess of a clearances and gives it straight to Willian, but the Galatasaray heads the Brazilian's chipped shot wide of goal. Very fortunate for the hosts.

19:49: Howard Webb is the man in the middle for Schalke v Real Madrid. Assume Uefa missed his clanger in the recent Arsenal-Liverpool FA Cup tie.

19:47: Schalke get us under way in Germany.

19:46: We're underway in Turkey

19:44: Teams are out in istanbul and Gelsenkirchen. And here comes the music. Kick-off almost upon us.

19:41: The lengths Galatasaray fans will go to antangonise the opposition....

19:39: Galatasaray 'Welcome to Hell' slogan which accompanied their infamous Ali Sami Yen Stadium which saw the scalps of a number of Europe's heavyweights. The Yurk Telekom Arena doesn't have quite the same ring to it, does it? Nevertheless, Chelsea face a daunting proposition tonight even if they are big favourites. Roberto Mancini himself says they have an 80% chance of progressing.

19:28: Cristiano Ronaldo returns for Real Madrid tonight amid his domestic suspension as Madrid look to end a run of one win on German soil in 25 games. Schalke themselves have gone with a line-up with the intention to attack. Kevin-Prince Boateng among their team alongside Draxler and Huntelaar.

19:20: Meanwhile, in the other tie in Germany, Real Madrid field Cristiano Ronaldo and Gareth Bale in a fearsome looking team. Schalke begin with Klaas Jan Huntelaar and Julian Draxler, who almost joined Arsenal in January.

19:15: Both Mancini and Mourinho have really gone for it tonight. Two strikers in the Galatasaray attack with Burak Yilmaz partnering Didier Drogba while the surprise selection comes in the form of Izet Hajrovic. For Chelsea, Oscar, David Luiz and John Obi Mikel all miss out while Andre Schurrle plays on the left of a four-pronged attack. Fernando Torres comes in for Samuel Eto'o, who was central to Mourinho's much-discussed criticism this week.

19:08: Teams:

Galatasaray: Muslera, Eboue, Chedjou, Hakan Balta, Alex Telles, Selçuk, Melo, Burak, Sneijder, Hajrovic, Drogba

Chelsea: Cech, Ivanovic, Luiz, Terry, Azpilicueta, Ramires, Lampard, Willian, Schurrle, Hazard, Torres
Schalke 04: Fahrmann, Howedes, Matip, Santana, Kolasinac, Boateng, Neustadter, Farfan, Meyer, Draxler, Huntelaar
Real Madrid: Casillas, Pepe, Sergio Ramos, Ronaldo, Benzema, Bale, Marcelo, Xabi Alonso, Carvajal, Modric, Di Maria
19:00: Following the fall-out from Manchester United's defeat to Olympiakos, a match with more subtext than a best-selling novel gives up the perfect excuse to turn our attention back to football. Chelsea travel to Galatasaray to be reunited with former striker Didier Drogba, who won the Champions League for The Blues in 2012. Elsewhere, it's Roberto Mancini v Jose Mourinho, who has reacted furiously to French television broadcasters Canel Plus, who have released footage of a private conversation in which he criticised his own players. That not enough? We've also got Schalke v Real Madrid? Should be a night for talking about football, hopefully.