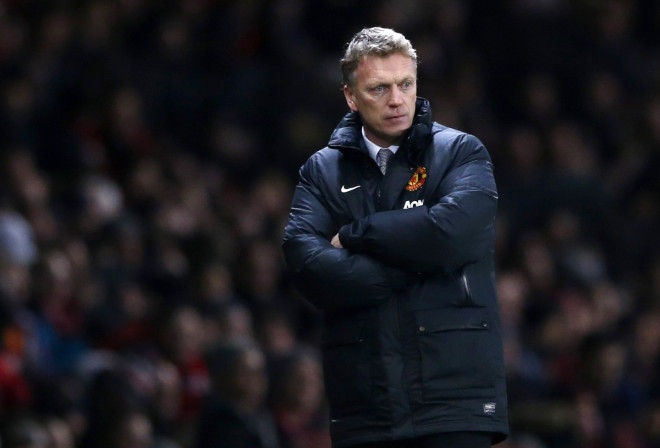 9:48: And that's all from us this evening. Robin van Persie's hat-trick was enough to lift the gloom around Old Trafford as United completed a dramatic turnaround to avoid another Greek tragedy and progress to the quarter finals of the Champions League. Thanks for reading and join us next time.
9:42: Borussia Dortmund may have lost at home this evening but their 4-2 win in St Petersburg last time out was enough to see them join United in the final eight. The eight sides waiting for Friday's draw are:
Manchester United, Borussia Dortmund, Bayern Munich, Real Madrid, Barcelona, Paris Saint Germain, Chelsea, Atletico Madrid
9:39: United have done it! A 3-0 win at Old Trafford inspired by a vintage performance from Ryan Giggs, some outstanding goalkeeping from David de Gea and a hat-trick from Robin van Persie has seen them progress to the quarter finals.
FULL TIME
Manchester United 3-0 Olympiakos (3-2 on aggregate)
Borussia Dortmund 1-2 Zenit St Petersburg (5-4 on aggregate)
9:36: Olympiakos nick the ball away and force it down the other end but De Gea comfortably strides out to claim the ball before setting Fellaini away into the corner again with a sublime goal kick.
9:35: Fellaini's first act sees him do brilliantly to hold onto the ball in the corner and win his side a free kick. He and Giggs hold the ball up well and win another. A trend developing here, perhaps?
9:34: Five minutes of time added on at Old Trafford.
9:33: Van Persie leaves on a stretcher, Fellaini replaces him. Rio Ferdinand is booked for defending his teammates honour amid accusations from the opposition that he was milking his knock. Unlikely.
9:31: Van Persie is down after getting a nasty whack to the back of the knee. Looked to be an impact knock other than the striker straining something, but he's down in some pain for the time being.
9:29: A terrific diving header from Jones diverts another Olympiakos cross out for a another corner. De Gea gets a hand to it but United are living incredibly dangerously here.
9:28: Five minutes of normal time left here.
9:26: Ashley Young wins a free kick near the left hand corner flag that Rooney stands over. It's driven across goal at some pace but is half cleared. Darren Fletcher picks up the ball on the edge of the box and resists the urge to shoot and instead plays a cute inside ball into the path of Rooney, who whacks it first time. It's got some wicked curl on it, but it's never in danger of creeping in.
9:24: Welbeck is off and is replaced by Darren Fletcher. A bit tense around Old Trafford now, as you might imagine.
9:21: Nervy moments for United again as De Gea make another important save. Dominguez again all too easily side steps a challenge inside the box and from a tight angle fires a shot on goal. It takes a small defection on it's way through but the United 'keeper reads it well and blocks. The ball falls to Campbell on the edge of area, but he lifts his shot hilariously wide of goal.
9:20: A massively swollen eye with Antonio Valencia attached to it comes off to a hearty round of applause as he is replaced by Ashley Young.
9:19: Van Persie brilliantly win possession and suddenly United have their easiest chance of the night to make it four, but Danny Welbeck gets in a tangle yards out from goal and lets a gift pass him by. The linesman flag had gone up, but is still looked pretty awful...
9:17: The comeback that was on and then off again is back on! Well, maybe. Jose Rondon has made things interesting not long after coming off the bench, cleverly beating the offside trap to slot home a second for his side on the night. 5-4 on aggregate.
Goal! Borussia Dortmund 1-2 Zenit St Petersburg (Rondon, 72)
9:13: Holebas attempts to see the ball out of play but van Persie elegantly nick possession off him. The ball falls to Rafael inside the opposition area and with little alternative on, thumps a shot on goal that loops out for a corner, which is comfortably dealt with.
9:11: United have noticeably taken their foot off the gas here, a trait of their game that has so often been maligned since Moyes took over. Rooney threatens to launch an effort on the counter with a raking pass up to Welbeck, who has drifted marginally offside.
9:08: Again the visitors threaten to spoil United's comeback. Salino cuts the ball inside Evra with ease and pings a ball into the path of Dominguez. Under pressure from Rafael, his effort is a powerful one, but it's straight at De Gea.
9:05: Still plenty of time for United to slip up here. Olympiakos probe from the right and before eventually swining a ball in. It bypasses Carrick and Jones on the edge of the United area and Dominguez meets is on the volley. He can't keep his effort down however, and it sails over De Gea's bar.
Nick Howson at Old Trafford
Two goals within seven minutes either side of half-time have United on course for the last eight. Van Persie's form has been sporadic to say the least under David Moyes, but he has repaid his faith with three of the more important goals he will score for his manager.
Olympiakos are by no means out of this if their first-half threat is anything to go by and it will be a nervy last half an hour at Old Trafford."
9:02: Yellow card now for Evra who will the first leg of the quarter finals, should United get there.
9:01: Valencia and Giggs combine neatly from a short corner as the Ecudorian's reverse inside pass finds the United veteran, who slips the ball into the path of Jones. Off balace, he slams his shot horribly wide.
8:59: Another free kick and this time it finds Perez who has been on the end of Olympiakos' best chances this evening. This time he nods the floated in ball horribly askew of goal, but the lineman did have his flag off for offside.
8:58: Olympiakos now have their own free kick and Dominguez sees his effort deflected dangerously off the wall and only just wide right of De Gea's goal.
8:55: And Van Persie slams the free kick home for his hat-trick! Rooney skips over the ball and the Dutchman's effort flies over the wall and into the bottom right hand corner. The goalkeeper looks sheepishly at his wall and will rightfully have to take the blame for that one; it was hit at some pace by van Persie but the goalkeeper was rooted to the spot despite the effort landing just yards to his right.
Goal! Manchester United 3-0 Olympiakos (Robin van Persie, 51)
8:52: Rooney brilliantly wins the ball in his own half and pushes off the challenge of two marks before freeing Welbeck. His first touch is a fairly awful one, but he does well to drag the ball back around and win a corner. Rooney and van Persie stand over it.
8:50: Another reminder from the visitors that this isn't over. Joel Campbell marches down the right again with acres of space in front of him. He plays the ball to Leandro Salino who whips ibn a ball from the right flank but even with three teammates in the box not one of them are able to meet the ball.
8:46: And we are back underway in both our games this evening. Dortmund are 45 minutes away from joining Bayern Munich, Barcelona, Real Madrid, Atletico Madrid, Chelsea and Paris Saint Germain while United need one more goal and a clean sheet to guarantee their progression.
8:38: In our other game this evening, Hulk gave Zenit some early hope with a thunderbolt early in the game but Jurgen Klopp's side have claimed the initiative once again. It was Schmelzer who hung a cross over the box where it was firmly met by Khel, whose thumping header was too hot for Malafeev on the Zenit goal to handle. 5-3 to Dortmund on aggregate.
Nick Howson at Old Trafford
Just when they needed it, Manchester United produced their performance of the season to set the ball rolling towards recovery in this Champions League tie.
Robin van Persie's double might have United ahead but there remains a definite threat from a Olympiakos side who have twice been denied by David de Gea.
Even under Sir Alex Ferguson United have never been one to make things easy for themselves and it promises to be a nerve jangling second half inside a rocking Old Trafford."
HALF TIME
Manchester United 2-0 Olympiakos (Robin van Persie, 25, 40)
Borussia Dortmund 1-1 Zenit St Petersburg (Sebastien Khel, 40, Hulk, 7)
8:33: The referee blows half on a breathless first half at Old Trafford and David Moyes is jogging to the tunnel with a spring in his step.
8:31: United are level on aggregate! And what a time to get it. Ryan Giggs sprays an excellent diagonal ball across to Rooney whose first time attempt to lift the ball inside is blocked by his marker. The United man gets another effort and this time finds van Persie with a pin point pass inside the box, and the Dutchman makes no mistake as he slams it through the legs of the Olympiakos shot stopper.
Goal! Manchester United 2-0 Olympiakos (Robin van Persie, 45)
8:28: Valencia swaps sides and suddenly finds himself with room to break into down the inside left until he is caught in a tangle with Maniatis. The United winger wants a penalty, but the referee waves play on.
8:25: Two outstanding saves from David De Gea keep United ahead! The visitors suddenly have acres of space down the right with Evra nowhere to be seen. Perez bolts into space and centres the ball to Fuster, whose effort from yards out is blocked by the Spaniard. Good stop, but it isn't a patch on what's to follow. The ball breaks to Dominguez whose poked effort is somehow kept out by a star jumping De Gea, whose toe kept it out. Wonderful goalkeeping.
Goal! Borussia Dortmund 1-1 Zenit (Sebastian Kehl, 40)
8:22: Bar one or two nervy moments at the back that have seemingly become the norm at Old Trafford this season, United are good value for their lead on the night. Evra's brilliant header moments ago came so close to levelling the tie but you sense there is more to come. However, that could easily be another Olympiakos goal too; United still have lots of work to do here.
8:20: Roberto does well to deny Evra! The Frenchman rises brilliantly to meet van Persie's corner just inside the left of the six yard area but it's pushed over the bar. United try again but it's far easier save from the Oympiakos shot stopper the second time around.
8:16: The deficit now stands at 1-2 in the visitors favour but United's impetus has dwindled slightly since van Persie's penalty. After absorbing a fair bit of pressure Valencia has time to break down the right. Robin van Persie is desperately calling for the right ball but the winger's first effort doesn't get past the first man, and his second finds its way straight into the goalkeeper's arms.
8:13: Olympiacos have a corner but play it short, before Maniatis whips an excellent ball across goal that Michael Carrick does brilliantly to get to ahead of his man and scoop it over his shoulder and away to safety.
8:11: Van Persie steps up and smashes it into the bottom right hand corner to give United a 1-0 lead on the night.
8:08: Holebas loses van Persie just inside the box after being picked out by Rooney and the Olympiakos defender clumsily runs into the back of the Dutchman who goes to ground. The referee points to the spot!
Goal! Manchester United 1-0 Olympiakos (Robin van Persie, 24)
PENALTY - Manchester United
8:05: Amid all that, Zenit have taken the lead in Germany through an stunning strike from Hulk! Picking the ball up with his back to goal the Brazilian bursts into action, cutting across from the right and evading two Dortmund defenders before smashing a thunderous effort from 25 yards out that flies past Roman Weidenfeller.
Nick Howson at Old Trafford
There's an intensity on and off the pitch that ha been missing from Old Trafford so far this season. United have been excellent in this early period and have performed with a quickness in their play they've been devoid of all season.
Manolas was very fortunate not to be dismissed for tripping Welbeck and while Olympiakos have been thus far outplayed in the opening 15 minutes, they clearly possess an underlining threat. Paitience the name of the game tonight."
8:02: Rooney hits the post! Giggs lifts a cross into Rooney who gets something on his header, albeit not a lot of power. The Olympiakos goalkeeper gets it all wrong however as Rooney's headed effort creeps underneath him and hits the base of the post. It bounces back out across goal but Welbeck doesn't react quickly enough to get to it.
Goal! Borussia Dortmund 0-1 Zenit (Hulk, 16)
8:00: What a chance for Olympiakos! Brilliant from Campbell who starts the counter off by sweeping a first time ball out to the left. The visitors cut the ball back across to the on-loan Arsenal man just inside the right of the box who takes on Jones and easily drags the ball beyond the United centre half before squaring the ball across goal. Perez is well centred in the middle, but he slices his effort horribly over the bar.
7:58: Valencia's eye earns him some sympathy points after the he escapes a booking himself for a late challenge on Delvin N'Dinga
7:56: Valencia's eye is now almost completely swollen shut, Moyes and his coaching staff with have to keep an eye on that. Since then, Dominguez has been booked for a slide on Valencia down the right before Carrick joins him for a late toepoke on Perez.
7:53: Valencia collided with Campbell then, and the United winger has been left with a horrifically swollen bump just above his right eye. Not sure how much he can see with that, but he carries on regardless.
7:51: Van Persie frees Welbeck down the inside left channel with a clever ball and the United forward is clipped by Manolas, who is fairly booked for the foul. Rooney pings in the resulting free kick that Roberto punches away, but the referee stops play after Valencia collides with someone.
7:49: Frenetic opening few minutes at Old Trafford with both teams looking a bit shaky at the back. Olympiakos stretch United's backline but the resulting cross passes across De Gea's goal with no one looking to get on the end of it.
7:47: Jones times a crunching tackle on Joel Campbell to perfection but his follow up effort on another rampaging member of the opposition is deemed a foul. The newly crowned Greek champions float a ball into the back post but Rafael mops up. He frees Valencia but he's unable to skip past his man.
7:45: And we are off and underway at Old Trafford and the Westfalenstadion.
7:42: A 3-0 score line will see United comfortably progress to the quarter finals. But this evening is likely to be anything but comfortable for Moyes and his side; the stakes this evening are about far much more than progression to the next round of the competition from a United perspective.
7:40: Five minutes away from kick off as the teams make their way out onto the pitch.
7:35: Quick reminder of the team news this evening, David Moyes looks to Rio Ferdinand and Ryan Giggs to inspire his ailing side as the veteran duo come into the starting line up along with Danny Welbeck and Antonio Valencia.
Man Utd: De Gea, Da Silva, Jones, Ferdinand, Evra, Welbeck, Giggs, Carrick, Valencia, Rooney, van Persie
Subs: Lindegaard, Hernandez, Young, Fletcher, Kagawa, Fellaini, Januzaj.
Olympiakos: Roberto, Leandro Salino, Manolas, Marcano, Holebas, Perez, Ndinga, Dominguez, Maniatis, David Fuster, Campbell
Subs: Megyeri, Paulo Machado, Samaris, Haedo Valdez, Papadopoulos, Vergos, Bong Songo.
Borussia Dortmund: Weidenfeller, Piszczek, Papastathopoulos, Hummels, Schmelzer, Sahin, Kehl, Aubameyang, Mkhitaryan, Grosskreutz, Lewandowski
Subs: Langerak, Friedrich, Hofmann, Jojic, Kirch, Schieber, Durm.
Zenit St Petersburg: Malafeev, Aniukov, Hubocan, Lombaerts, Criscito, Witsel, Faitzulin, Hulk, Shatov, Danny, Kerzhakov
Subs: Lodigin, Luis Neto, Zyryanov, Smolnikov, Lukovic, Rondon, Tymoschuk.
7:25: A reminder of the team news in our other fixture this evening, Borussia Dortmund are without Marco Reus, but Henrikh Mkhitaryan is back in starting ahead of Jonas Hofman after their weekend loss, their seventh in the Bundesliga this season.
Nick Howson at Old Trafford
It probably goes without saying that Olympiakos won't go quietly tonight and that certainly goes for their supporters, who are making a real noise in the top right corner of Old Trafford.
But it's the United support who David Moyes will be relying on tonight. His team needs to provide a performance that justifies backing which was labeled as "incredible" during the 3-0 loss to Liverpool.
While the selection of Ferdinand and Giggs is a nod towards experience, Nemanja Vidic misses out with a groin strain so it becomes a big night for Phil Jones against Alejandro Dominguez, who looked very lively in Athens."
7:18: Dull, lifeless, dismal are just some of the more polite terms used to describe Manchester United's performances recently, particularly their horror show against Liverpool on Sunday. The club could do with a moment of inspiration from Wayne Rooney, but the England striker hasn't scored at Old Trafford since the end of October.
7:10: Ahead of kick off Moyes hit out at suggestions claiming he has fallen out with senior members of the first team squad, telling MUTV:
A lot of people are trying to divide us in some way or not keep us together.

I can only tell people what they're hearing or what they are saying is rubbish."
TEAM NEWS
Man Utd: De Gea, Da Silva, Jones, Ferdinand, Evra, Welbeck, Giggs, Carrick, Valencia, Rooney, van Persie
Subs: Lindegaard, Hernandez, Young, Fletcher, Kagawa, Fellaini, Januzaj.
Olympiakos: Roberto, Leandro Salino, Manolas, Marcano, Holebas, Perez, Ndinga, Dominguez, Maniatis, David Fuster, Campbell
Subs: Megyeri, Paulo Machado, Samaris, Haedo Valdez, Papadopoulos, Vergos, Bong Songo.
7:05: Former Tottenham and Chelsea boss Andre Villas-Boas will be in attendance as Zenit look to claw their way back into their last 16 contest, but the Portuguese manager must wait until the weekend before he takes charge of the side for the first time.
TEAM NEWS
Borussia Dortmund: Weidenfeller, Piszczek, Papastathopoulos, Hummels, Schmelzer, Sahin, Kehl, Aubameyang, Mkhitaryan, Grosskreutz, Lewandowski
Subs: Langerak, Friedrich, Hofmann, Jojic, Kirch, Schieber, Durm.
Zenit St Petersburg: Malafeev, Aniukov, Hubocan, Lombaerts, Criscito, Witsel, Faitzulin, Hulk, Shatov, Danny, Kerzhakov
Subs: Lodigin, Luis Neto, Zyryanov, Smolnikov, Lukovic, Rondon, Tymoschuk.
7:04: Antonio Valencia, Rio Ferdinand, Ryan Giggs and Danny Welbeck return to the starting line up this evening.
7:01: The woefully inept performances in Greece two weeks ago and at Old Trafford on Sunday will still be fresh in the memories of United supporters, but what can they expect from their side tonight? One has to assume the pressure on Moyes will reach untenable levels should the result not go his way this evening.
Nick Howson at Old Trafford
If David Moyes is selecting a Manchester United team on which his future rests then he's sprung a surprise for the crucial visit of Olympiakos. Largely marginalised pair Ryan Giggs and Rio Ferdinand, both of whom have been linked with falling out with the manager, are in from the start as is Danny Welbeck for the first time since January.
The tension within Old Trafford is palpable less than an hour before kick-off. While United's support are slowly starting to make a definitive stance against Moyes, many will be conscious of backing the under fire Premier League champions while making their strong feelings known. A battle of emotions at the Theatre of Dreams."
TEAM NEWS
Man Utd XI: De Gea; Rafael, Jones, Ferdinand, Evra; Valencia, Carrick, Giggs, Welbeck; Rooney, Van Persie.
BREAKING: Ryan Giggs starts for Manchester United while Shinji Kagawa again settles for a spot on the bench.
6:57: IB Times UK's Nick Howson will also be providing us with updates live from Old Trafford on what could be a defining night for the club and thier manager.
6:55: Following Sunday's defeat to Liverpool murmurings of discontent have morphed into suggestions of a full blown civil war at United as Moyes' tenure in charge has lurched from bad to downright awful. But the Scot was in defiant mood ahead of tonight's match.
My future has not changed one bit," said Moyes. "I have a great job.
I have a six-year contract. This club does not work on short-term vision, it works on a long-term vision." [via BBC Sport.]
6:50: Good evening and welcome to IB Times UK's LIVE coverage of Wednesday evening's Champions League action. Manchester United's season is in critical condition and should they fail t overturn a 2-0 deficit against Olympiakos, their season will be over. Meanwhile Borussia Dortmund have a healthy lead heading into their second leg clash with Zenit St Petersburg after putting four past the Russians last time out.