Full time: Zenit St Petersburg 2-4 Borussia Dortmund
Full time: Olympiakos 2-0 Manchester United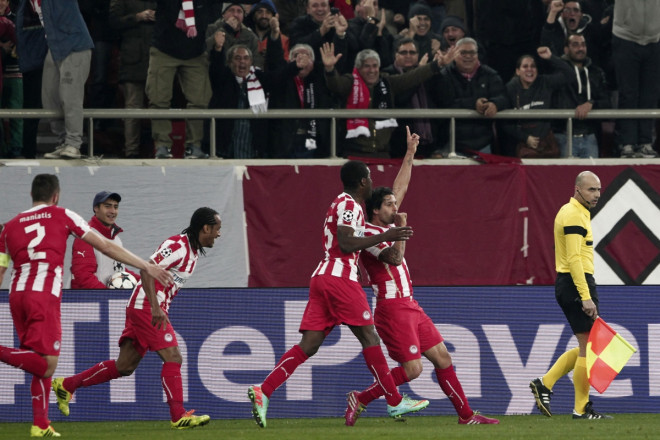 21:38: Before signing off, a final thought on this Tuesday evening:

Sir Matt Busby pioneered English clubs' involvement in European competition when very few on our shores would give him the time of day, particularly the administrators of the game; The Football Association. What Busby, who won the European Cup in 1968 with a Manchester United team made up of home grown players, fought for all those years ago has been tarnished by United, the United of David Moyes during a 90 minutes during which they embarrassed the Premier League and English football. A club with such history in European competition, and such a status across the globe, should be ashamed.
Goodnight.
21:35: Manchester United require a turnaround of proportions which few know whether David Moyes' side possess in the second leg at Old Trafford in three weeks. Goals either side of half time sees Olympiakos put one foot in the quarter final.

Full time: Olympiakos 2-0 Manchester United

21:31: Bit more threat from the visitors as the game reaches stoppage time. There will be three added minutes

21:29: Under five minutes plus stoppage time for United to get an away goal here as Olympiakos begin to tire. Smalling gets in a good crossing position but fluffs his lines. One of those nights.

21:23: What a chance for United. For the first time they get in behind Olympiakos and Smalling's cross finds Van Persie, who shifts the ball onto his right foot but blasts the ball over.

21:18: The world of social media are trying to decide where this performance ranks in terms of worst United performances in Europe. Somewhere between Lille in 2005 and Basel in 2011 it seems. To put it mildly, they have disgraced the Premier League and English football with their inspid, lifeless and shoddy performance in Greece tonight. Just over 13 minutes remain for them to put some gloss on this most horrid of evenings.

21:09: Chance for Olympiakos to put United out of sight. Olaitan wriggles away from United defenders and shoots instinctively goalwards but off target.

21:07: Without wanting to spout a much-repeated footballing cliche, the next goal in this tie is crucial and will go a long way to dictating who reaches the quarter final. United's urgency to find an away goal must be tempered by the knowledge they risk throwing away the tie before they get to Old Trafford. European football at its' intriging best.

21:02: Valencia and Cleverley off, Welbeck and Kagawa on for United. Just 30 minutes to reignite their European hopes, for both this season and next season.

21:00: It's performances and results like these which makes the word transition so difficult to swallow for United fans. They've been inspid all evening and look short of inspiration, not least quality out there. Olympiakos are all over them. David Moyes will look to Shinji Kagawa and Danny Welbeck to dig the English champions out of their latest hole.

20:58: Manchester United's Champions League hopes hanging by a thread in Greece as Olympiakos double their lead. There might have been a tinge of fortune about the first goal, but there is nothing but briliance about the second. Joel Campbell, on loan from Arsenal, nutmegs Michael Carrick, and curls beyond David de Gea from 25 yards. Outstanding, and the visitors are shell-shocked.

Goal: Olympiakos 2-0 Manchester United (Joel Campbell)

20:49: The second half begins with Tom Cleverley passing the ball (sideways) across his own penalty area and out of play. Inaupicious start, at best.

20:46: So how will Moyes turn things around in this second half? A repeat of that performance and United could be forced to settle for sixth in the Premier League this term. Teams are out for the second half and we're underway. No changes.

20:33: David Moyes has rued misfortune throughout this campaign and he'll be lamenting that same bad luck at half time in Greece with Dominguez's goal having given Olympiakos a half-time lead seven minutes short of the break. The home side have been the better of the two teams while United have rarely threatened in the first 45 minutes. Lots to change ahead of the second half for the Scot in his first Champions League knock-out tie.
Half time: Olympiakos 1-0 Manchester United

20:38: United look to react immediately but Olympiakos survive a whipped Young free-kick. Van Persie is sent tumbling to the ground however after Roberto misses the ball and connects with the Dutch striker. He returns to the fray however, and how David Moyes need him. Only three times have United won from going behind this season.

20:36: United have a horrid record when going behind this season but they must recover in this one to prevent losing in Greece this evening after going behind in fortunate circumstanaces. Manisatis shoots from the range and it takes a wicked deflection off Dominguez and rolls beyond a stranded David de Gea.

Goal: Olympiakos 1-0 Manchester United (Alejandro Damián Domínguez)

20:21: Wayne Rooney has drifted deeper and deeper as the half and worn on, and not with complete succeess either. The England striker comes short to receive the ball and goes to spread it out to Valencia but it's horrible shewd and goes out. Very edgy from the visitors.

20:15: United have never lost to Greek opposition in the Champions League and the longer this first half goes on the more that appears to be the approach from David Moyes tonight; do not lose. It's been a policy which has got them into trouble this season too. Half an hour gone and the Olympiakos goal has been untested.

20:11: Olympiakos react to a spell of United dominance. Hernan Perez comes in from the left, as he is prone to do, and shoots towards the near post but he can't find the target. De Gea looked to have it covered.

20:08: It comes to nothing as Rooney's corner is fisted clear by Roberto. United finding their feet though mid-way through the first half of this first leg with the whistles from the home crowd growing.

20:07: Another half opening for United as Valencia skins Holebas but his cross is horrendously overhit and it's behind for a goal kick. Now a corner for United....

20:02: Bit of threat from United in the final third at last. Young fails to find van Persie in the box as he ball goes out. Van Persie then drives into the box and wins a corner, a set-piece which sees Cleverley wastefully blast over. Better from the Premier League champions.

19:55: Olympiakos open up Manchester United with complete ease and should be ahead. Dominguez runs at the heart of the United back-four and gets through the challenges of Valencia and Carrick, and in behind Ferdinand, who is hopelessly out of position before Vidic makes a saving challenge. Maniatis was totally free waiting for the pass but Dominguez never spotted him.

19:53: United almost twice in trouble by virtue of Rio Ferdinand's lack of concentration. First, the former England captain sells Chris Smalling short and when Dominguez's cross comes in, Ferdinand makes a hash of the clearance.

19:48: Less than three minutes gone and Patrice Evra is already in the book. Joel Campbell, on loan from Arsenal, begins from the right and he goes to flick the ball over the Frenchman who handles the ball. Very silly and Evra faces 87 minutes on a tightrope.

19:45: Teams out and we're underway at the Karaiskakis Stadium.

19:41: Decent atmosphere in Greece this evening but Manchester United shouldn't be concerned. In Rio Ferdinand, Nemanja Vidic, Patrice Evra, Michael Carrick and Wayne Rooney, they have five former winners of the competition in their starting XI.

19:34: Has been mentioned a few times this week but United's best chance of playing in the Champions League for a 19th consecutive season is by winning the competition. David Moyes has been speaking of Liverpool's victory in 2005 which came despite them not possessing the best squad. Djimi Traore a winner that year remember.
Olympiakos have all-but won the Greek title this season having won 24 times in 26 games this season. They might not have house-hold names, but they have a winning mentality coming into this one, something United don't.

19:06: David Moyes makes three changes from the United team which beat Crystal Palace. Marouane Fellaini is on the bench and Juan Mata Cup tied while Adnan Januzaj is omitted altogether. Tom Cleverley, Antonio Valencia and Ashley Young come in. Olympiakos, as expected, are without Javier Saviola who is out with a thigh injury. Nigerian Michael Olaitan leads the attack.
19:02: Teams:

Olympiakos: Roberto, Salino, Manolas, Marcano, Holebas, N'Dinga, Maniatis, Dominguez, Fuster, Campbell, Olaitan

Manchester United: De Gea; Smalling, Ferdinand, Vidic, Evra; Valencia, Carrick, Cleverley, Young; Rooney, Van Persie
19:00: So, let's turn our attention to Olympiakos v Manchester United. Breaking team news on the way.....

18:53: Job done for Dortmund. Four away goals in the bag, including a double for Robert Lewandowski has all-but sent them into the last eight. Zenit only got going in the second half and by then it was too late. The Russian league can't restart soon enough for them.

Full time: Zenit St Petersburg 2-4 Borussia Dortmund

18:49: The game has lacked the quality of the opening 70 minutes snce the sixth goal as Dortmund attempt to close down the first leg without any further damage. Largely been as one-sided as any game during the last 16 so far. Four added minutes in Russia.
18:32: Mental game in Russia and Dortmund have a fourth away goal of the night and we're only three quarters through this one. Lewandowski escapes against and shoots across Lodygin and into the corner. Zenit have been back in the tie twice in this second half and have blown it each time. Surely they're gone now.

Goal: Zenit St Petersburg 2-4 Borussia Dortmund (Robert Lewandowski)

18:29: Piszczek is penalised for fouling Hulk as he runs towards goal. A dubious call as best as there seemed little the Poland international could do. Hulk steps up and smashes home his first spot kick of the season.

Goal: Zenit St Petersburg 2-3 Borussia Dortmund (Hulk)

Penalty to Zenit St Petersburg

18:22: Dortmund extinguish Zenit's lifeline with a killer third goal and it's all about Robert Lewandowski. The Pole plays the ball down the right to Piszczek, who cuts the ball back to the Bayern Munich-bound striker, who strokes the ball, via a deflect, into the corner. Game over.

Goal: Zenit St Petersburg 1-3 Borussia Dortmund
18:18: Zenit are back in it. Rondo hits the post from an open goal and when the ball evades Hulk, and the ball isn't cleared properly, Shatov sweeps the ball home. Replays suggest Rondon was offside in the build up but Dortmund are made to pay for some sloppy defending.

Goal: Zenit St Petersburg 1-2 Borussia Dortmund (Oleg Shatov)

18:07: Dortmund searching for a third but Lewandowski is denied by Lodygin, who turns the ball behind for a corner.

18:04: Players out for the second half. Nice to see they've bothered. Zenit would have been forgiven for shaking hands at the break. Sky Sports have dropped the Hulk "is he angry" line. Goodness. Second half underway.

18:01: Not exactly a great sale for the Champions League so far in the last 16. Four and a half first legs completed, and nothing as much as a goal let alone a draw or a win for any of the non-seeded teams who finished second in their group. This year's tournament really won't get going until the quarter final it seems.

17:48: Two goals in as many minutes from Mkhitaryan and Reyus have Dortmund ahead, and baring a second half comeback from Zenit, out of sight in this tie. Another last 16 clash going the way of the way of the away side. Zenit suffering from a lack of match practise it seems. They've been poor.
Half time: Zenit St Petersburg 0-2 Borussia Dortmund
17:40: The hosts look woefully off the pace early on her and the syncronisation of the Russian Premier League with the remainder of Europe can't come soon enough. Zenit's three-month domestic break really hurting them here.

17:32: Worth remembering that Arsenal would have been Zenit's opponents had Dortmund not beaten Marseille on matchday six. The Gunners are of course two goals down to Bayern Munich after the first leg. Robert Lewandowksi almost extends Dortmund's lead but heads over before Reus curls wide. The German's are ticker.

17:29: Zenit have at least stemmed the flow and now had an attempt on goal. It comes from the Brazilian Hulk, whose effort from range bounces someway short of goal before Weidenfeller claims it. Not a great start from the Russian's.

17:18: Those Arsenal fans hoping to watch some of Andriy Arshavin this evening you may look away. Arshavin is off after 15 minutes and is replace by Anatoliy Tymoschuk. Caps what has been a shocking start for Luciano Spalletti's men.

17:10: After last week's one-sided affairs I was looking forward to two competitive games on this Tuesday evening, but it looks like that was a faint hope. Dortmund go two up in no-time and this tie is as good as over. First, Reus dances through two challenges before tieing uop Mkhitaryan before Reus smashes home after Groskreut's lay-off. Zenit all over the play and dropping out of the Champions league with a whimper here.
Goal: Zenit St Petersburg 0-2 Borussia Dortmund (Marco Reus)

Goal: Zenit St Perterburg 0-1 Borussia Dortmund (Henrikh Mkhitaryan)

17:02: Underway in Russia. Just two degress out there. Rather them than me.

16:59: The eagle eyed among you will notice that Dortmund are without a hsot of big names, including centre-back Mats Hummels. Zenit are full strength, but with good reason having not begun their domestic season yet, which starts in March. Andriy Arshavin and Hulk are both included while Salomon Rondon makes his Zenit debut. Both teams are out and the Champions League music is blaring.

16:54: Teams:

Zenit St Petersburg: Lodygin; Criscito, Lombaerts (c), Neto, Anyukov, Shatov, Fayzulin, Witsel, Arshavin, Hulk, Rondon.
Borussia Dortmund: Weidenfeller; Piszczek, Sokratis, Friedrich, Schmelzer; Kehl, Sahin; Reus, Mkhitaryan, Großkreutz; Lewandowski
16:50: The Champions League returns for a third night of the round of 16 with two intriging fixtures. First, last year's runners-up Borussia Dortmund travel to Zenit St Petersburg before David Moyes goes into the unknown with Manchester United in the last 16 against Olympiakos. Cue utter chaos.