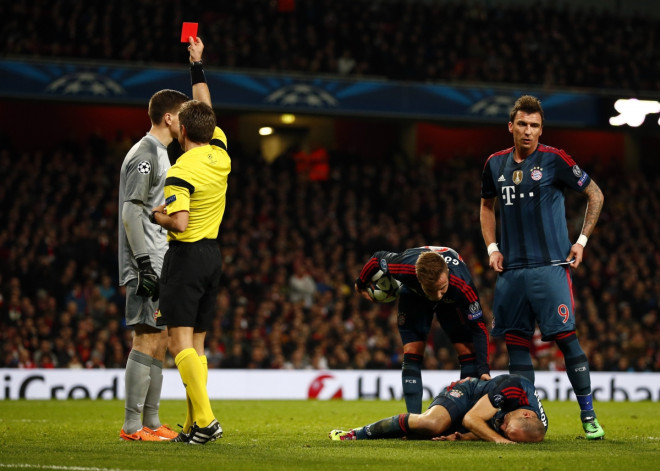 9:42: That's all from us on another enthralling night of Champions League action. Thanks for reading and join us next time.
9:41: For Nick Howson's on the whistle match report live from the Emirates click here.
9:39: And that's it. It is a repeat of Bayern Munich's last visit to the Emirates and Arsenal have it all to do in the second leg. A red card shown to Wojciech Szczesny at the end of the first half will have Arsene Wenger frustrated but the dominance Pep Guardiola's side demonstrated in the second half rendered a Bayern advantage going into the second leg inevitable.
FULL TIME
Arsenal 0-2 Bayern Munich
(Toni Kroos, 53, Thomas Muller, 87)
Milan 0-1 Atletico Madrid
(Diego Costa, 83)
9:35: Bayern hit the post! With striking similarity to Bayern's first, Kroos is found on the edge of the area once again from the right. This time he opts to side foot it into the back of the net and only the woodwork denies Bayern a third.
9:32: Bayern score again! Lahm scoops in an excellent cross into the six yard area from the left where Muller has drifted into space with Flamini sleeping. An excellent run across his path from Pizarro draws Mertesacker out of the way and Muller calmly nods the ball past Fabianski.
Goal! Arsenal 0-2 Bayern Munich (Thomas Muller, 87)
9:30: Atletico take the lead in Milan! Moments after Raul Garcia's effort is scooped just over the crossbar, an Atletico corner is flicked into the danger zone by a Milan defender where Costa is perfectly positioned to smash in what could be a late winner!
Goal! Milan 0-1 Atletico Madrid (Diego Costa, 83)
9:28: Brief stir as Alaba nervously plays the ball back to Neur but with all the composure as some of his teammates further up the pitch calmly picks out a pass, finding Kroos further upfield.
9:26: Robben dances in from the right effortlessly and draws a decent save/block from Fabianksi. Arsenal clear but Sanogo just hasn't got the energy left to chase it down.
9:25: Thiago Alcantara comes off, replaced by Claudio Pizzaro.
9:24: Worrying scenes for Milan as Mario Balotelli is forced off clutching his shoulder, replaced by Giampaolo Pazzini.
9:22: Flamini is the latest to have a go at Ozil's percieved lack of effort this evening, even giving the German a push for his trouble. It's been the club record signing's worst performance since his move, even worse than at Anfield a few weeks ago.
9:20: Bayern were perhaps unlucky not to be awarded the penalty there. Receiving the ball in the box Thomas Muller effort sidestepped Koscienlny with a neat Cruyff turn, but the Arsenal centre half caught the Bayern forward on the follow through. Bore similarities to the Ozil penalty incident from the first half, although it wasn't as clumsy.
9:19: Thomas Rosicky is to replace Oxlade-Chamberlain. Bit of a surprise Ozil is still on the pitch.
9:17: Another simple overlap on the right exposes Arsenal as Robben finds Rafinha who's low cross meets Lahm's diving header, but it is blocked by Mertesacker. I say blocked, I don't think the Arsenal centre half knew much about it as Fabianski leapt across goal incase.
9;15: Arsenal fans are doing their best to lift their team but the Gunners' energy levels are noticeably dropping as Bayern effortlessly set up camp in the final third. Robben has already threatened to curl in an exquisite left footed effort inside the far post and he is even closer with this one as the ball curls just wide of Fabianski's outstretched hand and the woodwork.
9:12: Bayern again work the ball across the pitch before releasing Rafinha on the right. His cut back just about evades the sliding Thomas Muller to deny Bayern a second.
Nick Howson at the Emirates Stadium
The opening quarter of this second half has highlighted why Bayern should move heaven and earth to keep Toni Kroos at the club following a scintillating spell from the German international.
The 24 year has thundered in the opener and is now operating as the pivot in the Munich midfield which is threatening to leave Arsenal without a trace in this last 16 tie.
Arsenal's attacking presence has increasingly diminished since Ozil's missed penalty and it's purely about damage limitation for the Gunners now, who have no real options off the bench after two enforced first half replacements."
9:10: Thomas Muller enters the fray, replacing Mario Mandzukic.
9:08: Absolutely sublime from Toni Kroos once again as another delicious ball is played over the top directly onto the toe on Robben has broken free in the Arsenal box. The Dutchman hits it first time across goal but his shot/cross is well saved by Fabianski.
9:06: Arsenal momentarily break Bayern's dominance as Monreal chases down a rare loose ball that Martinez can't reach in time. It's swung in from the left but i's chested back calmly to Neuer, despite cries for a corner from the Arsenal contingent.
9:03: Bayern have been utterly dominant since that goal went in; Arsenal only manage a touch of the ball when a Bayern player is penalised for contesting a high ball and are awarded a free kick.
9:02: Sanogo picks up a yellow card for a late challenge on Manuel Neuer.
8:59: Bayern take the lead! Bayern patiently play the ball in the final third on the right before Lahm simmply plays the ball infield where Kroos is positioned just outside the area. The midfielder, 20 yards from goal, coolly swings a sublime effort into the top corner inside the near post. Fantastic strike from the Germany international.
Goal! Arsenal 0-1 Bayern Munich (Toni Kroos, 53)
8:57: Half chance fotr Arsenal as Ozil's free kick suddenly finds Koscielny free in the six yard area after losing Martinez, but the Frenchman is unable to control it.
8:55: Mesut Ozil receives an earful from Jack Wilshere for falling to track the run of Rafinha. It was Kroos who once again picked out an excellent cross field ball looking for the Brazilian breaking on the right and despite turning to have a look at the Bayern man, Ozil decided not to follow him. Fortunately for Arsenal, there was just too much on the ball for Rafinha to take it down.
8:53: Alaba is found in space down the left approaching the byline and cuts the ball back across goal but it's just behind Mandzukic. Arsenal clear, but it's poor as Kroos picks up the ball on the edge of the area but the shot is straight at Fabianksi.
8:50: And we are back underway, Boetang has come off to be replaced by Rafinha for Bayern as Martinez goes to centre-back and Lahm into midfield.
8:44: It's also worth remembering Arsene Wenger has just one substitute remaining after having to withdraw Kieran Gibbs and introduce Lukas Fabianksi.
8:42: Was it a penalty?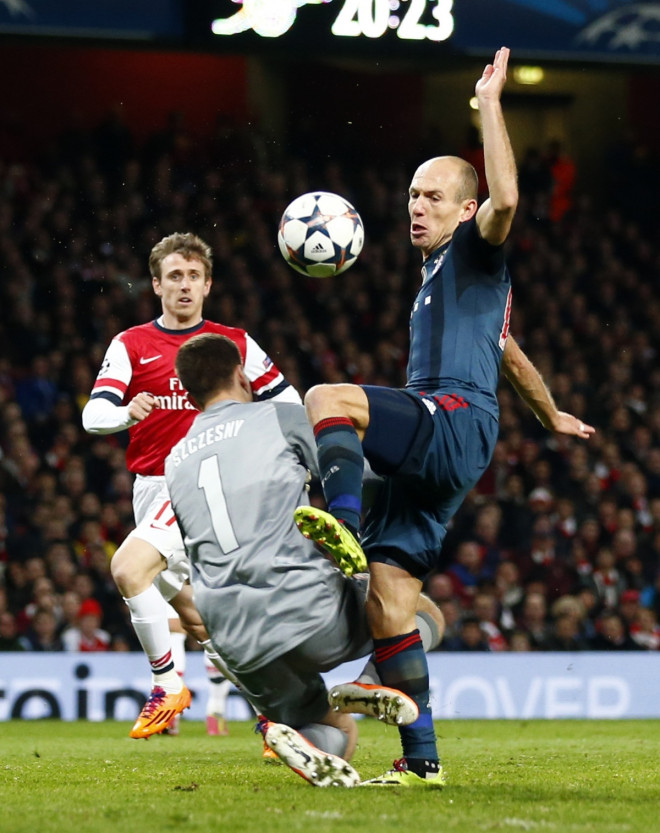 8:39: Wojciech Szczesny was a bit miffed after being shown a red card and displayed his disappointment with a gesture not uncommon around football grounds around the country. Hint: it rhymes with 'banker'.
Nick Howson at the Emirates Stadium
The tale of two penalties. Mesut Ozil and David Alaba both fail to keep their nerve to somehow keep their most entertaining of Champions League ties level at the break.
Ozil was denied by Neuer while Alaba missed the target completely either side of some thrilling football from both sides. Arsenal will of course play the remainder with only 10-men but feeling the injustice from the penalty award, the home crowd should provide adequate support.
Some second half in prospect."
HALF TIME
Arsenal 0-0 Bayern Munich
(Ozil missed pen, 8, Szczesny sent off, 47)
(Alaba missed pen, 40)
Milan 0-0 Atletico Madrid
8:31: Robben being loudly booed whenever he touches the ball. Standard stuff.
8:27: Good lord what a half this has been. Both sides have been fairly average in front of goal and woeful from the penalty spot but it has been compelling viewing. There will be debate whether Szczesny's challenge warranted a penalty but after one viewing it is hard to argue with the referee's decision.
8:27: Bayern miss! Alaba's low penalty strikes the post with a side footed effort as Fabianski dived the wrong way.
PENALTY MISSED! (David Alaba)
8:25: Fabianski comes on for Cazorla.
8:24: Toni Kroos floats an excellent ball over the top which Robben strides through to collect with Monreal nowhere to be seen. The Dutchman is one on one and gets a toe on the ball before Szczesny crashes through him. Arsenal are down to ten men and Bayern have a penalty.
RED CARD - Wojciech Szczesny (Arsenal)
PENALTY - Bayern Munich
8:21: Some excellent defending from Koscienly denies Bayern! Robben drives through the centre and spots Mandzukic's run coming in from the right but the Arsenal centre half manages to scramble the ball away.
8:19: Milan's front three of Taarabt, Balotelli and Kaka are terrorising Atletico at the moment as the home come close for a third time through the Brazilian. An excellent back heel from Balotelli sets Kaka free but, but his clipped effort has just too much on it.
8:16: Kieran Gibbs looks to be in some discomfort and is replaced by Nacho Monreal after half an hour of play.
8:15: Bayern win a corner deep on the left hand side of the pitch which Kroos swings in but an excellent defensive header nicks the ball away off the bonce off Mandzukic.
8:13: It was some outstanding work from Sanogo who freed Chamberlain moments ago, shifting the ball onto his left foot while being pressed by two Bayern shirts before freeing the England international. Very positive start from the young Frenchman.
8:09: Bayern play the ball back to Alaba with Oxlade-Chamberlain bearing down on him, forcing the Austrian into a dodgy back pass that Neuer just about gets to ahead of the Arsenal man. Arsenal are in the ascendancy once again.
Nick Howson at The Emirates Stadium
A swashbuckling, sensational start from Arsenal but will their inability to capitalise come back to haunt them? Mesut Ozil, despite ripping the ball from Santi Cazorla, never looked settled before eventually seeing Manuel Neuer claw away his penalty.
Otherwise, the hosts have hustled and bustled and not allowed Bayern a moment on the ball, with Toni Kroos' effort as early as the third minute all they have to show. The Emirates Stadium is absolutely rocking tonight and their team is certainly giving them something to shout about."
8:06: Meanwhile at the San Siro Atletico and Milan had endured a quieter start, that was until Adel Taarabt worked his way down the right before finding Andrea Poli with an excellent cross that is tipped onto the bar by Courtois. It's an excellent save that denies Milan an early lead.
8:04: Bayern swing in a corner from the right that is partially cleared, but only into the path of Alaba who is unmarked on the edge of the area. It a controlled shot hit on target but Flamini is well placed to block it.
8:02: The pace of the game has eased off slightly after that whirlwind start. Bayern a little more comofrtable in possession now with Lahm and Gotze enjoying some space down the right.
8:00: Remember Ozil's dismal penalty effort against Napoli earlier in the competition? It didn't matter much as he enjoyed a sublime game that evening, but tonight's efforts from 12 yards was arguably worse.
7:58: Arsenal have been excellent during the opening 10 minutes here, playing at a tempo that the best side in Europe have struggled to deal with. It was a clear penalty when Ozil was taken down in the area but the German did not look confident as he stepped up. How important will that miss be in this tie?
7:55: What an electrifying start this has been. Arsenal brilliantly carve through Bayern before Wilshere releases Ozil in the box who elegantly skips past Boetang before being floored. Referee points to the spot but Ozil's softly hit effort down the middle is well saved by childhood buddy Neuer who almost dived out of the way of it.
PENALTY SAVED! (Mesut Ozil)
PENALTY - Arsenal
7:53: Sanogo denied! Arsenal attempt th open up Bayern down their right flank and are causing moments of panic in the backline. Another scrap ensues near the penalty spot and all of a sudden the ball falls to Sanogo whose toe poked effort is saved by Neuer who reacted exceptionally well.
7:51: Bayern have started with Robben left and Gotze right behind Mario Mandzukic.
7:49: Close from Kroos! The ball is worked infield to the Germany international who lets fly with a spectacular effort from 30 yards out, but Szczesny is equal to it. The corner is swung in and falls to Robben on the edge of the box who opts for the half volley, but it's blocked and Arsenal clear their lines.
7:47: Early ambition from Arsenal as Alex Oxlade Chamberlain picks up the ball straight from kick off and drives at Bayern's formidable backline. Yaya Sanogo follows suit a minute later as he fights his way upfield before he's held up by Dante.
7:46: And we are underway!
7:44: Per Mertesacker and Philipp Lahm; has their ever been such a height difference between two captains?
7:40: Both teams are now on their way out onto the pitch, kick off is minutes away at the Emirates, likewise at the San Siro.
7:34: Just over ten minutes from kick off now, here's a quick reminder of the starting line ups.
Arsenal: Szczesny, Sagna, Mertesacker, Koscielny, Gibbs, Flamini, Wilshere, Oxlade-Chamberlain, Ozil, Cazorla, Sanogo
Subs: Fabianski, Rosicky, Podolski, Giroud, Monreal, Jenkinson, Gnabry.
Bayern Munich: Neuer, Lahm, Boateng, Dante, Alaba, Thiago, Javi Martinez, Robben, Kroos, Gotze, Mandzukic
Subs: Starke, Van Buyten, Rafinha, Pizarro, Muller, Contento, Schweinsteiger
Nick Howson at the Emirates Stadium
Forget the red carpet nonsense at the O2 Arena for the annual Brit Awards, The Emirates Stadium in north London is serving up it's own glitz and glamour as the Champions League resumes.
After Manchester City were demolished by Barcelona on Tuesday, Arsenal will be hoping for better though their opponents come no easier.
Bayern Munich, who conquered the Gunners in the last 16 a year ago, return to the capital as current European Cup holders, the first ever German treble winners, unbeaten in the Bundesliga and with Pep Guardiola in toe. Some resume.
Arsene Wenger's side can boast a similarly impressive improvement since the summer addition of Mesut Ozil but they will require a superhuman effort to get close to their Bavarian counterparts."
7:23: Atletico meanwhile enter tonight's fixture as just one of three sides to remain unbeaten in the group stages of the Champions League. Diego Costa leads the line as expected, but the future Spain international has scored just two league goals since the turn of the year.
7:20: Moving away from what's happening at the Emirates, Milan manager Clarence Seedorf has handed a Champions League debut to Adel Taarabt in the absence of Robinho, starting in a front three alongside Mario Balotelli and Kaka. Less than two months ago the midfielder was coming off the bench to contribute precisely nothing as Fulham lost to Sheffield United in the FA Cup.
7:18: Wenger on Sanogo's inclusion:
He is playing well, as simple as that. You can debate every position from the first to the last. Olivier Giroud has played a lot of games recently, he is a bit tired. We need him refreshed and to come back strong. We start a game of 180 minutes tonight and we have to consider it like that. The weight of an away goal is very important."
7:16: After signing for Arsenal from Auxerre last summer, Sanogo has made just four appearances for the club. Wenger did not seem overly concerned with adding another striker to his ranks in January, is the 21-year-old Frenchman the reason why?
7:13: Arsenal were the last side to keep a clean sheet against Bayern when they won 2-0 at the Allianz Arena this time last year. Bayern's form hasn't been too bad since then...
7:11: Arsene Wenger denies Olivier Giroud's absence has anything to do with his recent problems off the field, claiming he is simply resting the Frenchman. Hands up who believes that?
TEAM NEWS
Milan: Abbiati, De Sciglio, Rami, Bonera, Essien, Poli, Emanuelson, de Jong, Kaká, Taarabt, Balotelli.
Atletico: Courtois, Godín, Juanfran, Insua, Miranda, Mario Suárez, Koke, Raúl García, Arda Turan, Gabi, Diego Costa.
7:07: We have team news from our other Champions League fixture tonight coming your way shortly.
7:05: So Olivier Giroud is paying the price for what has gone on off the pitch in recent weeks, but what an opportunity Sanogo has been blessed with.
7:00: Live from the Emirates Stadium, Nick Howson brings us more on Giroud's omission.
Following his off-the-field indiscretions, Olivier Giroud is left out from the start for Arsenal, with Yaya Sanogo making his first Champions League start, and just fourth ever appearance, against European champions Bayern Munich.
After making a public apology on Twitter and featuring in the FA Cup win over Liverpool, the hatchet appeared to have been buried but Arsene Wenger has chosen to leave out Giroud for the biggest game of the season. Huge call. Alex Oxlade Chamberlain thankfully does start.
Bayern are as you would expect, all-star. Bastian Schweinsteiger returns but is only on the bench as Bayern field nine of the side that won the Champions League last May. Mario Mandzukic leads the attack in a team where finding weaknesses is like looking for a needle in a haystack."
6:56: CONFIRMED, Yaya Sanogo is handed his first Champions League start against Bayern Munich.
#Arsenal team to play Bayern: Szczesny, Sagna, Mertesacker, Koscielny, Gibbs, Flamini, Wilshere, Ozil, Cazorla, Oxlade-Chamberlain, Sanogo

— Arsenal FC (@Arsenal) February 19, 2014
TEAM NEWS
Arsenal XI: Szczesny, Sagna, Mertesacker, Koscielny, Gibbs, Flamini, Wilshere, Ozil, Cazorla, Oxlade-Chamberlain, Sanogo
Bayern XI: Neuer; Dante, Thiago, Martinez, Robben, Boateng, Gotze, Lahm, Alaba, Kroos, Mandzukic
6:54: Although we are still awaiting confirmed team news, a growing number of rumours are suggesting Olivier Giroud has been dropped by Arsene Wenger with 20-year-old Yaya Sanogo set to lead the line for the Gunners.
6:50: Good evening and welcome to IB Times UK's LIVE minute by minute coverage of Wednesday's Champions League action. We are less than an hour away from kick off as Arsenal host defending champions Bayern Munich while Clarence Seedorf makes his European managerial bow against Atletico Madrid in Milan. Stick with us for all your team news as we get it.