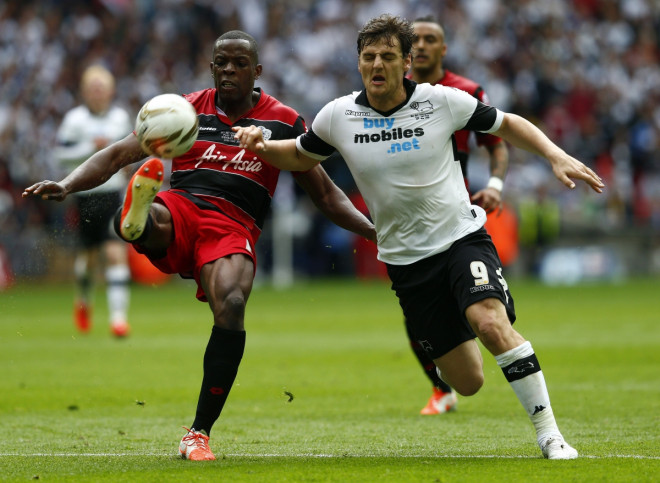 Derby 0-1 QPR LIVE
Red card for Gary O'Neil in the 58th minute
Bobby Zamora scores for QPR in the 90th minute
Derby dominate possession and shots on goal but Robert Green keeps defensive line-up in tact for QPR
Harry Redknapp delighted, while Steve McClaren is left stunned
4:53pm: And that's a wrap! QPR are promoted to the Premier League!
4:50pm: Well that was very unexpected! This game has been all Derby since Gary O'Neil's sending off, but Zamora looks to have repeated his side-saving performance for West Ham in 2005. Three minutes of stoppage time left to salvage this...
4:48pm: GOAL!! Holy cow, it's gone the other way!! Bobby Zamora shoots and scores for QPR after a defensive error by Richard Keogh and the Premier League is now in their hands!
4:44pm: While in the first half QPR had more shots on goal than Derby, now the tables have completely turned. The Rams have 14 to Harry Redknapp's side's 9 - and with 13 corners to 1 you would think a goal is coming from the young side in the coming minutes...
4:41pm: Things are at the point now where the next goal is likely to prove the winner and if Derby don't score in these final 10 minutes they will be very frustrated with themselves. George Thorne and Simon Dawkins both have attempts blocked and Robert Green is very much the defensive star for QPR at the moment.
4:35pm: And another shot for Derby - they've had 4 on target now compared to zero from QPR with 75 minutes gone. Rangers can't get the ball out of their defensive half at the moment.
4:31pm: Derby are completely controlling the game now and have had chances thanks to corners, a header from Richard Keogh, a brilliant shot from Chris Martin and the list goes on. This side are closing in on a goal but QPR are holding firm for the minute.
4:30pm: Harry Redknapp is out of substitutions now and the boss will certainly be frustrated that he's done all he can with his 10 men on the pitch for the rest of the game. Derby will know that as time goes by their opposition's tiredness will grow.
4:26pm: Clint Hill comes off for Henry and Armand Traore moves into the left-back position. Meanwhile for Derby Will Hughes comes off for Craig Bryson and Simon Dawkins is on for Johnny Russell.
4:25pm: A little panic from QPR with Joey Barton almost gifting Russell a chance on goal in the box but the midfielder corrects his mistake with a block. Karl Henry looks set to come on to retain a balance in the side's line-up - Redknapp will be hoping Austin can get his goal-scoring boots in for this final half hour.
4:22pm: Derby are currently on 63% possession and that's about to get higher with their opposition being down a man. It's an uphill battle for QPR now who surely won't argue with that red.
4:19pm: RED CARD! That was a harsh foul by Gary O'Neil on Johnny Russell on the edge of the box and the QPR man is shown a red card after the ref conferred with his assistants. He knew his tackle was likely to receive such punishment and immediately starts walking off the pitch. Derby's chance?
4:15pm: A brilliant chance for QPR as Charlie Austin misses from 12 yards out, shooting just wide of the post. Zamora comes on in place of Kevin Doyle and Rangers look to capitalise on that frustrating shot for the striker.
4:13pm: On the back of multiple corners for Derby, in which they can't seem to find a target man, QPR are looking like they'll put on some more attacking options to get the ball back into their own box. Bobby Zamora is warming up.
4:08pm: Derby once again applying pressure thanks to Will Hughes and Jamie Ward. But the side don't look particularly dangerous in the box right now.
4:02pm: Let the second half begin! Will we see some more action in front of the net? Both sides will need to lose their nerves and take a chance at some point...
3:47pm: And that's a wrap, with both QPR and Derby having a chance each before the first 45 minutes came to an end.
3:42pm: With both sides upping their defensive tactics the game is yet to get a spark, just like many tense Championship play-offs before it. It would seem that many neutrals are siding with Derby at the moment due to their young English based squad.
3:36pm: Will Hughes has been in top form for Derby so far today and the young star is showing why some of England's top clubs are hoping to get their hands on him. The midfielder has a shot on goal and it goes over the bar, signalling domination by his side for the time being.
3:35pm: QPR bring on Armand Traore to replace Niko Kranjcar, who picked up a knock. That's not great news for Harry Redknapp.
3:32pm: Derby are the ones placing the pressure on QPR now but over the course of the game so far Harry Redknapp's side have looked more sure of themselves and their experience will be tough for Steve McClaren to deal with.
3:29pm: And looks like I spoke to soon, with Derby having what looks to be the best chance of the game! Graig Forsyth is unmarked in the box and his shot is just over the bar, giving Rams fans hope that they're closing in on something special here.
3:26pm: That's five shots to one now in QPR's favour and Derby look to be struggling in the final third at present.
3:22pm: George Thorne falls on his wrist but the Derby midfielder appears to be ok and continues after a small stoppage.
3:19pm: Another brilliant piece of play by Charlie Austin who could be the most irritating for Derby's defence at present. The forward brings on a free kick but Joey Barton slams it into the wall. That's two shots on goal for QPR now.
3:14pm: That's just one shot a piece at the moment and neither have been on target. The pressure in this game is certainly an all-time high for any English football match over the course of the season and an early goal would only likely come from a poor defensive error from one side.
3:11pm: First shot for QPR courtesy of Charlie Austin with the hitman taking a shot from 25 yards. The ball is too high but it's a good first attempt from Austin.
3:08pm: Derby in with a decent chance as Will Hughes is tackled with a ball from Johnny Russell. Russell takes the free kick but it hits the wall. A bright start from the Rams.
3:06pm: Derby in control of possession at the moment and it's been a tough start for both sides as they deal with the weather and each other.
3:00pm: And we're off!!!
2:55pm: The players are out of the tunnel and that rain looks like it's going nowhere. The national anthem is up next and then the fun can begin.
2:51pm: A nice stat from ESPN for whoever is set to win today:
The last 3 promotion playoff winners (Palace, West Ham, Swansea) finished 10th or 11th the year after promotion. All are still in the PL.

2:48pm: Just minutes left until kick-off now, and it's pouring with rain at Wembley suggesting a very scrappy 90 minutes of football are ahead. Will this favour the younger Derby side?
2:43pm: Some big figures in English football are on the verge of re-joining the Premier League today, with Harry Redknapp very used to top-flight action while Joey Barton is also hoping to inspire his side to victory.
The controversial midfielder insisted as QPR were building a victory over Wigan that their days of problems in the dressing room are long gone, telling reporters:
We've had a lot of pointers about how hard it was going to be.

"It was a transition period after a terrible year in the Premier League last year. We've built a band of brothers."
2:40pm: Just so we know exactly what's at stake here, the winning club not only gets to play in England's top flight competition for at least a season, but they will pocket at least £130m in revenues and profits which will come from joining the country's elite in the Premier League.
2:36pm: Steve McClaren certainly has some demons to exercise at Wembley with the manager having returned to the scene where his England side failed to qualify for a tournament for the first time in 14 years and he faced the axe as a result. He told reporters int he lead-up to today:
The biggest thing was it felt like I'd let the nation down.

"That's what I've had to live with. That's the hardest thing. Nothing else peripheral, like the wally with the brolly.

"Not qualifying - that was the biggest disappointment. That will not go away and still hurts, but you have to get on with life and football.

"To be fair I wanted to get back to work. I would have worked the next day just to get back on the bike and get back working, I really would.

"At the time I thought I was ready for England and the job finds out that you are not. I didn't have the experience, but I have gone away and had great experiences and come back and I am doing what I enjoy doing."
2:32pm: Leicester and Burnley both achieved automatic promotion into the Premier League this season, leaving Derby in third place in the table and QPR in fourth. Both sides had tough matches against Brighton and Wigan respecitely, with the Rams coming out the slightly more convincing after a 6-2 aggregate win over their competition. Harry Redknapp's men defeated Wigan 2-1 over two legs and while the side have recent Premier League experience, their last promotion was secured automatically rather than through a play-off.
2:28pm: Team line-ups are as follows, with both sides remaining unchanged from their semi-final wins...
Derby: Grant, Wisdom, Keogh, Buxton, Forsyth, Hendrick, Thorne, Hughes, Russell, Martin, Ward (Subs: Bryson, Eustace, Sammon, Legzdins, Whitbread, Dawkins, Bamford).
QPR: Green, Simpson, Onuoha, Dunne, Hill, Doyle, Barton, O'Neil, Hoilett, Austin, Kranjcar (Subs: Traore, Morrison, Yun, Hughes, Henry, Zamora, Murphy).
Referee: Lee Mason (Lancashire)
2:26pm: Good afternoon and welcome to IBTimes UK's coverage of the Championship play-off final between Derby and QPR. Both sides are vying for the last spot in the Premier League for the 2014-15 season and with Derby having been out of the top flight for six years and Rangers hoping to make a swift return after relegation last season both are desperate to win this ever-exciting match.