Full time: Estonia 0-1 England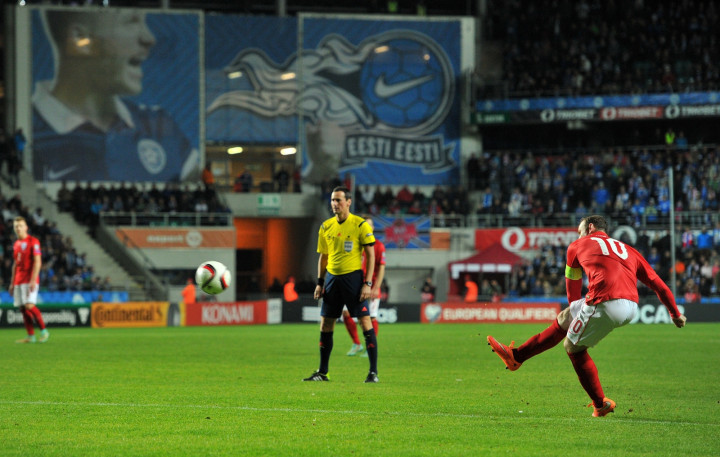 18:53: England win four games in a row for the first time for five years to put themselves in pole position to qualify top from Group E.
Well that's all we've got time for from this international break. We'll be back with live coverage upon the resumption of the Premier League this weekend, but until then goodbye.
18:51: England edge to a third straight win in Euro 2016 qualifying but they were made to sweat in Tallinn by 10-man Estonia. Wayne Rooney's 43rd international goal from a free-kick was enough to give Roy Hodgson's side maximum points from their first three matches and while the performance was far from ideal, results at this stage are all that matter. Estonia offered little, particularly after captain Ragnar Klavan was sent off after 48 minutes.
Full time: Estonia 0-1 England
18:47: Record chasing Rooney skews a volley off target as England pursue a late second goal. Now Pikk blocks Sterling's strike. Entering four minutes of stoppage time.
18:44: Inside the last five minutes as England look very comfortable despite their single goal lead. Joe Hart has been a spectator for long periods of this match but do Estonia have one final burst in them?
18:38: Rickie Lambert on for what looked like than an injured Danny Welbeck as England look to extend their lead and make the scorelook look a bit more comfortable.
18:33: That goal should be credited to Wayne Rooney but no doubt the uneven handling by Pareiko contributed to the ball hitting the net, as he clawed the ball away but only onto the post. Less than quarter of an hour left for this to become comfortable.
18:31: Free-kick right on the edge of the penalty area as Sterling dazzels the Estonia back four before being felled. Rooney over the ball and he curls the ball up and over the wall which Pareiko can't get to and England have the all important goal.
Goal: Estonia 0-1 England (Wayne Rooney)
18:28: Nearly, so nearly an effort on goal for England. Chambers, who has been playing at right wing for most of this second half, crosses for Arsenal teammate Oxlade-Chamberlain, who perhaps put off by an Estonian defender in front of him can't make proper contact with a header and the chance is gone. Less than 20 minutes to get out of this mess.
18:22: Sterling comes on for Jordan Henderson, who has contributed a great deal from the England midfield this evening. Lallana, Oxlade-Chamberlain, Stering and Rooney all on in this England attack; surely there is enough there to break Estonia down?
18:19: Chamberlain on for Fabian Delph with an hour played. England lacking ideas and now Raheem Sterling is being prepped for a cameo appearance. Not too tired for about 25 minutes it seems is the Liverpool winger but once again much will be expected.
18:16: Leighton Baines over a free-kick on the right but his effort is deflected behind for a corner. Alex Oxlade-Chamberlain is being summoned and he might be the man to get among this compact Estonia defence who have dropped into their shell since going down to 10 men.
18:12: Yellow cards either side of half time first for Leighton Baines and now for Jordan Henderson or a clear foul on Jaager. England have got no change out of this Estonia team who are of course down to ten. Nice interplay now as Henderson's square volley can't quite pick out Welbeck. Getting closer.
18:07: Second half barely three minutes old but already Estonia are down to ten men. Captain Klavan wipes out Fabian Delph who is bursting through on goal and referee Marijo Strahonja has no choice but to show a second yellow card. That should help England's cause, you would think.
Red card: Ragnar Klavan (Estonia)
18:03: No changes for England but Vassilijev has been replaced by Arjunin for estonia. Roy Hodgson must be fearing this turning into a potential banana skin. Second half under way.
17:46: Not a horrid performance from England but not one that is currently enough to secure a third successive group win. Not much in the way of chances but Fabian Delp and Jack Wilshere have looked impressive. Danny Welbeck and Wayne Rooney yet to link up as yet. Estonia good to a point, but thir threat is limited.
Half time: Estonia 0-0 England
17:41: Half time approaching and England no closer to breaking the deadlock. Estonia are breaking up plenty of attacks in their infancy. and Hodgson's side are yet to unlock a rigid back four.
17:35: Estonia's main threat Vassiljev shoots from 25 yards but the ball flies well wide of Joe Hart's goal. Now Rooney gets in behind the Estonia back four but he is a bit isolated and he loses possession without being able to get a shot away. Looks very rusty does the England forward.
17:30: Morosov shots wildly from range as Estonia build from the back. England had to wait 24 minutes for the opening goal on Friday, and they're being held up here by a combination of a dogged Estonia and their own lack of end product. Goalkeeper Pareiko not forced to make a save yet.
17:25: The build-up play from England is delightful at times, but is a lack of calm in the final third. The latest attack sees Rooney tee up Delph, who lashes the ball over the bar. Estonia a rare threat in attack now, as England continue to monopolise possession.
17:18: Hodgson's team getting closer and Wayne Rooney almost goes another goal closer to becoming England's all-time record scorer. Jack Wilshere loops a cross over the Estonia defence and Rooney volley's over the bar on the run. Now a Baines cross from the left is missed by the skipper from six yards. Doing his best to prolong his pursuit of history is the Manchester United striker.
17:13: As was the case against Switzerland, Fabian Delph has started on the left, with Jack Wilshere at the base of the midfield and Jordan Henderson on the right. No doubt the possession dominance is with England but Estonia are showing more in attack than their world ranking of 81 may suggest.
17:07: England now onto the front-foot as they look to react to Estonia's fast start. Chambers' cross from the right is a teasing one and Welbeck can't get a toe on the ball and direct it towards goal. The visitors dominating the play now.
17:03: Less than a minute gone and England almost behind. Fabian Delph is clearly fouled on the halfway line but play is waved on and Zenjov's shot is deflected into the side netting. From the resulting corner, England survive going behind as Cahill blocks a goalbound effort. not a Sunday stroll England might have expected to start with.
17:00: Under way in Tallinn.
17:00: Horrid rendition of God Save The Queen as we prepare to get going in Estonia. Can England make it three from three? Updates to follow.
16:53: So Roy Hodgson confirms Raheem Sterling complained of "feeling tired" after a short training session last night in Tallinn. Bit of a worry, after all the concerns over burnout etc. Players are out in Estonia and we await the anthems.
16:50: So what of England's latest opponents Estonia? Ranked 81st in the world, they began their qualification campaign with a victory but fell to Lithuania on Friday. Solid, rigid and dependable at the back, Konstantin Vassiljev represents the biggest threat going forward having scored twice in last year's draw with Netherlands. Manager Magnus Pehrsson, formerly of Bradford City, has been in charge since December but has no free pass with the Baltic nation, and will be expected to challenging for at least third place in the group.
16:45: An image that has been doing the rounds this afternoon.
16:40: The notable omission for England comes in the form of Raheem Sterling, who is left out after concerns over the 19 year old physical well-being after Liverpool manager Brendan Rodgers claimed he was on the verge of burnout. Roy Hodgson, pressured by the Merseyside club or otherwise, has left him out from the start reportedly due to such tiredness. After Daniel Sturridge's fitness problems, it will draw screwtiny over the club v country debate. It shouldn't tonight's result, but it could be a subject which might dominate the news agenda for the remainder of the week.
16:35: Teams:
Three changes for England from the 5-0 win over San Marino. Raheem Sterling (not due to pressure from Liverpool manager Brendan Rodgers), James Milner and Kieran Gibbs drops out and are replaced by Adam Lallana and the returning Fabian Delph and Leighton Baines.
After losing 1-0 to Lithuania on Friday, Estonia have made three alterations. Morozov replaces Barengrub in defence, while Pikk and Vassiljev come into the midfield in place of Lindpere and Kallaste.
Estonia: Pareiko, Morozov, Klavan, Jääger, Mets, Pikk, Vunk, Vassiljev, Antonov, Anier, Zenjov.
England: Hart, Chambers, Jagielka, Cahill, Baines, Henderson, Wilshere, Delph, Lallana, Rooney, Welbeck.
16:30: After sweeping aside San Marino and going top of Group E, England face their third match of the qualification stage looking to provide further evidence of their progression since the World Cup. Victory in Switzerland in their last away day was as impressive as any performance under Roy Hodgson's reign but they must swerve another potentially difficult away trip against Estonia, who are ranked 81st in Fifa's world rankings. Devoid of household names they might be, but the Estonia's will test both England paitience and temprement at Tallinn's Le Coq Arena, which holds less than 10,000. A Sunday night in with England, what could be better?