FA Cup Semi-Final Draw - Hull City v Sheffield United, Wigan v Arsenal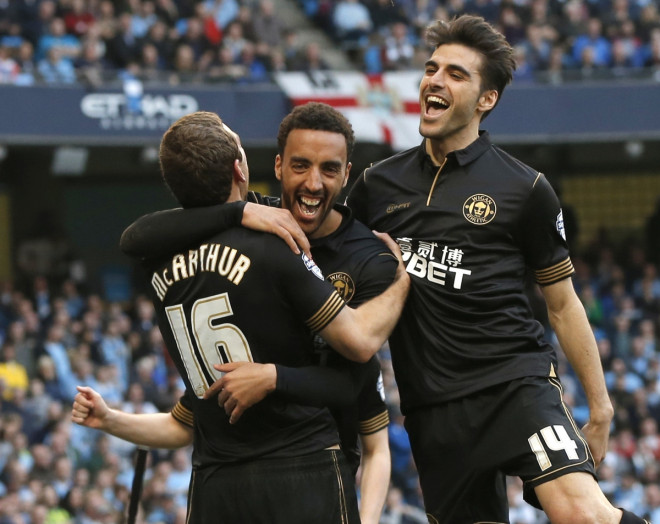 6:09: That's all from us this evening, thanks for reading and join us again in the week for our Champions League coverage.
6:06: We can now confirm the final draw for the semi-finals of the FA Cup to be played on the weekend of the 12 and 13 of April.
Wigan Athletic v Arsenal
Hull City v Sheffied United
6:04: Unbelievable from Wigan Athletic as they get one over Manchester City in this competition for the second year in a row. Wembley awaits the Latics.
6:02: That's it! The Ctty goalkeeper was up for that last corner but Wigan's heroic defending got them over the line and a place in the semi-final of the FA Cup!
FULL TIME
Manchester City 1-2 Wigan Athletic
(Samir Nasri, 67)
(Jordi Gomez, pen, 27, James Perch, 47)
6:00: City go again and Silva wins a corner. Last chance....
5:58: David Silva slightly over hits the free kick and despite Javi Garcia's sliding efforts, he can't stretch his toes far enough to keep the ball in play.
5:57: It's a bit tense. Espinoza shown a yellow card for a foul on Aguer. Free kick is at least 30 yards out....
5:56: Fortune denied! City fall asleep and the Wigan striker is ahead of their last defender but froma tight angle Pantilimon makes the save.
5:55: Five minutes of extra time added on.
5:51:Jordi Gomez gets away with a hilariously outrageous dive near the corner flag. Wigan don't bother sending many up and the City goalkeeper collects the resulting free kick and immediately launches a big ball down field with Aguero racing to get on the end of it. The Argentine goes down in the box claiming Boyce hauled him down, but the referee isn't interested.
5:49: Nasri whips another excellent cross into the box for Dzeko whose header drifts agonizingly wide of the post. Surely City are going to equalise sooner or later? Into the last five minutes of normal time.
5:48: Silva is now picking through Wigan's defence at a relentless rate. This time he finds Dzeko again but his shot his deflected and Wigan survive again.
5:47: What a interception by Boyce! Milner plays an brilliant one two with Silva and breaks inside the right of the box. He plays the ball across to Dzeko who has the goal gaping, but Boyce manages to get across and lift the ball out for a corner. Looked like another stinker from Dzeko but replays suggest the Wigan man got their first.
5:46: Relentless pressure from City at the moment as they launch chance after chance on goal.
5:45: Ten minutes of normal time left here, City pushing for an equaliser.
5:42: Hmm, bit of an argument going on suggesting Nasri's goal shouldn't have counted. Joleon Lescott, who was offside when the shot was hit, leapt over Nasri's effort as it was flying towards goal.. It didn't appear to touch him, but whether that counts as interfering with play or was blocking Carson's view is another matter. Not that any of this matters, mind.
5:40: Aguero comes close this time! The Argentine races onto a long ball from the left and gets there ahead of Carson, but his effort rolls the wrong side of the post. The offside flag had gone up, but replays suggest the City man had done excellently to nip back onside just before the ball was played.
5:38: What a waste from Fortune. Wigan suddenly find themselves with a man advantage on the attack as the Wigan striker picks up a suicidal ball across goal from Lescott. With McClean clean through, Fortune opts to strike from 25 yards out, and it flies harmlessly over the bar.
5:35: And it's inches away from being two each! The ball falls to Richards just outside the area and the fullback sweeps an excellent out-swinging effort on goal, but it sails just wide of Carson 's post.
5:34: City equalise! A corner swung in from the left is partially cleared by it falls to Nasri on the edge of the D. He hits a left footed effort that bounces through the crowd of players and into the bottom right hand corner.
Goal! Manchester City 1-2 Manchester City (Samir Nasri, 67)
5:33: Another Wigan chance as Roger Espinoza is on for McEachran.
5:31: Nice move from City as they work the ball out to the right and a cross is swung into the six yard area. Aguero meets it with a neat volley but it's straight at Carson.
5:29: The post denies City! Silva excellently finds Clichy who has crept up the left flank and he swings a brilliant cross into Dzeko at the far post. The Bosnian meets it with a firm header all the way across goal but it strikes the base of the post and Silva cannot get to the rebound.
5:27: Apart from that Milner chance, Pellegrini's changes are yet to bear fruit. Wigan are coping admirable with City's pressure. James McClean immediately shows why whe was brought on after picking up the ball and easing the pressure on his defence before blocking a City clearance in the corner of the home side's half.
5:23: McSubstitution for Wigan as McManaman goes off for James McClean
5:21: Close from City! Expect that to be written a few more times by the way. James Milner plays a neat one two with Dzeko after winning possession from McEachran and breaks inside the Wigan box. Ramis gets a toe to the ball but the City winger still has control before slightly overunning it. He drags the ball back across inches away from crossing the line but none of his teammates are following it up as James Perch makes the clearance. Wigan survive.
5:18: City probe around the edge of the area but Wigan are camped in their box. The ball is lifted over to Nasri on the right who cuts in to shoot, but his curling effort is over the bar. Pellegrini has rung in the changes, Navas, Negredo and Toure are off, with James Milner, Edin Dzeko and David Silva on.
5:16: Wigan are nearly in again! Fortune breaks though and his low effort hits the far post but the offside flag is off. Pellegrini is fuming and has THREE substitutes ready to come on.
5:15: Atrocious defending from City. Demichelis was at fault again and Clichy had no idea where James Perch was as he nipped in behind him to score.
5:13: Wigan make it two! What a story this is. Fortune takes the ball down the left but City fail to clear the danger after nicking possession off him. The ball is slid through to McManaman inside the left inside channel who looks across goal and drives across. Clichy is well placed to get rid of the danger but he is fast asleep as James Perch nips in behind him and knocks the ball home!
Goal! Manchester City 0-2 Wigan Athletic (James Perch)
5:10: And we are back underway at the Etihad Stadium.
5:08: Wigan are 45 minutes from glory here. Can history repeat itself? Second half is moments away/
HALF TIME
Manchester City 0-1 Wigan Athletic
(Jordi Gomez, pen, 27)
4:53: Wigan win a corner after Clichy is forced to nod clear a cross and make excellent use of it with Gomez whipping an inviting ball over to the far post. Negredo is back to make a crucial interception, but the visitors win another.
4:50: McCann and Richards are down after a crunching 50-50 collision that made the Etihad shake. The Wigan defender slid into retain possession but it sent Richards flipping head over heels in the process. After a few minutes, both seem okay and are up and about.
4:46: Bit of flashpoint as Callum McManaman nearly kicks off. The winger brilliantly makes a few City players - including Toure - look a bit foolish with some deft footwork before finding Josh McEachran. The midfielder is then fouled by a gaggle of City players, with McManaman suggesting there was an elbow thrown. Replays suggest it was an aggressive coming together, but no sign of an elbow.
4:44: City win a free kick and opt to play it short. After some harmless passing outside the City box Nasri picks the ball up and weaves his way past three Wigan defenders coming in from the left. It's an exceptional run but under pressure from Emerson Boyce it's intercepted eventually. The Frenchman swings a boot at the resulting loose ball but it's over the bar.
4:41: Frustration from City as referee Anthony Taylor waves play on after a few questionable challenges from Wigan. It's compounded when he hands Samir Nasri a yellow card. Moments before Yaya Toure thought he had threaded a perfect ball through to Aguero but the move breaks down.
4:38: Manchester City kick off at pace, but it's a bit too quick as they ping it about in Wigan's final third with no real control or idea who they are looking to set free. Wigan regroup. Sunderland fans will at this point remind Wigan supporters to not get too carried away.
4:36: Jordi Gomez tucks it away with ease, 1-0 Wigan!
Goal! Manchester City 0-1 Wigan Athletic (Jordi Gomez, 27)
4:32: Wigan have a penalty! Fortune picks up a loose ball near the byline and looks to dribble his way into the box from the left with Demichelis for company. The Argentine edges ahead of the Wigan man and swings a leg across, catching the standing foot of his opponent.
PENALTY - WIGAN
4:31: This time it's Aguero who jinks his way in from the right, striding past McCann but his dinked cross is too close to Carson again.
4:28: Close from City! It's their best move of the game as Yaya Toure holds the ball before sliding a precise ball through the Wigan defence where Jesus Navas has burst in from the right. The Spaniard knocks it across goal but one of, or maybe both Ramis and Scott Carson manage to get hold of it. Danger averted for now.
4:25: Oooff, Ivan Ramis' high boot smashes into Alvaro Negredo inside the Wigan box but calls for a penalty are moved away. The Wigan man is perhaps a bit lucky to get away with that, but he did look to have connected with the ball prior to the contact with the City striker.
4:22: McCann misjudges a high ball allowing Navas to nip onto it, but the Wigan man recovers well to stand up and keep the Spaniard out after being joined by James Perch. Navas holds up play and knocks the ball off the Wigan man to win a corner, but it's easily dealt with.
4:19: Wigan's game plan is pretty clear here; soak up as much pressure as they can and then look to hit the hosts on the counter with the pace of McManaman their biggest outlet.
4:15: Jesus Navas has threatened down the right flank on a couple of occasions inside the opening 10 minutes of this game but Wigan have held firm so far. Micah Richards received the ball just inside the box just a minute ago but the ball struck his arm as he awkwardly turned to shoot.
4:12: Nice start from Wigan as a Callum McManaman cross causes problems in the City defence. Demichelis sort of clears it, but its put into the path of Jordi Gomez who smashes his effort over.
4:08: And we are underway at the Etihad!
4:03: And that's it! The two favourites of the competition are paired together in the semi final to leave Sheffield United and Hull City to battle it out for a spot in the final! Of course Wigan Athletic can disrupt City's plans with kick off quickly approaching.
FA CUP SEMI-FINAL DRAW
Hull City v Sheffield United
Manchester City/Wigan Athletic v Arsenal
3:58: And we are ready! Ian Wright and Shaun Wright-Phillips are on the scene to do the honours.
3:56: Hull City fans are out on the pitch after their win. Watch out for David Meyler's celebration later on, particularly if you are Alan Pardew who just happens to be reading this.
3:55: Won't be much longer now *taps fingers on desk impatiently*
3:52: Not that you need a reminder of those names in the proverbial hat for the semi-final draw, but here's one anyway.
Manchester City/Wigan
Sheffield United
Arsenal
Hull City
Ties to be played on the weekend of 12 and 13 of April.
3:51: No quick return to Wembley for the Black Cats then. A second half capitulation sees them eliminated at the hands of Hull who will now wait to learn what awaits in the semi final. That draw is moments away.
FULL TIME - Hull City 3-0 Sunderland
3:49: We are expecting the draw shortly following the final whistle of Hull/Sunderland. Just a minute of added time left remaining.
3:47: After a tight first half, League One side Sheffield United sealed their spot with two goals in two minutes from Flynn and Brayford over Charlton Athletic. They join Arsenal in the draw who saw off the challenge of Everton to book their place with a 4-1 win.
3:44: Hull City have sealed their spot in the semi-final draw. There's just minutes left in their match with Sunderland but the Tigers host an emphatic three goal lead with goals from Curtis Davies, David Meyler and Matty Fryatt all in the second half.
TEAM NEWS
Man City: Pantilimon, Richards, Lescott, Demichelis, Clichy, Jesus Navas, Toure, Javi Garcia, Nasri, Negredo, Aguero
Subs: Hart, Kompany, Milner, Dzeko, Kolarov, Rodwell, Silva.
Wigan: Carson, Boyce, Perch, Ramis, Crainey, McManaman, McCann, McArthur, McEachran, Gomez, Fortune
Subs: Holgersson, Rogne, McClean, Espinoza, Barnett, Al Habsi, Maynard.
3:40: Good afternoon and welcome to IB Times UK's live coverage of Sunday afternoon's FA Cup action. We will have coverage of the draw for the semi finals of the competition from 3:50 before Manchester City host Wigan Athletic in a repeat of last year's final in the remaining quarter final tie. We will have all your team news and news from today's earlier games coming up soon.