Full time: Italy 0-1 Costa Rica
Full time: Switzerland 2-5 France
Full time: Honduras 1-2 Ecuador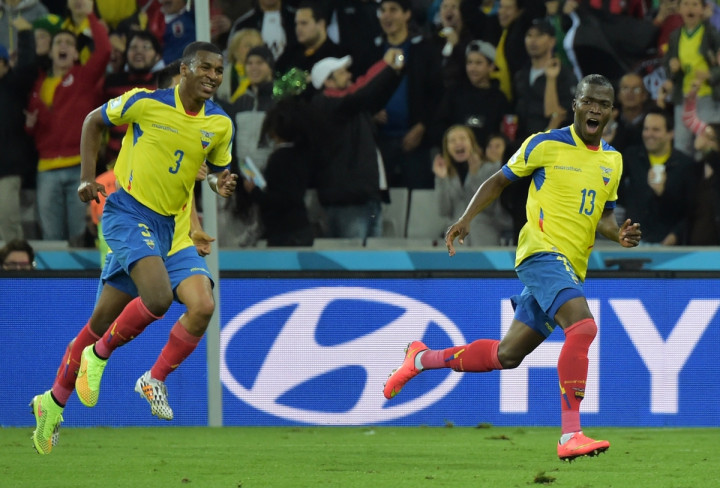 00:58: Two goals from Enner Valencia give Ecuador a lifeline in Group E while Honduras' hopes of reaching the last 16 are all but over after an entertaining game in Curitiba, which lite up a day in which England have exited the World Cup.
Well that's all we've got time for on this World Cup live text. Our coverage continue tomorrow with among others another look at Argentina and Lionel Messi. But until then, goodbye.

Full time: Honduras 1-2 Ecuador
00:50: Four minutes added on in Curitiba. Ecuador have thee ball in the corner.

00:47: Figueroa shoots from distance and the ball flies just wide. Entering the twilight of this entertaining game and Ecuador lok likely to hang on. Can Honduras force anything late on?

00:41: It's do or die for Honduras now and they'll throwing players forward in search of an equaliser. Bernardez's free-kick is intowards Costly and the knockdown falls the way of Espinosa, whose goal-bound effort blocks on the edge of the bos by Minda.

00:33: Honduras looking for a way back into this game and they win a free-kick 30 yards from goal. Maynor Figueroa over it but the ball flies over the bar.

00:25: Ecuador turn it around in the second half. Eyovi's free-kick from the left is a good one and Valencia rises highest and nods into the corner. Lovely simple goal.

Goal: Honduras 1-2 Ecuador (Enner Valencia)

00:22: Honduras have the ball in the net again but once again it is ruled out. The ball is threaded through to Costly but after he plays the ball across for Claros to score, the flag is raised.

00:21: Match comes to life again as Bengston test Dominguez from range, with the ball turned behind for a corner. Nothing comes of it and Ecuador go down the other end force a chance of their own but Erazo gets his header all wrong.

00:19: Chance for Ecuador as Caicedo goes through, appears to be tripped by Erazo but remains on his feet before Valladares smuggles the ball out of play. Replays show there was contact which affected Caicedo's progress but no penalty according to referee Ben Williams.

00:16: Yellow card for Antonio Valencia for a foul in the centre circle. Very stop start second half which is yet to catch alight.

00:05: Just a minute into the second half and already the goalkeepers are called into action. The latest effort sees Dominguez save from Beckeles' effort from range.

00:03: Players are out and we're ready for the second half. More of the same please.

23:53: Defensive errors, stunning goals, controversy, excitement, aggresive tackles and wave after wave of attacks; just about everything you could ask for from 45 minutes of a World Cup group game. Honduras went ahead through Carlo Costly's thunderous strike before Enner Valencia poked home the equaliser. Honduras has since hit the post and had a goal ruled out for handball. It's all happening in Curitiba and after a slightly harrowing 24 hours, it's just what the doctor ordered.

23:49: Ball in the net for Honduras but its not going to count. Costly heads against the post and Bengston, in an offside position, turns the ball in with his hand. A typically eventful end to the first half.

23:46: Honduras almost retake the lead in stoppage time at the end of the first half as Bernandez unleashes a stunning free-kick which is beaten away by Dominguez.

23:45: Break in play as Costly recieves treatment for a clash with Caicedo during an Ecuador corner. Terrific first half here, shame it has to end ins some ways.

23:36: Ecuador behind for less than three minutes as Enner Valencia grabs the equalier. Paredes gallops forward and his deflected cross come shot comes through to Valencia at the back post where Beckeles is sleeping, and the Ecuador forward taps home.

Goal: Honduras 1-1 Ecuador (Enner Valencia)

23:33: The man of the moment Carlo Costly opens the scoring and nets Honduras' first World Cup goal since 1982. Costly beats Guagua to the ball and goes through on goal before producing a storming finish to beat Dominguez. Stunning finish from the plastic-chewing forward. Are Honduras heading for their first ever World Cup win?

Goal: Honduras 1-0 Ecuador (Carlo Costly)

23:29: Another chance that should have been burried, but it's Honduras who are now guilty of being wayward in front of goal. A corner is drifted towards the back post where Bernandez is lurking totally unmarked, but he heads wide. Great chance.

23:25: A better look above at what Carlo Costly has in his mouth. Appears to be nothing more than a bit of plastic, perhaps a lucky charm, perhaps a chewits wrapper. Who knows?
23:22: Ecuador should be head. Enner Valencia gets in behind after Izaguirre gets the offside trap hopelessly wrong but the forward cushions over. Golden opportunity to put his side ahead.

23:30: What is in Carlo Costly's mouth? The Honduran striker appears to be chewing on a blue object which the television cameras have caught out. Not something I've seen before when watching Costly so we'll keep an eye on that.

23:16: Nice tempo to this game in the opening 15 minutes and Honduras are playing their part too, with Costly with an embitious effort from 25 yards.

23:09: A yellow card inside seven minutes for Honduras defender Victor Bernandez as Montero looked to turn in behind. In hindsight, a good foul to make but it gives Ecuador a free-kick 25 yards out. Noboa takes aim but only hits the wall before Ayovi slashes wide from the rebound. Good start to the game.

23:06: Ecuador right into their stride and aalmost take the lead inside five minutes. Montero crosses from the right and Erazo almost turns the ball into his own net before hooking it clear on the floor, with Caicedo closing in. At the other end, Carlo Costly goes close, curling one across the face of goal and forcing Dominguez to palm the ball out.

23:02: Both sides have a reputation for being physical, they each finished with 10 men in their last meeting in a friendly, and there is a foul awarded inside the first five seconds as Ecuador kick-off. Honduras leave two Ecuador players on the turf.

23:00: Under way in Curitiba. Stay with me, please.

22:56: Anthems over with and kick-off is moments away. Both of these teams held England in the warm-up games before the World Cup, but will there be anything between them this evening in Curitiba?

22:52: Given how some of the graveyard matches have gone down in this tournament, I am not holding high hopes for our final game of the day. Russia's draw with South Korea and Japan's stalemate against Greece last night just two examples of how this 11pm kick-off seems to produce some of the worst football we've seen in this tournament. Let's hope for a change here.

22:43: Nice bit of spice to this game which might no, on paper, come across as a glamour tie in this World Cup. Honduras manager Luis Fernando Suarez is a former Ecuador boss, while his opposite number Reinaldo Rueda is an ex-Honduran boss. Both should have an good insight into each other, which could lead to tight, one pace game.

22:38: So lets add some meat to the bone of the team news. Ecuador have made one change from their defeat to Switzerland, with Oswaldo Minda replacing Carlos Gruezo. For Honduras, there are two changes with the suspended Wilson Palacios being replaced by Óscar Boniek García while Jorge Claros comes in for Andy Najar.

22:27: As you can imagine, discussion over England's World Cup campaign continues with many looking for a scapegoat. Roy Hodgson will remain as England manager but as the newspaper have dipicted in the morning papers, he is a lucky man to remain in the hotseat. Is he the right man to take England forward?

22:16: Time to move onto our final game of the day and that comes from Curitiba where Ecuador face Honduras. Once again, after losing their first group game, both of these sides are fighting for their lives. Team news and preview on the way.

22:02: That was a stunning display from the French and they must be considered a genuine threat in this competition. Sure to qualify top of their group, they will face the runner-up from Group F, which will be Bosnia or Nigeria before a potential quarter-final meeting with Germany. Very tasty indeed.

21:54: A bizzare end to the game as Benzema has the ball in the net on the stroke of full time but the goal is not going to stand. Otherwise, it was a stunning French display which included goals from five difference players as they overwhelmed Switzerland from the outset. The Swiss struck twice at the end but they'll need to rouse themselves for the final group game against Honduras in order to qualify.

Full time: Switzerland 2-5 France
21:48: Three minutes added on in Salvador. We're due another goal surely.

21:46: Well if the first goal was a pot shot, this is a real special effort as Switzerland close the gap again. Shaqiri dinks a ball in behind and Xahka hits a volley, over his shoulder and past Hugo Lloris. Stunning strike.

Goal: Switzerland 2-5 France (Granit Xhaka)

21:41: Another goal and probably the best of the lost as Switzerland get a consolation with 10 minutes left. Substitute Dzemaili takes aim from all of 35 yards, the ball goes through Benzema and Pogba in the wall, and flies low past Hugo Lloris.

Goal: Switzerland 1-5 France (Blerim Džemaili)

21:35: More chances for France and Switzerland are a mess at the back. Valbuena collects Sissoko's cross but is denied by Benaglio, who then stops Matuidi's drive and Benzema's follow-up effort on the volley. It's one-way traffic.

21:33: This is becoming messy for Switzerland now. Gorkhan Inler disposseed and after Benzema feeds Sissoko, the Newcastle man strokes the ball into the opposite corner. The Swiss has at the moment heading for a record-equalling defeat at the World Cup.

Goal: Switzerland 0-5 France (Moussa Sissoko)

21:26: Philippe Senderos makes a total hash of a clearance from a Pogba through pass and Benzema, now in a central role since Giroud was replaced, fires into the net. His third goal of the tournament and France are out of sight here in Salvador.

Goal: Switzerland 0-4 France (Karim Benzema)

21:24: Opportunity for Switzerland to get back into the game but Mehmedi pokes over the bar after the ball comes through to him at the back post. Poor finish but credit to Hugo Lloris, who was out like a whippet off his line to make it difficult.

21:21: Olivier Giroud off and Paul Pogba on for France. Bit of security in the midfield while we get another opportunity to watch this exciting Juventus youngster.

21:18: France are running riot in the attacking third. After a long attack, Valbuena lays off to Benzema, whose shot is blocked behind by Djourou. It's a case of pick a number at this stage for France.

21:14: Giroud fires wide from range as France's search for goals continues. As things stand, a draw in tonight's other group game between Honduras and Ecuador will secure their place in the last 16.

21:07: Early corner for France after Giroud's effort is deflected behind. Corner from Valbuena doesn't get past the first man though. Update on Steve von Bergen, who went off after just nine minutes of the first half after being caught by Olivier Giroud, with the Switzerland defender in hopsital with a suspected broken cheek bone. Nasty stuff and we wish him well.

21:04: Back under way in Salvador. Change for Switzerland, with Behrami off and replaced by Dzemali.

20:49: Just about as dominant a performance from any side in this World Cup. France sweep Switzerland aside in 45 minutes of clinical attacking football, with goals coming from Olivier Giroud, Blaise Matuidi and Mathieu Valbuena, while Karim Benzema missed a penalty too. Switzerland have been blown away and need a major re-think to prevent things getting out of hand.

Half time: Switzerland 0-3 France
20:42: Wonderful goal to settle this game after just 40 minutes. A length of the field move from a Switzerland corner sees Giroud released down the left and his cross is inch perfect towards Valbuena, who taps into a nesr-empty net. Terrific goal.

Goal: Switzerland 0-3 France (Mathieu Valbuena)

20:34: France threatening to run away with this as they win a penalty after Djourou trips Benzema. The Real forward steps up but Benaglio gets down to his right to save, before Cabaye somehow misses from the follow-up, instead hitting the bar. Big let off for Switzerland.

Benaglio saves from Benzema

Penalty to France

20:30: Switzerland come close again. Xhaka drives towards goal and Lloris pushes out his effort only as far as Shaqiri, but the French keeper tips the ball behind with another super save. Good game this.

20:28: Ball in the net for Switzerland but the goal is ruled out. France only half-clear a free-kick but when the ball comes back in Xhaka volleys past Lloris but the flag is raised on the near side.

20:20: What a start for the French. Two goals in less than a minute has given them a firm grip of their second group game. The first comes as Olivier Giroud powers home a header from Cabaye's corner before Behrami gives the ball away straight from the kick-off as Benzema feeds Matuidi, who slides past Benaglio at the near post. Two up inside 18 minutes are the French.

Goal: Switzerland 0-2 France (Blaise Matuidi)

Goal: Switzerland 0-1 France (Olivier Giroud)

20:14: Senderos joins Johan Djourou in the centre of the Switzerland back four, a partnership which left many an Arsenal-fan uncomfortable during the pair's spell in north London. Current Gunner Olivier Giroud and co. will be keen to take full advantage.

20:09: Steve Von Burgen in some trouble. He has taken a big blow in the face from Olivier Giroud and is down and getting a of treatment. Philippe Senderos coming on to replace the centre back, who has blood gushing from his eye area.

20:06: An all-European game this might be but there is plenty of noise inside the Arena Fonte Nova. Karim Benzema almost raises the noise levels, but curls wide from 20 yards. Lovely effort.

20:00: Under way in Salvador.

19:56: France actually get to hear their national anthem today after a cock-up with the public address system in their first game. They hold the authority numerically in the stands. Kick off on the way.

19:48: Switzerland showed against Ecuador that despite conceding the first goal, they are a very organised outfit and will be tough to break down this afternoon, having finished with the best defence in European qualifying. France have arguably one of the strongest front fours in the competition, with Mathieu Valbuena the real star on the right. Karim Benzema looks into his stide too. Fascinating game in prospect.

19:41: The inquest into England's performance in this World Cup continues apace and it is quickly becoming a blame game. Few seem to be seeing the bigger picture, that in two years under Roy Hodgson England have signficantly improved but have been a victim of a tough draw. Yes mistakes have been made, but there is little doubt the team have improved. Bit of perspective is required I think.

19:32: These two sides grabbed wins in their opening games in contrasting fashion. Switzerland required a stoppage time winner to complete a comeback against Ecuador, while France dominated for long periods against 10-man Honduras and produced among the most rounded performances of the tournament. The winners is essentially through to the last 16 while the loser will face a nervy final game next week, depending on tonight's result.

19:28: Quick look at both teams in Salvador. Switerland start with the same team which finished the victory over Ecuador, with Admir Mehmedi and match-winner and Haris Seferovic coming in from the start.
For France, Didier Deschamps has made two changes from the heavy win over Honduras, with Moussa Sissoko and Olivier Giroud coming in from the start, with Antoine Griezmann and Paul Pogba dropping to the bench. Karim Benzema, who scored twice in the opening game, will start on the left.

19:16: Teams:

Switzerland: Benaglio, L'teiner, Von Bergen, Inler, Seferovic, Xhaka, Behrami, Rodriguez, Mehmedi, Djourou, Shaqiri

France: Lloris, Debuchy, Evra, Varane, Sakho, Cabaye, Valbuena, Giroud, Benzema, Matuidi, Sissoko

19:14: There will be plenty of time to reflect on England's showing at this World Cup but for now we must turn our attention to our next game of the day, France against Switzerland. Team news on the way.

19:12: Nothing but utter dejection has met the news that England are out of the World Cup. Two decent performances riddled with individual errors in defeat to Italy and Uruguay sees Roy Hodgson's men out of the tournament with a game to spare, their worst ever World Cup performance. Just give that a thought.

19:03: England's worst World Cup performance for 56 years and they should have a look at how Costa Rica have swept aside both Uruguay and Italy, both of whom beat Roy Hodgson's men. The shepherding of Andrea Pirlo alone shows the problems England have to overcome. Euro 2016 anyone?

19:00: That is a stunning, stunning achievement from Costa Rica. The fourth lowest population of any country in this World Cup are through to the last 16 after just two matches in Group D. Amazing stuff from a side with very few star names, yet a discipline and acute tactical understanding led by manager by manager Jorge Luis Pinto.

18:56: It's confirmed: England are out of the World Cup. Costa Rica beat Italy and progress to the last 16 for the second time in their history. England out after two group matches for the first time in their history. Italy and Uruguay will play for the final place next week in an intriging game, but England face Costa Rica in a dead rubber.

England out of the 2014 World Cup

Full time: Italy 0-1 Costa Rica

18:50: Corner for Italy. Cerci swings it in and Cassano gets a toe end on it but it rolls wide. That might be that. Four minutes added on.

18:45: Urena goes through on goal but Chiellini gets the block in as the game enters the final five minutes. Jorge Luis Pinto has masterminded one hell of a feat here and has his team on the edge of the last 16. Do Italy have anything left?

18:42: Another half chance for Italy as Insigne collects the ball on his chest on the edge of the box but blasts it over the bar.

18:40: This is becoming grim for Italy, who are 10 minutes away from losing to Costa Rica for the first time. Bryan Ruiz off for Costa Rica, who are now trying to run down time.

18:32: This is not looking good for England or Italy, who are now facing a straight shoot-out with Uruguay for the final last 16 place as things stand. Running out of ideas are the four-time champions.

18:29: Less than 25 minutes remaining in Recife and it would be fair to say the Italian threat is wavering. Cassano the latest player to be flagged offside. There have been too many of those. Third change for Prandelli, who brings on Cerci for Marchisio.

18:16: The attacking changes continue for Italy, who bring off Candreva and replace him with Insigne, a more attacking wideman.

18:14: Andrea Pirlo has been very much on the edge of this game but his free-kick forces a good save out of Navas, who fists his effort away on the dive. Costa Rica not seen much of the ball so far but Bolanos hits from range but fails to produce an error from Buffon.

18:11: Cassano straight into the action and he is found in the area but instead of shooting, opts to try to find Balotelli, and his cross is blocked. Now Navas makes a splendid save to deny Darmian. Better from Italy.

18:05: Meanwhile, players are out and we're back under way in Recife. Antonio Cassano on for Thiago Motta for Italy, to help liven up that midfield.

18:04: Some news you may have heard before kick-off in Recife. The Football Association chairman Greg Dyke has confirmed Roy Hodgson will continue as manager until at least the 2017 European Championships.

18:02: We have had nearly 24 hours to consider it, but England's exit from the World Cup is 45 minutes away from becoming a reality. Who is to blame? Roy Hodgson? Steven Gerrard? Phil Jagielka? Greg Dyke? Phil Neville? You fancy the inquest will run all summer long.

17:51: England stand 45 minutes from exiting the World Cup at the group stage, with Bryan Ruiz's header giving Costa Rica the lead over Italy. The Italians have been shaky in all areas, with Mario Balotelli spurning several half chances. Otherwise, Costa Rica have a deserved lead and Roy Hodgson's men are heading home.

Half time: Italy 0-1 Costa Rica
17:47: Injustice one minute, euphoria another and it leaves England on the brink. A terrific cross from Diaz Campbell picks out Ruiz at the back post and he powers a header in off the crossbar and over Buffon's line. Italy must turn this around for England to stay in the World Cup.

Goal: Italy 0-1 Costa Rica (Bryan Ruiz)
England breath again in this World Cup. Costa Rica should have a penalty after Campbell danced through the Italian defence and was brought down by Barzagli. Referee Enrique Osses waves away the appeals but even without a replay, it looks a nailed on spot kick.

17:43: Chance for Costa Rica. A corner from the left, the fourth of the first half, is beaten out by Buffon but Ruiz is able to cross it back in and picks up the untracked Duarte who flicks on but on to the roof of the net.

17:41: Costa Rica win it in the Italy half and Bryan Ruiz takes over, drives towards goal but his shot is weak and Buffon makes an easy save. Robbie Savage uses that move to criticise England players' inability to raise themselves for the big international occasion, something the former Wales midfielder would know all about. Still goalless in Recife.

17:38: Chances at both ends now as Bolanos forces Buffon into a good low save with a strike from 25 yards. Back to the open game we expected in Recife and so far, no signs of the humidity affecting either sides' capacity to attack.

17:34: Balotelli is causing Costa Rica plenty of problems and he latches onto another ball through, but his half-volley is kept out by Navas, who fumbles the ball but gathers in time to prevent Marchisio taking advantage.

17:33: Chance for Italy. Ball over the top from Andrea Pirlo puts Mario Balotteli clear and he lifts the ball over the onrushing Navas, but misses the target and the ball bounces woefully wide. Poor finish, but finally a glimpse of Italy's threat.

17:20: Gianluigi Buffon returns from injury for Italy today but he's looked anything but assured in goal. After Marchisio conceeds a daft corner after a hopelessly missplaced pass, Buffon flaps at the inswinging delivery, only palming the ball out. Very nervy start from the Italians.

17:15: Much of the game is being played in the central third of the pitch where naturally it is a bit congested. Not much service so far for the lone strikers Balotelli or Campbell.

17:10: Corner for Italy at the other end but Balotteli fouls Duarte before hammering his volley into the floor and over. Good start, as expected, in Recife.

17:08: Oscar Duarte, scorer of the second goal against Uruguay last weekend, gets away without a booking after pulling back Marchisio on the half-way line. Costa Rica have had slightly better of the opening exchanges, winning a corner on the far side. Borges gets there first before Buffon, but heads over. Great chance.

17:03: After last night's result it was prety clear England fans would have to find another team to support and here is the ideal chance to test those Italian roots by getting behind the four-time World Cup winners.

17:01: Under way in Recife.

16:58: Right, so the teasms are out and the anthems are over with. Can Italy keep England alive in this World Cup? Kick off fast approaching.

16:47: Expect Italy to set up much the same way they did against England, but flooding the midfield with Andrea Pirlo, Daniele de Rossi and Thiago Motta at the base of the midfield. Costa Rica will play very much on the break and the front three of Ruiz, Campbell and Bolanos will provide fluidity. Meanwhile, watch out for full back Gamboa, who was superb in the win over Uruguay.

16:37: We saw enough from both Italy and Costa Rica in their opening results to suggest this could be an open game in Recife. The Azzuri controlled their opening win over England while Costa Rica shocked Uruguay with a second half comeback.

16:26: Try telling Gary Lineker England's hopes in the World Cup are over. Here is the former striker before the start of the BBC's coverage of Italy v Costa Rica. He's not given up...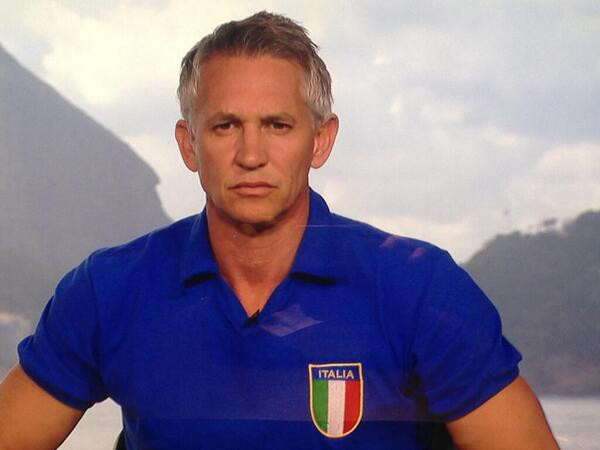 16:21: In the aftermath of England's defeat to Uruguay, and amid the realisation of what was required to reach the last 16, it's unlikely you missed this tweet. If not, marvel at the brilliance of Mario Balotelli.

16:17: So unless you have been living under a rock for the past 24 hours, here are the permutations that England require to go their way in order to remain in the World Cup going into their final group match against Costa Rica. Victory for Italy sees England cling on to their World Cup lives ahead of the last group game. Any point for Costa Rica and it knocks England out of the competiton at the group stage for the first time since 1958.

16:12: So this is the Italy team that needs to do England a massive favour in Recife this afternoon. Experienced goalkeeper and captain Gianluigi Buffon is back from injury after missing the win over England. Cesare Prandelli's side are otherwise unchanged, with Mattia de Sciglio still out injured. Costa Rica are unchanged from the 3-1 win over Uruguay with Joel Campebell again leading the attack. The Arsenal man is the big threat to England's progress in this competition.
16:08: Teams:

Italy: Buffon, Chiellini, Darmian, Motta, Candreva, Abate, Marchisio, Balotelli, Barzagli, De Rossi, Pirlo.

Costa Rica: Navas, Gonzalez, Umana, Borges, Duarte, Bolanos, Campbell, Ruiz, Diaz, Gamboa, Tejeda
16:00: For those still feeling the heartache of England's last gasp defeat to Uruguay, then near fear as this is the World Cup that keeps on giving. Hope could spring eternal via Italy and Mario Balotelli in our first match against Costa Rica this afternoon. Victory for the Azzuri keeps England in the competition going into the final round of matches, and according to Balotelli, a win will be worthy of a kiss from the Queen. Should the former Manchester City striker inspire two successive wins for the four-time world champions, we'll see what we can do. That decisive game is up first, followed by France against Switzerland and Honduras and Ecuador, both from Group E.