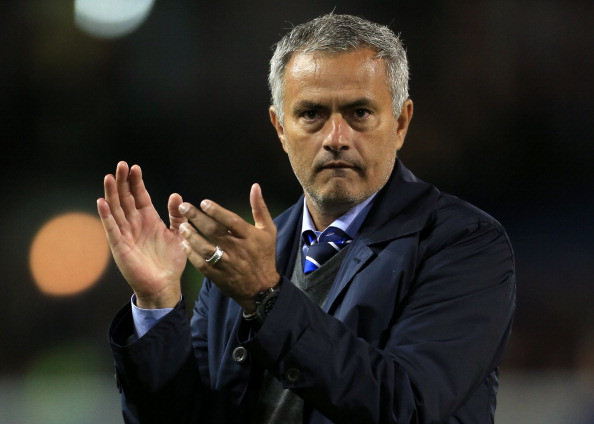 Aston Villa 0-0 Newcastle FT
Chelsea 2-0 Leicester FT
Crystal Palace 1-3 West Ham FT
Southampton 0-0 West Brom FT
Swansea 1-0 Burnley FT
Everton 2-2 Arsenal FT
7:24pm: And that's a wrap for today's Premier League action! Arsenal were very lucky to get a point against Everton, with the side coming back in the final minutes to produce what will feel more like a win for the Gunners.
7:22pm: What a comeback from Arsenal - Everton have looked the top side for the majority of this game, and the Gunners are now in the driving seat to steal a last minute winner.
7:17pm: GOAL! Olivier Giroud is finally successful, and Arsenal have a point if things stay the way they are!
7:12pm: GOAL! Looks like it has changed things a bit! Aaron Ramsey clocks a goal for the Gunners and they're back in the game - just.
7:05pm: Campbell and Cazorla are on for Oxlade-Chamberlain and Wilshere, while Everton bring on Lukaku for McGeady. Will this change things? At the moment Everton are looking the better side.
6:56pm: Arsenal and Everton are 50% a piece for possession at the moment but the Gunners aren't doing anything with it. They've still had no shots on target.
6:46pm: And another yellow for Calum Chambers, who clattered with Steven Naismith.
6:44pm: Jack Wilshere is a little over the top with his tackle on Gareth Barry and deserving of the yellow card he received for it.
6:41pm: Giroud is on fire at the moment and the striker nearly had a goal within seconds of coming on. Whatever Wenger said in the dressing room, it's worked, and the Gunners have turned around a deficit like this before.
6:35pm: And we're off again! Can Everton keep their lead or will Arsenal turn it around? Wenger has brought Giroud on for Sanchez to get the goals back.
6:18pm: And that's half time at Goodison Park.
6:17pm: GOAL! Everton are up 2-0 thanks to Naismith, with the assist coming from Lukaku. Arsenal hearts breaking everywhere! Two questions though: Was it offside? And was Per Mertesacker clipped in the lead-up to it? Arsene Wenger seems to think so.
6:17pm: Oxlade-Chamberlain may be good for Arsenal, but the bad at the moment would be Mesut Ozil, who looks very much second best in midfield today. It's been a disappointing half for the Gunners, will Wenger ring in the changes?
6:13pm: Yellow card for Per Mertesacker after he cleans up Naismith.
6:10pm: Alex Oxlade-Chamberlain has been Arsenal's best player so far in this game but the side are yet to have any chances on target.
6:01pm: Leighton Baines is booked after a rough challenge on Mathieu Debuchy. Arsenal looking in control again and Everton may come to rue that miss by Mirallas.
5:58pm: Arsene Wenger's side look rattled now and credit must go to Gareth Barry for privding Coleman with a brilliant ball to take his side up 1-0. Kevin Mirallas has a shot on goal and it's not looking great for Arsenal as Wojciech Szczesny struggles to save it.
5:55pm: Meanwhile, in Germany, Bayer Leverkusen's Karim Bellarabi has just scored the fastest Bundesliga goal of all time: 7 seconds. Blink and you'd miss it!
5:52pm: GOAL! Everton go up 1-0 against Arsenal thanks to Seamus Coleman. The Gunners claimed offside from the looks of it Mesut Ozil's position made the Toffees very much on.
5:52pm: Alex Oxlade-Chamberlain is showing some spark for Arsenal and the side are looking more in control after Everton were forced into the early change. The Gunners still don't have the majority of possession back in their favour though.
5:44pm: Steven Pienaar is down and it doesn't look good for the South African, as he comes off for Leon Osman. Pienaar got a knee in his back earlier from Arsenal's Calum Chambers so it could have been something to do with that.
5:35pm: Everton are looking good early on but both sides are still finding their feet, with the Toffees doing little to scare Arsenal's defensive line with a corner.
5:30pm: And we're off!
5:25pm: Just minutes until kick-off and the last time Everton and Arsenal played each other, the Gunners were left disappointed and no longer favourite for a top four finish. Roberto Martinez's side were unable to hold onto the Champions League spot but with Romelu Lukaku now a permanent player for the side they will be just as difficult to stop.
4:54pm: And that's a wrap on the 15:00 kick offs! A deserved win for Chelsea and West Ham, while Southampton and West Brom couldn't find a goal and Swansea were lucky to hold on to their 1-0 lead over Burnley. Join us soon for coverage of Everton v Arsenal!
4:49pm: Will there be much change in the current scorelines? Not likely. Chelsea couldn't possibly mess this up now, while West Ham are also looking sure of three points. Burnely have had the pressure on for this half but time is ticking and Swansea have held on so far.
4:44pm: There hasn't been much action at Southampton with the Saints and West Brom having only two shots on goal each, and neither looking particularly dangerous. With just 10 minutes left, can one striker find some fire?
4:41pm: Chelsea make a change with Drogba on for Costa and the crowd are certainly very happy for both their goal scorer and their legend. Even Roman Abramovich is showing some emotion for the strikers.
4:39pm: According to OptaJoe,
3 - Cesc Fabregas has now assisted three goals in two appearances for Chelsea. Bargain.

4:38pm: GOAL! Chelsea look to have secured three points and top of the table for now as Eden Hazard scores from a deflected shot. This attacking line-up is looking very dangerous indeed...
4:33pm: Some team news in as the line-ups for Everton v Arsenal are announced:
Arsenal: Szczesny, Debuchy, Mertesacker, Chambers, Monreal, Flamini, Ox, Wilshere, Ramsey, Ozil, Alexis.
Everton: Howard, Coleman, Jagielka, Distin, Baines, Barry, McCarthy, Mirallas, Naismith, Pienaar, Lukaku.
4:30pm: Things are heating up now with Burnley pushing Swansea for an equaliser while Leicester try to regroup after letting Costa through their defence. Chelsea were pushing all game for a goal and it was thoroughly deserved, but the Premier League newcomers had a few moments where they looked dangerous too in the first half.
4:22pm: GOAL! Carlton Cole takes West Ham back to a two goal lead over Crystal Palace.
4:21pm: GOAL! Diego Costa has finally beaten Schmeichel to the back of the net. With 19 shots at goal one was bound to finally go in and the Chelsea newcomer has now scored twice in two games, as they go up 1-0 against Leicester.
4:15pm: It's end-to-end stuff at Stamford Bridge with chances clocked for both Leicester and Chelsea. Cesc Fabregas is so close but it's still 0-0.
4:08pm: GOAL! Crystal Palace are back in the game early on, setting the score at 1-2 thanks to Marouane Chamakh, who had been pushing for a goal all game.
4:06pm: And we're back! Can Chelsea get one over Leicester? Can West Ham strengthen their lead? A tough half of football ahead!
3:52pm: Half time is ringing around England with Leicester looking particularly happy after they were able to hold off Chelsea's attempts and look more than a match for Mourinho's side. Will he ring in the changes to break through their defence?
3:51pm: Southampton and West Brom continue to struggle for any real chances on goal in this half, though the Saints have seen much more of the ball with 62% possession.
3:42pm: Gylfi Sigurdsson is the go-to man for Swansea at the moment with the Iceland international having another shot on goal but it's too high. HIs assist earlier came from a missed goal off his own foot.
3:37pm: GOAL! And again, West Ham are on fire!! Stewart Downing doubles their lead and this will be difficult for Crystal Palace to come back from now...
3:35pm: GOAL! West Ham go up 1-0 against Crystal Palace thanks to Mauro Zaute, volleys home to put the west London side in the winning seat.
3:35pm: Meanwhile over at Stamford Bridge, it looks like Leicester are trying to beat the Premier League title favourites at their own defensive game, and so far they look strong against Jose Mourinho's men. No shots on target for either side as yet.
3:33pm: A tough beginning in the Premier League for Burnley, who are quickly learning what a step up it is from the Championship to the Premier League. They've had three shots against Swansea but none on target as yet and they're having trouble keeping possession.
3:23pm: GOAL! Nathan Dyer puts Swansea ahead against Burnley and the Welsh side are off to a flying start! Assist credited to Gylfi Sigurdsson as he hits the bottom right corner on target. Swansea are now top of the table (for now)...
3:16pm: It's the same story over at Crystal Palace as Stamford Bridge, with West Ham dominating possession at 63%, but Marouane Chamakh has looked the most dangerous so far, with a header being cleared by Joey O'Brien.
3:10pm: Leicester have had the majority of possession at Stamford Bridge but it's Chelsea who are looking more dangerous with the side already having a chance on goal. Meanwhile West brom and Swansea are also pushing hard to get an early score on the board.
3:00pm: And we're off!
2:49pm: Aston Villa fans should enjoy this moment - they are the top of the league! For the next few hours at least. Chelsea will be expecting to build on their 3-1 win over Burnley last week with their new signings, particularly Diego Costa and Cesc Fabregas, settling in well already.
2:45pm: And now we move onto Chelsea and Leicest, Crystal Palace and West Ham, Southampton and West Brom and Swansea and Burnley. A big two hours of football ahead!
2:36pm: And that's a wrap on Aston Villa and Newcastle, with the game ending goalless and both sides clearly unhappy about it. Aston Villa had no shots on target while Newcastle will be frustrated to not have taken advantage of any of their four chances in front of the net. Two clean sheets for Paul Lambert's men is a positive start to the season but his lack of firepower will be a worry.
2:33pm: According to Squawka football,
Newcastle United have now scored just 14 goals in 21 Premier League games during 2014.

The scores remain 0-0.
2:30pm: Meanwhile, Jose Mourinho has once again started Courtois in front of goal, signalling that he is still not willing to give Petr Cech a chance. The manager insisted Cech hasn't asked to leave yet but if he continues to be left in the cold he will likely consider other options.
2:25pm: Newcastle fans won't have been too pleased with their 2-0 loss to Manchetser City in the opening day of the season but the side won't have been expecting to get maximum points against the Premier League title holders either. They will be a lot more disappointed if the side lose today, with the Toon currently dominating the possession and chances on target.
2:14pm: The line-ups for Crystal Palace v West Ham are as follows:
Crystal Palace: Speroni, Kelly, Hangeland, Delaney, Ward, Bannan, Jedinak, Ledley, Bolasie, Chamakh, Campbell.
West Ham United: Adrian, O'Brien, Reid, Tomkins, Cresswell, Downing, Kouyate, Noble, Vaz Te, Zarate, Cole.
2:13pm: The line-ups for Chelsea v Leicester are as follows:
Chelsea: Courtois; Ivanovic, Cahill, Terry, Azpilicueta; Matic, Fabregas; Schurrle, Oscar, Hazard; D Costa.
Leicester: Schmeichel, De Laet, Morgan, Moore, Konchesky, Mahrez, King, Hammond, Schlupp, Ulloa, Nugent.
2:12pm: The line-ups for Southampton v West Brom are as follows:
Southampton: Forster, Clyne, Yoshida, Schneiderlin, Fonte, davis, Tadic, Wanyama, Ward-Prowse, Pelle, Bertrand.
West Brom: Foster, Wisdom, Dawson, Olsson, Pocognoli, Mulumbu, Gardner, Berahino, Dorrans, Brunt, Anichebe.
2:10pm: The line-ups for Swansea v Burnley are as follows:
Swansea: Fabianski, Rangel, Amat, Williams (C), Taylor, Ki, Shelvey, Dyer, Sigurdsson, Routledge, Bony. Subs: Tremmel, Bartley, Tiendalli, Richards, Montero, Sheehan, Gomis.
Burnley: Heaton; Trippier, Shackell (c), Duff, Mee; Arfield, Jones, Marney, Taylor; Ings, Jutkiewicz. Subs: Gilks, Wallace, Kightly, Sordell, Barnes, Reid, Ward.
2:00pm: Hello and welcome to IBTimes UK's coverage of the Saturday action in the Premier League. Newcastle are currently taking on Aston Villa and later Chelsea will face Leicester while Crystal Palace, West Ham, Southampton, West Brom, Swansea and Burnley are all in action. Later, Everton and Arsenal face off in what will no doubt be a tough match-up with both having come down to the final games in the fight for a top-four place last season.