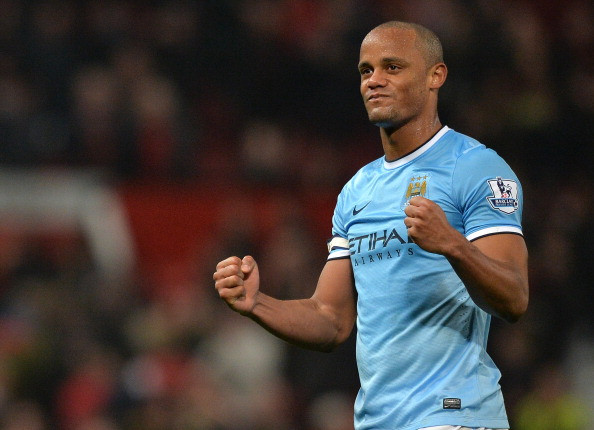 9:55: That's it! Manchester City have taken all three points this evening at the Etihad Stadium. A brace from Stevan Jovetic was enough to quell a bright start from the visitors and a goal from Sergio Aguero 23 seconds after coming off the bench largely ended the contest. Liverpool pulled one back after Rickie Lambert's effort scuffed off Pablo Zabaleta en route to crossing the line, but it did little to disrupt City's control.

FULL TIME

Manchester City 3-1 Liverpool

9:52: City are toying with Liverpool now, popping the ball off in and around the box, searching for an opening. Liverpool, with their battered back line, are holding firm, however.

9:50: Can is lucky not to be shown a second yellow card for a blatant dive as he tried to break past Zabaleta.

9:47: And now Moreno is down! This is turning into a nightmare for Brendan Rodgers. The Spaniard appeared to twist his ankle as he took the ball down out on the left flank. He looks alright to carry on though. Five minutes of time added on.

9:46: Now Martin Skrtel is down receiving treatment. Not looking good for Brendan Rodgers' backline.

9:45: Glen Johnson is forced to go off injured and with Rodgers having used all three subs, the visitors are down to 10 men. City nearly capitalise immediately as they attack down the left, but Clichy's pass intended for the overlapping Toure is a poor one.

9:42: Lambert with another great chance! The ball breaks kindly to the former Southampton striker just inside the left of the penalty but looks to steer a ball across goal for Sturridge rather than shoot and Kompany slides across to intercept. What a chance.

9:40: Liverpool pull one back! Lambert meets an inviting cross thrown in from the right with a thumping header that Joe Hart excellently saves. The ball rebounds out and Lambert, perhaps via the thigh of Zabaleta, manages to knock the ball back in. Hart saves again but the ball crossed the line and the goal is given.

Goal! Manchester City 3-1 Liverpool (Rickie Lambert, 82)

9:36: WIth just over 10 minutes of the game remaining, Rickie Lambert has come on to replace Sterling. Moments after that Gerrard lifts another corner into the box but Can's thumping header is off target.

9:33: City wonderfully pass their way out of trouble in their half allowing Jovetic to lead the counter, bursting into the Reds half. He is blocked by Can in an incident identical to one in the first half involving Yaya Toure and Coutinho. The Liverpool man is rightly shown a yellow card, just as Toure was earlier in this contest.

9:30: Mario Balotelli is pictured looking rather glum sat by himself in the stands. Joe Allen meanwhile has come off and is replaced by Emre Can.

9:28: That didn't take long! Aguero scores seconds after coming off the bench, getting onto the end of a superb pass down the right from Navas to slot past Mignolet. It must be said, the Belgian's positioning for that goal was dreadful, but it was another excellent move by City.

Goal! Manchester City 3-0 Liverpool (Sergio Aguero, 68)

9:26: Edin Dzeko is also off for Sergio Aguero.

9:24: Moreno lifts a decent ball into the box but Sturridge mistimes his jump and the chance is gone. Before that Jesus Navas replaced David Silva.

9:20: Sturridge breaks into space in the box and from a very tight angle fires one across the box. Replays show Hart got a hand to that to bat it away; an excellent piece of goalkeeping.

9:17: Lazar Markovic has come on for his Liverpool debut, replacing Coutinho. The Reds nearly work something immediately via a neat move down the left flank that allows Moreno to burst into the box but Fernando makes an excellent challenge to stop the move, but the full back really should have teed up Sturridge when he had the chance.

9:15: Nearly a third for City! Nasri and Silva brilliantly work the ball inside the box with Liverpool defenders chasing shadows but Jovetic scuffs his effort on goal. The referee had pulled up play for a foul by Dzeko anyway, although I'm not quite sure for what.

9:12: Jovetic has two! Silva slides a ball down the inside right channel that Jovetic brilliantly flicks first time out to Nasri who bursts towards the byline. The Frenchman drags a ball across the face of goal that evades Dzeko but the former Fiorentina star follows up to slam home into the roof of the net.

Goal! Manchester City 2-0 Liverpool (Stevan Jovetic, 55)

9:10: Liverpool have a free kick from 35 yards out that Gerrard deftly lifts in, finding Jordan Henderson peeling off his man inside the area. The Reds midfielder brings the ball down but is unable to evade Zabaleta who clears. The resulting corner is collected by Hart.

9:08: What a chance for City to double their lead! Silva breaks through and slides a neat ball into the path of Dzeko who is cutting in from the left. His touch is a poor one however and the ball gets away from him, allowing Moreno to slide across and clear the danger.

9:06: Coutinho neatly prods the ball out to Johnson who swings an inviting ball in from the right. It sneaks in behind the City backline and is slammed home by Sturridge, but the striker is correctly judged to have been offside.

GOAL DISALLOWED - Daniel Sturridge (Liverpool)

9:03: Liverpool start brightly again as Sturridge deftly skips around Demechelis on the edge of the box but takes another touch when he perhaps didn't need to and City hack away. Allen picks the ball up and runs at the opposition's defence but his attempted step overs are easily cut out by Zabaleta

9:00: Liverpool are back out on the pitch ready to go a good few minutes before City emerge. After a short wait the home side are back out and we are underway for the second half.

HALF TIME

Manchester City 1-0 Liverpool (Stevan Jovetic, 40)

8:44: City bring the ball up the pitch with a bit more drive about themselves now. The ball is worked out to Yaya Toure on the inside right channel but his cross into the box is absolutely awful. It's the last action of the half.

8:41: City have the lead! Liverpool have just thrown away 40 minutes of resolute defensive cohesion to concede here. Dejan Lovren weakly heads away a ball thrown into the box into the path of Alberto Moreno, who is far too slow to react. He kicks, misses the ball and allows Jovetic to rush in and slam the ball past Mignolet.

Goal! Manchester City 1-0 Liverpool (Stevan Jovetic, 40)

8:37: Sturridge works an opening for himself inside the City box, easily side stepping the challenge of Vincent Kompany but his powerful shot on target is batted away by Hart

8:34: Liverpool are comfortably on top here at the moment. City look rather uncomfortable in the final third and haven't been able to work a meaningful sequence of possession in some time. The Reds meanwhile, particularly Sterling and Coutinho have looked sharp, but have perhaps lacked a bit of a cutting edge.

8:31: Gerrard delivers another poor cross that Hart clears but Sterling chases it down and plays a neat ball through the middle, finding Henderson's good run, but City just about manage to clear their lines.

8:29: City again are sloppy in possession and surrender the ball to Liverpool who break through Coutinho. Toure chases him in a horrible/hilarious mismatch in size but the Brazilian's pace draws a foul and the City midfielder is booked for his trouble.

8:27: Yaya Toure tries to backheel the ball out on the inside left channel but it's rather rubbish and Liverpool quickly pounce on the break.

8:23: City swing a dangerous ball into the box with Fernando looking to get onto the end of. He nearly manages it, but only after knocking Mignolet out of the way and the Liverpool free kick is given.

8:21: Moreno battles his way down the left flank and manages to squeeze a ball into the box but City manage to nick it away, but not for long as Zabaleta looses possession before conceding the free kick. Gerrard swings a dangerous one in but Hart does well to punch clear.

8:17: Liverpool have not been overawed in the first 17 minutes of this game, no one less so than Raheem Sterling. The teenager has threatened to cause problems down the right, testing Gael Clichy at every opportunity. His final ball, and everyone elses so far in this game to be fair, has to improve this evening.

8:15: David Silva drives at the heart of the Liverpool defence but wisely pulls the ball back for Clichy as red shirts mass around him. Clichy's cross is headed away by Lovren, but only as far as Toure who looks to curl one into the top corner from 25 yards out by Mignolet reads it well and makes the save.

8:13: City dangerously break into the final third and Jovetic deftly slides the ball out to the onrushing Clichy. His cross looks overhit but it falls at the backpost, prompting Zabaleta to attempt an incredibly difficult volley. It sails hilariously high over the bar.

8:11: Liverpool receive a free kick out ont the right flank, prompting the referee to produce his vanishing spray. It's emergence produces more cheers from the crowd. When will this madness end. Oh, and Gerrard wastes the free kick, pinging it into the arms of Joe Hart.

8:10: Gerrard, from just inside the City half, lifts a hopeful ball over the top that Sterling races across to collect on the edge of his box. He takes it on his chest before attempting a very difficult volley but the contract with the ball is poor and it goes out for a goal kick.

8:08: Clichy slides the ball in from the left that is dummied and left for Dzeko about 20 yards from goal. The dummy easily sold Lovren and the big Bosnian has the space to take on the shot but he drags it harmlessly wide.

8:06: Liverpool probe at City and almost pick their way through down the inside right channel but Clichy makes a sliding challenge and takes possession. He drives forward, picking out Jovetic but his sliding through ball for a teammate doesn't have enough on it and Liverpool easily intercept.

8:04: Yaya Toure looks bright in the opening stages, deftly skipping past a red shirt before slipping the ball out to Zabaleta. He looks inside for Fernando whose first touch to slip past his man is decent, but it just takes the ball away from him and the chance is gone.

8:02: Shockingly, it's lashing it down in Manchester this evening. The hosts try to work a neat exchange down the right between Zabaleta and Nasri but Moreno makes the sliding challenge and intercepts.

8:00: And Manchester City get us underway at the Etihad.

7:50: 10 minutes away from kick off. Mario Balotelli is in the house this evening at the Etihad Stadium. Had his move to Anfield gone through before midday last Friday he could have been making his debut in the most sensational of manners. Alas, it wasn't to be.

LINE UPS

Manchester City XI: Hart, Demichelis, Kompany, Zabaleta, Clichy, Fernando, Nasri, Y Toure, Silva, Jovetic, Dzeko
Subs: Caballero, Sagna, Kolarov, Milner, Fernandinho, Navas, Aguero
Liverpool XI: Mignolet, Johnson, Lovren, Skrtel, Moreno, Allen, Gerrard, Coutinho, Henderson, Sterling, Sturridge
Subs: Jones, K Toure, Lambert, Sakho, Manquillo, Can, Markovic
7:20: Ahead of kick off Brendan Rodgers has been talking about his new signing.

"I looked at the talent and he is a wonderful talent," says Rodgers. "We potentially will have the English number nine and the Italian number nine. Mario is at a stage in his career where this might be his last chance. He needs to settle down and show maturity, but I have worked with loads of players like that.

"He has huge potential but he needs to come here

TEAM NEWS - MANCHESTER CITY - Edin Dzeko and Steven Jovetic lead the line for Manchester City with Sergio Aguero starting on the bench.

TEAM NEWS- LIVERPOOL: New signing Alberto Moreno comes in for Javi Manquillo at left back as Glen Johnson comes to right back. Joe Allen also comes into the starting line up to replace Lucas in midfield.

6:58: 24-year-old Balotelli admits that his return to Italy in January 2012 was a mistake. His arrival on Merseyside comes too late for a debut against his former club this evening, however, but is likely to feature against Tottenham next Sunday.

m happy to be back because I left England and it was a mistake. I wanted to go to Italy but I realised it was a mistake.

English football is generally better. English football is beautiful." [via Liverpool's official website].
6:52: Although he won't be playing this evening much of the focus will be on one man. Liverpool have confirmed the arrival of Mario Balotelli, who has become the club's ninth signing of the summer having joined from AC Milan for a fee of £16m. The mercurial Italian returns to these shores after a year and a half back in Italy.
I didn't expect it because I've always been playing against Liverpool. Whenever I played against Liverpool, the fans weren't nice with me but that's normal - it's football! Now that I play for Liverpool, I can see the expectation in people. They're very happy and that makes me very happy at the same time." [via Liverpool's official website]

6:45: The first heavyweight clash of the 2014/15 season is almost upon us. The champions Manchester City welcome last season's runners up Liverpool to the Etihad Stadium. Tonight's game is unlikely to have real bearing on where the Premier League trophy ends up come May but it will provide an indication of how Brendan Rodgers' newly assembled challengers weigh up against the sheer power of Manuel Pellegrini's side.