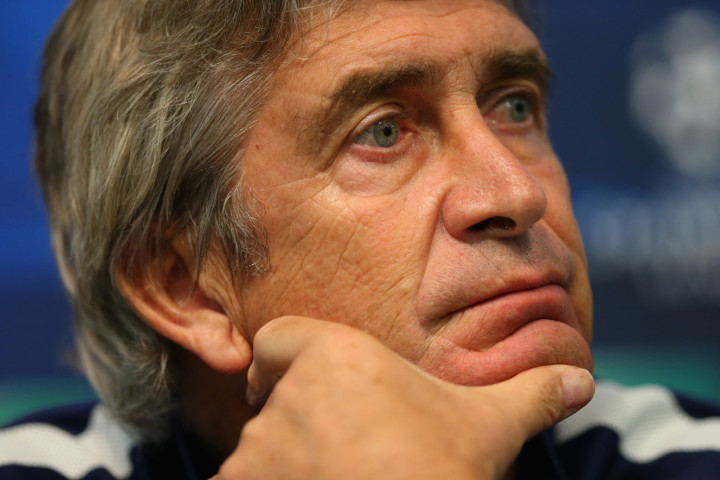 Manchester City 4-1 Tottenham FT
Arsenal 2-2 Hull FT
Burnley 1-3 West Ham FT
Crystal Palace 1-2 Chelsea FT
Everton 3-0 Aston Villa FT
Newcastle 1-0 Leicester FT
Southampton 8-0 Sunderland FT
5:32pm: GOAL! Newcastle go up 1-0 against Leicester thanks to Gabriel Obertan.
4:54pm: Southampton have finished punishing Sunderland as the game ends 8-0 while Crystal Palace can't find an equaliser against Chelsea. Arsenal came close to a winner of their own at the end but have to settle for a point against Hull. And West Ham will be pleased after taking a convincing win over Burnley and moving to fourth in the table.
4:52pm: It's half time at St James' Park but everywhere else is finishing up - Everton finish their match with a convincing win over Aston Villa.
4:50pm: GOAL! Arsenal equalise with Hull in extra time thanks to a goal from Danny Welbeck.
4:49pm: GOAL! Crystal Palace get one over Chelsea and the scores are not to Jose Mourinho's liking now. Fraizer Campbell is the one to take the scores to 2-1 and can they come back?
4:46pm: GOAL! Southampton are up 8-0 against Sunderland. Yep, it's true. This is just getting silly now as Sadio Mane scores.
4:39pm: GOAL! Looks like they're not stopping yet... Victor Wanyama puts Southampton up against Sunderland 7-0. The Black Cats have never looked poorer.
4:37pm: GOAL! At what point will Southampton stop?! The side are now up 6-0 over Sunderland as Dusan Tadic has a successful shot of his own.
4:34pm: GOAL! Everton are now ahead 3-0 over Aston Villa as Seamus Coleman scores for the side.
4:35pm: Now it would seem that the only game with less than two goals scored is Newcastle and Leicester, with neither side looking dangerous at the minute.
4:29pm: GOAL! Southampton - what a match for the side! Graziano Pelle scores to put them up 5-0 against Sunderland. The home fans are are rather enjoying this one.
4:26pm: GOAL! West Ham have some breathing space over Burnley as Carlton Cole puts them up 3-1.
4:23pm: GOAL! Southampton are thrashing Sunderland and look set to shore up third place at this rate! Liam Bridcutt knocks the ball over his own line and it's a second own goal for the Black Cats in this match.
4:15pm: GOAL! Burnley peel one back against West Hame as George Boyd scores.
4:10pm: GOAL! West Ham are on a roll now and go up 2-0 over Burnley thanks to Enner Valencia.
4:09pm: GOAL! Chelsea are now up 2-0 over Crystal Palace with Cesc Fabregas scoring for the Blues, who don't look like slowing down with their 10 men. This makes Fabregas' first goal for Chelsea.
4:06pm: GOAL! Everton double their lead over Aston Villa as Romelu Lukaku gets on the scoreboard.
4:06pm: GOAL! West Ham finally find the target with Diafra Sakho putting them ahead of Burnley 1-0.
4:04pm: GOAL! Arsenal are in trouble now as Hull make the scoreline 2-1 thanks to Abel Hernandez who loses Per Mertesacker to put his side in front.
4:00pm: And now we're off! Newcastle and Leicester kick off their delayed match.
3:50pm: Meanwhile, it's 10 minutes until kick-off for Newcastle and Leicester.
3:47pm: Half time is ringing around England and the only scoreless game so far is Burnley v West Ham. Arsenal have some fighting to do if they want to take maximum points from Hull, while Chelsea and Crystal Palace will be working on a game plan with 10 men at the break. And Everton are feeling comfortable ahead of Aston Villa, with Southampton looking to keep the scoreline the same in the second half against Sunderland.
3:44pm: RED CARD! More drama at Stamford Bridge as Crystal Palace's Damien Delaney is handed a second yellow card and sent off. It's now 10 v 10.
3:42pm: RED CARD! Cesar Azpilicueta is sent off for Chelsea after a tackle on Mile Jedinak - will this change things at Stamford Bridge? The side had been dominating until now.
3:37pm: GOAL! Southampton all but end their match with Sunderland early on as Jack Cork scores to make it 3-0.
3:30pm: Chelsea are continuing to dominate against Crystal Palace, while both West Ham and Burnley have hit the bar so far as their scoreline remains 0-0.
3:19pm: GOAL! Southampton double their lead against Sunderland and this time it's one of their own who scores with Graziano Pelle finding the back of the net easily with a tap-in.
3:18pm: GOAL! Everton are up 1-0 against Aston Villa thanks to a header from Phil Jagielka.
3:18pm: GOAL! Hull equalise! Mohamed Diame is on target and the score is now 1-1.
3:13pm: GOAL! Arsenal have been pushing hard for a goal from the beginning and Alexis Sanchez finally hits the back of the net. He does the majority of the work himself and it pays off as he loses Curtis Davies and shoots straight past Steve Harper.
3:12pm: GOAL! Southampton get a goal but it's not thanks to their own players - Sunderland's Santiago Vergini gets an own goal.
3:06pm: GOAL! Chelsea are up 1-0 against Crystal Palace thanks to Oscar, who puts the side in the driving seat early.
3:04pm: Word is in on the Newcastle v Leicester game and kick-off will apparently be at 4pm.
3:00pm: And we're off!
2:29pm: And that's a wrap. City finish with a dominant 4-1 win over Tottenham and take second place in the table. Now we've got six mammoth fixtures coming up!
2:39pm: Tottenham haven't been as quiet in the stats as the scoreboard would suggest; they've had 19 shots on goal compared with City's 20 and 7 shots on target. Their attacking line-up have been good, it's their defence who let them down today.
2:38pm: And finally Everton v Aston Villa line-ups:
Everton: Howard, Coleman, Baines, Jagielka, Alcaraz, Barry, McCarthy, Barkley, Naismith, Osman, Lukaku.
Aston Villa: Guzan, Hutton, Vlaar, Baker, Cissokho, N'Zogbia, Cleverley, Westwood, Richardson, Agbonlahor, Benteke.
2:35pm: There's minutes left in the early fixture but it was game over when Tottenham went down to 10 men. Up until then, it was a brilliant game with four penalties pushing for the English football league record of five in a game.
2:34pm: For Crystal Palace v Chelsea:
Palace: Speroni, Kelly, Hangeland, Delaney, Ward, Bolasie, Jedinak, McArthur, Ledley, Puncheon, Campbell. Subs: Mariappa, Guedioura, Doyle, Zaha, Hennessey, Gayle, Chamakh.
Chelsea: Courtois; Ivanovic, Cahill, Terry, Azpilicueta; Matic, Fabregas; Willian, Oscar, Hazard; Remy. Subs: Cech, Luis, Zouma, Salah, Mikel, Drogba, Solanke.
And for Arsenal v Hull:
Arsenal: Szczesny, Bellerin, Mertesacker, Monreal, Gibbs, Flamini, Wilshere, Oxlade-Chamberlain, Cazorla, Sanchez, Welbeck. Subs: Martinez, Ajayi, Coquelin, Arteta, Rosicky, Ramsey, Campbell.
Hull: Harper; Chester, Davies, Dawson; Elmohamady, Huddlestone, Livermore, Diame, Robertson; Ben Arfa; Jelavic. Subs: Jakupovic, Rosenior, Bruce, Brady, Ramirez, Quinn, Hernandez.
2:31pm: For Southampton v Sunderland:
Southampton: Forster, Clyne, Fonte, Alderweireld, Bertrand, Cork, Schneiderlin, S. Davis, Tadic, Long, Pelle. Subs: K. Davis, Yoshida, Gardos, Mane, Wanyama, Mayuka, Reed.
Sunderland: Mannone, Vergini, Van Aanholt, O'Shea, Brown, Cattermole, Larsson, Gomez, Buckley, Wickham, Fletcher. Subs: Pantilimon, Bridcutt, Rodwell, Johnson, Cabral, Mavrias, Graham.
For Newcastle v Leicester:
Newcastle: Krul, Janmaat, Coloccini, S.Taylor, Dummett, Sissoko, Colback, Tiote, Obertan, Cisse, Gouffran.
Leicester: Schmeichel, De Laet, Konchesky, Drinkwater, Morgan, Moore, James, Albrighton, Schlupp, Cambiasso, Ulloa.
2:30pm: There's word that the Newcastle v Leicester game will go ahead close to the right time but no guarantees as yet. Meanwhile, the line-up for Burnley v West Ham:
Burnley: Heaton, Trippier, Shackell, Duff, Mee, Kightly, Arfield, Jones, Boyd, Ings, Jutkiewicz. Subs: Gilks, Long, Ward, Barnes, Chalobah, Wallace, Sordell.
West Ham: Adrian, Reid, Cresswell, Downing, Sakho, Noble, Jenkinson, Collins, Amalfitano, Song, Valencia. Subs: Jaaskelainen, Nolan, Jarvis, Vaz Te, O'Brien, Cole, Burke.
2:25pm: Yaya Toure is on for Fernandinho and City are cruising now.
2:20pm: GOAL! Is it all over now? It would appear so as Aguero gets his fourth today. A through ball from Fernandinho allows him a shot on goal and this time Lloris can't get his hands on it.
2:18pm: Some news from the Toon and Newcastle v Leicester has been postponed while an loose electronic scoreboard is fixed.
2:15pm: Just when you thought this game couldn't get anymore crazy, it proves you wrong. City now certainly have the advantage and having taken advantage of Tottenham's defenders so many times with 11 men it shouldn't be difficult with 10.
2:13pm: GOAL! Sergio Aguero converts the penalty and he finally has his hattrick!
2:12pm: PENALTY! RED CARD! And that's a fourth, and a third for Manchester City as Sergio Aguero is fouled. Tottenham's Federico Fazio is also sent off over the incident.
2:11pm: Soldado is in with another chance but Hart saves once again.
2:07pm: PENALTY! The third of the game and this time it's for Spurs as Demichelis fouls Soldado in the box. And it's saved by Hart! Soldado shoots to the bottom left corner and the keeper guesses correctly.
2:05pm: It's end to end stuff at Etihad Stadium at present, and meanwhile in the later fixtures there's big news at Stamford Bridge as Diego Costa is out for Chelsea. Loic Remy will start in his absence.
2:01pm: Manchester City now have eight shots on target to Tottenham's four. They've tightened at the back and Spurs are struggling to make any dangerous breaks.
1:55pm: And once again it's Sergio Aguero who's dominating and the striker looks desperate to get that hattrick he was cruelly denied earlier. He has a shot but Lloris is on hand to save it - just...
1:50pm: And we're back!
1:35pm: It would appear not - and that's a wrap on the first half, with City leading 2-1.
1:31pm: Three minutes of extra time - can Tottenham find an equaliser?
1:30pm: Once again Eriksen has a shot that forces Hart into action. Spurs are not out of it yet.
1:28pm: That's seven shots apiece now for City and Tottenham but the former have the edge on shots on target. Some interesting refereeing today as Capoue is let off from a yellow card for treading on Silva's foot. The same foul on Danny Rose wasn't even given a free kick earlier.
1:21pm: This game is fast becoming the Aguero show as he has another strong attempt on goal but it's saved by Lloris. Spurs are making this far too easy for the home side.
1:17pm: PENALTY! Younes Kaboul clashes with David Silva in the box. and it's missed! Aguero going for a hattrick but slams the ball just a bit over the bar after his first attempt is saved by Lloris. He will be kicking himself for that mistake.
1:15pm: Christian Eriksen has been promising for Tottenham so far and he has another shot on a free kick but just misses.
1:11pm: Lampard is signalling to the City bench that he's injured and he's coming off on a stretcher. This could be a big blow to the side - he's been outstanding so far. Fernandinho is on in his place.
1:09pm: Manchester City are on fire now and have a goal ruled offside as Kompany tries a through ball to Navas.
1:05pm: GOAL! The goals just keep coming and it's no surprise from there two attacking teams. Now City are back up again thanks to Aguero, who seals a brace after converting the penalty.
1:04pm: PENALTY! Frank Lampard draws a penalty in the box as Lamela runs into his back. Look pretty clear cut, and Aguero will take it...
1:00pm: GOAL! A brilliant response from Tottenham as Fernando messes up his possession and Christian Eriksen shoots accurately this time.
12:58pm: GOAL! City are up 1-0 thanks to Sergio Aguero, who takes full advantage of Erik Lamela's defensive mistake. Assist goes to Frank Lampard and City are in the driving seat.
12:56pm: City are still holding the edge in possession with 60% to Tottenham's 40%. But it's Spurs with the chances on the board, with three shots on goal to the hosts' zero.
12:51pm: Tottenham are in with a chance thanks to Roberto Soldado and Christian Eriksen, with the pair looking promising before the latter shoots over the bar.
12:49pm: Manchester City look to have established a good game but their passing hasn't been too dangerous as of yet.
12:45pm: And we're off!
12:35pm: Soldado starts for Tottenham and the Spaniard will be desperate to prove to Mauricio Pochettino that he's capable of playing against the best. And for City's attack Aguero will be hoping to terrorise Spurs and show that Pochettino's assessment of him as football's 'Mozart' is correct.
12:30pm: The line-ups for Manchester City v Tottenham are as follows:
Manchester City: Hart, Clichy, Demichelis, Kompany, Sagna, Milner, Lampard, Fernando, Navas, Silva, Aguero
Tottenham: Lloris, Dier, Fazio, Kaboul, Rose, Capoue, Mason, Chadli, Eriksen, Lamela, Soldado
12:25pm: Good afternoon all and welcome to IBTimes UK's coverage of a Saturday full of Premier League action! Manchester City take on Tottenham in the early kick off and then six fixtures follow as Arsenal, Everton and Chelsea are all take to the pitch.