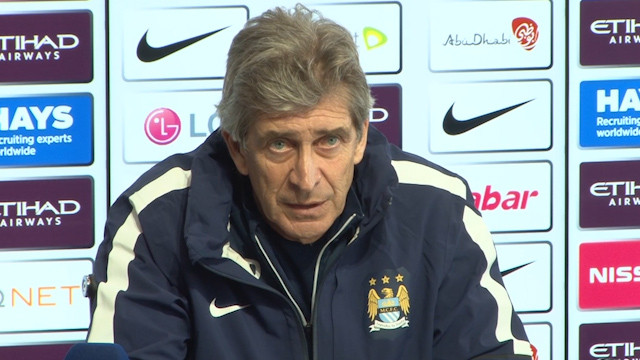 Liverpool 2-1 Manchester City FT
Arsenal 2-0 Everton FT
3:59pm: And they won't salvage anything because it's full time. Arsenal come out deserving winners and will be pleased to move on from their Monaco loss. They also go to third in the table.
3:57pm: Lukaku is caught offside as the clock ticks on Everton salvaging anything from this.
3:54pm: Seven minutes of stoppage time - enough for two goals? Not likely but possible.
3:50pm: GOAL! Arsenal double their lead and look to be home now after Tomas Rosicky scores for the side. There's a bit of a deflection off Phil Jagielka and Everton will be kicking themselves for leaving Mesut Ozil free, allowing him to feed the ball to Rosicky.
3:50pm: Francis Coquelin leaves the pitch with a blood nose and Calum Chambers takes his place.
3:49pm: Going into extra time now as Danny Welbeck comes on for Alexis Sanchez.
3:44pm: Rosicky comes on for Oxlade-Chamberlain, and Everton are now equal with Arsenal for shots on goal. Can the Toffees find an equaliser? They bring on Darron Gibson for Gareth Barry.
3:41pm: Laurent Koscielny picks up a yellow for a rough tackle on Aaron Lennon. Coming into the last 10 minutes now...
3:38pm: Steven Naismith replaces Muhamed Besic for Everton. Starting to get more exciting now as both sides push for the next goal.
3:30pm: Having just said that Lukaku comes charging and springs David Ospina into action, proving Everton shouldn't be discounted just yet.
3:28pm: This half looks to be much like the last; while Arsenal aren't at their best Everton just aren't threatening in front of goal. Cazorla meanwhile has a shot but it's wide to the left.
3:24pm: Everton bring on Aaron Lennon for Kevin Mirallas. Can the Tottenham man make a difference against his arch rivals?
3:21pm: Make that nine shots for Arsenal as Mesut Ozil misses to the right.
3:19pm: Arsenal have had eight shots on goal compared to just four for Everton. The Toffees still haven't had a shot on target - Gunners are nullifying the threat of Lukaku at the moment.
3:14pm: Everton win a couple of corners but it's nothing Arsenal can't handle at this stage.
3:10pm: Olivier Giroud receives a yellow card for his tackle on Seamus Coleman. The free kick comes to nothing but Everton are looking much better so far.
3:08pm: And we're back!
2:53pm: And that's a wrap on the first half. Arsenal were dominant in the end and Everton will need to do some soul searching in this break to take anything from this.
2:51pm: Two minutes of extra time in this half...
2:46pm: Everton looked more likely to score until Arsenal's chance on goal earlier. It sprung the side to life and now the Toffees are behind going into the break.
2:44pm: GOAL! Arsenal go up 1-0 thanks to Olivier Giroud. That's the first shot on target in this match and Giroud breaks away from his marker to get the ball from Cazorla's corner in the net from the centre of the box.
2:38pm: Now suddenly Arsenal have three shots on goal - the side pick up their pace but Everton are still enjoying the majority of the possession at this stage.
2:34pm: Olivier Giroud has a chance for Arsenal with a header and it's close to the target but he misses just to the left. That's the Gunners first real sign of danger this game - they are certainly lacking in confidence right now.
2:26pm: Romelu Lukaku looks very much like he might score today as he takes advantage of a defensive mistake by Gabriel Paulista but his shot is saved by David Ospina.
2:21pm: Muhamed Besic has a shot on goal after Lukaku gets past two Arsenal defenders but the shot is well over the net.
2:15pm: No shots on goal in the opening 10 minutes.
2:12pm: Mesut Ozil is caught offside after collecting the ball from Alex Oxlade Chamberlain. Arsenal are looking far from threatening at this stage.
2:10pm: The ball is mostly at Everton's feet at the moment and they've mounted the only real attack of the game so far. Nothing to worry about for Wenger at this stage though.
2:05pm: And we're off!
2:03pm: Minutes until kick off and Per Mertesacker has been relegated to the bench after his part in their shock loss to Monaco in the Champions League during the week. The side are desperate to come back from that but Everton are also looking to get a run of wins going as the season hits the business end.
1:55pm: Now we move on to the next match of the day with Arsenal and Everton in action. The Gunners will have been watching Liverpool's win with their own agenda, with the sides now equal on points in the table. A win will put Arsene Wenger's men in more control of a top four spot - a loss will make the scrap even tougher for Champions League football.
1:51pm: And that's a wrap. Liverpool take a very needed three points and City are still five behind table leaders Chelsea. Should the Blues win their next league game, it could be a chance to run away with the title.
1:48pm: Three minutes of added time.
1:45pm: And a big chance for Daniel Sturridge but his shot is well wide. Both sides struggling to find the target at the minute.
1:44pm: Bony is handed a yellow after a foul on Lallana. Meanwhile City have a big chance through Sergio Aguero but it misses the target.
1:41pm: Lallana gets a yellow card for a challenge on James Milner.
1:40pm: Toure comes on for Moreno for Liverpool. They might be in front but they need a goal as much as City right now. Lampard also replaces Nasri for City.
1:37pm: Entering the final 10 minutes now and City bring on Wilfried Bony for Fernandinho. The side are getting desperate now and still have only one shot on target.
1:34pm: GOAL! Coutinho gets that goal for Liverpool and they go ahead 2-1. Joe Hart was never going to save that as Liverpool's star attacker shot from 25 yards out.
1:34pm: And there you have it - Markovic off, Sturridge on for Liverpool. Neither of these sides will be happy with a draw and Sturridge is certainly the man who can give Rodgers what he wants.
1:28pm: David Silva has a free kick for City and totally misfires it, gifting Liverpool a goalkick. Meanwhile Daniel Sturridge is starting to warm up as the City fans sing to the hosts 'you nearly won the league'.
1:25pm: This game has been pretty exciting so far, will Arsenal and Everton be as racy? Let's hope so. The team line-ups are as follows:
Arsenal XI: Ospina, Bellerin, Gabriel, Koscielny, Gibbs, Coquelin, Cazorla, Oxlade-Chamberlain, Ozil, Alexis, Giroud.
Everton XI: Howard, Coleman, Jagielka, Stones, Garbutt, Barry, McCarthy, Besic, Mirallas, Barkley, Lukaku.
1:22pm: City still have just the one chance on target so far but they certainly look very menacing, particularly as Aleksandar Kolaro has a chance to set up an attack but he fluffs it.
1:15pm: Dzeko is off for City as Milner comes on.
1:13pm: Samir Nasri is given a yellow card for a bad foul on Coutinho.
1:07pm: Adam Lallana is offside once more though it is a very close one - both sides have come out fighting so far.
1:02pm: And we're back!
12:46pm: And that's a wrap on a pulsating first half.
12:42pm: Aguero and Dzeko are both caught offside for City as they push to go ahead and then Philippe Coutinho catches the visitor's defence napping but his shot is saved.
12:39pm: According to OptaJoe:
Sergio Aguero has been involved in five goals (3 scored, 2 assisted) in City's last three PL games. Potent.
Important member of the team then..
12:35pm: Lazar Markovic gets a through ball to Adam Lallana as Liverpool mount an attack but it misses to the left. Lallana can be a frustrating player to watch and his pace might be his undoing against a side of such quality.
12:30pm: City only has one shot on target and it was a successful one. Liverpool look more likely to score at the moment but City are level for a reason.
12:25pm: GOAL! City find their equaliser and Dzeko isn't offside this time. Credit must go to David Silva and Sergio Aguero for setting that one up and Dzeko's composure helped him easily get past Mignolet. Game on.
12:23pm: Now it's Eden Dzeko feeling the effects of the offside flag - City are yet to have a shot on target though Aguero's earlier effort might as well have been.
12:18pm: Philippe Coutinho has a shot but it's too high - either side could get the second goal of the game the way they're playing at the moment.
1:14pm: This is serious end to end stuff as City look desperately for an equaliser. Sergio Aguero hits the right post with a shot.
12:11pm: That was a big goal for Liverpool and City are now rattled - they've had the majority of possession so far and that was one of just two shots on target for the Reds.
12:10pm: GOAL! Jordan Henderson puts Liverpool in front early with a brilliant goal from 20 yards out. There was no stopping that one going in.
12:08pm: Adam Lallana thinks he has a goal for Liverpool but it's offside.
12:00pm: And we're off!
11:50pm: The team line-ups for Liverpool and Manchester City are as follows:
Liverpool XI vs. Man City: Mignolet; Can, Skrtel, Lovren; Henderson, Allen, Moreno, Markovic, Lallana; Coutinho, Sterling.
Man City XI vs. Liverpool: Hart; Zabaleta, Mangala, Kompany, Kolarov; Fernandinho, Yaya Toure, Silva, Nasri; Dzeko, Aguero.
11:45pm: Good afternoon and welcome to IBTimes UK's coverage of all the Premier League action on a super Sunday. First off Liverpool and Manchester City face one another and then later Arsenal and Everton.