Full time: Manchester City 4-0 Aston Villa
Full time: Sunderland 2-0 West Bromwich Albion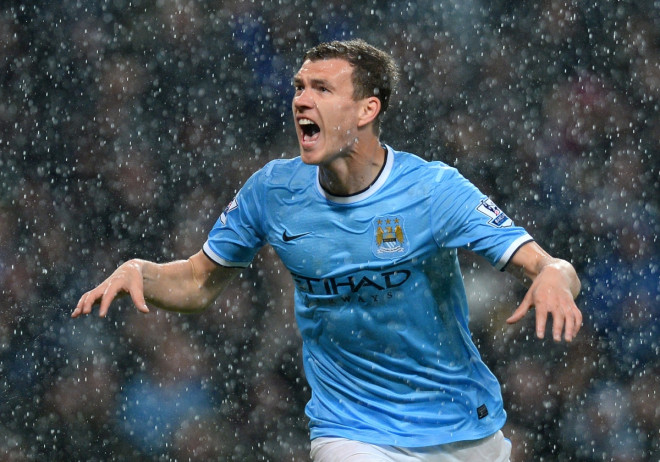 21:40: After a season in which there has been plenty of drama, at last we have some answers. Manchester City are within a point of a second league title in three seasons after overcoming a dogged Aston Villa. Edin Dzeko's second half double, amid plenty of nerves, as Stevan Jovetic and Yaya Toure's goals were enough to secure the three points and leave Liverpool needing favours from West Ham going into the final day. Chelsea, mathematically, are out of it.
Sunderland will be playing Premier League football next season after their fourth win in a row takes them up to 15th. Norwich City are effectively relegated as a result and require an unprecedented 17-goal swing on the final day in order to drag West Bromwich Albion into trouble Even then, they need to have scored more goals. And they trail by 14 already. In other words, consider Norwich relegated.
Well that's all we've got time for on this penultimate set of games of the season. We're back with the climax to the Premier League season on Sunday where could there be a final dose of drama? Until then, goodbye.
Full time: Manchester City 4-0 Aston Villa
21:38: Brilliant, brilliant, brilliant from Yaya Toure. He runs from inside his own half, powers through all-comers in the Villa defence and thrashes past Guzan. Fantastic way to crown a title-winning display from Pellegrini's men with City's 100th league goal of the season.

Goal: Manchester City 4-0 Aston Villa (Yaya Toure)

Full time: Sunderland 2-0 West Bromwich Albion
21:35: The icing on the cake for City. Yaya Toure shifts the ball back to substitute Stevan Jovetic who sweeps the ball home from 19 yards beyond Guzan.

Goal: Manchester City 3-0 Aston Villa (Stevan Jovetic)

21:30: The game at the Etihad comes alive as Weimann heads against the bar from a free-kick. The ball was adjudged not to have crossed the line by referee Michael Olivier and we continue. Alvaro Negredo comes on for double goal-scorer Edin Dzeko.

21:23: Apologies if updates from the Stadium of Light have been few and far between in the second half but the game really has been over as a contest since the first period. Chris Brunt shows his frustration with a free-kick from 30 yards which hits the wal and goes out for a throw.

21:17: City's title to lose now as Edin Dzeko gets his second. Zabaleta crosses again from the right and when Guzan saves Nasri's effort, the Bosnian reacts first and bundles the ball home.

Goal: Manchester City 2-0 Aston Villa (Edin Dzeko)

21:10: The goal that might deliver the title. Zabaleta gets in behind again and when the Argentine crosses Dzeko gets across Ron Vlaar and steers through the legs of Brad Guzan. Huge, huge goal in the title race.

Goal: Manchester City 1-0 Aston Villa (Edin Dzeko)

21:08: If there has been a worse signing of the season than Jozy Altidore please speak up. The American misses a near open goal at the back post from Borini's cross as Sunderland look for a third.

21:04: In the north east meanwhile West Brom have improved dramatically from their first half showing but it's already part time somewhat a the Stadium of Light after those two first half goals. Meanwhile, in Manchester Stevan Jovetic replaces James Milner.

21:02: So nearly an hour played at the Etihad Stadium and City contine to knock on the door. Vincent Kompany's overhead kick is straight at Guzan before Aleksandar Kolarov's free-kick from range is beaten clear by Guzan.

20:50: A bit behind, we're under way at the Etihad Stadium too.

20:48: Under way at the Stadium of Light.

20:36: All going swimmingly for Sunderland, who are going to confirm their Premier League status for another season as things stand, after Jack Colback and Fabio Borini's first half goals give them the lead over West Brom. Manchester City meanwhile are showing plenty of nerves and are currently being held by a dogged Aston Villa. Liverpool fans will be getting excited again.

Half time: Manchester City 0-0 Aston Villa
Half time: Sunderland 2-0 West Bromwich Albion

20:32: Amazing miss from Samir Nasri. Zabaleta's cross from the right finds the onrushing Frenchman, but he stabs wide from all of three yards.

20:31: Two added minutes at the Stadium of Light and three at the Etihad Stadium where City are camped in the Villa half.

20:25: You wonder how nervy City might have been had Liverpool actually won on Monday. City go close again as Zabaleta crosses for silva, whose shot is blocked by Ron Vlaar.

20:21: Half chance for Villa as Weimann leads a break from a corner and his shot is deflected pass of Joe Hart's goal. City getting very nervy now and the visitors have their first sustained period of possession.

20:18: Sunderland's survival essentially secure as they go two goals up against West Brom. Seb Larsson plays a delightfully flicked pass to Borini who beats Ben Foster to the ball before vollying home.

Goal: Sunderland 2-0 West Bromwich Albion (Fabio Borini)

20:14: Half a chance for Villa as Delph's ball towards the back post finds Weimann but the Austrian miss-hits hit cross and City clear.

20:06: Villa are being starved of possession here and City are launching wave after wave of attack. Kolarov again crosses from the left and Silva steals in at the near post but can't get any meaningful contact on the ball and Guzan claims. Jordan Bowery being seen to with a bloody nose and it leaves the visitors down to 10-men.

20:01: While Sunderland were taking the lead over West Brom, Manchester City somehow didn't grab the advantage over Villa. Pablo Zabaleta steals in behind and his cut back finds Yaya Toure who swings a right foot at the ball and Brad Guzan has to do superbly well to deny him.

19:59: Gus Poyet's team take another step towards survival with a goal inside 13 minutes. Marcos Alonso cross from the left and Jack Colback gets a toe in and the ball loops up over Ben Foster and in. Dream start for the hosts.

Goal: Sunderland 1-0 West Bromwich Albion (Jack Colback)

19:54: Sunderland on top at the Stadium of Light and Ben Foster has to be at his best to keep out Fabio Borini's effort from range.

19:51: First of what you imagine will be several efforts for Brad Guzan to have to deal with this evening. Dzeko slips in Kolarov down the left who drives inside and shoots from a tight angle which the Villa stopper keeps out. Worth a go, given the lashing rain at the Etihad Stadium.

19:47: Remiss of me to forget to mention that should City not win tonight, Chelsea will be in the hunt for the title still on the final day. Victory for the hosts puts the Blues out of the running.

19:45: Teams out and we're under way at both the Etihad Stadium and the Stadium of Light.

19:38: At the Stadium of Light, a win for Sunderland ensures survival and puts West Brom needing to avoid a swing of 18 or less between themselves or Norwich City. A draw leaves the Baggies mathetically safe but leaves Sunderland possessing a 13-goal advantage over Norwich, while victory for the visitors, and the Black Cats and Norwich face a final day showdown for the final relegation spot.

19:30: So before the action starts, let's get to the maths. A win for Manchester City tonight means they need just a point to win the title on the final day. A draw tonight sees City go back to the top, but opens the door to Liverpool, though nine goals seperate the two sides in the goal difference stakes. Defeat means Liverpool go into the final day with a one point lead, and one hand on their first league title for 24 years.

19:25: After three straight wins, Sunderland can come back from the dead and ensure survival. West Brom still need a point to be guarenteed survival but baring a heavy, heavy defeat tonight are already assured of the Premier League lives for another season.

19:21: So what can we expect tonight? In winning their first Premier League title under Roberto Mancini, Manchester City required two stoppage time goals on the final day - an indication this City team which has lurched from the brilliant to the self-destructive all season, likes to make things difficult for themselves. Aston Villa have beaten Arsenal on the road, drawn at Liverpool and already defeated tonight's opponents at home, as well as Chelsea, this season. They have the capacity to surprise.

19:14: So at the Etihad Stadium, there are two changes a piece. David Silva returns but Sergio Aguero is out after going off against Everton. Jordan Bowery coming in is among the two alterations for the visitors.

Sunderland are unchanged again under Gus Poyet but Pepe Mel makes four for West Brom, with Steven Reid, Gareth McAuley, Claudio Yacob and Victor Anichebe.
19:07: Teams:

Manchester City v Aston Villa

Manchester City: Hart, Zabaleta, Kompany, Demichelis, Kolarov, Garcia, Yaya Toure, Milner, Silva, Nasri, Dzeko

Aston Villa: Guzan, Lowton, Vlaar, Clark, Baker, Bertrand, Westwood, Delph, El Ahmadi, Weimann, Bowery
Sunderland v West Bromwich Albion
Sunderland: Mannone, Vergini, Alonso, Brown, O'Shea, Cattermole, Colback, Larsson, Johnson, Borini, Wickham.

West Bromwich Albion: Foster, Reid, McAuley, Lugano, Brunt, Berahino, Yacob, Morrison, Dorrans, Sessegnon, Anichebe.
19:00: After 10 months of the most exilerating Premier League season in years, are we set for yet another twist? Manchester City can lay one hand on the title with victory over Aston Villa, which would take them two points clear of Liverpool ahead of the weekend visit of West Ham United on the final day. In the north east, Sunderland can complete the great escape with victory over West Bromwich Albion, and plunge Norwich City deeper into the mire. West Brom still need a point to be absolutely sure of survival but know only a 13-goal swing on the final day would see them down if they lose tonight. Even after the events of Monday night, does the Premier League have another twist in the offing?