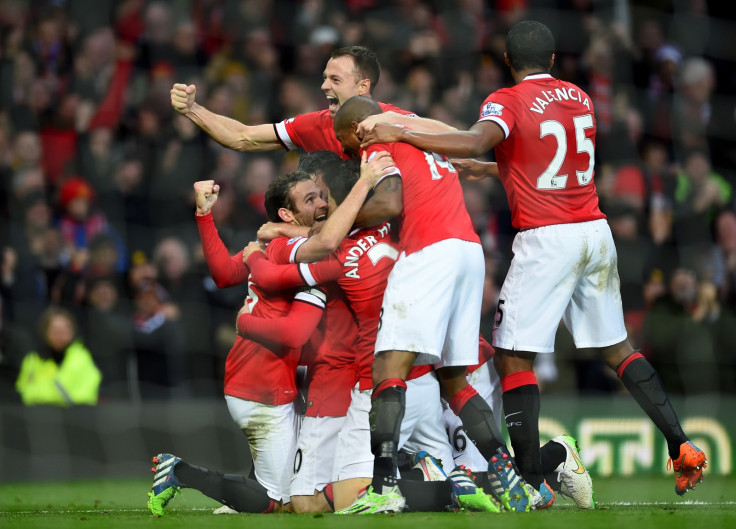 Manchester United 3-0 Liverpool FT
Swansea 1-2 Tottenham FT
6:56pm: And that is also a wrap on today's Premier League action! Thanks for joining us.
6:53pm: And that's a wrap. Tottenham didn't look like they could do it but somehow they came from behind and did it, propelling themselves to seventh in the table. Meanwhile Swansea are down to ninth despite having the majority of possession and chances.
6:51pm: Just minutes left now and Tottenham look like they'll take the points, with Swansea no doubt frustrated after looking the better team for much of the game.
6:46pm: GOAL! Out of nowhere, Tottenham are ahead! Christian Eriksen gets one in from the centre of the box and as it stands now, Spurs take all the points. Jazz Richards attempts a clearance for Swansea but fails miserably and Eriksen makes him pay. A lot of signings for Tottenham recently have disappointed but Eriksen is not one of those.
6:43pm: Wilfried Bony comes off for Bafetimbi Gomis, and the scores look very likely to stay the same if things continue...
6:42pm: Spurs take off Lamela, who has literally done nothing for his side this game, and bring on Nacer Chadli.
6:40pm: Swansea's Neil Taylor is booked for a foul on Erik Lamela. Not long after that Benjamin Stambouli sees yellow for a handball.
6:37pm: Ouch - tough stat for Spurs fans to take form Squawka:
Spurs haven't had a shot on target since Harry Kane's goal in the 4th minute.

6:33pm: The clock is ticking to find a winner - as it stands Tottenham will be ninth and Swansea seventh at the end of this.
6:29pm: Swansea are piling on the pressure at the moment as Montero fires wide. Tottenham's defence has been very leaky today and they will pay for it if they don't tighten up quickly.
6:27pm: And Swansea follow suit with Jazz Richards replacing Rangel.
6:26pm: Tottenham make another change as Benjamin Stambouli replaces Ryan Mason.
6:21pm: Harry Kane is at it for Tottenham again but his shot is just wide to the right. Spurs haven't looked like scoring until that moment.
6:16pm: Roberto Soldado comes off after yet another game where he has been disappointing. Moussa Dembele is on in his place.
6:13pm: Swansea make a change with Leon Britton coming off for Jonjo Shelvey. The side are holding the majority of possession at the moment and shots on goal - they look more likely to find a winner than Tottenham.
6:08pm: Swansea's Ki Sung-yueng is booked for a mistimed tackle.
6:05pm: GOAL! And there it is, it was coming for a while and Bony has finally got the ball into the net. He doesn't get it first time but on the rebound the Swansea star is successful and scores are now level.
6:02pm: And we're back - can Swansea find that equaliser? Or will Tottenham hold out? Stay tuned and find out!
4:47pm: And that's a wrap on the first half.
4:46pm: Tottenham are going to count themselves very lucky Bony keeps missing against them and Mauricio Pochettino will certainly be focusing on their defensive line-up at half time.
4:43pm: Ryan Mason is shown a yellow card for tripping Leon Britton.
4:40pm: It's getting very close to half time and while Tottenham were strides ahead of Swansea at the beginning, and made the most of it with a goal, the home side have come into their own since and if Bony had succeeded with just one of his many shots the scores would be equal.
4:36pm: Jan Vertonghen receives a yellow for a late tackle on Wayne Routledge - the players aren't happy about it but the ref insists it's worth a booking.
4:35pm: Taking the spotlight off Bony for a moment and onto a player who has been successful with his scoring today, according to OptaJoe:
4 - Harry Kane has scored in four of his last five appearances for Tottenham away from home (all comps). Business.
4:34pm: Bony has got to get a goal soon, surely - he's certainly having enough chances! Meanwhile Swansea have had only one on target so far, as many as Tottenham.
4:26pm: Angel Rangel passes to Wilfried Bony but it's ruled offside - wouldn't put it past Swansea to get a goal soon with the way they're playing.
4:22pm: Wilfred Bony nearly had a shot there but Ben Davies came in and saved the day for Tottenham with a brilliant tackle. This Spurs side are showing some heart so far - can it last 90 minutes?
4:19pm: Harry Kane has been brilliant so far for Spurs and he's in action again as Soldado finds him in the box, but it's just to the left.
4:14pm: Kyle Walker is handed a yellow card for handling the ball. Both sides are having their fair share of possession right now.
4:06pm: Swansea won't let Tottenham get the better of them and Wilfried Bony has a shot but it's saved by Lloris. They might be behind but their possession makes it look like they're in control.
4:04pm: GOAL! Tottenham go up 1-0 thanks to a header from Harry Kane, as the England man makes the most of Christian Eriksen's corner. It's a good start for Tottenham.
4:03pm: Tottenham are off to a lively start so far with Soldado having a header blocked - could this be his day?
4:00pm: And we're off!
3:50pm: Here's the line-ups for Swansea and Tottenham, who will both be fighting to push for a Champions League spot today:
Swansea: Tremmel, Rangel, Bartley, Williams, Taylor, Britton, Ki, Routledge, Sigurdsson, Montero, Bony. Subs: Amat, Shelvey, Emnes, Dyer, Cornell, Gomis, Richards.
Tottenham Hotspur: Lloris, Walker, Fazio, Vertonghen, Davies, Mason, Bentaleb, Lamela, Kane, Eriksen, Soldado. Subs: Rose, Chiriches, Vorm, Townsend, Dembele, Chadli, Stambouli.
Referee: Robert Madley (West Yorkshire)
3:22pm: And that's a wrap! A dominant performance in front of the net for Manchester United and lots to answer from Liverpool's camp as their defence struggled yet again. Stay tuned for coverage on Swansea v Tottenham later on.
3:19pm: Three minutes of injury time - will anything change? Not likely.
3:17pm: Paddy McNair replaces Phil Jones for United.
3:16pm: Nine shots on target for Liverpool now and they will be regretting missing those chances, though getting past De Gea is proving impossible right now.
3:12pm: Gerrard is in the book for pulling Van Persie's shirt as Balotelli had a shot, which beat De Gea but went wide anyway. Into the last 10 minutes now.
3:07pm: Falcao is now on the pitch and Wayne Rooney goes off to loud cheers from the crowd. It's the perfect time for the striker to be coming on - will he make it 4?
3:06pm: United haven't been at their best in this game but all of Liverpool's flaws have been laid out for everyone to see in this game and Brendan Rodgers will know that complaining about the linesman won't get him out of hot water in the post game presser. United have had seven shots on goal to Liverpool's 16 but Louis Van Gaal has a keeper the Reds would kill for right now...
3:00pm: GOAL! Robin van Persie builds on that tally and makes it three for United. Much has been said about Liverpool's defending this game and season, and that was a good example of it at it's worst. Dejan Lovren passes straight to Juan Mata who has lots of time to pick out van Persie and the striker has so much space, he was never going to miss that.
2:57pm: Lazar Markovic is on for Alberto Moreno. Time is ticking for Liverpool to turn things around but stranger things have happened in this match-up!
2:56pm: David De Gea is in action and this time it's to stop Mario Balotelli who had a decent shot. The keeper pushes it into the crossbar, he would certainly be favourite for Man of the Match if United keep a clean sheet.
2:53pm: Robin van Persie will be itching to build on his goal tally against Liverpool today and he has a shot but it just misses to the right.
2:47pm: More terrible stuff from Balotelli, and both Liverpool and United won't be terribly impressed with how they're playing at the moment.
2:43pm: From Squawka,
Raheem Sterling has now had 4 shots vs. Man United today, all have been on target, all have been saved by David de Gea.

2:39pm: Another chance for Liverpool through Raheem Sterling, De Gea is on fire today against the youngster though and makes another brilliant save. Balotelli is still getting in on the action, though it hasn't been very positive so far.
2:35pm: Mario Balotelli is on for Liverpool in place of Adam Lallana and is already making an impression - Liverpool have started the half lively.
2:33pm: And we're back!
2:18pm: And that's a wrap on the first half. Liverpool looked on top at the beginning but United have made their shots on goal count, with the second leading the way for some big talk over the linesman's decisions. It's going to be a big second half for both teams.
2:15pm: Rooney's now been booked for a late challenge on Philippe Coutinho, who seems to be the cause of a lot of yellows so far this game. One issue for Van Gaal to address at half time as his players flirt with red.
2:13pm: That's two shots on target for United and two in the back of the net. Brendan Rodgers will not be happy with that linesman right now, replays are showing just how obvious that offside call should have been.
2:10pm: GOAL! Juan Mata gets in on the action with a header and United double their lead. It looked like it was offside but he was totally unmarked and able to get hold of Ashley Young's cross way too easily.
2:07pm: Jonny Evans is in the book for a challenge on Philippe Coutinho.
2:05pm: Brilliant pass from Gerrard to Moreno but Antonio Valencia makes an equally brilliant interception.
2:03pm: Sterling has been mounting attacks on a few occasions in this half but his confidence will have been affected by those misses. It's difficult to see any of Liverpool's players getting past De Gea at the moment - while Brad Jones is another story...
2:00pm: Joe Allen is handed a yellow for a foul on Antonio Valencia.
1:58pm: Glen Johnson comes off for Liverpool looking to be in some discomfort - Toure is on in his place.
1:55pm: Raheem Sterling has another big chance and David De Gea is on hand to make another big save for United. It was better than the last shot and more of a test for this keeper who is proving very handy so far.
1:54pm: Kolo Toure has been sent out to warm up by Brendan Rodgers as he looks to change things up already. Meanwhile the United fans are chanting 'you're getting sacked in the morning'...
1:51pm: Phil Jones is now in the book for fouling Philippe Coutinho.
1:49pm: Some great passing from Liverpool at the moment as they look to pressure United one more - Steven Gerrard has a shot but again De Gea is on hand to keep his side up.
1:46pm: Liverpool will be kicking themselves over that goal with no-one marking Rooney in the box and the defence gifting him the cross. Possession is now all United, can they pick themselves up from this setback?
1:42pm: GOAL! Wayne Rooney is on target from the centre of the box and Manchester United are up 1-0. It was certainly against the run of play just after Liverpool had a big chance through Raheem Sterling - but his shot was saved by De Gea. After Valencia beat Allen he crossed to Rooney who was never going to miss - United are certainly holding an advantage now and very early on.
1:37pm: Not a great deal happening now apart from a couple of decent attacking moments from Liverpool at the very beginning. United are looking second best at the moment though with the visitors dominating possession.
1:35pm: Marouane Fellaini goes in the book for a tackle on Lallana that... let's just say it wasn't one of his finest moments.
1:33pm: Liverpool are in early with a chance as Dejan Lovren has a shot blocked.
1:30pm: And we're off!
1:27pm: Players are coming out and looking very focused - time to see if United are really back to their old selves...
1:20pm: It's the 10 minute mark people!! Brendan Rodgers insists he's not taking a risk by playing Brad Jones today over Simon Mignolet but critics would argue with this fact - Jones has featured just once at Old Trafford in his entire career, for Middlesbrough, and this will certainly be a defining game for the Australian.
1:15pm: One player Van Gaal will be hoping is at his best today is Robin van Persie, who after a difficult start to the season has netted three goals in three games. And the stats appear to be on his side - according to OptaJoe,
6 - Robin van Persie has netted six goals in his last nine Premier League appearances against Liverpool. Pest.

1:10pm: While Van Gaal has enjoyed less pressure of late, with United winning their last five Premier League games and sitting third in the table, it's been a very different story for Brendan Rodgers. Liverpool have won just two of their last seven games and will be looking for a lift after making a disappointing exit from the Champions League group stages.
1:07pm: Louis Van Gaal has insisted he is well aware of how big this occasion is and while Liverpool have gotten the better of United in their last few meetings he is keen to prove his side have the strength to overcome the pressure agains their biggest rivals.
"As an assistant manager I have Ryan Giggs and he presented the analysis of Liverpool and he did it in a marvellous way. I'm very pleased.

"It was everything that has been said about this match. I cannot tell all he said but I can assure you that it was marvellous.
1:05pm: Team line-ups for Manchester United and Liverpool have been released, with the biggest news being Simon Mignolet's exclusion from the squad. Brad Jones takes his place in goal for the Reds who will be hoping to turn their recent form around.
Man Utd: De Gea, Valencia, Jones, Evans, Young, Carrick, Fellaini, Mata, Rooney, van Persie, Wilson. Subs: Falcao, Januzaj, Lindegaard, Ander Herrera, Fletcher, McNair, Blackett.
Liverpool: Brad Jones, Johnson, Skrtel, Lovren, Moreno, Henderson, Gerrard, Allen, Coutinho, Sterling, Lallana. Subs: Toure, Lambert, Lucas, Mignolet, Can, Balotelli, Markovic.
Referee: Martin Atkinson (W Yorkshire)
1:00pm: Good afternoon and welcome to IBTimes UK's coverage of an afternoon full of Premier League action. First up it's time to revisit the rivalry of Manchester United and Liverpool, with both sides desperate to prove a point today and new manager Louis Van Gaal having his first experience of the two sides in action. Later, Swansea take on Tottenham in what will no doubt be an attacking affair.