Arsenal 0-0 Manchester United
Newcastle 0-4 Tottenham
Fulham 2-3 Liverpool
Stoke 1-1 Swansea City
Everton Crystal Palace - OFF
Manchester City v Sunderland - OFF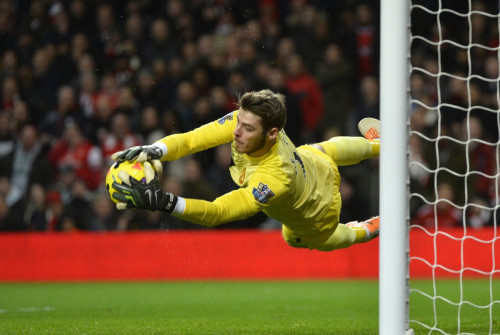 2159: And that's it, it's full time at Craven Cottage and the Britannia Stadium to bring an end to Wednesday night's action. Thanks for reading and join us next time.
FULL TIME
Fulham 2-3 Liverpool
(Kolo Toure OG 8, Kieran Richardson, 63)
(Daniel Sturridge, 41, Philippe Coutinho, 72, Gerrard, 90)
Stoke 1-1 Swansea
(Peter Crouch, 17, Chico Flores, 52)
9:52: Lewis Holtby's shot deflects into the air into the path of Darren Bent. If his first touch is right he is free on goal from eight yards out. But it's not....
9:48: Sascha Riether clumsily downs Daniel Sturridge in the penalty box and Liverpool are given a golden chance to take all three points after going behind twice this evening. Gerrard obliges and coverts and Liverpool are now just four points off the top of the league.
Goal! Fulham 2-3 Liverpool (Steven Gerrard, 90+)
PENALTY - Liverpool
9:44: Liverpool pushing for what would be a dead handy three points now. Moments ago Luis Suares freed Coutinho but the Brazilian fired wide before Daniel Sturridge thinks he's through one on one but David Stockdale is out in a flash to gather the ball.
9:40: That's it from the Emirates and let's be honest, that was a woeful game of football. The plaudits must go to Wojeich Szczesny and David De Gea who both made excellent saves to keep their sides in it in the final 15 minutes and after being troubled by Giroud in the first half the soon to be departing Nemanja Vidic was resolute in the second. That's as far as we can stretch the praise really after a disappointing game and it's hard to imagine either manager being particularly satisfied with that result.
FULL TIME
Arsenal 0-0 Manchester United
Newcastle 0-4 Tottenham
(Emmanuel Adebayor, 19, 82, Paulinho, 53, Chadli, 88)
9:34: Coutinho leaps into life to bring Liverpool level! The Brazilian cuts in to curl a shot out of the reach of the Fulham shot stopper that may have taken a deflection off John Heitinga.
Goal! Fulham 2-2 Liverpool (Philippe Coutinho, 72)
9:33: It's fired straight into the wall by Ozil. Arsenal swing the ball back into the box and Vidic brilliantly gets across Mertesacker to clear, for the moment. Meanwhile Nacer Chadli has put Spurs 4-0 and this time, it's not Krul's fault this time as the Belgian finishes a brilliant move from 25 yards out.
9:31: Arsenal free kick, just outside the edge of the United area.
Goal! Newcastle 0-4 Tottenham (Nacer Chadli, 87)
9:26: De Gea this time makes a wonderful save! Cazorla finds space in the middle to slam a shot on goal but the Spanish 'keeper dives to his left to make an excellent save. Three minutes of normal time remaining.
9:27: Tim Krul has had another nightmare, this time parrying Andros Townsend shot from the edge of the area, allowing Adebayor to nip and slam a rebound into the turf before it bounces back over Krul's head and into the back of the net.
Goal! Newcastle 0-3 Tottenham (Emmanuel Adebayor, 83)
9:24: Fulham restore their lead! More calamitous defending by Liverpool as Martin Skrtel is pressurised into making an error, allowing Richardson to nip in and tuck away his side's second.
Goal! Fulham 2-1 Liverpool (Kieran Richardson, 64)
9:21: Van Persie denied! Carrick wins the ball in midfield to launch a counter attack, playing the ball upfield to Rooney. Spotting his strike partner steaming into the box Rooney clips a wonderful cross towards the back post which van Persie meets with a firm header, but Szczesny palms the ball onto the cross bar to keep it level.
9:19: Giroud is an inch away from giving the Arsenal the lead! Gibbs swings in a ball from the left that Vidic lets slide across him, Giroud is at full stretch but couldn't get the touch that would have diverted it past De Gea.
9:17: Adnan Januzaj is also on, replacing Juan Mata.
9:16: Rosicky tries to bend one into the top corner after some neat hold up play from Cazorla but it's well over the bar. It's also his last action of the evening as Alex Oxlade-Chamberlain comes on to replace him.
9:14: Valencia picks up the game's first yellow after a late challenge on Jack Wilshere.
9:13: Swansea are level! Chico Flores nods home after Pablo Hernandez's second attempt at a cross finds him six yards out from goal.
9:12: The game at the Emirates has come to life slightly in the past ten minutes after those chances.
Goal! Stoke 1-0 Swansea (Chico Flores, 53)
9:08: Robin van Persie sprints onto a backpass but a quick thinking Szczesny is out of box to head away the danger. United launch again as Rooney plays infield to Cleverley who neatly finds Mata who lets fly with a shot from outside the area but it's dragged harmlessly wide.
9:04: Antonio Valencia clears off the line! Vidic jumps into the block Cazorla's effort to win a corner. It's swung in and met firmly by Koscielny but the Ecuadorian is on the line to clear the danger. Arsenal regroup and attack down the left and swing in low ball for Giroud, The Frenchman goes down under pressure from Vidic looking for a penalty but the referee isn't interested.
9:01: Valencia skips past Gibbs and suddenly finds himself with time and space to deliver a cross in from the right. Too bad the delivery is another dismal effort.
9:00: Arsenal again and advance and Rosicky, Giroud and Cazorla look to intricately pick their way through United's defence but it again breaks down and the away side clear.
8:58: Tottenham lead 2-0 and again questions will be asked of Tim Krul. Paulinho plays the ball into Adebayor whose shot on goal is parried by the Dutch 'keeper, straight into the path of the Brazilian midfielder who slots home.
Goal! Newcastle 0-2 Tottenham (Paulinho, 53)
8:55: Depending how positive you want to be, you could describe both sides approaches as calculated and patient. But I'd go with dire, personally. Very congested in the midfield with very little room for either side to fashion anything of not. United switch to the right flank but Smalling's delivery is dreadful.
8:53: Rio Ferdinand sends the ball into the box that van Persie tentatively takes down but Koscielny is quickly across to make a strong but fair challenge, a popular one around the Emirates.
HALF TIME
Stoke 1-0 Swansea (Peter Crouch, 17)
Fulham 1-1 Liverpool (Kolo Toure OG 7, Daniel Sturridge, 41)
8:48: United win a free kick on he right flank that Mata clips into the box. It's not a great delivery but Carrick stoops to head the ball onto the back post where Smalling is lurking, but the ball is just out of his reach.
8:46: Rafael, who took that nasty fall in the first half is off as the second half begins, replaced by Rio Ferdinand who slots in at centre half as Chris Smalling shuffles along to right back.
8:43: Liverpool have equalised! Steven Gerrared plays an excellent ball over the Fulham defence with the outside of his boot that Sturridge expertly latches onto before clipping past the Fulham goalkeeper.
Goal! Fulham 1-1 Liverpool (Daniel Sturridge, 43)
8:36: It's yet to spring into the life at the Emirates. After a flurry of chances for both sides in the opening minutes Arsenal and Manchester United have largely cancelled each other out. Robin van Persie's radar has been slightly (very) askew and while Olivier Giroud has thus far won his battle with Vidic, has failed to capitalise.
Rooney has been largely anonymous, as has Ozil. Mata has looked neat and tidy with one or two sumptuous first touches, but hasn't done much to ignite the game so far. Very cagey affair.
HALF TIME
Arsenal 0-0 Manchester United
Newcastle 0-1 Tottenham (Emmanuel Adebayor, 19)
8:30: Arsenal counter after a sloppy corner kick from van Persie and Sagna whips in a great cross that Smalling just edges ahead of Giroud to win and clear for a corner. United clear the danger. 2 minutes of added time.
8:28: van Persie does well to win possession Arsenal's right flank from Sagna and finds Mata who works his way across the pitch, looking for Rooney. It breaks down but Valencia picks the ball up again and frees Rafael down the right. The full back might be still feeling a bit groggy, as his cross is wayward of any of his teammates.
8:26: Rafael, ever the battler, is up and looks fine to carry on.
8:24: Rafael is now down after landing heavily following a brave aerial battle with Giroud, who took a hit too but is bow back on his feet. The Brazilian looks to have landed on his shoulder and doesn't look in a great way at the minute.
8:21: Stoke have taken the lead against Swansea as Peter Crouch follows up on Peter Odemwingie's effort that struck the post but Crouch tucks away the rebound.
8:20: Kieran Gibbs rises to meet a header and beats Rafael to the ball, but De Gea saves. The Arsenal full back is left a bit worse for wear and play is halted, much to the annoyance of David Moyes.
Goal! Stoke 1-0 Swansea (Peter Crouch, 19)
8:17: Arsenal break down the left flank through Cazorla, who finds Giroud. Vidic tracks his man and this time wins the battle, swinging out a leg to nip the ball away from the Frenchman. Minutes later Gibbs finds space down the left and wins a corner.
8:15: Wayne Rooney loses possession on the edge of his own box. Arteta robs him and finds Giroud, whose overhit effort sails over the bar. That's three chances for the Frenchman in half an hour.
8:12: Giroud has enjoyed his duel with Nemanja Vidic so far this afternoon. Following up on that early header on goal the Frenchman again beats his opponent in the air but heads wide again, albeit slightly off balance.
8:10: Fulham take the lead! Holtby is involved again as he plays in Kieran Richardson whose effort is bundled in to his own net by the hapless Kolo Toure whose clearance looped over Mignolet into the back of the net. Just when his calamitous/hilarious back pass that gifted West Brom a goal as beginning to fade into the back of people's memories, this happens.
Goal! Fulham 1-0 Liverpool (Kolo Toure OG, 7)
8:07: Tottenham take the lead! It's poor goalkeeping from Tim Krul who weakly bats away a cross swung in from the left by Bentaleb straight into the path of Adebayor, who adds his eighth goal since his return from exile.
8:05: Arsenal were 4-0 down by this point on Saturday. Steady progress, this.
Goal! Newcastle 0-1 Tottenham (Emmanuel Adebayor, 19)
8:04: Another great chance for United! Mata superbly finds van Persie who has made a brilliant run in behind Mertesacker and Sagna. The Dutchman cuts inside but his effort is wildly miss-hit when he had better options in the box. Van Persie's effort narrowly avoided going out for a throw in.
8:02: Fulham and Liverpool are also underway and the home side nearly take an early lead! Lewis Holtby brilliantly finds Darren Bent who plays the ball across goal for Ryan Tunnicliffe, but the midfielder's effort is beaten away by Mignolet.
8:01: Both Arsenal and United should have scored in the opening 15 minutes of this game. Van Persie wasting United's best chance, Giroud passing up the home side's.
7:59: Newcastle pass up a golden chance to take the lead as Luuk de Jong heads the ball back across goal where Papiss Cisse is waiting six yards out. He can't connect properly with the ball, however, and Lloris makes the save.
7:57: Rafael bursts down the right flank ahead of Kieran Gibbs and whips a ball over the front post. An alert van Persie is first to the ball but Mertesacker is right on his heels and he Gibbs manage to recover the situation between them .
7:56: Arsenal win a throw in on the left flank and it's played into the feet of Rosicky he shapes to shoot. His effort takes a wicked deflection of someone that momentarily has De Gea scrambling across his goal, but collects safely in the end.
7:54: Arsenal have settled down a bit after that frantic start and have enjoyed an early spell of possession.
7:52: Good start for Tottenham at St James' Park too as Mousa Dembele tees up Emmanuel Adebayor but the striker's effort skids of the post and away to safety.
7:50: Giroud meets the resulting corner with a free header in the box but directs his header wide of the post. Another great chance.
7:49: What a start this is! Jack Wilshere skips into the United box, rides a challenge from Vidic and looks to open his body up and steer a left footed effort past De Gea. The midfielder doesn't get the greatest connection however and Chris Smalling is across to deflect it out for a corner.
7:46: What a let off for Arsenal! Mikel Arteta caught sleeping 30 yards from goal and is easily dispossessed by van Persie. The Dutchman is one on one with Szczesny but the Arsenal 'keeper reads it well and collects his weak effort
7:45: And we are underway! Patrice Evra launches a ball in behind Arsenal's centre halves with his first touch of the ball but it's ceasily collected by the Gunners' 'keeper.
7:41: The teams are out on the pitch at the Emirates, five minutes from kick off.
7:39: Has your evening been inconvenienced by the weather? Spare a thought for this poor guy.
7:33: Liverpool are unchanged from their 5-1 thrashing of Arsenal at the weekend while Darren Bent's last minute equaliser against Manchester United earns him a starting spot at Craven Cottage this evening. TEAM NEWS Fulham: Stekelenburg, Riether, Burn, Heitinga, Riise, Tunnicliffe, Sidwell, Kvist Jorgensen, Richardson, Holtby, Bent. Subs: Hangeland, Kasami, Kacaniklic, Stockdale, Duff, Cole, Parker Liverpool: Mignolet, Flanagan, Skrtel, Toure, Cissokho, Henderson, Gerrard, Coutinho, Suarez, Sturridge, Sterling Subs: Brad Jones, Agger, Aspas, Moses, Allen, Kelly, Teixeira. 7:31: 15 minutes to go until kick off (apart from Fulham v Liverpool which is an 8:00pm kick off). TEAM NEWS Newcastle: Krul, Debuchy, Williamson, S.Taylor, Santon; Gouffran, Sissoko, Anita, Sammy Ameobi, De Jong, Cisse. Tottenham: Lloris, Walker, Kaboul, Vertonghen, Naughton, Dembele, Bentaleb, Capoue, Paulinho, Lennon, Adebayor. Stoke: Begovic, Cameron, Shawcross, Wilson, Pieters, Odemwingie, Adam, Whelan, Arnautovic, Walters, Crouch. Swansea: Vorm, Rangel, Flores, Williams, Davies, Canas, Britton, Dyer, Hernandez, Routledge, Bony. 7:14: If you hadn't noticed, it's a bit windy outside today and the weather has claimed another Premier League fixture with Everton and Crystal Palace now abandoned.
7:13: Alex Oxlade-Chamberlain drops to the bench for Arsenal, replaced by Thomas Rosicky. Other than that, it's as you would expect from Arsene Wenger.
7:11: Team news is in from the Emirates, the trio of Juan Mata, Wayne Rooney and Robin van Persie have another opportunity to find their spark but Jonny Evans and Phil Jones are still unavailable. Adnan Januzaj remains on the bench alongside the returning Marouane Fellaini.
7:08: After Sunday's 2-2 draw with bottom club Fulham, Manchester United's season went from awful to downright disastrous. While United have often enjoyed their excursions to the Emirates, David Moyes' personal record against the Gunners makes for grim reading if you're a United fan.
Prior to last November's win at Old Trafford, Moyes won two and lost 14 against Arsene Wenger during his tenure as Everton boss. He stopped that trend thanks to Robin van Persie's header earlier this season, but a trip to north London is a very different proposition.
7:06: After Chelsea's surrendered their lead to draw with West Brom on Tuesday, a win for Arsenal will see them return to the top of the Premier League. Although his side have been on the receiving end of a one or two thrashings on the road, Arsene Wenger's side remain resolute in north London having conceded just 12 goals at home this season.
TEAM NEWS
Arsenal: Szczesny, Sagna, Mertesacker, Koscielny, Gibbs; Arteta, Wilshere; Rosicky, Ozil, Cazorla; Giroud
Subs: Fabianski, Jenkinson, Monreal, Oxlade-Chamberlain, Podolski, Sanogo, Bendtner.
Manchester United: De Gea, Rafael, Smalling, Vidic, Evra; Valencia, Cleverley, Carrick, Mata; Rooney, van Persie
Subs: Lindegaard, Buttner, Ferdinand, Fellaini, Young, Hernandez, Januzaj.
7:03: A wet and windy Wednesday night at Stoke, Surely not? Stoke's visit to the Britannia will also undergo a second inspection but the home side do expect this evening's fixture to go ahead, albeit pushed back to a 20:00 (GMT) kick off.
#SCFC's Premier League game against Swansea at the Britannia Stadium is to go ahead as planned as it stands.

— Stoke City FC (@stokecity) February 12, 2014
7:02: City captain Vincent Kompany put all of us media folk to shame by being the first to break the news of this evening's abandoned game.
Game's called off! Make sure you get yourselves home and be safe, weather is terrible! #mcfc

— Vincent Kompany (@VincentKompany) February 12, 2014
7:00: Good evening and welcome to IB Times UK's LIVE coverage off Wednesday evening's Premier League action. At the moment we have five fixtures going ahead but that number could drop due to the severe weather conditions ravaging the UK, with Manchester City's clash against Sunderland already called off. Stick with us for all your team news as it breaks.