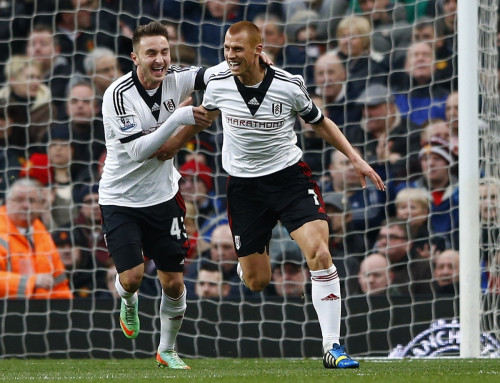 6:08: It's been a quite unbelievable conclusion to the afternoon. Thanks for reading and join us mid-week for more Premier League coverage.
6:01: Some quick stats from Sky Sports to partially illustrate what happened at Old Trafford today: 31 attempts (nine on target), 81 crosses and 649 passes.
5:57: Fulham have claimed a quite unbelievable point at Old Trafford. Rene Muelensteen's men were barely able to run at the end but somehow they mustered enough energy to pull things back and silence Old Trafford. This will be a magnificent boss for the Fulham boss and his players who led for nearly 80 minutes.
As for Manchester United and David Moyes, things cannot get any worse. For all the criticism the side have come under this season, this is without a doubt their darkest hour. United are now nine points behind Liverpool in fourth.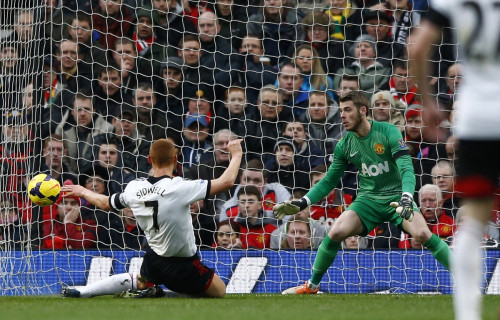 FULL TIME: Manchester United 2-2 Fulham
5:54: Out of nothing, Fulham have equalised at the death! Sidwell wins the ball and plays it to Richardson who's effort on goal is only beaten away by De Gea. Darren Bent is lurking in the box and De Gea's save falls at his feet for him to score an unbelievable equaliser.
5:53: Oh my.
Goal! Manchester United 2-2 Fulham (Darren Bent, 90+)
5:50: Antonio Valencia leads a United counter attack and finds Juan Mata on the edge of the area. With Old Trafford roaring him on to take the shot, the Spaniard puts a bit of disguise on it and aims for the near post and it's just wide. Fulham immediately surrender possession from the goal kick but van Persie's chipped effort is fairly poor.
5:48: Five minutes of extra time added on.
5:46: Evra cuts in again and drives a cross into the box that bounces off Smalling before he can react. Hernandez can however, but it's quickly pounced upon by the Fulham shot stopper.
5:44: Rooney makes a sublime sliding tackle to dispossess Hotlby on the edge of United's area and sets Januzaj on his merry way again, but his cross is cleared by Fulham.
5:41: The relief in Moyes' celebration after Carrick's goal was quite something, as you could imagine. Fulham have been deflated by United's quick one two and United want three as Januzaj is the latest to have a go.
5:37: United lead with two goals in two minutes! Riise makes a terrific diving challenge to block Mata's first effort, but the Spanird's second is diverted into the back of the net by van Persie at the far post. United immediately win possession back after the restart and the ball falls to Michael Carrick on the edge of his box. The midfielder readies himself and takes a shot that takes a nick off Scott Parker to leave Stekelenburg rooted to the spot as the ball sails into the back of the net.
Goal! Manchester United 2-1 Fulham (Michael Carrick, 79)
Goal! Manchester United 1-1 Fulham (Robin van Persie, 78)
5:29: Lewis Holtby is abolsutely clattered by Vidic who crashed through the back of the midfielder en route to thumping a header clear. The Tottenham loanee looks to be just winded, however.
5:26: Rafael is freed down the right again with Richardson struggling to get back, but slams his cross into the side letting. Abysmal effort, and the Brazilian comes off minutes later, replaced by Antonio Valencia. Javier Hernandez comes on for Ashley Young.
5:24: Januzaj cuts in side, pauses, then floates a subluime ball across to Ashley Young at the back post. Van Persie is free for a simple tap in if Young can nod it back across goal, but his header is poor and Fulham clean up.
5:21: Januzaj lets fly with a cross towards the back post that Ashley Youngddoes well to nod back across goal where Rooney is waiting, but he is crowded out before he can make a real connection with the ball. Scott Parker comes on for Ryan Tunnicliffe.
5:19: Adnan Januzaj comes on for Darren Fletcher, which will presumablysee Mata occupy an advanced central role.
5:16: Big shouts for handball from United and replays suggest they had a case. Played in at the byline van Persie lifts the ball away from Burn but the big Fulham defender swings a hand out before nonchalantly dropping both to his sides. Referee isn't interested in the protests.
5:14: Ashley Young swing a ball into the far post where Rafael has sprinted into to meet it with a stooping header. It's saved, but the offside flag is up anyway.
5:13: What a save from Stekelenburg! Evra drives the ball across goal that the Dutchman flaps at, leaving Mata to pick up possession and tee up Rooney. The United striker flicks an effort on goal but the Fulham shot stopper reacts magnificently to bat the ball all the bar.
5:11: Heitinga fails to judge the flight of the ball and attempts to take an extra touch with Rooney on the prowl just outside the area, but his effort is over the bar.
5:09: Best move of the game for United as Mata swiches play wonderfully to find Young on the left. He slips van Persie in and the Dutchman slides the ball across goal, just out of the reach of a sliding Wayne Rooney.
5:07: Carrick picks up the ball outside the area and steps into the box before driving a shot into a crowd of players. Fulham partially clear their lines buy Evra regains possession and fires a cross into the box that has too much power on it for van Persie to direct it goalwards.
5:05: United pick up where they left off from as Rafael swings a poor cross into the box that floats out for a goal kick.
5:02: Second half underway with Bent on replacing Tankovic.
5:00: Adnan Januzaj warming up at half time while Darren Bent is ready to come on for Fulham ahead of the second half.
4:58: Grim reading for United fans:
39 - Manchester United attempted 39 crosses from open play in the first half vs Fulham, with just six finding team-mates. Whipped.

— OptaJoe (@OptaJoe) February 9, 2014
4:54: And it's half time at Old Trafford. It's been quite a bizarre half of football with Fulham having taken a lead. Manchester United have thrown 46 crosses in the box during that time with Fulham's resolute defence holding firm at the minute. Huge result for both clubs if things don't change.
HALF TIME - Manchester United 0-1 Fulham (Steve Sidwell, 18)
4:46: One minute of time added on.
4:44: A ball is pinged in Mata's direction and with the ball coming over his shoulder at pace, plucks it out of the air with a sublime first touch. In a gripping, yet scruffy game, that's been the best moment of skill so far.
4:41: Another ball is lumped into the Fulham box and Stekelenburg makes an excellent save to deny Carrick . Van Persie picks up the pieces but Sidwell deflects it out for a corner. Mata's excellent delivery is met by Vidic who has steamrolled into the box but it's straight at the Fulham goalkeeper.
4:39: Richardson misses a wonderful opportunity to double Fulham's lead! A hopeful clearance from Sidwell after another United cross falls nicely for Tankovic who leads a counter attack. He picks the right ball to slip in Richardson who has burst up the left flank but his effort is fired woefully over the bar.
4:37: Steve Sidwell does well to wrestle possession off van Persie in the Fulham area but Dutchman intercepts with a sliding challenge that nearly morphs into a shot on target.
4:36: Fulham are firmly camped in the United half after Steve Sidwell's shock opener.
PHOTO Steve Sidwell wheels away after opening the scoring at Old Trafford. It's Man Utd 0-1 Fulham on 32 mins #MUNFUL pic.twitter.com/hXRH8iWjvj

— Premier League (@premierleague) February 9, 2014
4:34: Every attempt from United has come from a cross, with Rafael now playing as a right winger and Young always avaliable on the other side.
4:32: Fulham clear a Fletcher cross but the ball falls to Carrick 25 yards out from goal who smashes a sweet half volley on goal that drifts just wide of the post. Mata deftly flicks the ball through his marker's legs at the side line but his cross, aimed for van Persie, is dealt with by the resolute Fulham backline.
4:30: Mata swings a looping ball into the box with Evra nodding back across goal from the back post but Stekelenburg palms it away. United piling on the pressure.
4:26: With Riether not really fussed about positioning today Ashley Young is enjoying acres of space down the left flank. His delivery has been okay so far, but Fulham have dealt with them so far.
4:23: United are straight on the attack and Rafael swings a cross over to the far post where van Persie has galloped over to. The Dutchman's isn't bad at this volleying business, but this goes horribly wrong and flies wildly out of play.
4;20: Fulham take the lead! Lewis Holtby dinks an excellent lofted through ball over United's defence where Sidwell has charged into space under no pressure, and toe pokes past De Gea. Abysmal defending from United,
Manchester United 0-1 Fulham (Steve Sidwell, 18)
4:17: Evra plays the ball in field into the direction of Rooney who is quickly crowded out by a posse of Fulham players. Young picks up possession manages to dink another high cross back in but it's cleared for a corner, that results in Chris Smalling being penalised.
4:15: Rooney whips a nice ball across than van Persie stretches to get on the end of but Stekelenburg is quick off his line.
4:13: Mata and Young combine excellently to free van Persie inside the left of the penalty area but an impressive sliding challenge from Riether clears the danger just as the Dutchman was about to pull the trigger.
4:11: Bizarre few moments involving Vidic and De Gea. A weak pass is knocked back to the United skipper inside his own area and he turns around looking for his goalkeeper to give him an option. Unfourtunately, the Spaniard is nowehere to be seen and Vidic is forced to retreat to the byline with Sidewell hot on his heels.
4:08: Carrick picks Young out with a lovely pass out on the left wing with acres of room around him with Riether nowhere to be found. Burn meets his cross with a firm header to clear the danger.
4:06: Rafael wins a corner that Mata takes responsibility for but it's cleared by Fulham. Rooney clerverly diverts the ball back for the Spaniard but his second cross his a poor one.
4;04: Fulham already arranged in rigid banks of four across midfield and defence. Not a lot happening yet.
4:00: And Wayne Rooney and van Persie get us started at Old Trafford.
3:55: The teams make their way out onto the pitch, kick off five minutes away.
3:49: Muelensteen says £12m January signing Kostas Mitroglou. When will he be brought in then? Fulham could conceivably be adrift if results don't change soon which renders the arrival of a shiny new striker in January a bit... pointless.
3:45: Adnan Januzaj is on the bench for United this afternoon. Is Moyes holding him back for Wednesday's clash with Arsenal at the Emirates?
The rest of the #mufc squad is here too, including Adnan Januzaj, and we'll bring you the line-up soon. pic.twitter.com/2XzzFgNWjM

— Manchester United (@ManUtd) February 9, 2014
3:40: Will Juan Mata start out on the wing today? Line ups would suggest so but whether he stays there remains to be seen.
3:32: Neither Phil Jones or Jonny Evans have recovered in time falling first half knocks against Stoke last week leaving Chris Smalling and Nemanja Vidic to start with Ferdinand on the bench. Juan Mata, Wayne Rooney and Robin van Persie all start with Adnan Januzaj also on the bench.
3:30: Fulham line up against United without a recognised striker on the pitch with 18-year-old Swede Muamer Tanković likely to be the furthest man forward for the Cottagers today. Ryan Tunnicliffe starts in midfield against his former club for his Fulham debut while another former Red Larnell Cole settles for a spot on the bench.
TEAM NEWS
Man Utd: De Gea, Rafael, Smalling, Vidic, Evra; Mata, Carrick, Fletcher, Young; Rooney, van Persie
Subs: Lindegaard, Ferdinand, Giggs, Valencia, Kagawa, Januzaj, Hernandez
Fulham: Stekelenburg; Riether, Burn, Heitinga, Riise; Tunnicliffe, Sidwell, Kvist, Richardson; Holtby, Tankovic
Subs: Stockdale, Hangeland, Kacaniklic, Duff, Cole, Parker and Bent
3:27: We are not done here yet, Manchester United v Fulham is half an hour away and we have all your team news coming up shortly.
3:25: And Tottenham take all three points! Roberto Martinez will feel hard done by after his team's exhilarating first half, but a wonderful individual effort from Emmanuel Adebayor was the catalyst for Spurs taking control of this contest in the last half hour to get the result that sees them leapfrog Everton into fifth, just three behind Liverpool.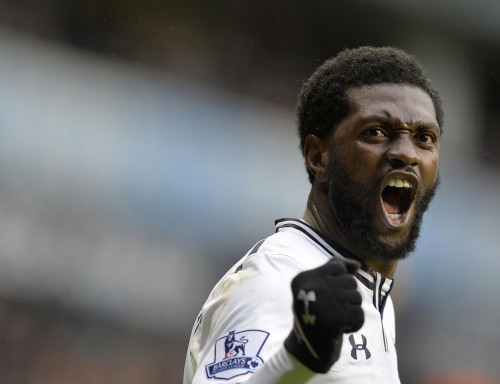 FULL TIME - Tottenham Hotspur 1-0 Everton (Emmanuel Adebayor, 64)
3:20: Tottenham launch a counter attack through Adebayor who plays the ball left to Defoe, but his powerful effort is straight at Howard.
3:18: Shouts for an Everton penalty as Coleman cuts in from the right past Danny Rose and knocks the ball past Capoue, who swings a leg across the Irishman. There isn't much contact, but it would not have been a surprise o have seen a penalty awarded there.
3:16: Everton desperately trying to forge something here but it's not quite happening for them at the minute. Three minutes of stoppage time added on as Distin does well to kill off a possible counter attack with Defoe on his shoulder.
3:13: Dembele picks up the first game of the yellow for pulling back Gareth Barry.
3:11: Jermain Defoe comes on to replace Aaron Lennon.
3:07: Barkley floats a cross to the back post where Barry heads well back across goal but Tottenham are equal to goal. Deulofeu picks up possession but runs into a brick wall in the form of Dembele, who wins possession and frees Adebayor. The striker's second touch is a little heavy however and allows Coleman to read his movements and make an excellent interception in his own area.
3:05: Deulofeu gets one on one with Danny Rose for the first time and wins a free kick out on the right flank after being floored by the Spurs full back.
3:03: That goal and Martinez's changes seem to have disrupted the visitors somewhat; it's now Tottenham who are looking comfortable. here.
3:00: Two more subs for Everton, Deulofeu replaces Naismith - whose consecutive failed efforts to keep the ball in at the side lines delighted Tottenham fans a few minutes ago - and McGeady comes on for Osman.
2:56: That was Tottenham's first shot on target this afternoon, by the way. Sylvan Distin was a bit slow following his line up and as a result played Adebayor onside. The Tottenham striker still had an incredible amount to do to get any shot off however, and did so superbly.
2:55: Etienne Capoue comes on to replace Paulinho.
2:52: A wonderful Adebayor goal gives Spurs the lead! Tottenham are awarded a free kick near the centre circle that Walker takes quickly, pinging the ball cross field into the direction of the striker. With a sublime combination of strength and skill the Togolese takes the ball on his chest, turns and flicks the ball out of Seamus Coleman's reach and stabs a powerful effort past Howard in one fluid motion. Brilliant stuff from the former Arsenal striker.
Goal! Tottenham 1-0 Everton (Emmanuel Adebayor, 64)
2:49: Nervy moment again as Lloris comes out to collect an Everton corner but Dawson leaps across to nearly thump it out of his hands and away from danger. Ross Barkley is now on for Everton, replacing Steven Pienaar.
2:47: Andros Townsend comes on, replacing Christian Eriksen.
2:45: The game is very stretched now with both teams attacking on the counter at will. Coleman picks out Mirallas oi the latest move and it looks as if the Belgian has been kept on side by a dozing Danny Rose, but the flag was up, and the final ball was just out of Mirallas' reach anyway.
2:42: Aaron Lennon cleverly finds Walker who bombs down the right before skipping past Gareth Barry on the edge of the area. The England defender looks to stab a powerful effort across goal but again it looked to be the wrong decision.
2;41: Tim Sherwood is cutting frustrated figure on the sidlelines and takes a mighty swing at a tray of Lucozade bottles. One of them sprays in the direction of Roberto Martinez, who gets an apology of the Tottenham boss.
2:38: Baines and Pienaar carefully probe down the left flank before the South African finds Mirallas. The Belgian cuts inside but despite again having better options around him looks to bend one in the top corner. It's off target, but after his free kick against Villa last week I suppose he's entitled to try the odd one.
2:35: Walker has the chance to make up for that poor cross minutes later after being picked out by Dembele but he repeats his trick. Spurs get another corner, but again it;s harmless.
2:33: Spurs launch the first attack of the half has Paulinho sprays the ball wide to Walker, but his first time cross from the right is a poor one and it's cleared for a corner. The resulting corner is driven in but bypasses absolutely everyone.
2:31: And we are back underway at White Hart Lane.
2:25: Underwhelming from Spurs, excellent from Spurs in that first half. Some terrific pressing has stifled the home side thus far and the pace and intensity Everton use down the wings has caused Tim Sherwood's side a number of problems. Hugo Lloris has been drawn into making a couple of good saves and one excellent one to keep his side in it. Second half coming up.
HALF TIME - Tottenham Hotspur 0-0 Everton
2:14: James McCarthy's pass to Osman is a bit short allowing Danny Rose to nip in and regain possession and launch a counter attack. His marker tries to haul him down but Rose persists and cuts back inside to find Paulinho who sends a ball over the top for Adebayor to run onto but Howard is out to get there just before the former Arsenal man.
2:09: Everton win two consecutive corners that are whipped in by Baines, but Spurs manage to survive. Tim Sherwood's side can count themselves lucky if this is 0-0 at half time, Everton are been excellent this half and have limited the opposition to pedestrian periods of possession with not much end product. When they've had the ball that is, Everton have comfortably seen more of it in this first half.
2:05: Mirallas catches Dawson far too high up the pitch and leaps over the Tottenham skipper's challenge and bears down on goal. Steven Naismith drops back to get on side but despite his teammate being better placed to be slipped in, Mirallas continues his run, veering to the left before hitting his shot that flies over the bar. Naismith looks a bit miffed.
2:02: Dawson rises to meet to corner but, rather peculiarly, twists in the air and the ball smacks off his shoulder and over the bar.
2:01: That's better from Spurs. Paulinho picks an excellent ball out that deceives Gareth Barry and allows Walker to burst down the right flank but it's cleared for a corner.
1:59: Everton have outworked Tottenham so far, denying the home side the space to pick a pass while attacking with intensity down the flanks. Kyle Walker in particular is struggling with the presence of Coleman and Mirallas while Baines has been a constant option for his teammates on the other side.
1:57: Danny Rose swings in an exquisite cross from the left flank that whips across the face of goal, inches away from the outstretched foot of Adebayor.
1:56: Seamus Coleman cuts in from the right and skips past two Tottenham men before hitting a low, left footed effort across goal that Lloris does well to track through a crowd of bodies.
1:54: Tense moments for the Tottenham goalkeeper and his defence. Always reluctant for a big hoof up the pitch Lloris plays the ball out to Dawson near the side line, but Everton's relentless pressing means he's immediately crowded out by Mirallas and loses possession. Bentaleb tries to clear the danger but cannons his effort off the back of Paulinho with Mirallas so close to taking advantage, but Lloris is off his line quickly to clean up. Tottenham were all over the shop there.
1:48: Collective groans from around as White Hart Lane as Eriksen overlooks (or completely misses) a run down the right flank from Lennon and opts for a more pedestrian attempt across the midfield. The Dane makes up for it moments later by picking an excellent through ball for Dembele but it some excellent defending from Leighton Baines nullifies the danger.
1:45: Great play from Dembele as he drives into the Tottenham goal, finding Adebayor behind him who then proceeds to fire a shot straight at the Belgian's backside. Moments later Dembele does excellently to win a corner, but it's comfortably dealt with by Howard.
1:43: Christian Eriksen takes responsibility for it and it isn't a bad effort. The Dane gets enough power and whip on his shot but Tim Howard doesn't look too worries as it curls over his cross bar.
1:42: Paulinho wins a free kick 30+ yards out from goal after being caught late by Pienaar.
1:40: From the resulting corner Osman comes close again! Despite being one of the shortest men on the pitch he leaps above his marker but his header is just over the bar. Minutes later the Everton midfielder is at it again and lines up a shot from just outside Lloris' box, but it's well held by the Frenchman. Four decent efforts from Osman in the opening 10 minutes.
1:38: What a save from Lloris! Brilliant interplay from Everton in and around the Tottenham box eventually finds Naismith who takes the ball down on his chest before knocking it back into the direction of Osman on the edge of the area. The midfielder hits a crisp half volley that is flying towards the bottom corner but Lloris is across to get a firm hand to it.
1:36: Everton have their first effort on goal through Leon Osman who wriggles away from Bentaleb on the edge of the box before curling a left footed effort just wide of Hugo Lloris' post.
1:34: As expected, Mous Dembele is playing closest to lone striker Adebayor for Spurs. From the Everton perspective it looks as if Steven Naismith will occupy the space up front with Mirallas to his right and Pienaar to his left.
1:32: Paulinho whips an excellent ball into the box that both Dembele and Jagielka were surprised to see reach them. Everton manage to clear their lines but only as far as Eriksen, who plays a neat ball inside the left flank but there's just too much on it for Adebayor to reach it.
1:30: And we are underway at White Hart Lane!
1:27: Minutes away from kick off now. Just a point separates Spurs and Everton, can one of these sides close the gap on Liverpool?
1:23: Nabil Bentaleb once again starts in midfield for Tottenham this afternoon, his sixth start of the season as Etienne Capoue ponders what might had been had Spurs not stood firm on Napoli's advances during the January transfer window.
1:10: More on Dembele's more advanced role for Spurs from Sherwood:
.@SpursOfficial boss Tim Sherwood: "We know Mousa Dembele is a fantastic dribbler but getting him nearer the opposition goal is key" #TOTEVE

— Premier League (@premierleague) February 9, 2014
1:06: Seamus Coleman is back in the Everton starting XI as Steven Pienaar and Stven Naismith also come back into the fold after missing the win over Aston Villa. Roberto Martinez also has Barcelona starlet Gerard Deulofeu back fit but has resisted the temptation to start him. The Spaniard takes his place on a strong Everton bench alongside Aiden McGeady, Ross Barkley, Lacina Traore and John Stones.
1:02: Tim Sherwood has opted to drop Roberto Soldado to the bench and play just one recognised centre forward in Emmanuel Adebayor, with Everton's crowded midfield clearly coming into the Tottenham boss's plans. Mousa Dembele is back from a knock and could be handed a more advanced role this afternoon, as his manager alluded to last month.
TEAM NEWS
Tottenham: Lloris, Walker, Dawson, Vertonghen, Rose, Lennon, Paulinho, Bentaleb, Eriksen, Dembele, Adebayor
Subs: Friedel, Naughton, Kaboul, Capoue, Townsend, Defoe, Soldado.
Everton: Howard, Coleman, Baines, Distin, Jagielka, Barry, McCarthy, Osman, Pienaar, Mirallas, Naismith
Subs: Joel, Hibbert, McGeady, Deulofeu. Barkley, Stones, Traore.
12:50: Fulham meanwhile remain rooted to the bottom of the Premier League, five points off safety having collected just three points from their last six games. But football has a habit of not going according to plan from time to time. A former Manchester United coach, one of the victims of Moyes' backroom shakeup over to the summer, returning to his former club in desperate need of a point with two former United youngsters in his squad surely couldn't mastermind an upset today, could he? Oh.
12:45: After yesterday's 5-1 thrashing of Arsenal, the words 'Liverpool' and 'title challenge' are suddenly being used in the same sentence again, but today much of the focus is on the race for fourth place. Five points separate Everton, Tottenham and Manchester United with David Moyes' side inundated with more problems by the day; the latest of which being Nemanja Vidic's decision to leave the club at the end of the season.
The Toffees bounced back magnificently from their harrowing Merseyside Derby defeat by completing an impressive comeback against Aston Villa last time out, but Tottenham's are still dusting themselves down after their own hammering at the hands of Manchester City 12 days ago, having had to settle for a point against Hull last week.
12:35: Good afternoon and welcome to IB Times UK's LIVE coverage of Sunday afternoon's Premier League football. We will be bringing you all the team news, goal updates and reaction from our two games between Tottenham Hotspur and Everton and Manchester United and Fulham.