Premier League As it Happened: West Brom 1-1 Liverpool - Arsenal 2-0 Crystal Palace
West Brom 1-1 Liverpool
(Daniel Sturridge, 23, Victor Anichebe, 66)
Arsenal 2-0 Crystal Palace
(Alex Oxlade-Chamberlain, 46, 72)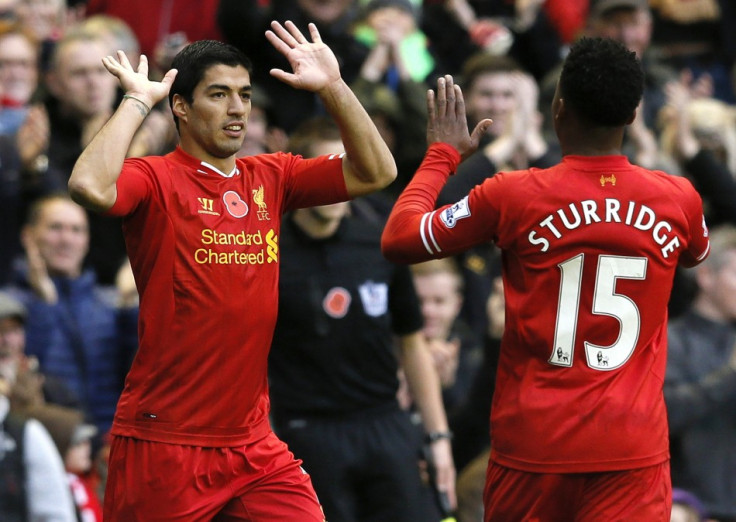 5:59: And that's all from us for the evening, thanks for reading
5:55: The full time whistle has blown at the Emirates and Arsenal return to the top of the Premier League. A straight forward win for the Gunners was what was required today and although they were contained by Palace in the first half, it didn't take them long to break the resistance in the second. Two goals from Alex Oxlade-Chamberlain and a performance that little to defuse the Steven Gerrard comparisons in midfield will leave Arsene Wenger thoroughly satisfied.
BACK ON TOP OF THE LEAGUE! How do you feel, @Arsenal fans?! #AFCvCPFC pic.twitter.com/jOP4RdWWZo

— Arsenal FC (@Arsenal) February 2, 2014
Arsenal 2-0 Crystal Palace (Alex Oxlade-Chamberlain X2)
5:49: It gets worse for Chamberlain minutes later as he's knocked to the ground after being headbutted by Thomas Rosicky! Accidentally, obviously. Chamberlain goes of the pitch for treatment and Wenger might be tempted to just leave him there with two minutes of extra time remaining.
5:47: Worrying signs for Arsenal as Oxlade-Chamberlain pulls up holding his calf. Could just be a cramp but the midfielder looks in some discomfort as his manager orders him to sit deep for the final minutes of the game.
5:46: After a few minutes of mulling over what to do with the free kick, it's eventually decided that a rubbish low effort straight into the wall from Bannan is the best option. Bolasie is quick to get to the rebound but it is swiftly swamped by Arsenal shirts.
5:45: Palace win a corner on the edge of the area after Bolasie was felled. Booking for Mertesacker.
5:42: Kieran Gibbs and Nicklas Bendtner come on for Mesut Ozil and Olivier Giroud.
5:40: Chamakh, who enjoyed a great first half but had some responsibility in Arsenal's opener, comes off for Dwight Gayle.
5:36: That second Arsenal goal has effectively killed this game off now with Arsenal confidentlty pinging the ball across the pitch.
5:32: Arsenal score a second! Chamberlain bursts through the middle and plays an excellent one two with Olivier Giroud. Bearing down on goal he shifts the ball onto his right foot and fires low past Speroni. The Palace goalkeeper might be annoyed he didn't get a stronger hand to that but it was an excellent move from the home side.
Goal! Arsenal 2-0 Crystal Palace (Alex Oxlade-Chamberlain, 72)
5:30: Thomas Rosicky is on for Lukas Podolski.
5:29: The ball falls to Bannan on the edge of Arsenal's penalty area but he fires high and wide when he really should have tested the goalkeeper. Despite his best efforts to evade the crime scene, Damien Delaney is booked for a challenge on Cazorla.
5:27: Palace threaten to catch Arsenal on the break as Bolasie easily shurgs off the challenge from Monreal on another marauding run down the right flank. The winger opts to hit his cross early despite the acres of space in front of him he makes a mess of it.
5:25: Gabbidon appears to go through the back of Podolski just on the edge of the penalty area. Arsenal players appeal for a penalty but replays show the Palace centre half got a foot to the ball.
5:21: There is more attacking impetus from Palace now, but Arsenal nearly gift it to their opposition as Ozil of all people plays a short ball across goal to his goalkeeper. The German receives the ball back and diffuses the situation with a simple step over before clearing.
5:18: Podolski crashes into Ward right at the feet of Tony Pulis and takes a bit of an ear-bashing from the Palace boss. It did look like a genuine attempt to win the ball from the German though.
5:14: Jerome's miss will be his last action of the game as Barry Bannan comes onto replace him.
5:11: Podolski is expertly picked out by Cazorla and the German's first touch is good enough to leave Ward for dead. He wins a corner that is momentarily cleared, but the Arsenal forward is teed up again by Arteta but his fierce effort is fired into the side netting when perhaps a pass across goal would have been the better option.
5:09: What a chance for Cameron Jerome and Crystal Palace! Puncheon is brilliantly picked out on the right flank and the winger centres the ball with two men in the box. One of them is Bolasie whose mis-hit header falls to Jerome at the far post, but Szczesny is out to block the effort.
5:07: For the first time all game Palace's back line switched off and Cazorla expertly exploited it. Pulis will be fuming after his side's good work in the first half.
5:05: Well, that didn't take long! Santi Cazorla comes in from the right and lofts a wonderful pass into the box where Oxlade-Chamberlain has burst past Joel Ward and lifts it over Speroni to give Arsenal the lead.
Goal! Arsenal 1-0 Crystal Palace (Alex Oxlade-Chamberlain, 46)
5:02: And we are back underway at the Emirates, can Arsenal find a breakthrough?
4;55: Arsenal have shown glimpses of breaking through at the Emirates this afternoon but so far Palace have held firm. Julian Speroni has been forced into making two good saves and Tony Pulis won't be happy with his side's marking from set plays, but otherwise it's been an efficent perfomance from the away side. Hasn't been a classic, mind.
HALF TIME
Arsenal 0-0 Crystal Palace
4:47: Koscielny momentarily sees his name in bright lights as he smacks a half volley from about 30 yards out but his effort is spooned hilariously wide and over.
4:42: Arsenal win another free kick which is again met with a flicked header, this time from Mertesacker. Speroni watches it all the way and comfortably collects, but Tony Pulis will not be pleased with the ease in which Arsenal players are finding space from set pieces. Chamakh picked up a yellow card for his part in the foul that led to the initial free kick.
4:39: Ward and Monreal collide just inside of the box but the Palace full back is up quickly to win a corner. Palace swing it in but it's eventually cleared and Puncheon wastes the chance to launch it back into the danger zone.
4:36: Cazorla leaves the ball cleverly for Ozil who has scampered across to the right wing and feeds the onrushing Sagna. The Frenchman breaks into the box but Speroni is out bravely to smother the ball.
4;34: Koscielny denied by Speroni! Santi Cazorla float a free kick into the box that the Frenchman gets the slightest knock on, forcing Speroni to sprawl across his goal to palm the balla way to safety.
4:31: Arsenal have had 71 percent of possession in the opening half hour but haven't really threatened to open Palace open since Monreal was fed by Ozil in the opening 15. Palace defending excellently and are willing to try and catch Arsenal on the counter through the pace of Bolasie.
4:28: Ozil feeds Giroud on the edge of the box but goes down under pressure from Gabbidon. It's good defending by the Palace defender however.
4:24: Intricate work from Ozil and Podolski on the edge of the box nearly frees Cazorla but Ward swings a foot across to make a vital interception. Resulting corner comes to nothing.
4:22: Bolasie does excellently to nip past Sagna and with four men ahead of him it looks as it Palace are capable of mouting a counter attack, only for a perfectly timed challenge from Mertesacker to stop him in his tracks.
4:17: Jason Puncheon comes in from the right and plays the ball in field to Chamakh who turns beautifully past Koscienly, but his return pass to the winger is slightly over hit.
4:14: A moment of misjudgement from Koscielny allows Chamakh to pounce and race into the box but Szczesny is out quickly to gather after a poor second touch from the Palace striker.
4:12: Arsenal win a free kick a good 30 yards out from goal that Cazorla whacks well over Speroni's cross bar.
4:10: Palace are camped in their own half at the minute and can't get beyond the half way line. Oxlade-Chamberlain and Ozil are comfortably dictating play through the middle but other than that opening created by the Germany international minutes earlier, are yet to carve Palace open.
4:07: Wonderful stuff from Ozil as he picks out to Monreal, who has sprinted into the box from the left, with an exquisite looping through ball but Speroni is out in a flash to block the Spaniard's effort.
4:05: Arsenal, as you might expect, comfortable in possession in the opening five minutes.
4:02: Olivier Giroud floats a cross over to Lukas Podolski positioned just inside the left hand side of the box but is knocked out of the way by Joel Ward who meets it with a powerful header.
4:01: And we are off underway at the Emirates.
4:00: Oxlade-Chamberlain starts in centre midfield in the absence of Jack Wilshere and the suspended Mathieu Flamini.
3:57: Palace the Premier League's busiest side on transfer deadline day but only Wayne Hennessey's move was completed in time to feature today, with the Welshman taking a spot on the bench.
3:54: A win will lift Arsene Wenger's side back to the summit of the Premier League, leaving the Gunners to hope for a draw between Manchester City and Chelsea tomorrow evening in order to stay there.
3:50: Marouane Chamakh receives a warm-ish welcome from Arsenal fans as he warms up ahead of kick off. Will he come back to haunt the Gunners this afternoon?
TEAM NEWS
Arsenal: Szczesny, Sagna, Mertesacker, Koscielny, Monreal, Arteta, Oxlade-Chamberlain, Cazorla, Ozil, Podolski, Giroud
Subs: Fabianski, Jenkinson, Gibbs, Rosicky, Zelalem, Gnabry, Bendtner.
Crystal Palace: Speroni, Ward, Gabbidon, Delaney, Parr, Bolasie, Dikgacoi, Jedinak, Puncheon, Chamakh, Jerome
Subs: Hennessey, Mariappa, McCarthy, Bannan, Guedioura, Gayle, Wilbraham.
3:28: We will have all of your confirmed team news for our second game of the afternoon coming your way now.
3:25: And the final whistle has blown at the Hawthorns and the points are shared after Kolo Toure's shocking error saw Victor Anichebe cancel out Daniel Strurridge's first half opener. A draw sees Liverpool stretch their narrow lead over Everton to two points anf fourth place is theirs for another week.
West Brom move up to 16th thanks to Victor Anichebe's strike, moving ahead of Crystal Palace.
FULL TIME
West Brom 1-1 Liverpool (Victor Anichebe, Daniel Sturridge)
3:20: That free kick is floated straight into the arms of Mignolet.
3:19: Only three men forward for West Brom with a free kick 30 yards from goal. Playing for a draw, are we Pepe?
3:17: Four minutes of time added on. A point would be a fair result based on West Brom's improvement this half but three would do so much for each club's respective prospects, particularly given results yesterday.
3:13: Diego Lugano is booked for taking out Sturridge. Resulting free kick is a poor one from Gerrard and Mulumbu temporarily relieves a bit of pressure for his side.
3:10: Gerrard picks up a (probably overdue) yellow card. Ten minutes left.
3:08: This is a good spell from Liverpool,. Sterling tries to feed Sturridge from just inside the area but the teenager's ball is an awkward one for Sturridge to take on, allowing Foster to leap out of his goal and slide tackle the ball to safety.
3:04: Gerrard swings a free kick into the back post from the right where Martin Skrtel is looking to meet it. The can't get the right connection on it and the ball falls to Allen who hits very decent effort but it met at the near post by Foster.
3:01: Double substitution for Liverpool, Coutinho off for Joe Allen and Martin Kelly replaces Jon Flanagan. Prior to that, Luis Suarez was booked.
2:58: Although it was a huge error that have them the goal, West Brom must be credited for their spirited second half performance. The Baggies have come out with renewed intensity as Jones finds Anichebe just inside the box but this time his effort is blocked.
2:55: West Brom are back in it thanks to an absolute gift from Kolo Toure! The Ivorian plays an incredibly risky ball back across goal under pressure and the only man near it is Anichebe, who calmly picks up the pass and slots it past Mignolet. You won't see a more brainless decision from a defender this season.
Goal! West Brom 1-1 Liverpool (Victor Anichebe, 66)
2:53: It's struck low and hard but Mignolet does well to get down after seeing it late and more importantly, hold on it it with Vydra luring.
2:52: West Brom win a free kick after Toure clumsily collides with Mulumbu about 25 yards out. Brunt step up to take it.
2:48: Berahino comes off, replaced by former Everton man Victor Anichibe.
2:45: It's now Foster's turn to make an excellent save! Cissoko hoofs a ball up the pitch that has Lugano panicking. Suarez is on it in a flash and elegantly clips it over another West Brom man before attempting to slot it past the onrushing Foster. The West Brom 'keeper sticks a foot out to make a crucial save, however. Suarez is fuming with himself for missing.
2:41: A fantastic save from Mignolet keeps Liverpool ahead! West Brom begin to commit more men forward in a 4-4-2 and respond by creating their best chance of the game as Vydra looks to feed Brunt at the back post, but Skrtel scampers across just in time to deflect for a corner. It's whipped in and met powerfully by McAuley who can't believe the big Belgian in goal has got a hand to it.
2:39: Brunt takes the resulting free kick but it's a horrible waste as he goes for goal to no avail.
2:37: That's better from West Brom, Jones and Gera combine neatly on the right to bypass Cissokho and the latter goes one better as he slips the ball between Steven Gerrard's legs. The Liverpool captain responds by conceding a free on the edge of the box.
2:35: Brunt has a crack from 20 yards out but it's a fairly awful effort compared to his mid-week screamer against Villa and the ball narrowly avoids going out for a throw in.
2:31: And we are back underway at the Hawthorns.
2:20: And we've reached half time of a contest that you could politely describe as subdued. Liverpool's one shot on target has given them the lead through Daniel Sturridge and Brendan Rodgers' side have been relatively untested. Lots for Pepe Mel to mull over at half time.
HALF TIME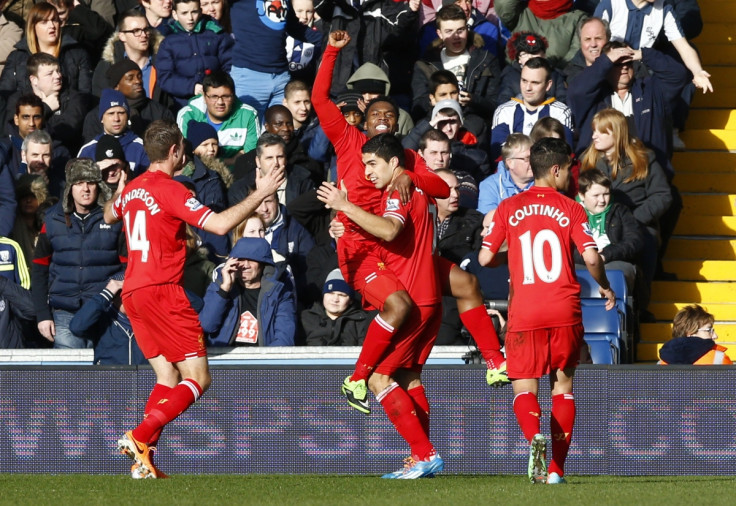 West Brom 0-1 Liverpool (Daniel Sturridge)
2:15: Two minutes of time added on, time for one last burst from Coutinho who glides past his man at pace, but an excellent challenge from McAuley stops him.
2:13: Zoltan Gera picks up a loose ball 25 yards out from goal and looks to bend on into the top right hand corner. It's not a bad effort at all but the it's swung the wrong side of Simon Mignolet's right hand post.
2;11: Olsson looks to have hurt his hamstring and is taken off before Sturridge or Sterling stretch him unto doing more damage to himself. Diego Lugano, who endured what is commonly known as a 'mare on Wedesday against Villa, comes on to replace him.
2:08: Cissokho jinks past two West Brom men on the left wing and bears down on Ben Foster with Suarez racing to get into the box. The French full back whips a great ball across for the striker but it's just not quite enough on it as Olsson stabs it out of danger.
2:06: Flanagan bursts down the right before cutting the ball back to Coutinho on the corner of the box but his first time effort fizzes just wide of the post. Liverpool are ridiculously comfortable at the moment playing under zero pressure.
2:02: West Brom just about get away with it after a scramble for the ball yards out from goal. Liverpool swing in a free kick that Foster can't deal with at the first time of asking but neither Suarez, Sturridge or Toure can poke the ball across the line.
1:58: Liverpool win a free kick a good 30 yards from goal that Suarez again is keen to take on. Ben Foster can squint all he wants but it's unlikely to help with the sun bearing down on him. Luckily, Suarez's radar is slightly askew and the ball bounces past the left post.
1:55: And moments after that last comment Sturridge opens the scoring for Liverpool! Sterling breaks into the box from the right and immediately gets support from Suarez. It's very tight with two West Brom defenders flanking him but the Uruguayan dinks a beautiful ball between them over to the far post where Sturridge is waiting to tap home.
Goal! West Brom 0-1 Liverpool (Daniel Sturridge, 23)
1:53: Saido Berahino hasd had a quiet start to the game. Hasn't featured on the ball much, the same of which can be said of Daniel Sturridge, who has been occupying the left side of the pitch so far.
1:48: West Brom win a corner that is swung in high and deep that has Liverpool momentarily all over the shop. Olsson heads back to Mulumbu on the edge of the box who fires a powerful effort towards the bottom left hand corner, but Gerrard is well placed to stick a boot out and prevent it from hitting the back of the net.
1:46: Yacob picks up a yellow card for a late challenge on Steven Gerrad just outside the centre circle.
1:44: Suarez breaks through and looks to have the edge on his marker but rather than go for goal he cuts back and wait for reinforcements. West Brom regroup and prevent the Uruguayan from wriggling though.
1:42: Both sides continue to feel each other out but there is not much pace to the contest so far although it hasn't been helped by a string of fouls disrupting the flow.
1:39: Gerrard's corner is whipped across the box with no one anywhere near it and drifts out for a goal kick.
1:38: Countinho and Suarez combine on the left before playing the ball to Henderson who looks infield, where Suarez controls and draws a foul from Yacub. Suarez obviously takes it on but it's deflected out for a corner.
1:36: Raheem Sterling sprints away from his man with ease but is tugged down by Liam Ridgwell. It's a Liverpool free kick that results in nothing in particular.
1:34: There's a bit of a zip to the surface at the Hawthorns, that's about all there is to report from the opening five minutes of this game.
1:30: And we are off and underway at the Hawthorns as Kevin Friend gets the game going.
TEAM NEWS
West Brom: Foster, Jones, McAuley, Olsson, Ridgewell, Yacob, Mulumbu, Gera, Berahino, Vydra, Brunt (c).
Subs: Myhill, Reid, Sinclair, Lugano, Anichebe, Dorrans, Amalfitano.
Liverpool: Mignolet, Flanagan, Cissokho, Toure, Skrtel, Gerrard, Henderson, Sterling, Coutinho, Suarez, Sturridge
Subs: Jones, Luis Alberto, Aspas, Moses, Allen, Ibe, Kelly.
1:25: Good afternoon and welcome to IB Times UK's LIVE minute by minute coverage of all this afternoon's Premier League action. We will be underway with Liverpool's visit to West Brom shortly with team news coming up.
© Copyright IBTimes 2023. All rights reserved.