Full time: Ukraine 0-0 England
England remain top of Group H. Wins against Montnegro and Poland next month will guarentee qualification.

Netherlands and Italy become first European nations to qualify for the World Cup.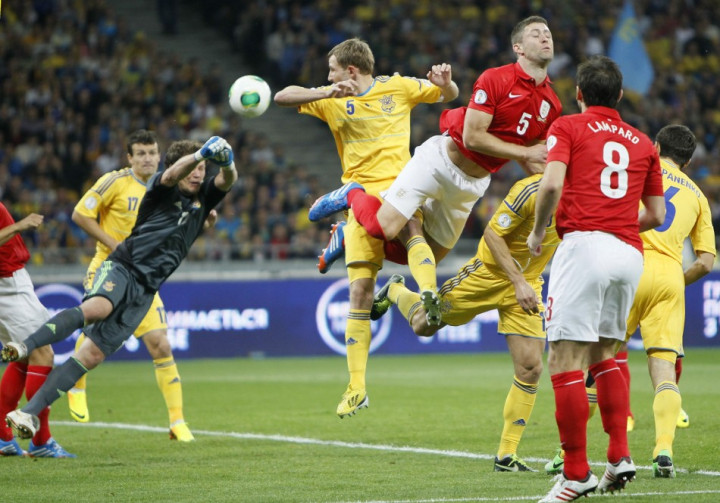 21:45: World Cup qualfying is put to bed until October and this weekend sees the return of the Premier League where entertainment, tension and talking points will be at a premium. Until then, goodbye.
21:42: Let's not get ahead of ourselves, but England complete the job with little fuss as Ukraine failed to create many problems in the capital. They require two wins to secure a play-off place but will be hoping Montenegro do them a favour at Wembley next month. By then, Roy Hodgson may be able to call upon a certain Wayne Rooney among others. Negotiating two qualifiers with the squad available should be seen as a great positive for Hodgson.
21:38: Well it was wholly convincing from England but it's just the result which lays the platform for the final two group games against Montenegro and Poland. Two wins will seal passage to Brazil in 2014. Neither side did enough to win the game across the 90 minutes leaving England top of the group, a point ahead of both Ukraine and Montenegro. Job done.
Full time: Ukraine 0-0 England
21:36: Goodness me. England almost go and win it in the second minute of added time as Walker's throw goes all the way through to Lampard, who can only head wide.
21:34: Three added on minutes. Ukraine have fizzled out a bit.
21:33: Second change for Ukraine withSeleznyov coming on for Zozulya. Going for the jugular now are the hosts. A minute plus stoppage time left.
21:30: Change for England. Tom Cleverley on for Theo Walcott. Shutdown mode for the visitors. Less than three minutes remain.
21:29: Yarmolenko cuts inside Ashley Cole and onto his left foot but blasts high and wide. Ukraine running out of ideas somewhat.
21:26: Less than 10 minutes left in Kiev and you can't help thinking that only one side is truly interested in winning this game. Joe Hart takes a booming free-kick which finds Lambert and then Walcott helps on Walker's cross just wide. Closest England have come in the second half.
21:22: England's ball retention in the second half has hit a new low. Awfully poor at times I'm afraid. They force a corner after Ashley Cole's cross is headed behind but nothing comes of it.
21:17: Best chance of the night. Fedetskiy is unmarked from a corner but he heads down and into Joe Hart's arms. Let off for England.
21:16: Konoplianka over the ball. He fires it towards the back post and Jagielka deflects it behind for a corner. England do clear and break through Walcott but his pass is wayward. Very poor.
21:14: Ukraine have a free-kick right on the edge of the penalty area as Walker takes out Zozulya. Problems for England.
21:12: Changes for both sides. Young replaces Jack Wilshere. James Milner moving inside you'd think. Ukrain's change sees Gusev off and replaced by super-sub Bezus. Mid-way through the second half and it's still Ukraine 0-0 England.
21:09: Comes to nothing as Lambert fouls Khacheridi. Walcott is back on but Young is stripped and ready to go. At the other end Yarmolenko is about to take aim but play is brought back for a blatant handball by Zozulya, who should surely be booked.
21:06: Theo Walcott is fouled cynically by Kucher mid-way inside the Ukraine half. Ashley Young will come on for Walcott who fell awkwardly. Gerrard over the free-kick.
21:03: Ukraine have begun the second half much the better and they create another half chance. Konoplianka shows a clean pair of heels to Kyle Walker cross and Zozulya can't find Gusev as Steven Gerrard comes to England's rescue in his own half. England's possession becoming noticeably limited as the game has worn on.
20:59: Very scrappy period of attacking play from England. Not really going anywhere as Walcott and then Wilshere are tackled in full flight. Being kept at arms length it would be fair to say are the visitors.
20:55: England snuff out the threat after Fedetskiy fails to control the corner. Now the same man had a coming together with Rickie Lambert with the two men squaring up after a foul by the Saints forward. Everyone's friends again it seems through and play continues.
20:53: Corner for Ukraine after Jagielka heads behind. Konoplianka's first effort is put behind by Cahill but when he second is recycled at the back post, Ashley Cole is forced to head behind from a tight angle. Another corner.
20:49: No changes for either side. Gusev gets free on the right but miss controls and the ball goes out of play.
20:48: Second half underway in Kiev.
20:46: So what can we expect in the second half? Well Ukraine are the ones needing to win so you can expect the pressure to swell as we reach the sharp end. England have little in the way of options to help them win the game, but plenty to help them keep what they've got, which might be the mantra of the second half.
20:36: Some scores from the other home nations which w take a breather in Kiev. Scotland are level with Macedonia at half time. Northern Ireland are still drawing 1-1 with Luxembourg while Wales now trail 2-0 to Serbia.
20:34: Decent first half in Kiev and it's good news if you're an England fan. Bar an opening salvo from the Ukrainian's, helped by Joe Hart floundering in goal, Roy Hodgson's side will be pleased with how England have held their opponents at bay. The best chance went the way of Theo Walcott early on but since opportunities have come at regular intervals. A better final ball from either side will turn one point into three.
Half time: Ukraine 0-0 England
20:31: Ukraine have notably been rough on Jack Wilshere tonight and they concede a free-kick at the end of the first half in dangerous territory. Frank Lampard over it. It's going on target but the ball goes behind for a corner.
20:28: Opening for Ukraine, which has been rare in the last 15 minutes or so. Zozulya, who has been anonymous for much of first half can't gather in Konoplianka's cross and Hart smothers.
20:23: Jack Wilshere down for England after a heavy challenge with Stepaneko but don't fear Arsenal fans, the midfield dynamo is up and looks to have recovered. Less than 10 minutes until half-time.
20:20: England pinch the ball on the half-way line and they break through Walcott. The ball is eventually worked to Steven Gerrard, who curls one from 30 yards which bounces onto the roof of the net. Getting closer.
20:18: Both sides really lacking a final ball. Konoplianka is becoming frustrated against Kyle Walker and Theo Walcott who have doubled up against him in the left flank while James Milner at the other end crosses into the arms of Pyatov with Lambert lurking.
20:13: More good and patient build-up from England. Lambert comes off the front and collects Lampard's pass. The Southampton man turns but can't feed James Milner. Almost there for England but crucially Ukraine haven't threatened for 10 minutes or so.
20:11: Update from the other home nations in World Cup qualifying action tonight. Northern Irish are drawing 1-1 with Luxembourg, Scotland are being held by Macesdonia while Wales are losing at home to Serbia. Gareth Bale on the bench.
20:04: Another dangerous England set-piece as Gerrard's cross goes through Cahil and to Lambert whose shot is deflected behind. Not a game for the faint hearted.
20:02: Everything appears to have calmed down in Kiev somewhat after a helter-skelter start. Both sides will feel they could be ahead and we've had anything but the bore draw most were expecting. England just trying to take the hest out of the game with some possession football.
19:59: Plenty of adventure shown by England in these early exchanges. Lambert almost getting in behind Ukraine and forcing a corner which comes to nothing. At the other end, Gerrard allows a cross to go through to Fedetskiy who can't time his header. The Ukrainian full-back gets in again and his pass inside if headed behind by Cahill.
19:54: Real end to end this one and it's England's turn to suffer. Gusev gets in behind Kyle Walker and Hart is forced to come out and block the ball before Gary Cahill makes a follow-up clearance. Nervy times.
19:52: England almost ahead in Kiev. Lambert steers the ball around the corner and finds Walcott, who ducks inside and is denied by the onrushing Pyatov. The Ukrainian goalkeeper is down receiving treatment. From the resulting corner Gary Cahill almost gets in while the second set-piece see Cahill's goalbound header cleared away. Good pressure from the visitors.
19:50: First we've seen of Ricky Lambert who will look to set up England attacks tonight. He tees up Steven Gerrard who his one from 30 yards which Pyatov holds on to.
19:48: Well it's all go in the opening minutes and England are almost in trouble. A deflected cross falls the way of Zozulya, who touches the ball past Joe Hart and goes down. The referee, from Portugal, gives a corner.
19:46: Underway in Kiev.
19:42: A very cringy Fifa fair play message 'read' by both captains Anatoiliy Tymoshchuk and Steven Gerrard. Might come across more genuine if they memorised the words. Now the anthems.
19:40: Those looking for a crash course in this Ukraine side then look no further. Mykhaylo Fomenko's side failed to win any of their first three group matches, including a 1-1 draw at Wembley. Since, they have propelled themselves into contention after thrashing Montengro 4-0. As you may expect, much of the names on show tonight hail from Ukraine and Dynamo Kiev in particular. Andriy Yarmolenko, who will give Kyle Walker and Ashley Cole much to think about, is the man to watch. No Andriy Shevchenko (retired) for those asking by the way. Both sides are out in Kiev....
19:35: Teams:
Ukraine: Pyatov, Fedetskiy, Khacheridi, Kucher, Shevchuk, Stepanenko, Edmar, Gusev, Yarmolenko, Konoplianka, Zozulya.
Substitutes: Koval, Dedechko, Tymoschuk, Seleznyov, Khomchenovskiy, Bezus, Mandzyuk, Grechyshkin, Morozyuk, Rakitskiy, Devic, Khudzamov.
England: Hart, Walker, Cahill, Jagielka, Cole, Lampard, Gerrard, Wilshere, Walcott, Lambert, Milner.
Substitutes: Ruddy, Smalling, Baines, Caulker, Carrick, Cleverley, Barkley, Defoe, Young, Sterling, Townsend, Forster.
Referee: Pedro Proenca (Portugal)
19:33: Against the backdrop of England's critical test in Kiev is Frank Lampard earning his 100<sup>th England cap. Just the 14 years in the making for the former West Ham United midfielder. Here's my piece on how he is the shining light of England's golden generation.
19:25: There is no wrapping this up, England's hopes truly do rest on tonight's result. A win leaves England on the brink of a fifth successive World Cup finals and in the knowledge that victory over Montenegro next month will seal a place in Brazil. A point is still a good result, leaving them one point ahead of Montengro and two ahead of tonight's opponents Ukraine. Defeat would see Ukraine leapfrog into first, two points ahead of both England and Montenegro who would surely have to contend for a play-off place.
19:20: Rome 1998, Manchester 2001, Kiev 2013? Every England World Cup qualifying campaign has a definitive 90 minutes and tonight, with two home games to follow, Roy Hodgson's men face judgment day in their hopes of booking their place in Brazil next year. Ukraine, who they beat in Donetsk last summer represent the tough opposition. Win or draw and England can start dreaming of the Copacabana. Defeat is unthinkable.